What's happening at the US border
3:51 p.m. ET, June 19, 2018
New York governor plans to sue Trump administration over border separations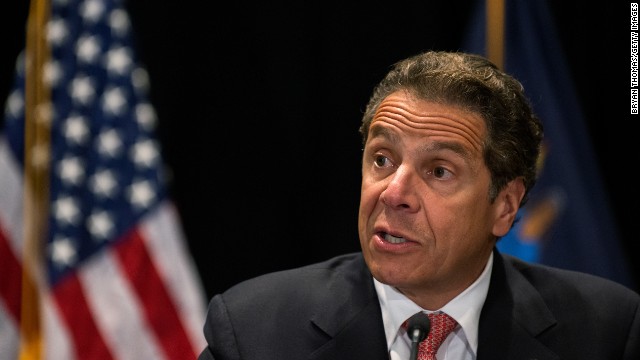 The state of New York intends to file a multi-agency lawsuit against the Trump administration on the grounds that the federal government is violating the Constitutional rights of thousands of immigrant children and their parents who have been separated at the border, according to a news release from Gov. Andrew Cuomo's office. 
"The governor is directing the Office of Temporary and Disability Assistance, the Department of Health and the Office of Children and Family Services to commence legal action against the federal government's 'Separation of Families' policy," the statement said.
In a phone call with journalists, Cuomo said he would like the lawsuit to be filed within two weeks.
3:35 p.m. ET, June 19, 2018
Mexican diplomat: "If we attack families, we are attacking society at its roots"
Diego Gomez Pickering, Mexico's consul general to New York City, on Tuesday said the Mexican government is working closely to keep immigrant families together and safe at Mexico's southern border.
"Families, for us, sit at the nucleus of society, any society, regardless of the country we are speaking of and it is vital that we as individuals, we as human beings, fathers and mothers, we as sons and daughters that we protect this very important institution — it is family, the cornerstone of humanity," Gomez Pickering said at a Global Institute lunch in Long Island.
He was speaking about people from Guatemala, El Salvador and Honduras crossing into Mexico's southern border but he also appeared to allude to the situation on Mexico's border with the United States as well.
Gomez Pickering was speaking about people from Guatemala, El Salvador and Honduras crossing into Mexico's southern border but he also appeared to allude to the situation on Mexico's border with the United States as well.
"We cannot attack families, if we attack families we are attacking society at its roots," Gomez Pickering said.
3:29 p.m. ET, June 19, 2018
4 more states stop National Guard members from assisting at southern border
The governors of North Carolina, Virginia, Maryland and Delaware joined a growing group of states Tuesday afternoon that were pulling, or refusing to send, its National Guard members to the southern border.
North Carolina: Gov. Roy Cooper announced in a statement that he would be recalling three members of the state's National Guard from the border, noting, "The cruel policy of tearing children away from their parents requires a strong response."
Virginia: Gov. Ralph Northam issued a statement announcing that he was recalling four soldiers and a helicopter "until the federal government ends its enforcement of a zero-tolerance policy that separates children from their parents."
Maryland: Gov. Larry Hogan ordered National Guard troops to return from New Mexico this morning. Hogan tweeted that Maryland will not deploy any National Guard resources to the border until the "policy of separating children from their families has been rescinded."
Delaware: Gov. John Carney also tweeted that today, he had received a request to send National Guard members to the southwest border, but he wouldn't permit it. "Under normal circumstances, we wouldn't hesitate to answer the call," Carney tweeted. "But given what we know about the policies currently in effect at the border, I can't in good conscience send Delawareans to help with that mission."
Why the National Guard: In April, President Trump signed a memorandum to deploy the National Guard to the southwest border. The Pentagon said the troops would "act in support of Border Patrol agents who are performing law enforcement duties."
Since then, a number of states, including New York, Rhode Island and Massachusetts, said they would not participate in the effort.
There are currently about 2,000 members of the National Guard operating across four border states -- Arizona, California, New Mexico and Texas -- according to Kurt M. Rauschenberg, National Guard Bureau Spokesman.
3:19 p.m. ET, June 19, 2018
How the moderate GOP House immigration bill will address family separations
The House compromise bill — the more moderate of two House immigration proposals — will include a revised provision to address family separation, according to a House Republican source familiar with negotiations.
The bill is still being finalized, but it will be circulated later today, the source said.
In addition to overturning the rule that says children cannot be in Department of Homeland Security custody longer than 20 days, the House negotiators have expanded their solution to ending family separations. 
Under the new language, the bill will...
Require DHS to keep families in their custody even when a parent is going through criminal proceedings for crossing the border
Approve the use of $7 billion in border technology money to provide more money to expand DHS family holding centers. 
How this differs from what's happening now: Under Trump's "zero tolerance" policy, immigrants crossing the border for the first time are still being prosecuted, which is what has lead to the separations.
Under the original version of the bill, children could be in DHS custody longer than 20 days, but their parents were still going through the Department of Justice system. Because children cannot go to jail, families were being separated. This provision attempts to address this and it keep parents in DHS custody.  
3:09 p.m. ET, June 19, 2018
Republicans are divided on their immigration strategy
There was consensus on passing a narrow bill on the family separation issue among Republican senators who met today for lunch to discuss immigration, according to a source who attended the GOP lunch.
While they agree on the family separation issue, there was a debate internally about how to get the immigration bill through the Senate, the source said:
A faction of Republicans are demanding that any bill first get the support of the Senate GOP conference before getting Democrats on board because of skepticism that Democrats actually want to get a deal.
Other Republicans say the GOP should try to get Democrats on board first since Democratic support will be critical to getting anything passed the Senate.
Sens. Ted Cruz and Marco Rubio will be among those working on getting a bill together that can pass.
There were broad concerns that this has not been handled well by the administration, the source said.
3:00 p.m. ET, June 19, 2018
2 quotes from Trump that sum up his views on family separations
President Trump's views on the family separations at the border can be summed up in these two quotes from his meeting today with business leaders.
In Trump's first remark, he is essentially saying the policy acts as a deterrent for people coming to the US:
"We want a great country. We want a country with heart. But when people come up, they have to know they can't get in. Otherwise it's never going to stop."
Trump then lays out the separation policy:
"When you prosecute the parents for coming in illegally, which should happen, you have to take the children away. Now, we don't have to prosecute them, but then we're not prosecuting them for coming in illegally. That's not good." 
2:38 p.m. ET, June 19, 2018
Mitch McConnell says all GOP senators "support a plan that keeps families together"
Senate Majority Leader Mitch McConnell told reporters that GOP members met today about immigration and family separation problem.
He said "all of the members of Republican conference support a plan that keeps families together while their immigration status is determined."
"I understand the President has called on us to fix the problem and obviously for that to occur in the Senate would require bipartisan discussions," the Kentucky Republican said.
2:43 p.m. ET, June 19, 2018
Trump's campaign manager tweets to turn attention away from the border crisis
Brad Parscale, who President Trump has tapped to run his 2020 reelection campaign, sent a tweet this afternoon calling on the President to fire Jeff Sessions and end the Mueller investigation.
"You can't obstruct something that was phony against you. The IG report gives @realDonaldTrump the truth to end it all," Parscale tweeted.
But according to a source familiar with the strategy here, Parscale is with other Republican operatives who are tearing their hair out about the child separation story drowning out the IG report.
But here's the key context: Though six in 10 Republicans are OK with the child separation policy, control of the House will be fought in suburbs and swing districts where this is an affront to key voters. The president's campaign manager calling for his attorney general to be fired is an attempt to wrestle the story back to ground they think benefits Republicans.
2:20 p.m. ET, June 19, 2018
Democratic congressman on border separations: "We are better than that"
Rep. Elijah Cummings, a Democrat from Maryland, criticized the Trump administration policy that forced the separation of immigrant children and parents at the border, saying the US is "better than that."
"Even if you believe immigration should be halted entirely, we all should be able to agree that in the United States of America, we will not intentionally separate children from their parents," he said. "We are better than that. We are so much better. We should be able to agree that we will not keep kids in child internment camps indefinitely."
He added: "What country is that?"