What's happening at the US border
9:57 a.m. ET, June 18, 2018
Here's where the immigration debate stands in Congress
The outrage to the Trump administration's policy of referring all individuals illegally crossing the border for criminal prosecution (and as such, leading to family separations) is growing. It's visual. It's visceral. It's bipartisan.
And yet, at this point on what will be the most significant policy week on the immigration front in months, nobody appears to know what the solution will be.
Bottom line: The vast majority of Republicans on Capitol Hill want the President to, for all intents and purposes, turn off the policy shift on criminal prosecutions. It's within his power — just as it was to implement it in the first place. But aides in both chambers have said they've gotten no indication that's coming.
Another key point: Those same Republicans have just as much power — and the majorities — to start moving targeted legislation to force a reversal. At this point, that's not happening.
About the family separation debate: The President wants broad bipartisan immigration legislation that addresses the separation issue. In fact, he (and some of his top aides) has made clear that the family separation issue has become a bargaining chip of sorts in their push for a broader immigration overhaul. 
But, right now, there is no bipartisan immigration overhaul in the works in either chamber. The Senate tried it, and failed. The House is moving through a purely partisan effort right now. Democrats aren't on the table and there's little sense on either side that they will be any time soon.
9:41 a.m. ET, June 18, 2018
There's a White House briefing this afternoon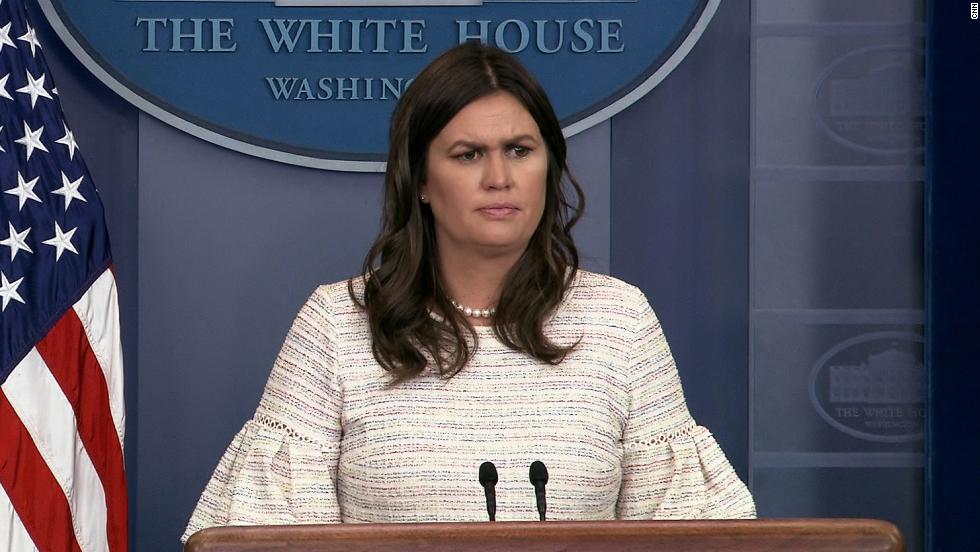 Press secretary Sarah Sanders will take the podium today at 1:15 p.m. ET.
We expect a lot of questions about Trump's immigration policy and the child separations currently happening at the southern border. You can follow it live here.
9:37 a.m. ET, June 18, 2018
Trump's tweeting about immigration (and falsely blaming Democrats)
As backlash grows against the White House's "zero tolerance" immigration policy that has forced separations of undocumented parents and kids, President Trump is tweeting about immigration in Europe.
In an earlier tweet, he blamed the Democrats for failing to fix US immigration laws. He said something similar on Friday, when falsely blamed Democrats for the separation of families at the US border (His administration adopted the controversial policy.)
2:08 p.m. ET, June 18, 2018
Anthony Scaramucci criticizes Trump's immigration policy: "It's inhumane"
Former White House communications director Anthony Scaramucci said President Trump needs to end the "atrocious policy" of separating undocumented children and parents at the US border.
"I think the President should stop it," Sacaramucci said on CNN's New Day. "He needs to step back, stop listening to his aides and his advisers."
He added, "It's an atrocious policy. It's inhumane. It's offensive to the average American."
9:15 a.m. ET, June 18, 2018
1,400 immigrant children are living in a former Texas Walmart
The strangeness of the largest migrant children's center in the United States, near the border with Mexico, shows up in the details.
Here, at the Casa Padre shelter in Brownsville, Texas, there are 1,469 boys, ages 10 to 17, housed inside the 250,000-square-foot shell of a former Walmart superstore. None of the 313 bedrooms have doors. Or ceilings, so that children lying in their beds look up past where their walls end to the scaffolding of the superstore roof high above.
The hundreds of children neatly lined up for their supper of barbecued chicken or sandwiches file past murals of presidents, including one of Donald Trump, alongside with a curious quote from him in Spanish alongside the English: "Sometimes by losing a battle you find a new way to win the war."
The boys at Casa Padre stay there an average of 49 days before being placed with a sponsor — usually a relative — reunited with parents or deported.
9:14 a.m. ET, June 18, 2018
The story behind the photo of little girl crying at the border
A photo of a little girl, crying as she's stopped at the US border with her mother, is quickly becoming the human face of the White House's "zero tolerance" immigration policy.
John Moore, a photographer for Getty Images, snapped the image while he was photographing people crossing a river into the US in the middle of the night.
"I felt a lot when I took it," he tells CNN. "Seeing the children in the crowd was very emotional for me."
He spoke to the girl's mother briefly that night. She told him they had traveled for a month from Honduras to the US border.
Watch more:
9:14 a.m. ET, June 18, 2018
These Democratic lawmakers went to the border this weekend
Oregon Sen. Jeff Merkley returned to the South Texas border on Sunday with a group of Democratic colleagues to tour the Customs and Border Protection processing centers in the Rio Grande Valley.
The lawmakers came to South Texas, they say, to learn more about the agency's processing of undocumented immigrants entering the United States.
Merkley said he had "spoken directly" with Attorney General Jeff Sessions about the policy and wanted to see if President Donald Trump would meet with them.
"We must end this policy of family separation," Merkley said.
The group included...
Sen. Chris Van Hollen of Maryland,
Texas Rep. Filemon Vela
Texas Rep. Vicente Gonzalez
Texas Rep. Sheila Jackson Lee
Vermont Rep. Peter Welch
Rhode Island Rep. David Cicilline
Wisconsin Rep. Mark Pocan