What's happening at the US border
12:36 p.m. ET, June 18, 2018
Trump: "A country without borders is not a country at all"
President Trump said Monday that secure borders are necessary to keeping the country safe. 
"A country without borders is not a country at all," Trump said at the start of a space council event at the White House.
"We need borders, we need safety," Trump continued, decrying "the death and destruction that's been caused by people coming into this country, without going through a process."
Insisting the country requires a merit-based immigration system, Trump maintained the importance of securing the nation's borders.
"We want a safe country and it starts with the borders," he said. "That's the way it is."
12:36 p.m. ET, June 18, 2018
Trump: "The US will not be a migrant camp"
In opening remarks at a space policy rollout event, President Donald Trump addressed the growing child separation crisis on the US-Mexico border, blaming Democrats for the unfolding situation.
"I say it's very strongly the Democrats' fault, their obstruction, they're really obstructionist and they're really obstructing," Trump said.
He continued, "The United States will not be a migrant camp and it will not be a refugee holding facility, it won't be. You look at what's happening in Europe, you look at what's happening in other places, we can't allow that to happen to the United States, not on my watch."
Watch:
12:34 p.m. ET, June 18, 2018
White House documents show family separations haven't deterred undocumented immigrants
The Trump administration's zero-tolerance policy that has resulted in thousands of family separations at the border hasn't deterred immigrants from trying to enter the country illegally, internal Department of Homeland Security documents obtained by CNN show.
The documents, which refer to the effort as the "Prosecution Initiative," demonstrate that in early April, Homeland Security staff predicted that the deterrent effects of the policies would be visible quickly.
"The full impact of policy initiatives are not fully realized for 2-3 weeks following public messaging — however, some migrants already underway may temporarily halt to determine the effects of the new policy," the document states.
Instead, publicly released data showed a roughly 5% uptick in the number of people caught crossing the border illegally when compared to figures from April, including a big jump in unaccompanied children. 
While the documents don't speak to the conceptualization of the policy or the internal deliberations that preceded it, they call into question the administration's justification for the policy. The lack of measurable impact on immigration lends weight to questions about the policy's effectiveness, going beyond moral issues raised by the policy's critics. 
So far, the policy has resulted in the separations of least 2,000 children from their families.
12:13 p.m. ET, June 18, 2018
Pundits are using Fox News to appeal directly to Trump on family separations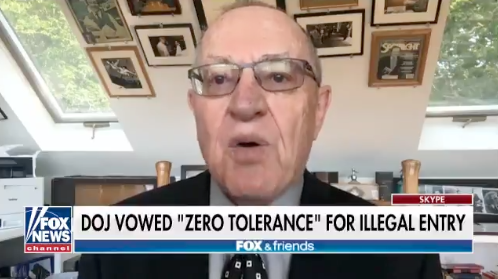 This is one of those instances when people are going on Fox News and appealing directly to the President.
Lawyer Alan Dershowitz, who's been a relatively friendly voice for President Trump on TV lately, had a forceful message for him on Monday.
"You have to end this policy of separating parents from children," Dershowitz told Trump through the president's favorite morning show, "Fox & Friends."
This policy "imposes a trauma on the children. It's just unacceptable. It's just not proper. There are other ways of doing this," Dershowitz said, imploring Trump to stop it "today."
The hosts soon moved on to safer subject matter, but Dershowitz's message was memorable for sure.
Ann Coulter went in the other direction on Fox News on Sunday. In an exchange highlighted by Breitbart, the far-right commentator claimed that some migrant children are "child actors."
"These child actors weeping and crying on all the other networks 24/7 right now: Do not fall for it, Mr. President," Coulter said.
She commented that she gets "very nervous about the President getting his news from TV," even while she was trying to talk to him through the TV.
12:04 p.m. ET, June 18, 2018
Senior White House aide says Trump is "enforcing the law" on family separations
Mercedes Schlapp, the White House's director of strategic communications, said in an appearance on Fox News that President Trump is "fully committed to enforcing the law" when it comes to separating young children from their parents.
Schlapp, echoing the President, blamed Democrats for "using the children as the political pawns" and "advocating for the smugglers who are bringing the children over." She called on Democrats to vote for the two Republican-led immigration bills and "close the loopholes."
11:47 a.m. ET, June 18, 2018
The media is surging to the border as family separation crisis grows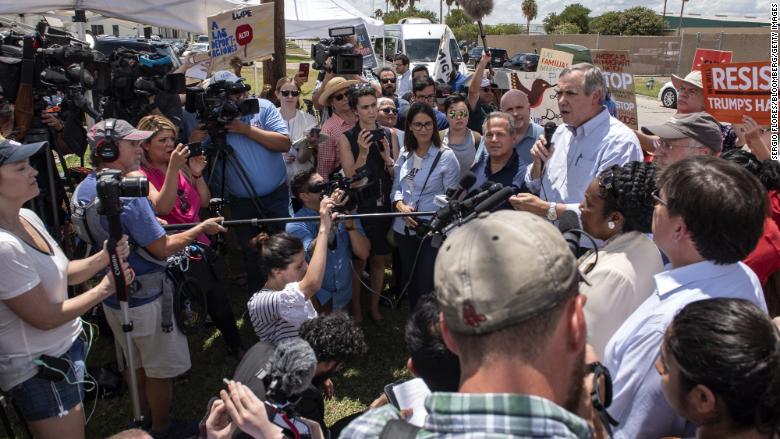 The separation of migrant families at the US border is becoming a bigger story by the day.
And not just in America: News outlets around the world are also looking askance at what's happening as a result of the Trump administration's recent policy change.
Newsrooms have been surging resources to the border region in recent days. Journalists are receiving access to detention centers, albeit with restrictions, and seeing that some children are being kept in cages. Other children are staying in dorm-like settings.
Among the reasons for the surge of news coverage: President Trump's lies about the policy, sustained outrage among immigration advocates, and organized protests by Democratic lawmakers.
By Father's Day, it was the lead story on many newscasts and websites.
11:29 a.m. ET, June 18, 2018
Jeff Sessions: If we build the wall, we won't have to separate kids and parents
Attorney General Jeff Sessions said the US does not want to separate undocumented children and parents who cross the border — but added that the government must prosecute "adults who flout our laws."
"We do not want to separate children from their parents. We do not want adults to bring children into this country unlawfully, either, placing those children at risk. But we do have a policy of prosecuting adults who flout our laws to come here illegally instead of waiting their turn or claiming asylum at any of the ports of entry. "
Sessions added that Trump's proposed border wall is a way to fix the issue.
"President Trump has said this cannot continue. We do not want to separate parents from their children. If we build the wall, if we pass legislation to end the lawlessness, we won't face these terrible choices," Sessions said.
10:38 a.m. ET, June 18, 2018
Senior GOP senator: Family separation policy is "wrong"
Sen. Orrin Hatch, a senior Republican from Utah, just issued a statement criticizing the policy that's lead to family separations at the border as "wrong."
He said he's working with both Democrats and Republicans to come up with a solution.
11:52 a.m. ET, June 18, 2018
Fox host says cages at border detention facility look "more like a security pen"
There's seriously a debate in some circles about the word "cages."
On "Fox & Friends," co-host Steve Doocy disputed whether children at a facility in McAllen, Texas, were really being held in "cages," the way the Associated Press and other major news outlets said.
Pictures released by Customs and Border Protection on Sunday showed the cages really clearly -- contradicting a previous pro-Trump talking point that cages weren't being used.
At one point on Monday, Doocy said the authorities simply "built walls out of chain-link fences." He also said it looks "more like a security pen to me." But he said he recognized why some people called them "cages."
The new fallback position is that the Obama administration used the same kinds of facilities to hold unaccompanied minors.
Here's Doocy's full quote:
Hogan, let's talk about the human part. We got images from the border patrol of images inside detention facilities. Some likened them to concentration camps. Some refer to these as cages. I can understand that point of view. Look, I'm from farm community. To me, i see the chain-link fences, more like a security pen to me. Nonetheless whether you call it a cage, call it a pen, the images are stark.