What's happening at the US border
1:46 p.m. ET, June 20, 2018
Justin Trudeau on family separations: "This is not the way we do things in Canada"
Canadian Prime Minister Justin Trudeau called the family separations happening on the US-Mexico border "wrong" and said it's not how Canada would handle the situation.
"What's going on in the United States is wrong. I can't imagine what the families living through this are enduring. Obviously, this is not the way we do things in Canada," he said.
1:55 p.m. ET, June 20, 2018
Why an executive order could create a legal problem
An executive order allowing families to stay together could pose a legal problem for the administration if it decides to detain families as units.
Indefinite detention of minors would violated the Flores Settlement because it requires release to the "least restrictive environment" within 20 days.
If the President acts, it will be challenged immediately.
For instance, the parties that secured the Flores Consent decree would go back to the district court and argue that the government is in violation of the court order.
1:28 p.m. ET, June 20, 2018
Barack Obama: Are we a nation that accepts the cruelty of ripping children from their parents' arms?
Former President Barack Obama marked World Refugee Day with a lengthy Facebook post about the border crisis happening in the US right now.
"To watch those families broken apart in real time puts to us a very simple question: are we a nation that accepts the cruelty of ripping children from their parents' arms, or are we a nation that values families, and works to keep them together? Do we look away, or do we choose to see something of ourselves and our children?" Obama wrote.
The former President said all Americans, no matter where their families came from, "are only here because this country welcomed them in."
"To be an American is to have a shared commitment to an ideal – that all of us are created equal, and all of us deserve the chance to become something better,"
12:35 p.m. ET, June 20, 2018
Trump: If you're weak, the country is going to be "overrun with millions of people"
President Trump, speaking with members of Congress at the White House, addressed the border crisis, saying he would sign something soon that keeps families together.
However, he said if a President is "weak," then "millions" of people could pour into the country.
"The dilemma is that if you're weak, if you're weak, which some people would like you to be, if you're really, really pathetically weak, the country's going to be overrun with millions of people. And if you're strong, then you don't have any heart. That's a tough dilemma. Perhaps I would rather be strong, but that's a tough dilemma."
This came in response to Sen. Lindsey Graham calling the immigration policy "a mess."
12:26 p.m. ET, June 20, 2018
Melania Trump pressed the President to keep families together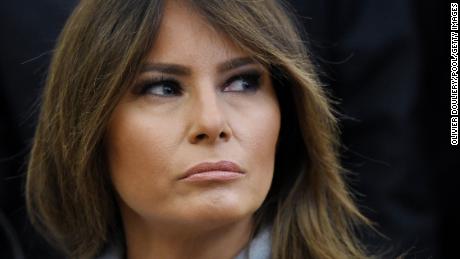 First lady Melania Trump has been working for several days behind the scenes, encouraging the President to keep families together, a White House official tells CNN.
Melania has had several private conversations with her husband, pushing him to do all he can to keep families at the border intact, whether via a legislative route, or acting alone to stop the process. 
Earlier this week, Melania made a rare statement on a a policy issue to address the immigration crisis.
"Mrs. Trump hates to see children separated from their families and hopes both sides of the aisle can finally come together to achieve successful immigration reform," her communications director, Stephanie Grisham, told CNN. "She believes we need to be a country that follows all laws, but also a country that governs with heart." 
12:32 p.m. ET, June 20, 2018
Justice Department is drafting an executive order for Trump to sign
Justice Department officials have been huddled up since this morning, working on executive order for the President to sign that will address the separation of families, according to a source familiar with the plans.
This is the typical process with executive orders, as it requires a number of moving parts legally and the input of the Office of Legal Counsel. 
What exactly the EO will say is still being worked out, with ongoing conversations between the White House, the Justice Department and Homeland Security, the source said.
While Attorney General Jeff Sessions is not at the meeting at the White House, his chief of staff has been there to represent the Justice Department, the source added. 
Additionally, a senior administration official tells CNN that Homeland Security Secretary Nielsen has been at the White House all morning in the room with the President and key staff, calling her a "key player" who was urging for action to be taken.
The administration is still pushing for congressional action, the senior official said, and is looking at the Flores settlement, which prohibits children with their families from being detained longer than 20 days.
"We want the ability to be able to detain and remove families swiftly," the official said, declining to go into details of the order.
12:24 p.m. ET, June 20, 2018
Trump: "I'll be signing something" soon that deals with separated families
President Trump hinted moments ago that he could soon issue an executive action that deals with the crisis of separated families at the southern border.
"I'll be signing something in a little while that's going to do that," Trump said. "I'll be doing something that's somewhat preemptive and ultimately will be matched by legislation I'm sure." 
White House aides had refused to comment on rumors of an executive order prior to Trump's unscheduled remarks to reporters, and Republicans on Capitol Hill seemingly had no knowledge of a coming executive action.
Trump and the White House have instead been pushing GOP lawmakers this week to pass legislation that deals with immigration reform.