What's happening at the US border
1:18 p.m. ET, June 18, 2018
Amnesty International blasts Trump administration's family separations: "This is nothing short of torture"
Human rights group Amnesty International blasted the Trump administration's policy of separating children from their parents as "a spectacularly cruel policy" that has produced images which will "leave an indelible stain on the reputation of the USA."
Here's a statement from Erika Guevara-Rosas, Amnesty International's Americas director:
"This is a spectacularly cruel policy, where frightened children are being ripped from their parent's arms and taken to overflowing detention centers, which are effectively cages. This is nothing short of torture. The severe mental suffering that officials have intentionally inflicted on these families for coercive purposes, means that these acts meet the definitions of torture under both US and international law."
1:17 p.m. ET, June 18, 2018
Both House immigration bills will address family separation, sources say
House Republicans are planning to vote this week on two immigration proposals: One more conservative bill and another one drafted with moderates.
The bills, which were set in motion before the family separation issue hit center stage, are about another politically polarizing issue: recipients of the Deferred Action for Childhood Arrivals program.
But now, it appears that both bills will address the issue of family separation, as well.
CNN previously reported that the compromise immigration bill would include language to address family separation at the border. 
A House GOP source says the Goodlatte immigration bill (the hardline, conservative bill) will also address family separation.
Now, both bills will have provisions that would allow families to stay together, while still in Department of Homeland Security custody. Drafters are looking at how to keep families together in Department of Justice custody as well. 
Here's how one House GOP source put it: 
"The drafts of both bills clarify the Flores Settlement by ensuring accompanied alien minors apprehended at the border can remain with their parent or legal guardian while in DHS custody. Drafters are also working to include a provision that not only addresses DHS custody but DOJ custody as well. Note that bill text hasn't yet been filed for either." 
1:14 p.m. ET, June 18, 2018
Massachusetts not sending National Guard troops to border due to "inhumane treatment of children"
Massachusetts Gov. Charlie Baker's office said the governor has directed the National Guard not to send any assets or personnel to the border "because the federal government's current actions are resulting in the inhumane treatment of children."
According to communications director Lizzy Guyton:
 "Governor Baker directed the National Guard not to send any assets or personnel to the Southwest border today because the federal government's current actions are resulting in the inhumane treatment of children."
1:06 p.m. ET, June 18, 2018
UN chief: "Children must not be traumatized by being separated from their parents"
United Nations Secretary-General António Guterres said "family unity must be preserved" as refugees and migrants travel to new countries, adding that children "must not be traumatized by being separated from their parents.
Guterres' spokesman Stéphane Dujarric released this statement:
As a matter of principle, the Secretary-General believes that refugees and migrants should always be treated with respect and dignity, and in accordance with existing international law. Children must not be traumatized by being separated from their parents. Family unity must be preserved. 
12:53 p.m. ET, June 18, 2018
American Academy of Pediatrics head says separating families is "child abuse"
Dr. Colleen Kraft, the President of the American Academy of Pediatrics, said removing children from the care of their parents at the border amounts to a form of child abuse.
Kraft, who heads the professional association of pediatricians, visited a facility where children who had been separated for their parents were being held.
She found toddlers — who you'd expect to be rambunctious — staying unusually silent, she said. One young girl sat wailing.
"This is not normal activity or brain development with these children. The takeaway is that these children need their parents," she said. "This does amount to child abuse."
Dr. Kraft was first invited by local pediatricians to visit a government shelter for immigrant children in Combes, Texas, this spring, and was shaken by what she saw.
"I've never been in this situation where I've felt so needlessly helpless," she told CNN of the visit.
12:36 p.m. ET, June 18, 2018
Trump: "A country without borders is not a country at all"
President Trump said Monday that secure borders are necessary to keeping the country safe. 
"A country without borders is not a country at all," Trump said at the start of a space council event at the White House.
"We need borders, we need safety," Trump continued, decrying "the death and destruction that's been caused by people coming into this country, without going through a process."
Insisting the country requires a merit-based immigration system, Trump maintained the importance of securing the nation's borders.
"We want a safe country and it starts with the borders," he said. "That's the way it is."
12:36 p.m. ET, June 18, 2018
Trump: "The US will not be a migrant camp"
In opening remarks at a space policy rollout event, President Donald Trump addressed the growing child separation crisis on the US-Mexico border, blaming Democrats for the unfolding situation.
"I say it's very strongly the Democrats' fault, their obstruction, they're really obstructionist and they're really obstructing," Trump said.
He continued, "The United States will not be a migrant camp and it will not be a refugee holding facility, it won't be. You look at what's happening in Europe, you look at what's happening in other places, we can't allow that to happen to the United States, not on my watch."
Watch:
12:34 p.m. ET, June 18, 2018
White House documents show family separations haven't deterred undocumented immigrants
The Trump administration's zero-tolerance policy that has resulted in thousands of family separations at the border hasn't deterred immigrants from trying to enter the country illegally, internal Department of Homeland Security documents obtained by CNN show.
The documents, which refer to the effort as the "Prosecution Initiative," demonstrate that in early April, Homeland Security staff predicted that the deterrent effects of the policies would be visible quickly.
"The full impact of policy initiatives are not fully realized for 2-3 weeks following public messaging — however, some migrants already underway may temporarily halt to determine the effects of the new policy," the document states.
Instead, publicly released data showed a roughly 5% uptick in the number of people caught crossing the border illegally when compared to figures from April, including a big jump in unaccompanied children. 
While the documents don't speak to the conceptualization of the policy or the internal deliberations that preceded it, they call into question the administration's justification for the policy. The lack of measurable impact on immigration lends weight to questions about the policy's effectiveness, going beyond moral issues raised by the policy's critics. 
So far, the policy has resulted in the separations of least 2,000 children from their families.
12:13 p.m. ET, June 18, 2018
Pundits are using Fox News to appeal directly to Trump on family separations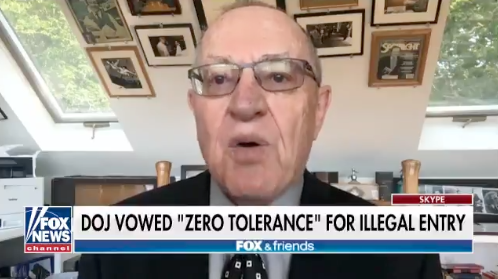 This is one of those instances when people are going on Fox News and appealing directly to the President.
Lawyer Alan Dershowitz, who's been a relatively friendly voice for President Trump on TV lately, had a forceful message for him on Monday.
"You have to end this policy of separating parents from children," Dershowitz told Trump through the president's favorite morning show, "Fox & Friends."
This policy "imposes a trauma on the children. It's just unacceptable. It's just not proper. There are other ways of doing this," Dershowitz said, imploring Trump to stop it "today."
The hosts soon moved on to safer subject matter, but Dershowitz's message was memorable for sure.
Ann Coulter went in the other direction on Fox News on Sunday. In an exchange highlighted by Breitbart, the far-right commentator claimed that some migrant children are "child actors."
"These child actors weeping and crying on all the other networks 24/7 right now: Do not fall for it, Mr. President," Coulter said.
She commented that she gets "very nervous about the President getting his news from TV," even while she was trying to talk to him through the TV.