Howard Schultz takes questions at CNN town hall
11:49 p.m. ET, February 12, 2019
11:38 p.m. ET, February 12, 2019
Schultz gets roaring applause after town hall, then sticks around for selfies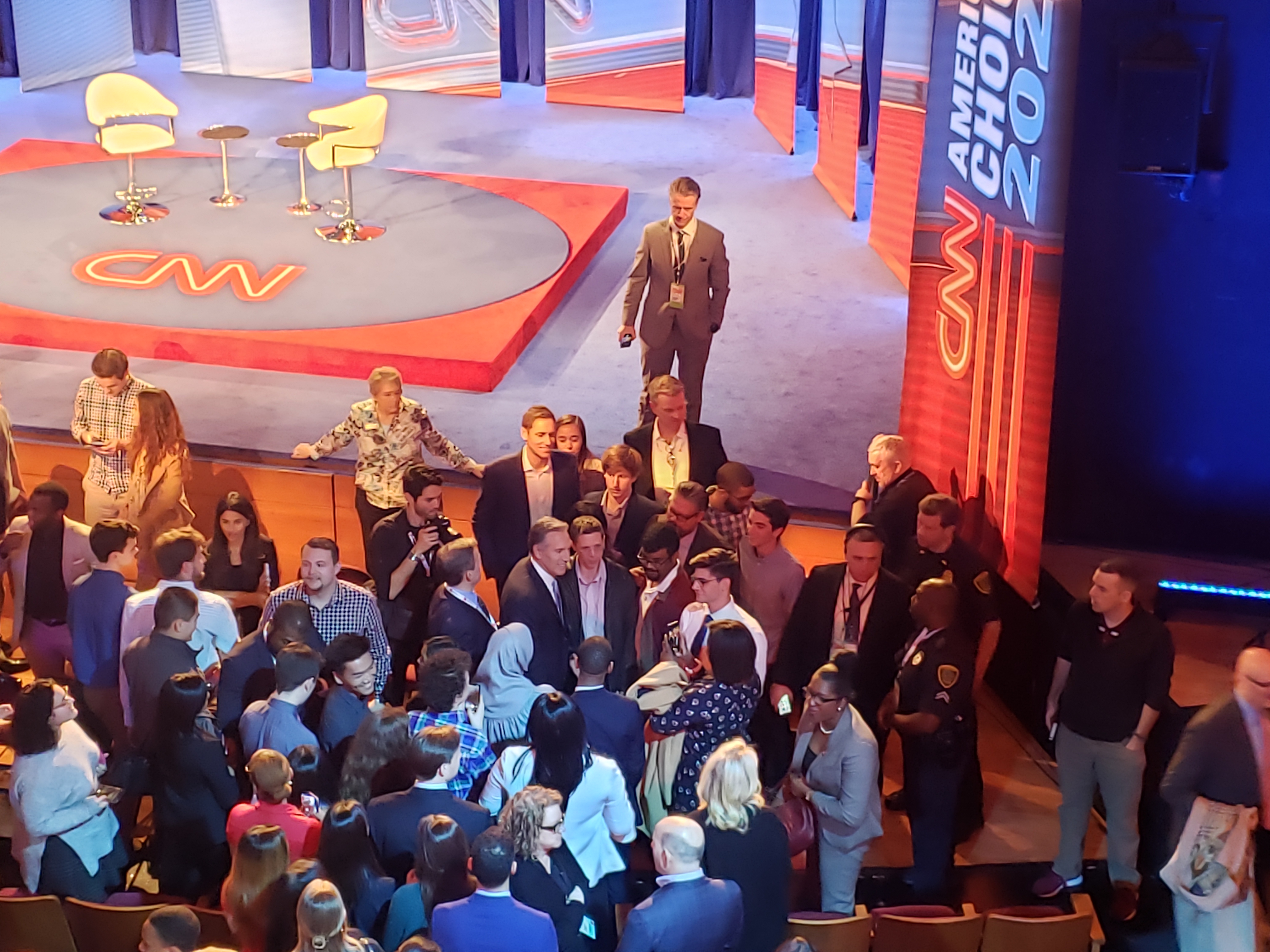 Former Starbucks CEO Howard Schultz got a roaring applause following his CNN town town hall in Houston.
The audience surrounded the billionaire who stuck around for roughly 15 minutes speaking with people and taking selfies.
11:31 p.m. ET, February 12, 2019
Howard Schultz's three principles for fixing health care in America
CNN's Greg Krieg
Howard Schultz says he believes there is something deeply wrong with the American health care system.
It is in a "crisis on many levels," he said on Tuesday night.
He supports Obamacare, but thinks it needs to be "fixed."
But asked what, specifically, he would do, Schultz again lacked much detail in his answers.
"I think everyone in America, every person, deserves to have the right for affordable care. Every person," he declared -- the first of his "three principles" on the issue.
The second: "There needs to be competition in the system and what I mean that is competition so that the American people can get access to prescription drugs at lower prices," Schultz said, "because right now the government is not allowed, under a federal law, to negotiate with (pharmaceutical companies)."
The third principle echoed musings familiar from President Donald Trump's own statements in the past: a potential plan to change the rules governing how and where insurance companies sell their plans.
When Harlow pressed him for details on the way he would solve these problems -- "How -- the question is how?" -- Schultz returned to speaking about prescription drug pricing.
Mostly, though, he again took the opportunity to rail at both parties: Republicans, he said, had offered no alternative to Obamacare. Progressive Democrats who are for pushing "Medicare for all," Schultz claimed, had not accurately assessed the potential downside.
"That would disrupt the entire system and it would cost 32 trillion dollars," he said. The price tag is about right, but his argument didn't take into account the money Americans would, under the plan, save by having expenses like co-pays and deductibles wiped out.
11:29 p.m. ET, February 12, 2019
The first thing Schultz would do if elected president? Call world leaders to win back their trust
Billionaire Howard Schultz said one of his first actions as president would be to call every world leader and repair the US' relationships with allies.
"I think I am so concerned about our standing in the world and how President Trump has fractured our relationships with our allies. One of the first things I'll do is I would be on the phone with every world leader that no longer feels that America is standing with them and make sure they understand that they can trust the person in the Oval Office and have confidence that we'll stand by them."
11:21 p.m. ET, February 12, 2019
Howard Schultz seeks "sensible solution" on gun control policy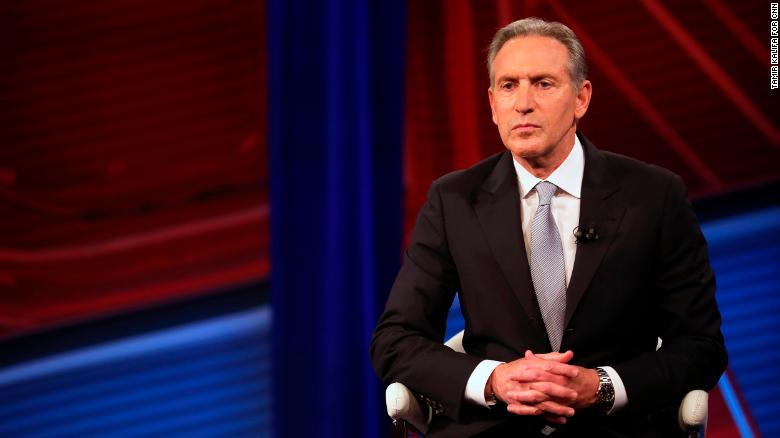 Howard Schultz, responding to an audience member who wondered how removing assault-style weapons would benefit the greater good of the country, said he recognized that gun control was "a very sensitive issue," and aspired to find "some sensible approach to removing the kind of weapons that have no place in common society."
What he said:
He added:
I think we can have more balanced and more sensibility around this issue while respecting and honoring the second amendment. I have a hard time understanding why people need to carry carry an AR-15 around the streets where they live. It is hard for me to understand that. I respect the issues of sportsman and hunting and all things that go with gun ownership. Anyone who has a criminal record or mental health problems, there needs to be a lot more jurisdiction on how those people are buying those weapons. We should take a look at this. Now the far right once again does not want to do anything in the issue. The far left wants to do everything possible to remove guns completely. I am in the middle.
11:16 p.m. ET, February 12, 2019
Schultz, who grew up in the projects, says he didn't see color then and he doesn't now
The billionaire former CEO of Starbucks, who may or may not be preparing to run for president as an independent, told a CNN town hall audience Tuesday night that, when it comes to race, he doesn't see color -- never has.
"As somebody who grew up in a very diverse background as a young boy in the projects, I didn't see color as a young boy and I honestly don't see color now," he explained.
He added: "We need to do everything we can to restore the humanity of the country and the president has a large role to play in that."
The line came as he spoke about the April 2018 incident at a Starbucks store in Philadelphia -- "a terrible moment for the company" -- that led to a massive anti-bias training push for employees nationwide.
Watch the moment:
11:05 p.m. ET, February 12, 2019
Howard Schultz won't say whether he'll drop out of 2020 race if it looks like he'll help Trump
Former Starbucks CEO Howard Schultz would not commit to getting out of the presidential race if he knows in late 2020 that his candidacy will help President Donald Trump get elected.
Asked multiple times by CNN's Poppy Harlow, Schultz, who has not officially entered the 2020 race, dodged the question. He said he would not run if, in the next few months, "math doesn't tally up" but declined to say if he would do the same later in the race, should he get into the 2020 race.
"First off, the issue of being a spoiler, how can you spoil a system that is already broken," he said. "It's just not working."
He then added:
"Now, what I've said publicly and I want to repeat, if the math doesn't tally up when I get through the next three or four months and I take my message out to the American people and I continue to talk this way about how concerned I am about the country and how much I think we can do so much better under a different process, if the numbers don't add up, I will not run for president, because I will not do anything, whatsoever, to re-elect Donald no one wants to see him fired more than me."
But pressed on whether he would make the same calculation deep into the presidential run, Schultz said he was not at that point yet.
"At this point right now, I'm asking a different question. And that is, it's a lot less about me than giving the American people a voice that they don't have," he said. "And what better expression of our democracy than giving the American people a better choice, anew choice. There's nothing in the constitution, not one word, that says anything about parties. So why can't I raise my voice and say I'm deeply concerned about where we are as a country?"
Watch more below:
10:59 p.m. ET, February 12, 2019
Schultz on what the tax rate should be for the wealthiest Americans: "I don't know what the number is"
From CNN's Greg Krieg
How much would Howard Schultz raise tax on the wealth?
Don't ask Howard Schultz.
Asked on tonight first by a member of the audience -- and then by moderator Poppy Harlow, repeatedly -- about the rate he believed the richest Americans should pay, Schultz demurred.
"The headline is here," Schultz insisted, "I should be paying more taxes. And people who make this kind of revenue, and are of means, should pay more taxes."
Pressed by Harlow for some kind of detail -- a hike of 2% or 10% or 20%? -- he said: "I don't what the number is."
Schultz was clear, though, on what he didn't like: Rep. Alexandria Ocasio-Cortez's suggested 70% rate on the highest earners, calling it "punitive."
"I don't know what the number is," Schultz said again later, "but what I'm suggesting is that I should be paying higher taxes and I think people across the country are willing to pay higher taxes."
The problem with any raise to any rates, he added, was that Americans had lost their faith in government and elected leaders to put the new revenue to good use. Which brought Schultz back to an earlier point: the Green New Deal, another program he does not support.
He also criticized President Trump's corporate tax cuts, which took the rate down to 21%, saying it "never should have happened."
Watch the moment:
10:53 p.m. ET, February 12, 2019
Will Schultz sell his Starbucks stocks if he becomes president? He won't say.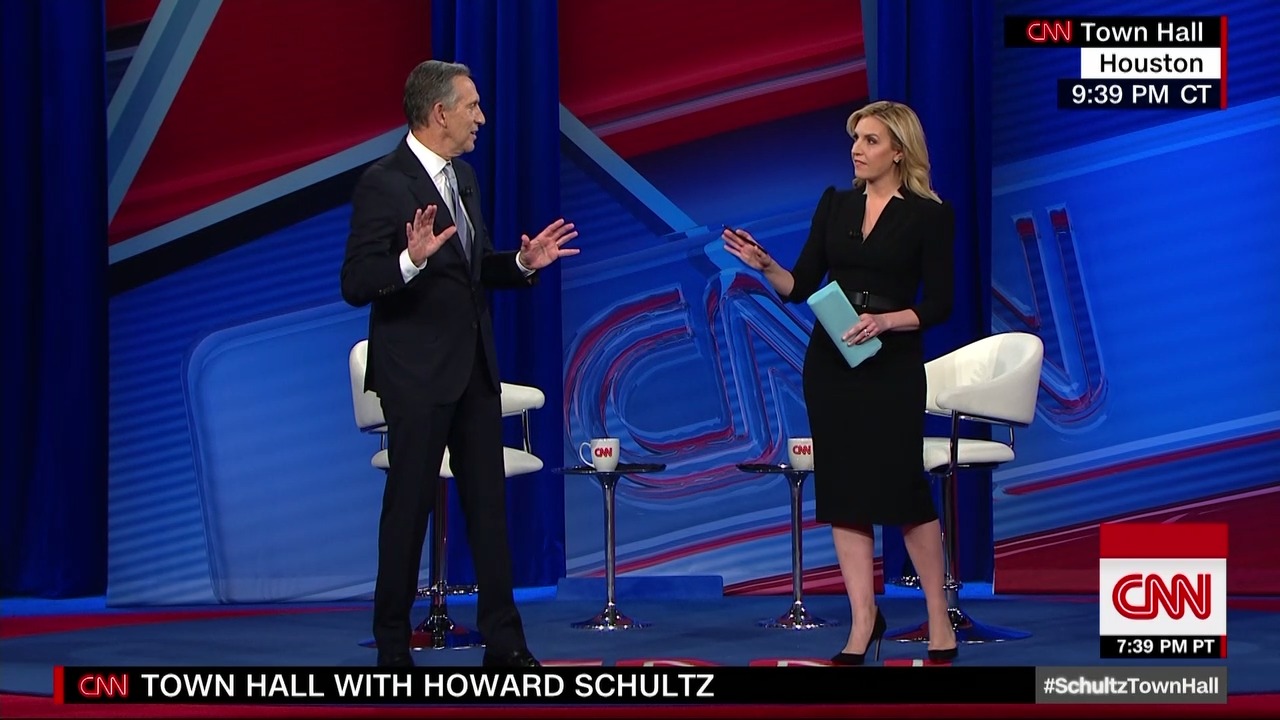 Pressed tonight on whether he would sell off his Starbucks shares if he becomes president, Howard Schultz wouldn't commit.
Instead, the billionaire former CEO said he would "do nothing whatsoever to have any conflict of interest between my investments overall or my interests in the company that I love because I will put the role and responsibility and the accountability for results first if I run for president and I'm fortunate enough to win."
Schultz insisted he wasn't trying to avoid the question.
"I think there's multiple ways to do this. No, no, I'm not evading the question. There's multiple ways to do this, set up a blind trust, do lots of things to remove any conflict of interest," he said.