House votes to block Trump's national emergency
4:45 p.m. ET, February 26, 2019
Senate leaders aren't rushing to hold a vote on the resolution
Senate Majority Whip John Thune told reporters that there is no rush to vote on the House Democrats' resolution. The House is expected to vote on the measure this evening.
Thune expects the resolution to be referred to the Senate Armed Services Committee.
"I don't think there's any rush on our part to take it up. I know we're going to vote on it at some point," Thune said.
"It's fairly new, and it's fairly early, and we don't expect that we'll have to be voting on it right away," he added.
Senate Republicans had an opportunity to hear from the White House during a GOP caucus lunch today as well as "the arguments that they're making… both on the legality of it and the need for it," Thune said.
Separately, Senate Majority Leader Mitch McConnell echoed these sentiments, telling reporters that it will be a while before the bill comes to the Senate floor. 
"Next couple weeks," he said as he boarded an elevator.
2:57 p.m. ET, February 26, 2019
Mike Pence is talking to Republican senators
Vice President Mike Pence is talking to Republican senators behind closed doors this afternoon.
Republican Sen. Lindsey Graham will give his own pitch to support President Trump during the GOP policy lunch.
In short: Loyalty (or fear) as it pertains to the President is far more of a persuasive argument than previously outlined concerns.    
GOP leadership is not worried or up-in-arms right now about the state of play because they don't view this as a fight to block the resolution. They view it as a fight to make sure it stays below a veto proof threshold. They are on track for that now.
And this afternoon, the White House officially issued a veto threat on the resolution.
How a veto override works: It will take 20 GOP defections in the Senate to override a veto. It will take more than 50 GOP defections to override a veto in the House. Aides say as of now, both chambers will fall far short of that number.
2:22 p.m. ET, February 26, 2019
House likely to vote on resolution this evening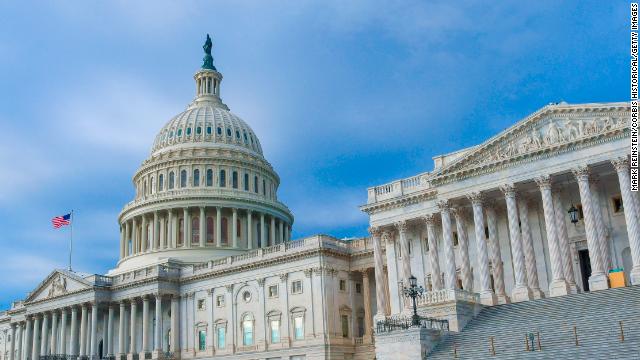 The House is expected to vote sometime around 5 p.m. or 5:30 p.m. ET today to pass a resolution to terminate President Trump's national emergency declaration. The resolution will likely pass.
House GOP aides right now estimate they will lose somewhere between 10 and 15 Republicans on the vote.
Where it goes after it passes: The resolution will then be sent to the Senate, starting an 18-day clock. Senate GOP aides fully expect the resolution to pass when it is brought to the floor.
These GOP senators plan to support the measure: As of now, Republican Sen. Susan Collins, Thom Tillis and Lisa Murkowski have publicly announced they will vote in favor of the resolution. Aides estimate another three to five Republican senators are seriously considering voting for the resolution. GOP leadership is not pressuring Collins, Tillis or senators like Cory Gardner, Martha McSally or Joni Ernst on this vote – they are all in cycle and if they view the vote as helpful politically, they will join the Democrats.  
As CNN has previously reported, the Trump administration has ramped up its efforts in both the House and Senate to keep defections low. It is, by all accounts, working. The way it is being presented, according to aides, is as a binary choice – either you vote with House Speaker Nancy Pelosi or vote with Trump.
In other words, It's being framed as no longer about ideological or constitutional concerns, or fears of setting a precedent for a future Democratic president. It's about partisan concerns and not giving Democrats ammunition. Trump remains extremely popular in most GOP held states.
"It is a very persuasive argument," was how one senior GOP aide put it.
10:50 a.m. ET, February 26, 2019
House Democrats introduced this resolution. Here's what it's all about.
House Democrats introduced a resolution last Friday to block President Trump's effort to build a wall on the southern border through his emergency powers, setting up votes in Congress to rebuke the President's proclamation.
In a call with reporters, House Speaker Nancy Pelosi and Rep. Joaquin Castro, a Texas Democrat and the author of the resolution, argued that Trump's emergency declaration undermined Congress's constitutional power of the purse.
"The President's act is lawless," Pelosi said. "It does violence to our Constitution and therefore to our democracy. His declaration strikes at the heart of our Founders' concept of America, which demands separation of powers."
The Democratic-controlled House appears all but certain to pass the resolution Tuesday and put pressure on Republicans in the Senate, many of whom have concerns with Trump's action. Even Senate Majority Leader Mitch McConnell, who now supports the President's decision, had previously said he wanted to avoid it.
One thing to note: Still, even if the resolution passed, Trump could veto it, forcing Congress to override it with a two-thirds majority in the Senate and the House.