Trump rallies support as House votes on his presidency
By Veronica Rocha and Mike Hayes, CNN
Updated
9:13 PM ET, Wed July 17, 2019
9:04 p.m. ET, July 17, 2019
8:47 p.m. ET, July 17, 2019
Trump warns 401(k) plans could fall if he's not re-elected
From CNN's Betsy Klein
President Trump warned supporters that if he is not elected in 2020, all of the economic success of his presidency could be "decimated."
He promised to leave office by 2024. "By that time, our country will be so well seated, it will be so strong," Trump said. 
But, he continued:
"If we don't win in 2020, everything that we've done... your 401s, the whole thing, are going to come down like a stack of cards."
8:32 p.m. ET, July 17, 2019
Trump goes after "lunatic" Bernie Sanders
From CNN's Betsy Klein
President Trump cast Democratic presidential candidate Bernie Sanders as a "lunatic" during his rally. 
Trump was discussing Sanders' "total government takeover of healthcare," which, he said, Sanders "knows" won't happen.
"This guy never passed a bill. He's done nothing," the President said of Sanders. 
"He missed his time. Hey Bernie, let me save you a lot of time and effort. Bernie, you missed your time. It got taken from you four years ago, Bernie," Trump said, alluding to the 2016 Democratic primary. 
He described Sanders hair as "all crazy" and said that the candidate is "up there ranting and raving... like a lunatic."
"I mean, he's desperate now, he's desperate," Trump said, claiming that the Democratic socialist is now telling supporters they "don't have to pay for anything" to get them to vote for him. 
He called Sanders' 2020 candidacy a "sad situation."
8:29 p.m. ET, July 17, 2019
Trump's attacks on Democratic congresswomen were planned
From CNN's Kaitlan Collins
Though he's known to go off script, President Trump read from a teleprompter tonight as he went on a screed against the four Democratic congresswomen he's been in a four day brawl with.
White House officials had been warning all day that this would be one of his most fiery rallies to date, revealing how his Sunday tweets turned from what several aides viewed as a mistake into a political strategy going into 2020. 
8:26 p.m. ET, July 17, 2019
Protester holding printouts of Trump with Jeffrey Epstein interrupts rally
From CNN's Allie Malloy
President Trump was interrupted by a protester just as he was beginning his comments on "the Squad" at a rally in Greenville, North Carolina.
The protester was holding two small printouts with a photo of Trump with Jeffrey Epstein, with the words "CHILD RAPIST" across.
Federal prosecutors in New York charged Epstein with sex trafficking of minors and sex trafficking conspiracy. He has pleaded not guilty.
He was removed in a more aggressive manner than most protesters and pulled down behind a sign where he remained for a while as supporters took pictures. He was removed moments later with his hands behind his back.
Background on this: Trump has known Epstein for years. Last week, Trump confirmed reports that he threw Jeffrey Epstein out of his Mar-a-Lago club years ago, adding, "I was not a fan of Jeffrey Epstein."
Trump's comments came during a news conference to announce the resignation of Labor Secretary Alex Acosta, who stepped down from that position amid renewed fury over his handling of a plea deal with Epstein when Acosta was a prosecutor in Florida.
One woman says she was 15 years old when she was approached by an associate of Epstein's while she worked at the Mar-a-Lago Club in Palm Beach, and was offered the opportunity to make "a great deal of money" learning about massage therapy. She originally filed a suit anonymously with allegations of sexual abuse against Epstein, but later went public.
8:22 p.m. ET, July 17, 2019
Here's what Trump said about the 4 Democratic congresswomen known as "The Squad"
From CNN's Betsy Klein
President Trump continued to stand his ground against the four progressive Democratic congresswomen tonight, railing against them individually and by name and painting them as the face of the Democratic party, a strategy he and aides believe will cast the party as a far left, radical group. The friendly crowd responded enthusiastically to his lengthy attacks.
Here's what he said about each congresswoman:
Rep. Ilhan Omar
He launched with Rep. Ilhan Omar, who he alleged "smeared US servicemembers involved in Black Hawk Down," "minimized the September 11 attacks," and "laughed at Americans who speak of al Qaeda in a menacing tone."
"Send her back," the crowd repeatedly chanted, echoing the racist tropes of his tweets over the weekend.
Rep. Rashida Tlaib
He then went after Rep. Rashida Tlaib, who he said "agreed" with Omar's characterization of September 11 and "used the F-word to describe the President."
Rep. Alexandria Ocasio-Cortez
"Check out her scores," Trump said, perhaps referring to poll numbers. He claimed she has "conducted outrageous attacks against the men and women of law enforcement."
He referred to her as "Cortez," because, "I don't have time to go with three different names."
He then recalled her comparison of detention centers on the US-Mexico border to concentration camps, noting that Vice President Mike Pence and reporters toured the facilities and claimed "they said, wow, these places are clean." (Even Pence told CNN that the condition of the McAllen Border Patrol Station was "not" acceptable.) He said she told a "lie" that people at the facility she visited were drinking out of toilets. He also claimed that Ocasio-Cortez "described contemporary America – that's me, that's you – as garbage."
"Remember deplorables?" he said to the crowd. "That sounds worse."
Rep. Ayanna Pressley
"Is she related in any way to Elvis?" he quipped. 
Pressley, he said, "thinks that people with the same skin color all need to think the same. She thinks that people with the same skin color all need to think the same. She said we don't need any more brown faces that don't want to be brown voices. She said we don't need any more black faces that don't want to be black voices." 
"Can you imagine if I said that? It would be over, right? It would be over," he said. 
The four congresswomen of color, he warned, "fuel the rise of a dangerous, violent hard left."
"That's why I said, hey, if they don't like it, let them leave," he said. "They don't love our country. I think in some cases, they hate our country."
He characterized the lawmakers as "so angry."
"They were trying to be nice, but it's hard," he said. 
8:08 p.m. ET, July 17, 2019
Trump mocks the pronunciation of Pete Buttigieg's last name
From CNN's Allie Malloy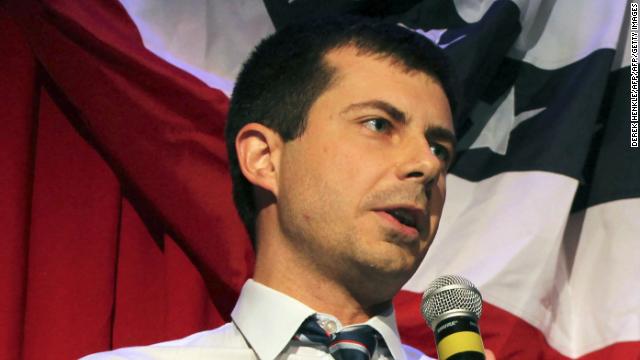 President Trump tore into Democratic candidate Pete Buttigieg tonight.
Trump told that crowd that Vice President Mike Pence said Buttigieg "never did a good job," adding he is "not a star."
Trump told the crowd, after mocking the pronunciation of Buttigieg's last name, that he asked Pence, the former governor of Indiana, how Buttigieg did as mayor of South Bend.
"He never did a good job. I'm so shocked to see him running," Trump said Pence remarked.
Trump also remarked that both Buttigieg and former Vice President Joe Biden would not be able to deal with leaders such as Russian President Vladimir Putin and Chinese President Xi Jinping.
7:57 p.m. ET, July 17, 2019
Trump uses profanity after attacking Democratic congresswomen for doing the same
From CNN's Betsy Klein
While lamenting the "witch hunt" that has plagued the first two and a half years of his presidency, President Trump, who earlier this week criticized Democratic congresswomen for using profanity, used profanity himself. 
"I think we've done more in two and a half years than any other president ever. Could you imagine what could've been if we didn't have the witch hunt?" he said. 
Someone in the audience responded within his earshot, to which Trump said, "I won't say it cause it's a terrible word."
But he couldn't help himself. 
"If we didn't have the bullshit," he said.
As he attacked four progressive lawmakers of color earlier this week, one of the things Trump railed against in a tweet was their "public shouting of the F... word." 
Some background: Michigan Democratic Rep. Rashida Tlaib — one of the four women at the center of Trump's racist tweets —  used an expletive hours after she was sworn in to Congress.
7:41 p.m. ET, July 17, 2019
Trump reacts to "totally lopsided" impeachment vote
President Trump began his remarks at a campaign rally in North Carolina by commenting on the vote in the House earlier tonight to kill an impeachment effort, which he called "the most ridiculous project I've ever been involved in."
On the attempt to impeach him, Trump said to the crowd, "How stupid is that?"
He thanked the Democrats, calling the vote "totally lopsided" and a "disgrace."
"What happened to me, with this witch hunt, should never be allowed to happen to another President of the United States," he added. "Never, ever again."
The vote this evening was 332 to 95.
About the vote: Ninety-five Democrats voted against tabling it, or to keep it alive. That's more Democrats who voted against tabling it in 2017 (58) and 2018 (66).
Trump tweeted shortly after the vote, lamenting "the most ridiculous and time consuming project I have ever had to work on" and claiming it "is now OVER!" However, the vote just means impeachment has been tabled for now. Rep. Al Green, who introduced the resolution, said this evening that he would consider forcing another impeachment vote if necessary.