The government shutdown is over
5:21 p.m. ET, January 24, 2019
Trump says "prorated down payment" for border wall being floated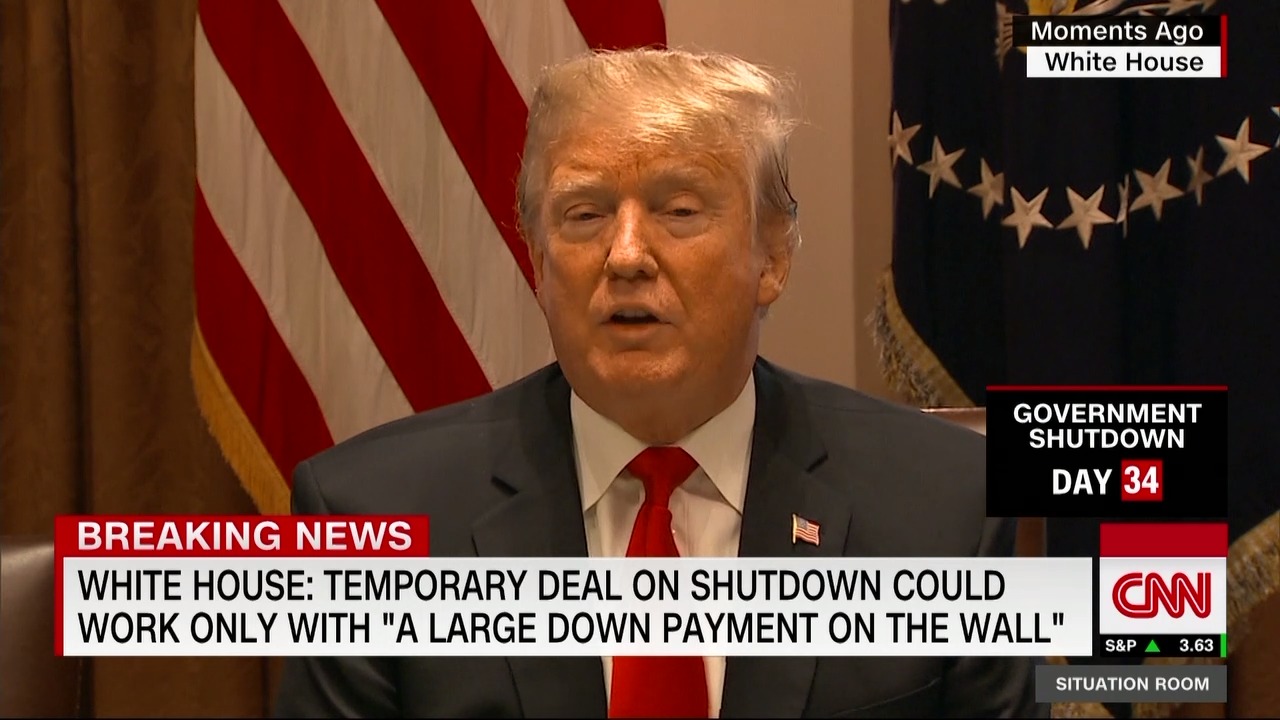 President Trump, in an unplanned press availability Thursday evening, suggested that one of the ideas being floated by Congress is a "pro-rated down payment" for a border wall.
"One of the ideas suggested is they open it, they pay some sort of pro-rated down payment for the wall which, I think people would agree, you need," the President said.
He went on to say: "In fact, I see a lot of the Democrats -- almost all of them are breaking saying, 'Walls are good.'Walls are good.' Big difference from what you had two or three weeks ago."
Trump also praised Democratic Sen. Joe Manchin of West Virginia for supporting a GOP bill that failed to advance in the Senate earlier today.
4:58 p.m. ET, January 24, 2019
Senate Democrats push back on Trump demand for "large down payment" in shutdown deal
Some Senate Democrats are beginning to push back on President Trump's demand for a "large down payment" in exchange for three-week continuing resolution.
Debbie Stabenow, a member of Senate Democratic leadership, said giving into Trump will mean White House will use a shutdown to get whatever they want next time.
"What does he hold workers' wages hostage for next? How many times will he try to hold wages hostage?" she asked.
Sen. Angus King, an Independent lawmaker who caucuses with Democrats and is part of a negotiating group, said this:
"He is basically saying give me what I want — or give me part of what I want — or I'll shut the government down. ... I don't like rewarding shutdown politics."
4:37 p.m. ET, January 24, 2019
Reporters asked Schumer a bunch of questions as he left McConnell's office. He just said "We're talking."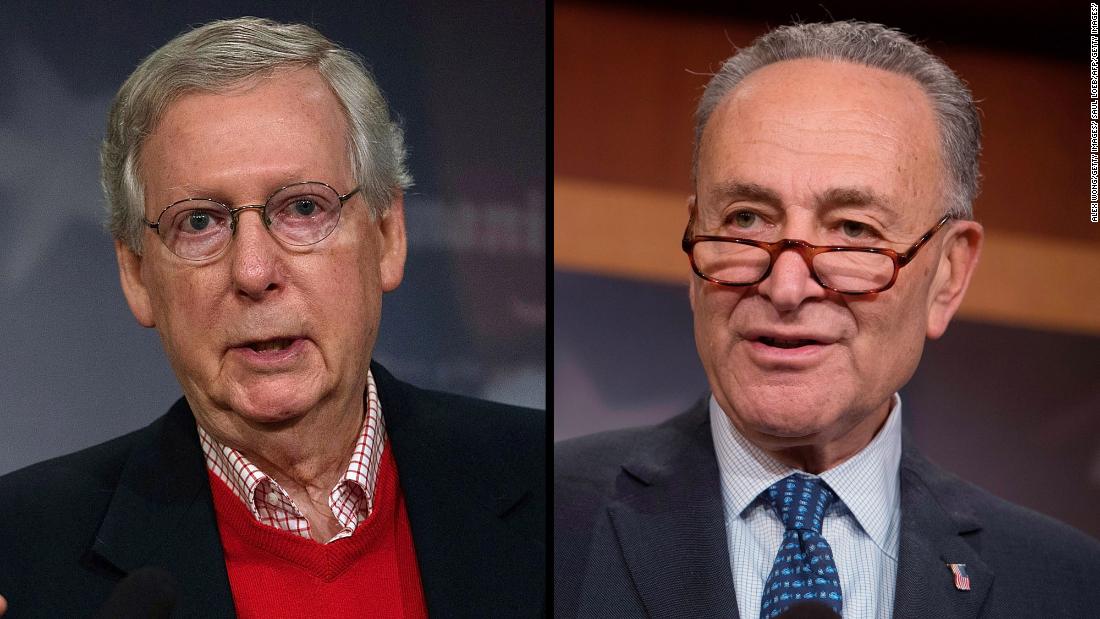 Senate Minority Leader Chuck Schumer just left Majority Leader Mitch McConnell's office.
He said "we're talking" repeatedly to reporters' questions as he walked back to his office.
He said that phrase seven times — and he had a smile on his face. 
4:36 p.m. ET, January 24, 2019
White House: Trump would support bill only with "down payment" on wall
The White House has made clear a key demand on any deal.
"The President would consider a CR only if it includes a down payment on the wall," White House press secretary Sarah Sanders said.
Her remark comes shortly after the Senate failed to advance two proposals to reopen the government.
4:32 p.m. ET, January 24, 2019
The FBI's interns are furloughed because of the shutdown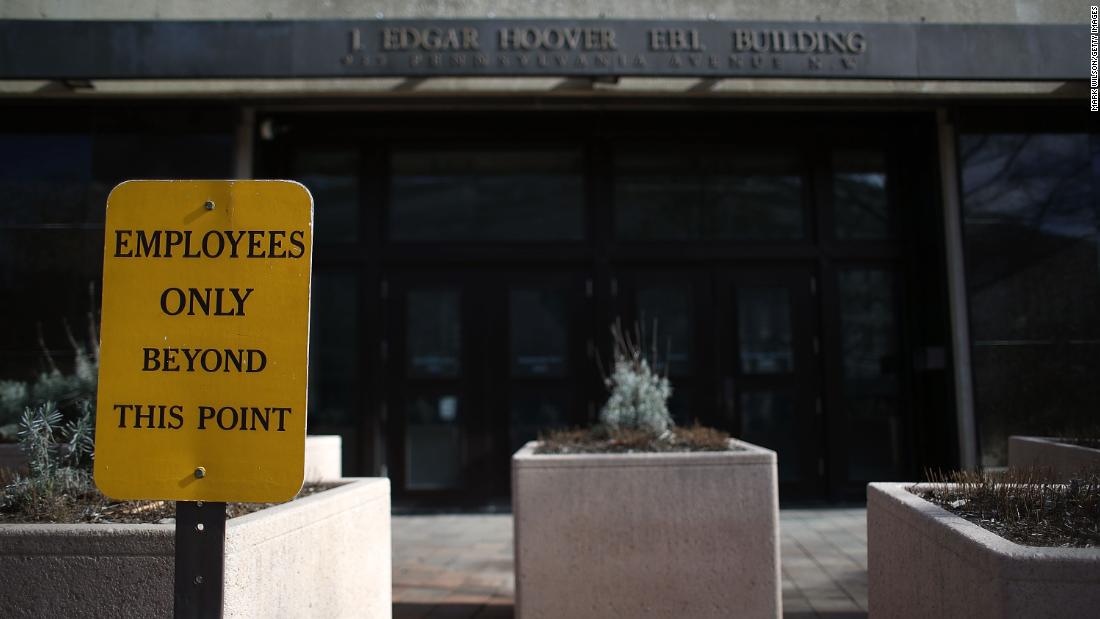 The FBI Honors Internship Program is on pause while the shutdown continues, according to an FBI official. 
All FBI Honors Interns are furloughed, and they may return to work once the shutdown ends, the FBI official said. FBI Honors Interns are paid for their semester-long internship. The 2019 Summer Internship program will go on as scheduled. 
The FBI typically selects approximately 700 new interns each semester, who are assigned to work at FBI Headquarters, at the Bureau's research and laboratory facilities at Quantico, Virginia, and in each of the FBI's 56 field offices around the country.
5:16 p.m. ET, January 24, 2019
GOP Sen. Lindsey Graham told Trump a 3-week spending bill is being discussed
Republican Sen. Lindsey Graham said he just spoke with President Trump and told him they are talking about a three-week continuing resolution to reopen the government.
He said Trump laid out his conditions, which he said Senate Majority Leader Mitch McConnell and Senate Minority Leader Chuck Schumer are discussing right now. 
"Money for a barrier is required to get this deal done," Graham said.
4:08 p.m. ET, January 24, 2019
GOP Sen. Mitt Romney explains why he voted for the Democratic plan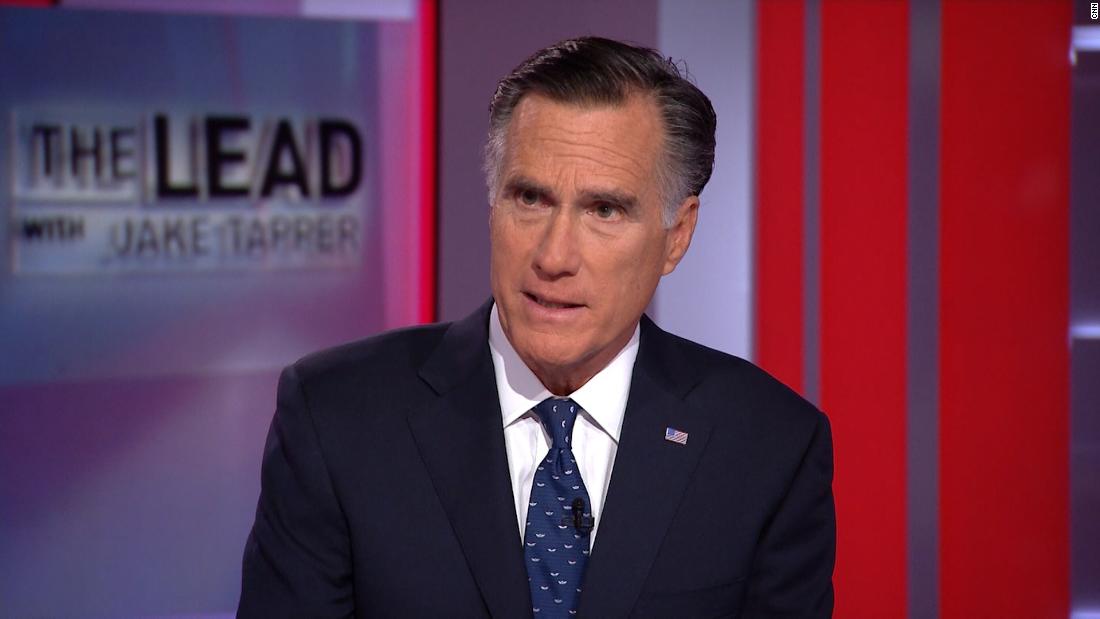 Republican Sen. Mitt Romney said he backed the Democratic funding proposal because his priority "is to get the government open again."
"We made an effort today to vote in favor of reopening the government," Romney said. "The President's proposal was the best one. The Democrat proposal was certainly not as good, but it would have gotten government open and that's why I voted for it."
Both the Democratic proposal and the President's plan ultimately failed to advance in the Senate.
Romney said he will not vote for a final deal that doesn't include a barrier on the southern border and enforcement procedures.
4:00 p.m. ET, January 24, 2019
The Senate just rejected 2 plans to open the government. Here's what happens next.
The Senate failed to advance two proposals to reopen the government this afternoon. (This was expected.)
What happens next: A bipartisan group of senators plans to continue holding talks about a possible deal to reopen the government and cut an immigration deal, according to a source involved.
What they're considering: A short-term spending bill to reopen the government, combined with an agreement to draft a border security package.
More than a dozen senators are trying to pressure President Trump to agree to reopen the government temporarily and House Speaker Nancy Pelosi to make more commitments on border security.
3:40 p.m. ET, January 24, 2019
The Democratic proposal also fails to advance
The Democratic proposal to reopen the government has also failed to advance in the Senate. The final vote was 52-44.
The proposal needed 60 votes to advance.