The government shutdown is over
5:45 p.m. ET, January 24, 2019
Pelosi: A down payment for a wall is "not a reasonable agreement" 
Coming off the House floor, House Speaker Nancy Pelosi said she hopes any potential agreement between Senate Majority Leader Mitch McConnell and Senate Minority Leader Schumer doesn't include a down payment.
"The President just said that if they come to a reasonable agreement he will support it. I hope it doesn't mean some big down payment for the wall."
Asked again about a potential down payment, she said:
"That is not a reasonable agreement between the senators." 
Pelosi was asked what she thinks the President wants for the down payment.
"I don't think he knows what he wants," she quipped.
She confirmed Democrats will have a press conference tomorrow morning, which is expected to be announcement of the Democrats' funding proposal for the Department of Homeland Security. It could include upwards of $5 billion for border security but not for a wall. 
5:33 p.m. ET, January 24, 2019
Trump on Wilbur Ross' remarks: "Perhaps he should have said it differently"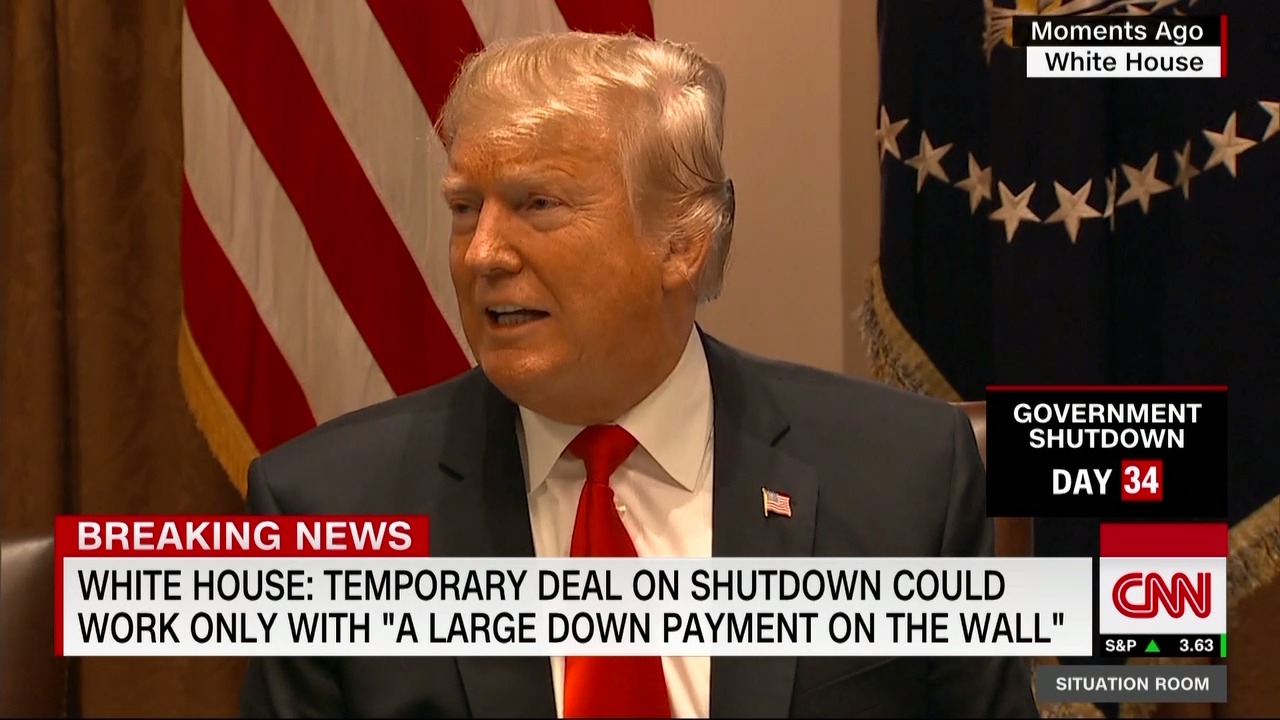 President Trump, speaking about Commerce Sec. Wilbur Ross' remarks about not understanding why federal workers are applying for food stamps amid the partial government shutdown, said "perhaps he should have said it differently".
Asked about it during a photo op, Trump said:
"I haven't heard the statement, but I do understand that perhaps he should have said it differently. Local people know who they are, where they go for groceries and everything else, and I think what Wilbur was probably trying to say is that they will work along. I know banks are working along."
What Ross said earlier today: When asked in a CNBC interview on Thursday about reports that federal workers are going to homeless shelters or seeking food assistance, the billionaire investor said: "Well, I know they are and I don't really quite understand why, because as I mentioned before, the obligations that they would undertake, say borrowing from a bank or a credit union, are in effect federally guaranteed, so the 30 days of pay that some people will be out is no real reason why they shouldn't be able to get a loan against it."
5:33 p.m. ET, January 24, 2019
Trump: "I have other alternatives" to fund the wall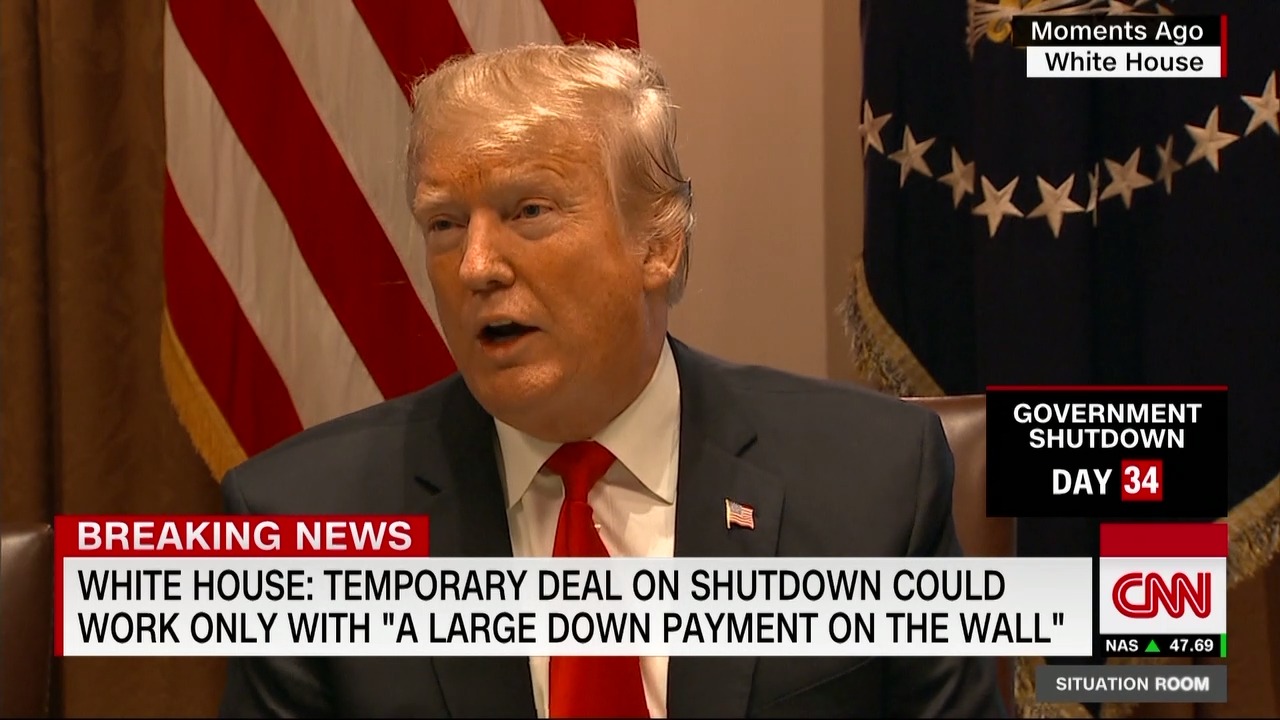 Even as lawmakers discuss a short-term measure to fund the government, President Trump again raised the prospect of other ways to fund a border wall without congressional approval.
Trump said repeatedly he had "alternatives" to secure the wall funding, which he said he was prepared to use.
"I have other alternatives if I have to and I'll use those alternatives if I have to," he said.
"A lot of people who wants this to happen. The military wants this to happen. This is a virtual invasion of our country," Trump said.
Trump hailed a GOP measure that failed in the Senate on Thursday, saying most Republicans held strong even as the bill went down. Still, Trump suggested there were other ways for him to secure border wall funding outside of Congress.
"They're meeting to see if they can work out something, maybe on a temporary basis is where we'll start," he said. "We have a lot of alternatives.
6:05 p.m. ET, January 24, 2019
White House preparing draft national emergency order, identifies $7 billion for wall
The White House is preparing a draft proclamation for President Trump to declare a national emergency along the southern border and has identified more than $7 billion in potential funds for his signature border wall should he go that route, according to internal documents reviewed by CNN. 
Trump has not ruled out using his authority to declare a national emergency and direct the Defense Department to construct a border wall as Congress and the White House fight over a deal to end the government shutdown. But while Trump's advisers remain divided on the issue, the White House has been moving forward with alternative plans that would bypass Congress.
"The massive amount of aliens who unlawfully enter the United States each day is a direct threat to the safety and security of our nation and constitutes a national emergency," a draft of a presidential proclamation reads. 
"Now, therefore, I, Donald J. Trump, by the authority vested in me by the Constitution and the laws of the United States of America, including the National Emergencies Act (50 U.S.C 1601, et seq.), hereby declare that a national emergency exists at the southern border of the United States," the draft adds.
The draft was updated as recently as last week, a US government official told CNN.
The administration, according to options being considered, could pull: $681 million from treasury forfeiture funds, $3.6 billion in military construction, $3 billion in Pentagon civil works funds, and $200 million in Department of Homeland Security funds, the official said.
The Defense Department referred a request for comment from CNN to the White House, which has not responded.
If the declaration is made, the US Army Corps of Engineers would be deployed to construct the wall, some of which could be built on private property and would therefore require the administration to seize the land, which is permitted if it's for public use.
5:21 p.m. ET, January 24, 2019
Trump says "prorated down payment" for border wall being floated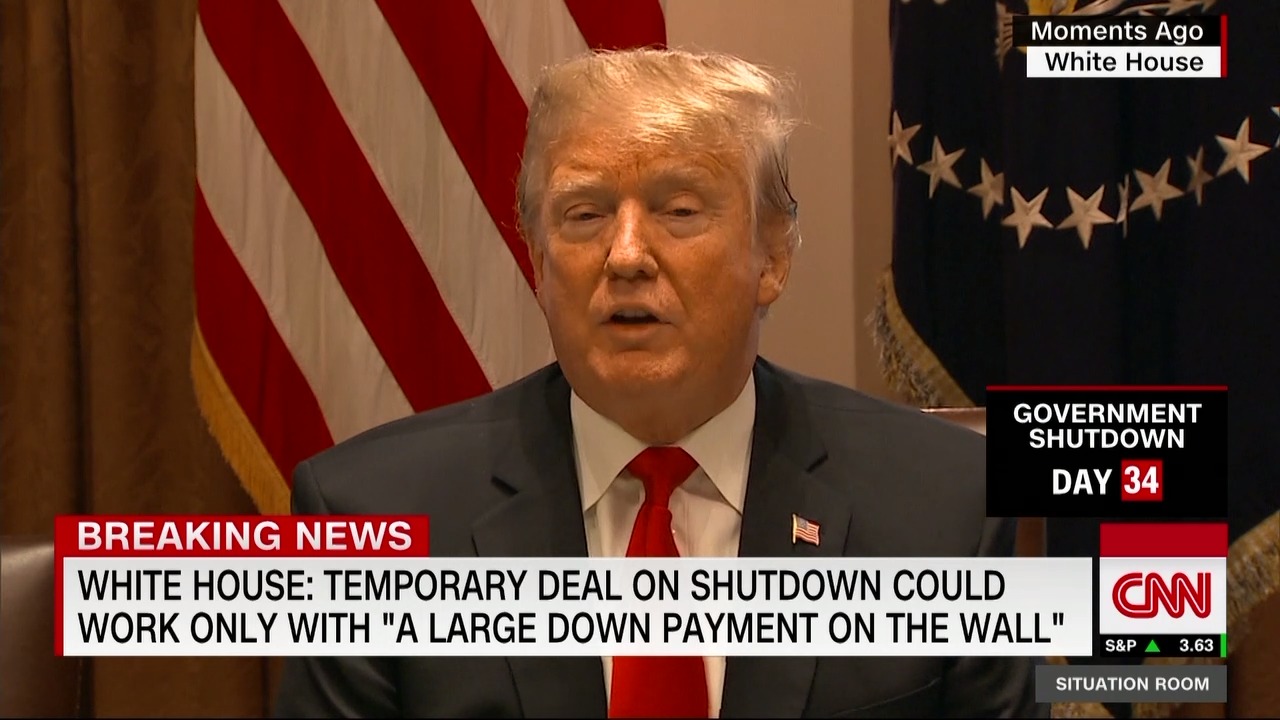 President Trump, in an unplanned press availability Thursday evening, suggested that one of the ideas being floated by Congress is a "pro-rated down payment" for a border wall.
"One of the ideas suggested is they open it, they pay some sort of pro-rated down payment for the wall which, I think people would agree, you need," the President said.
He went on to say: "In fact, I see a lot of the Democrats -- almost all of them are breaking saying, 'Walls are good.'Walls are good.' Big difference from what you had two or three weeks ago."
Trump also praised Democratic Sen. Joe Manchin of West Virginia for supporting a GOP bill that failed to advance in the Senate earlier today.
4:58 p.m. ET, January 24, 2019
Senate Democrats push back on Trump demand for "large down payment" in shutdown deal
Some Senate Democrats are beginning to push back on President Trump's demand for a "large down payment" in exchange for three-week continuing resolution.
Debbie Stabenow, a member of Senate Democratic leadership, said giving into Trump will mean White House will use a shutdown to get whatever they want next time.
"What does he hold workers' wages hostage for next? How many times will he try to hold wages hostage?" she asked.
Sen. Angus King, an Independent lawmaker who caucuses with Democrats and is part of a negotiating group, said this:
"He is basically saying give me what I want — or give me part of what I want — or I'll shut the government down. ... I don't like rewarding shutdown politics."
4:37 p.m. ET, January 24, 2019
Reporters asked Schumer a bunch of questions as he left McConnell's office. He just said "We're talking."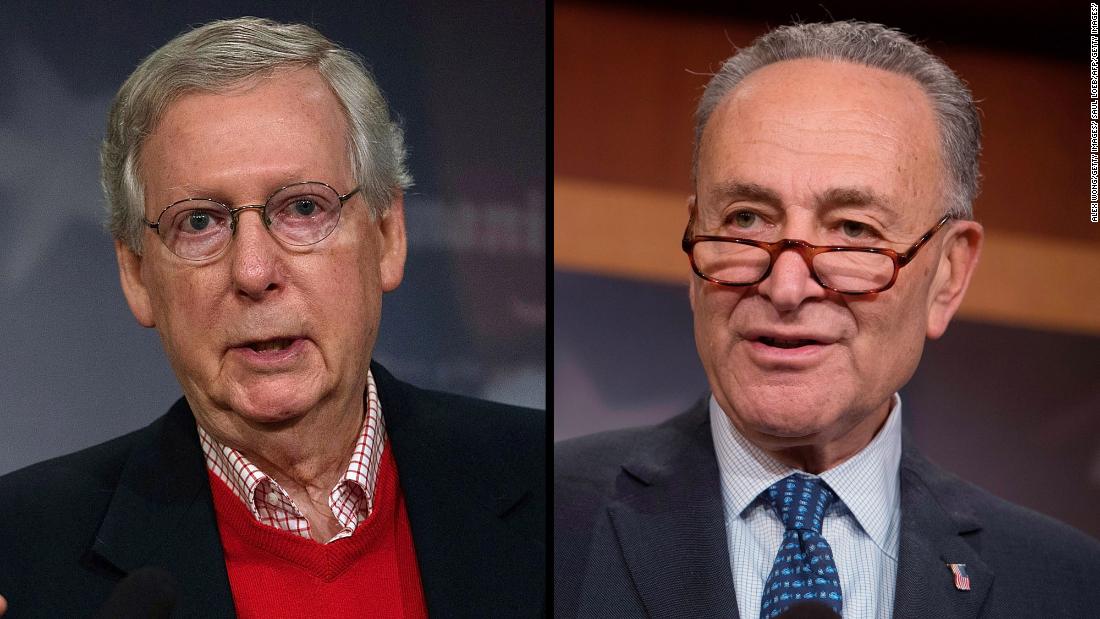 Senate Minority Leader Chuck Schumer just left Majority Leader Mitch McConnell's office.
He said "we're talking" repeatedly to reporters' questions as he walked back to his office.
He said that phrase seven times — and he had a smile on his face. 
4:36 p.m. ET, January 24, 2019
White House: Trump would support bill only with "down payment" on wall
The White House has made clear a key demand on any deal.
"The President would consider a CR only if it includes a down payment on the wall," White House press secretary Sarah Sanders said.
Her remark comes shortly after the Senate failed to advance two proposals to reopen the government.
4:32 p.m. ET, January 24, 2019
The FBI's interns are furloughed because of the shutdown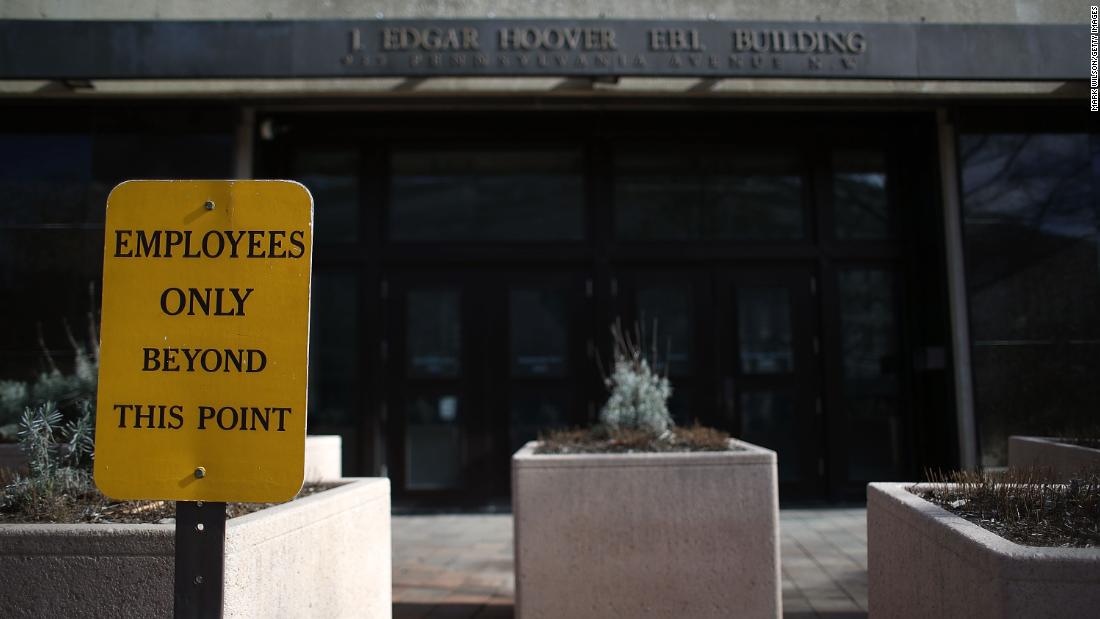 The FBI Honors Internship Program is on pause while the shutdown continues, according to an FBI official. 
All FBI Honors Interns are furloughed, and they may return to work once the shutdown ends, the FBI official said. FBI Honors Interns are paid for their semester-long internship. The 2019 Summer Internship program will go on as scheduled. 
The FBI typically selects approximately 700 new interns each semester, who are assigned to work at FBI Headquarters, at the Bureau's research and laboratory facilities at Quantico, Virginia, and in each of the FBI's 56 field offices around the country.