The government is STILL shut down
5:22 p.m. ET, January 2, 2019
Democrats say no progress was made in meeting with Trump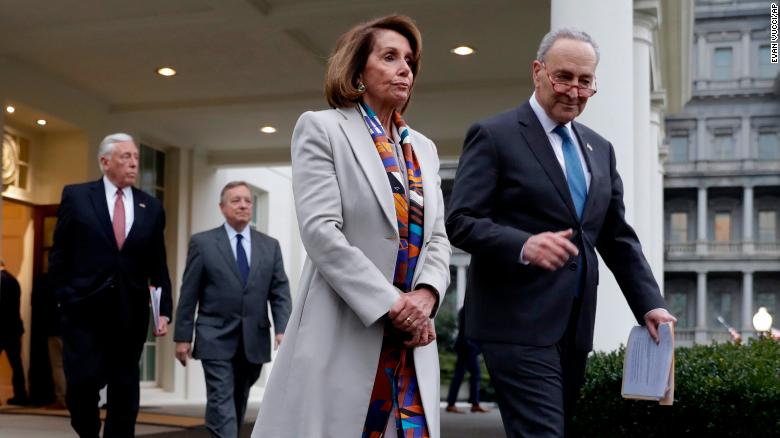 Democrats emerging from a meeting with President Trump indicated there was no breakthrough that might lead to a reopening of the government.
"Our question to the President and to the Republicans is why don't you accept what you have already done to open up government?" said Rep. Nancy Pelosi, the presumed new House Speaker.
Sen. Chuck Schumer, the Democratic leader, said he asked Trump in a meeting on border security in the Situation Room why the government couldn't be reopened while they two sides resolve their differences on the border.
"We asked him to give us one good reason — I asked him directly," Schumer said. "He could not give a good answer."
He added:
"The only reason that they are shutting down the government is very simple. They want to try and leverage that shutdown into their proposals on border security. We want strong border security. We believe ours are better."
"To use the shutdown as hostage — which they had no argument against — is wrong," Schumer said.
4:34 p.m. ET, January 2, 2019
Trump invites lawmakers to the White House — again
President Trump has invited lawmakers to return to the White House on Friday, after leadership races, to continue discussing a path to reopening the government.
Several congressional leaders met with Trump today.
"He asked us to come back on Friday after the leadership races," said Republican Rep. Kevin McCarthy following a meeting on border security in the White House Situation Room. 
McCarthy said Democrats in the meeting — including Senate Democratic leader Chuck Schumer and House Democratic leader Nancy Pelosi — did not appear interested in listening to Homeland Security Sec. Kirstjen Nielsen.
"They really didn't want to hear it," McCarthy said.
3:42 p.m. ET, January 2, 2019
Trump displayed a Game of Thrones-style poster at today's Cabinet meeting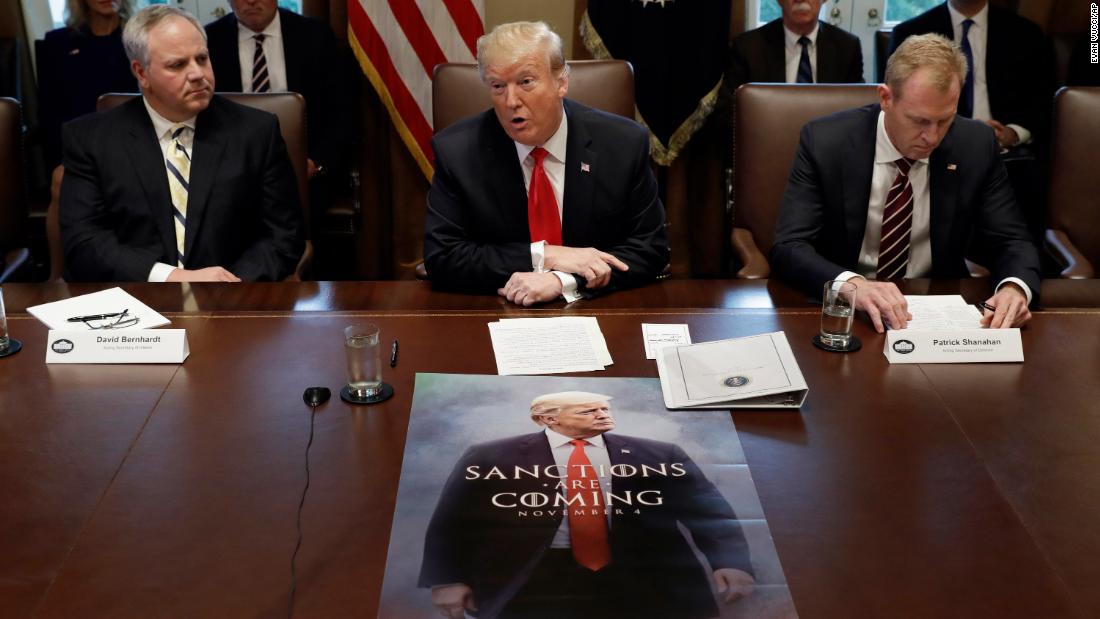 President Trump brought along a special prop to today's Cabinet meeting — a poster featuring an image of himself and the words: "Sanctions are coming" (a play on the well-known "Game of Thrones" saying, "Winter is coming").
Why? Well, we're not entirely sure.
Trump mentioned in his meeting that sanctions have worked with regards to Iran, but made no mention of North Korea — Kim Jong Un just yesterday warned the US on sanctions in New Year's address.
The poster may have served as a reminder to both countries that more sanctions are never more than a season away.
It's not the first time we've seen this image: Trump first shared it in November on his social platforms. HBO told CNN at the time, "We were not aware of this messaging and would prefer our trademark not be misappropriated for political purposes."
HBO issued a more humorous response on Twitter, asking followers: "How do you say trademark misuse in Dothraki?"
Author George R.R. Martin, whose "A Song of Ice and Fire" series is the basis for the epic show, also responded on Twitter with an image of his own.
"Fear cuts deeper than swords," the tweet read. "Vote. Tuesday the 6th."
2:35 p.m. ET, January 2, 2019
Trump: Shutdown could last "a long time"
President Trump insisted he wouldn't accept anything less than $2.5 billion for his long-promised border wall.
He said more federal dollars are spent in Afghanistan in a month than for the wall.
"I mean, we spend in Afghanistan more in one month than what we're talking about for the wall. Think of that, okay. That's another way," Trump said.
He said $5.6 billion isn't much for border security.
"The 5.6 billion is such a small number. Literally, it's one month in Afghanistan and we're talking about national security. This isn't just a border. This is national security. This is health and wellness. This is everything," Trump said.
He added that the shutdown could last "a long time and it could be quickly."
2:50 p.m. ET, January 2, 2019
Trump describes his Christmas: "I was all by myself in the White House"
President Donald Trump was asked to speculate on how much longer he thinks the government shutdown will last.
"It could be a long time, and it could be quickly," he told reporters during his Cabinet meeting.
He lamented being all by himself in the White House over the Christmas holiday, having made the decision to stay in Washington and forego his Palm Beach vacation due to the shutdown. He said he waved to machine gun-toting security on the White House lawn. 
"I was here on Christmas evening, I was all by myself in the White House," he said, although the first lady and son Barron were in town briefly for the holiday.
He continued, "It's a big, big house except for all those guys out on the lawn with machine guns. Nicest machine guns. I was waving to them. I never saw so many guys with machine guns in my life. Secret Service and military, these are great people. They don't play games. They don't like waves. They don't even smile. But I was there all alone with the machine gunners and I felt very safe."
Trump said he was hoping Congressional leadership would come to negotiate an end to the shutdown.
"I was hoping that maybe somebody would come back and negotiate, but they didn't do that," he said.
3:12 p.m. ET, January 2, 2019
Trump says Syria is not worth US effort: "We're talking about sand and death"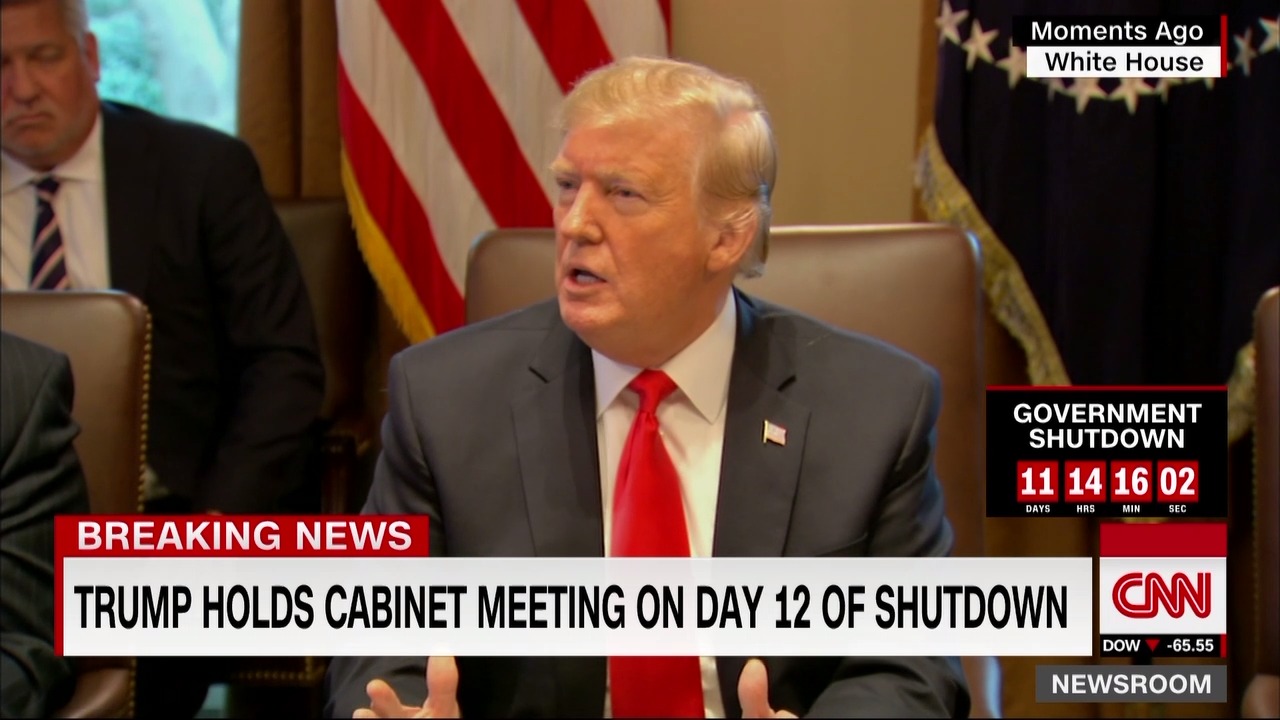 President Trump on Wednesday defended his decision to withdraw US troops from Syria, saying the country was not worth the US effort.
"We're talking about sand and death. We're not talking about vast wealth. We're talking about sand and death," he said.
Questioned about a timeline for withdrawing US troops from Syria, Trump did not offer a specific number of months.
"Somebody said four months. I didn't say that," he said, adding later: "I think it's just over a period of time."
Trump's decision to withdraw was a facet of former Pentagon chief James Mattis' decision to resign.
Watch the moment:
3:06 p.m. ET, January 2, 2019
Trump says he "essentially" fired James Mattis. He actually resigned in protest.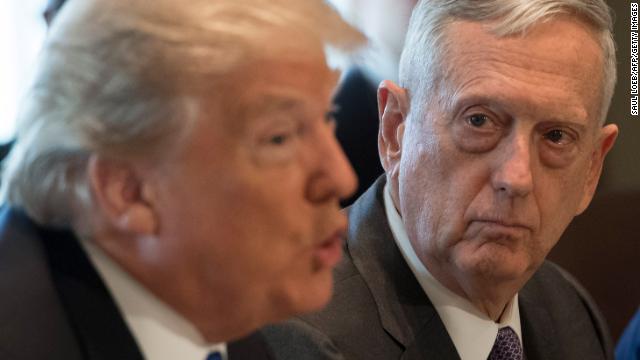 President Trump, speaking at a Cabinet meeting during the ongoing government shutdown, claimed he "essentially" fired his former Pentagon chief James Mattis, despite a resignation letter in which Mattis wrote he was departing because he didn't share Trump's worldview.
"I wish him well. I hope he does well. But as you know, President Obama fired him and essentially so did I," Trump said. "I want results."
Mattis departed as head of Central Command under Obama, in part because of disagreements over Iran. 
In his resignation letter to Trump, Mattis said the President deserved a Defense chief more closely aligned with his "America First" views. Aides said at the time that Trump was frustrated at coverage of Mattis' resignation.
Trump said during his Cabinet meeting on Wednesday that Mattis was thrilled when Trump secured hundreds of dollars in military funding. But he said Mattis hadn't provided any success in return.
"What's he done for me? How has he done in Afghanistan? Not too good. Not too good. I'm not happy with what he's done in Afghanistan and I shouldn't be happy."
After recalling a meeting in which he questioned why the Taliban could not fight ISIS without US involvement, Trump mused he might have made a good military man.
"I think I would have been a good general but who knows?" Trump said. While of the Vietnam era, Trump himself did not serve after receiving a draft exemption for bone spurs.
Watch it here:
2:59 p.m. ET, January 2, 2019
Trump doesn't say if he'd support a deal of less than $5 billion to reopen government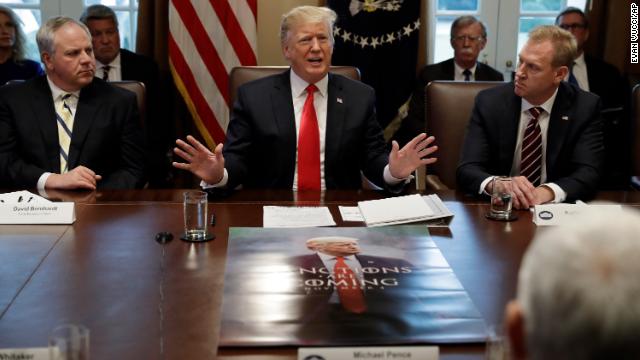 During a cabinet meeting on Wednesday, a reporter asked President Trump: "Is there a number below $5 billion that you'd be willing to accept in order to reopen the government?"
Here's how Trump responded:
"I'd rather not say it. Could we do it for a little bit less? It's so insignificant compared to what we're talking about. You know, I've heard numbers as high as $275 billion we lose on illegal immigration," Trump said. "Here you have a wall where we're talking about to complete, because, again a lot of it has already been done. We've been getting money in. … The $5 billion approved by the House is such a small amount compared to the level of the problem."
One thing to note: CNN previously reported that Vice President Mike Pence put a proposal for $2.5 billion for a combination border security and immigration priority funding on the table last week, but was rebuffed by Senate Minority Leader Chuck Schumer.
For his part, the President hasn't publicly endorsed that proposal or any other beyond his initial request for $5 billion.
Watch the moment here:
1:31 p.m. ET, January 2, 2019
These are the 5 longest government shutdowns in US history
The first federal government shutdown in US history happened in 1976.
In total, there have been 21 government shutdowns over the course of 42 years, including the one we are currently in. There have only been four shutdowns since 1997.
Here's a list of the five longest government shutdown in US history:
21 days: The shutdown, under former President Bill Clinton, started Dec. 16, 1995 and ended Jan. 5 1996.
17 days: It began Oct. 1, 1978 and ended Oct. 17, 1978 during the Carter administration.
16 days: This shutdown started Oct. 1, 2013, under former President Barack Obama, and concluded Oct. 16. 2013.
12 days: Former President Jimmy Carter oversaw another shutdown in 1977.
11 days: The government shut down again under the Carter administration in 1979.
One thing to note: Jan. 3, 2019 would be Day 13 of the shutdown, making it the fourth longest in US history.