The government is STILL shut down
11:51 a.m. ET, January 10, 2019
White House lawyers prepping legal justification for national emergency
Part of the White House counsel's office review of declaring a national emergency has included laying the groundwork for a legal defense of the move, according to officials familiar with the matter.
That has included advising the President's aides on ramping up talk of the humanitarian and security "crisis" — a characterization that administration lawyers could use later in court to defend a national emergency. The lawyers have suggested the more times the term is used, the more citations they will have in filing a legal defense. 
Trump and others in the White House began using that term more frequently over the past week.
The lawyers are looking for other ways to illustrate that an emergency is underway, recognizing a declaration would be challenged by Democrats. That has also included hosting lawmakers in the Situation Room for talks, a setting that lends to the sense of crisis. 
The counsel's office review of the emergency powers as it relates to the border began in the middle of last week, officials said. Trump said today his legal team has told him he has the "absolute right" to declare an emergency.
11:43 a.m. ET, January 10, 2019
Pelosi: Yesterday's White House meeting was staged so Trump "could walk out"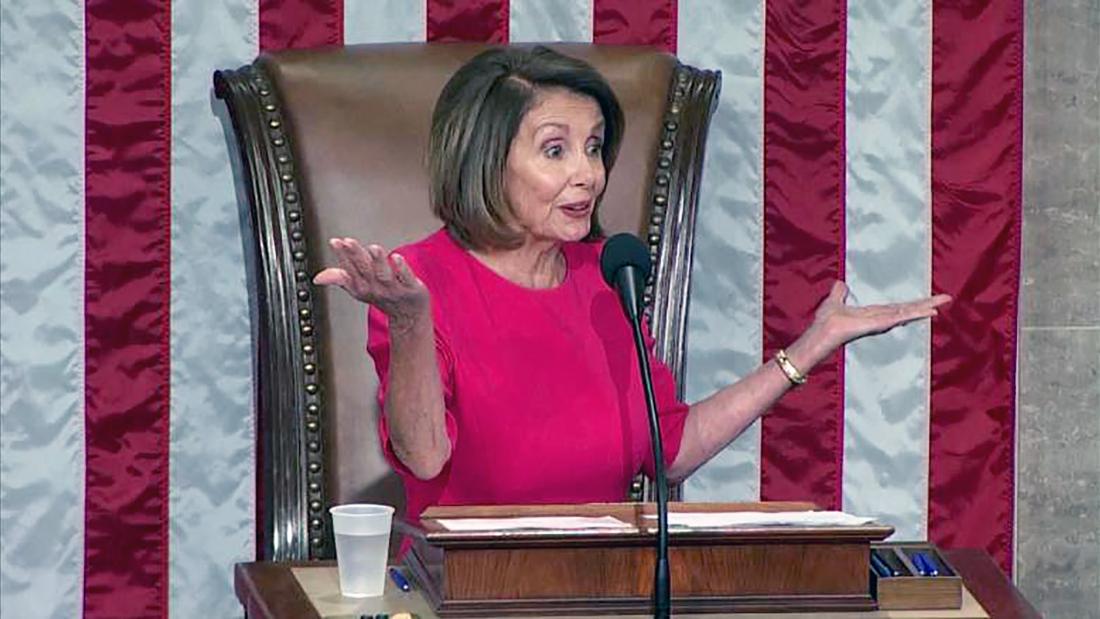 House Speaker Nancy Pelosi said House Democrats would continue to vote on spending bills next week to reopen shuttered parts of the government.
Talking about yesterday's meeting, Pelosi described Trump as "un-presidential" and accused his team of staging the event.
"I think the meeting was a setup, so he could walk out," Pelosi said.
"I don't know that the President wants the wall. I think he just wants to debate the wall," she added.
Asked how the House would respond if Trump declared a national emergency, Pelosi said "let's see what he does."
"If and when the President does that, you'll find out how we would react," she said, predicting Trump will have problems on his own side of the aisle "for exploiting this situation in a way that enhances his power."
"I don't think he really wants a solution," she later added. "I think he loves the distraction."
11:39 a.m. ET, January 10, 2019
"We aren't bargaining chips": Workers rally against shutdown in New York City
A group of government employees have gathered at the IRS building in New York City to protest the government shutdown.
Many are holding signs. Some of them read....
"Let me do my job"
"End the shutdown"
"Reopen the EPA"
"We want to work"
"We aren't bargaining chips!"
Watch more:
11:06 a.m. ET, January 10, 2019
Aviation unions and trade associations implore Trump, Pelosi, and McConnell to "act now"
Nearly three dozen major aviation groups, including unions representing airline pilots, air traffic control operators, and air medical operators, have sent President Donald Trump, Speaker Nancy Pelosi, and Majority Leader Mitch McConnell a letter explaining the many ways the shutdown is affecting various aspects of the aviation system, from TSA to FAA to air traffic control.
The letter implores them to "act now" because the shutdown is "hampering our ability to function effectively" and has "inflicted real damage."
Here's who signed the letter:
10:32 a.m. ET, January 10, 2019
These Florida cities are waving furloughed workers' late fees on missed bills
The city of Minneola in central Florida is deferring federal workers' bills and waving late fees until after the shutdown is over.
"We understand the federal government shutdown is beyond your control and a difficult time for you and your families," the city wrote on Facebook.
The city is deferring water, wastewater, reclaimed water, irrigation water, stormwater, and solid waste fees and waiving all late fees.
The nearby city of in Mascotte, Florida, also will not charge late fees if furloughed workers miss their bill payments.
"We will not disconnect a resident who is working for one of the closed federal agencies and we will not be charging late fees," Jim Gleason, the city manager of Mascotte said. "They will need to pay the bill, but we will work with them on a plan to get caught when they start to get paid."
10:17 a.m. ET, January 10, 2019
Trump says he won't go to economic forum in Davos if shutdown continues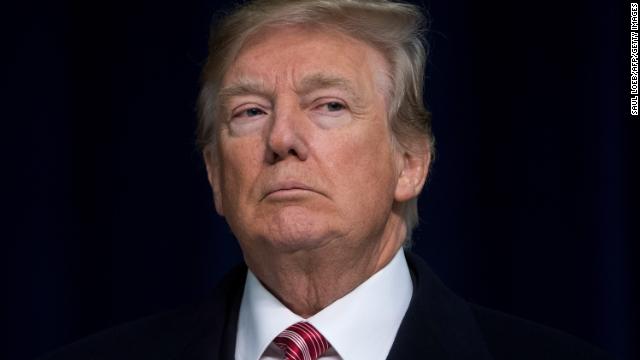 President Trump said his trip to Davos, Switzerland, for the World Economic Forum is up in the air as the government shutdown continues.
"Well, I intended to go and speak in front of the world financial community in Davos. That's still on, but if shutdown continues, which is in a while from now, if the shutdown continues, I won't go," he told reporters Thursday.
"We have a great story to tell" the world leaders, Trump said, citing the "best job numbers we've ever had in many ways."
Watch more:
10:47 a.m. ET, January 10, 2019
Trump: I will "almost say definitely" declare national emergency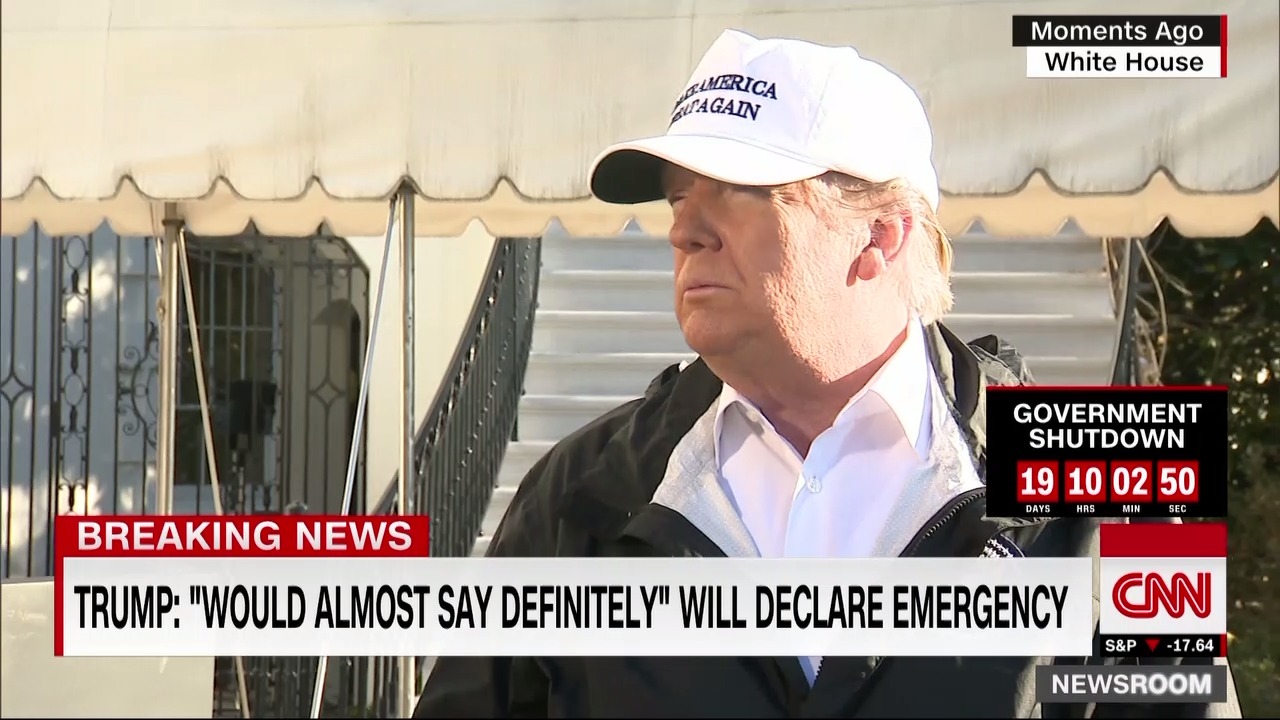 President Trump said that he may declare a national emergency over the southern border amid an impasse with Democrats over the need for a wall.
"I have the absolute right to declare a national emergency," Trump said after stating, correctly, that other presidents have used it, some fairly often. "I haven't done it yet. I may do it. If this doesn't work out, probably I will do it. I would almost say definitely," the President said.
When asked why he hadn't already declared it, Trump said, "Because I would like to do the deal through Congress, and because it makes sense to do it through Congress."
He said "the easy route" would be to simply call the national emergency.
Why this is significant: By declaring a national emergency, Trump allies hope he can then find the funds needed to build the wall without Congressional authorization. Senior Republicans, however, have cautioned against it.
Senate Majority Whip John Thune earlier on Thursday raised concerns about that possibility, saying it could get tied up in the courts and would set a concerning precedent.
"Frankly I'm not crazy about going down that path," Thune told CNN. "Inevitably, I suspect it probably gets challenged in court."