The government is STILL shut down
9:27 a.m. ET, January 11, 2019
Trump says he may declare a national emergency. Here's what it means for the shutdown.
President Trump has repeatedly said he's considering declaring a national emergency if the shutdown talks crumble.
So what happens to the shutdown if Trump does, in fact, declare one?
The government does not just immediately re-open and the overall dynamics remain the same: The Senate, House Democrats and President Trump all need to sign off on the plan to fund the 25% of the government currently shut down. 
At this point, according to GOP sources in both chambers, the White House has not fully laid out what President Trump would accept. While those same Republican sources are fairly certain the President will soon declare a national emergency, what the agreement would be to actually re-open the government remains an unknown. 
Given that — and the fact most senators have gone home for the week — it's exceedingly unlikely the government re-opens any time soon, no matter what the President does with his emergency declaration.
8:58 a.m. ET, January 11, 2019
Today is the first day many workers will miss a paycheck
Hundreds of thousands of federal workers are waking up to their first full missed paychecks today.
Take, for instance, William Striffler, an air traffic controller at Newark Liberty International Airport in New Jersey.
He gave CNN permission to use this image of his pay stub. The amount listed under "net pay?" $0.00.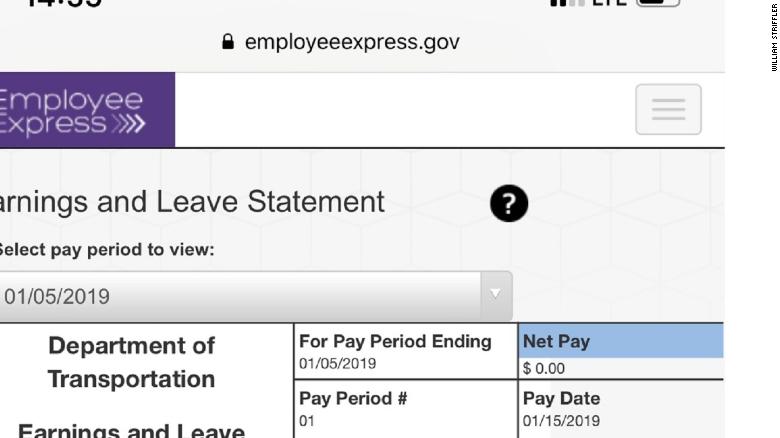 Meanwhile, some members of Congress are refusing or donating their own paychecks in a show of solidarity with furloughed workers.
So far, 71 members of Congress say they will turn down their paychecks during the partial government shutdown, according to social media posts and statements reviewed by CNN.
That comprises 13 senators and 58 representatives, with members from both parties making up a similar proportion of those going without pay. Fourteen representatives passing on pay are newly elected and were sworn in this year.
8:03 a.m. ET, January 11, 2019
This shutdown now ties the longest one in US history
Today marks the 21st day of the government shutdown, which means it's now ties the previous record.
About the last 21-day shutdown: The shutdown stretched over three weeks in December 1995 and January 1996 as President Bill Clinton and the GOP Congress clashed over federal spending.
The Republicans refused to OK a spending bill because they wanted the Democrats and the White House to — among other things — agree to deep cuts to Medicare and Medicaid.
The shutdown ended only after Clinton bowed to a key Republican demand: Submitting a seven-year balanced budget plan scored by the Congressional Budget Office.
Here's a look at the other shutdowns in US history:
7:40 p.m. ET, January 10, 2019
Funds meant for Puerto Rico and other areas hit by disasters could be diverted to build wall
The Trump administration is actively examining using billions of dollars in unspent Defense Department disaster recovery and military construction funds for the construction of a border wall in the event the President declares a national emergency, according to a US official.
Congress appropriated $14 billion in supplemental funds to repair infrastructure in areas of the country hardest hit by disasters including hurricanes, like Hurricane Maria which slammed Puerto Rico in 2017 and resulted in the deaths of nearly 3,000 people.
In anticipation of a national emergency declaration, the official tells CNN that the Pentagon was asked to provide lists of unspent funds including those earmarked for civil works projects that are part of disaster recovery in Puerto Rico, Texas, California, Florida, and elsewhere. The official said the funds were only recently received. There is more than $13 billion not yet physically spent on the infrastructure repair projects, but that have been promised to these communities.
For instance, more than $2 billion planned for projects in Puerto Rico has not yet been spent. More than $4.5 billion for projects in Texas, including those related to 2017's Hurricane Harvey, has also not been spent.
7:07 p.m. ET, January 10, 2019
Furloughed NASA employees visit "help room" for financial assistance
A portion of a Ramada Inn in Mountain View, California, was converted into a "help room" Thursday for furloughed employees from NASA's Ames Research Center.
Members of the Ames Federal Employees Union received $100 for visiting the assistance center, CNN affiliate KPIX reported.
Research engineer Robert Conrad Rorie went to the center Thursday morning and told the news station the shutdown is causing him stress.
"It certainly feels like the President has zero sense of accountability for people, it's obviously a political stunt. It really comes down to people like us who aren't getting any paychecks right now," Rorie told KPIX.
6:36 p.m. ET, January 10, 2019
Shutdown puts ICE at risk of running out of money to pay contractors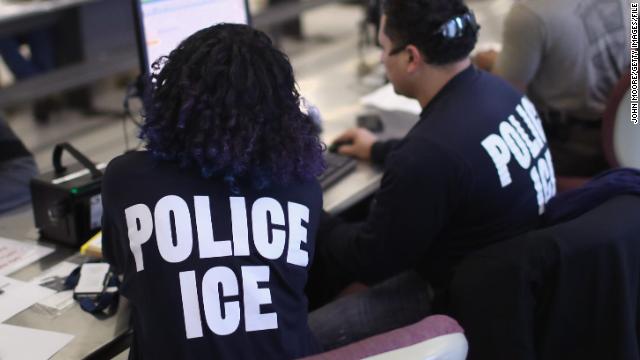 The government shutdown could soon put the immigration enforcement arm of the Department of Homeland Security at risk of running out of funds and unable to pay contract dues.
Immigration and Customs Enforcement is tasked with, among other things, detaining and deporting undocumented immigrants in the United States. To do so, the agency contracts with private companies and county jails across the country. But, with shutdown talks at an impasse and no additional funding in sight, ICE is forced to work with what it already has in its coffers.
"ICE only has a finite amount of money that they had been appropriated and that ended on December 21," said Tracey Valerio, the former director of management at ICE, referring to the date when government funding expired. "If we go much more than a month or so, I would think that the money would run out."
6:24 p.m. ET, January 10, 2019
Trump rejected a compromise proposal by group of Senate Republicans, sources say
President Trump rejected a working outline by small group of Senate Republicans to reopen the government, according to two people directly involved.
The idea would have reopened the government as congressional committees worked through a deal that would have included border wall funding in exchange for temporary safeguards for the Deferred Action for Childhood Arrivals and temporary protected status programs.
The senators presented the idea to Vice President Mike Pence this afternoon. They were told later the President would not accept the idea given its immediate reliance on stop-gap funding to reopen the government as negotiations over the wall funding continued, the sources said.
Pence, talking to reporters today, said the President has been "clear" wanting to wait and see how the Supreme Court rules on DACA before addressing the issue.