The government is STILL shut down
10:47 a.m. ET, January 10, 2019
Trump: I will "almost say definitely" declare national emergency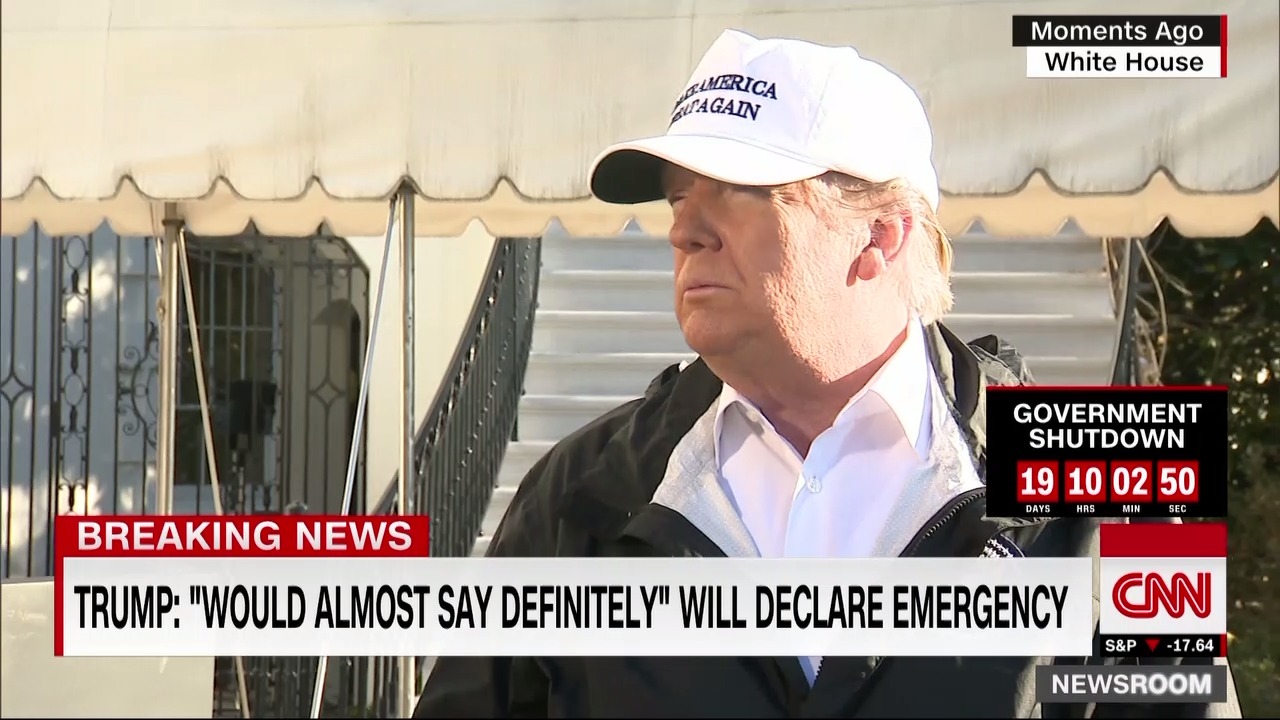 President Trump said that he may declare a national emergency over the southern border amid an impasse with Democrats over the need for a wall.
"I have the absolute right to declare a national emergency," Trump said after stating, correctly, that other presidents have used it, some fairly often. "I haven't done it yet. I may do it. If this doesn't work out, probably I will do it. I would almost say definitely," the President said.
When asked why he hadn't already declared it, Trump said, "Because I would like to do the deal through Congress, and because it makes sense to do it through Congress."
He said "the easy route" would be to simply call the national emergency.
Why this is significant: By declaring a national emergency, Trump allies hope he can then find the funds needed to build the wall without Congressional authorization. Senior Republicans, however, have cautioned against it.
Senate Majority Whip John Thune earlier on Thursday raised concerns about that possibility, saying it could get tied up in the courts and would set a concerning precedent.
"Frankly I'm not crazy about going down that path," Thune told CNN. "Inevitably, I suspect it probably gets challenged in court."
10:04 a.m. ET, January 10, 2019
Trump claims Republicans are "extremely united" in wall dispute, despite cracks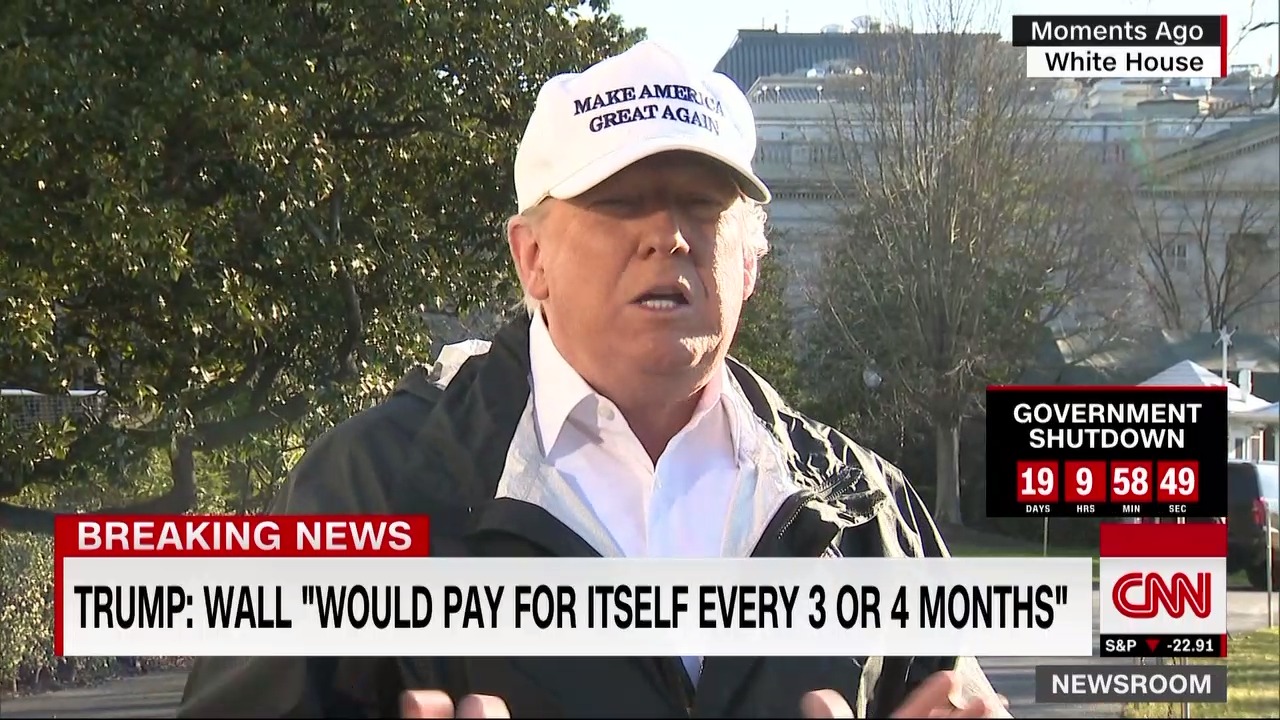 President Trump, departing the White House of his way to the US border, said Republicans are "extremely united" amid the shutdown unlike ever before.
"They all want to see something happen, but they are extremely united. And I don't think I have ever seen unity like this in the Republican party," Trump said. "We have tremendous unity in the Republican party. It's really a beautiful thing to see."
Trump added that there will not be "any breakaway" because Republicans "know we need border security."
But not every GOP lawmaker is on the same page right now: At last count three GOP senators — Susan Collins, Lisa Murkowski and Cory Gardner — have called for an end to the shutdown. Another six have voiced concerns. And eight Republican representatives joined a House vote last night to reopen IRS and other financial agencies.
9:49 a.m. ET, January 10, 2019
Government worker unions will rally in DC today
More than two dozen unions, representing workers across the federal government, will rally in Washington today.
The rally, organized by The American Federation of Labor and Congress of Industrial Organizations, is set to begin at the AFL-CIO headquarters in Washington, with a march to the White House.
Here's the handout from AFL-CIO: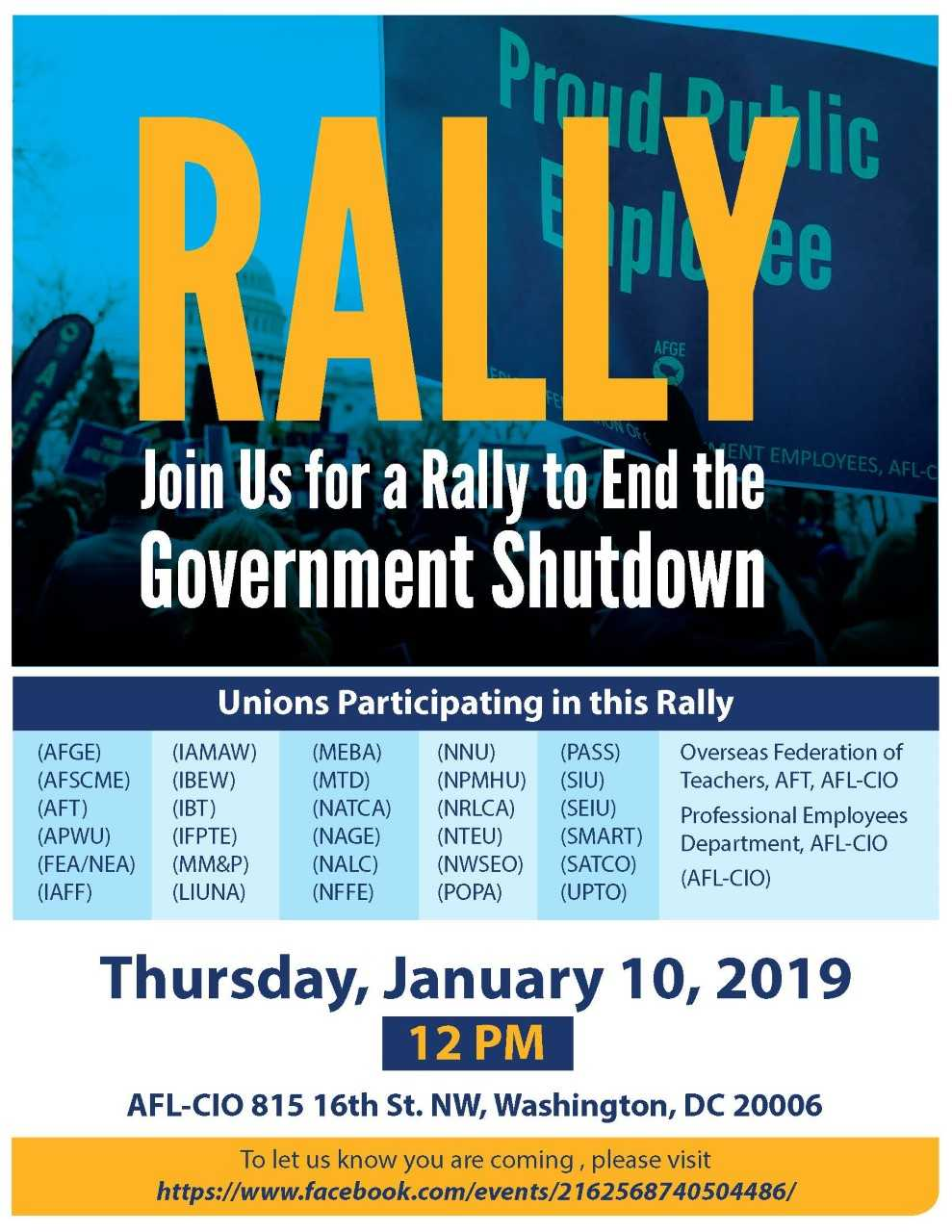 9:21 a.m. ET, January 10, 2019
It's still safe to fly, but that could change
Despite the government shutdown, millions of travelers still pass through the country's airports every day.
But despite news of understaffing, delayed payments and stress brought on by government furloughs, it's still safe to fly.
Here's the bottom line: No one wants air travel to be unsafe. Not travelers, not government employees, not agencies, not air carriers, no one. To that end, while a government shutdown affects a lot of aspects of air transportation, safety is prioritized above all.
However, just because air travel is still safe now does not mean that a prolonged government shutdown wouldn't have a potentially dangerous impact. If the shutdown drags on, eventually there could be problems.
Issues like understaffing and employees quitting will only get worse with time. Other issues that aren't a problem now may be in the future.
For instance, while the government is shut down pilots can't get their licenses renewed and new air traffic controllers and other critical positions can't be trained to assume their roles.
9:10 a.m. ET, January 10, 2019
Trump says there's great support for the wall. Here's what the polls say.
President Trump just tweeted that support for his long-promised border wall is "even greater than anyone would know."
Here are the facts: While the border wall may be popular with his base, Americans have been consistently opposed to his idea of a border wall. Before the shutdown, they opposed it by about a 10-to-20 point margin. There's no sign that's changed in the latest polling.
President Trump this morning also tweeted about the "GREAT unity" among Congressional Republicans amid the shutdown — but that's also inaccurate.
Where GOP lawmakers stand: At least count three GOP senators — Susan Collins, Lisa Murkowski and Cory Gardner — have called for an end to the shutdown. Another six have voiced concerns. And eight Republican representatives joined a House vote last night to reopen IRS and other financial agencies.
12:54 p.m. ET, January 10, 2019
Chuck Schumer says he'll demand Mitch McConnell take up House bills to reopen government
Senate Minority Leader Chuck Schumer just tweeted that he will demand Majority Leader Mitch McConnell take up House bills to re-open government.
The House passed a financial services spending bill on Wednesday despite the fact that the measure is not expected to go anywhere in the Senate and faces a White House veto threat.
Here's Schumer's tweet:
About the House legislation: Last night, the House passed the financial services spending bill, the first of four appropriations bills the House will vote on this week in an attempt to reopen shuttered parts of government. 
The vote was 240-188.
Eight Republicans joined with Democrats to pass the bill. That's one more Republican than the number of Republicans who supported a similar bill last week. The vast majority of Republicans still object to the bill. 
The eight Republicans were:
Rep. Jaime Herrera Beutler (WA-03)
Rep. Adam Kinzinger (IL-16)
Rep. Brian Fitzpatrick (PA-08)
Rep. Will Hurd (TX-23)
Rep. John Katko (NY-24)
Rep. Elise Stefanik (NY-21)
Rep. Fred Upton (MI-6)
Rep. Greg Walden (OR-2)
8:24 a.m. ET, January 10, 2019
Where things stand on the 20th day of the government shutdown
We're 20 days into the shutdown, and the leaders of a divided federal government have reached total breakdown.
The dramatic theater of yesterday aside, with each passing day it has become increasingly clear that President Trump won't — and thinks he can't — buckle on his wall demand. And Democrats won't — and think they can't — buckle on their refusal to give him money for the wall.
Meanwhile, hundreds of thousands of federal workers miss their first full paychecks tomorrow. This is, to be blunt, a mess. 
Bottom line: Republican aides are increasingly saying the only way out is for the President to declare the national emergency, claim victory, fight it out in the courts and let the government re-open.
But this plan isn't set yet: The White House has not told Hill Republicans that's they way they are going to go.
8:01 a.m. ET, January 10, 2019
The White House feels like it is running out of options on the shutdown
It increasingly looks like President Trump could declare that there is a national emergency on the border and then sign the spending bills to open up the government, according to a White House official.
Talks with Democrats hit a wall Wednesday after Nancy Pelosi told the President she would not support building a barrier structure on the U.S.-Mexico border. Officials inside the administration increasingly feel like this is one of few options. 
A note on possible timing: In an unusual move, Pat Cipollone, the White House counsel, is traveling with the President to the southern border today. However, Trump is not expected to declare a national emergency while there, though people close to the President caution this could change.
And remember: There has been serious debate internally about the legal ramifications of Trump declaring a national emergency so he can build his border wall without congressional approval. 
"I have the absolute right to do national emergency if I want," Trump told reporters Wednesday. 
While it's not certain Trump will declare an emergency, the White House likes being able to hold the card over Democrats who they say have refused to compromise or even negotiate. 
White House officials, even those that feel they've "won" the shutdown messaging so far, say they believe things will take a turn starting Friday, when hundreds of thousands of federal workers won't receive their paychecks. Things could only get worse on Saturday, when news outlets and television networks will be able to declare this the longest continuous shutdown in US history. 
7:45 p.m. ET, January 9, 2019
White House counsel Pat Cipollone will join Trump on border trip tomorrow
President Trump is bringing White House counsel Pat Cipollone on his trip to the southern border tomorrow, sources tell CNN.
Homeland Security Secretary Kirstjen Nielsen and Kevin K. McAleenan, commissioner of Customs and Border Protection, will also join the President.
There is no indication as of now that Cipollone is heading there because the President is going to declare national emergency during the trip.
One thing to note: The White House counsel doesn't often travel on presidential trips.