The government is STILL shut down
4:17 p.m. ET, January 9, 2019
Schumer: Trump walked out of meeting with Democrats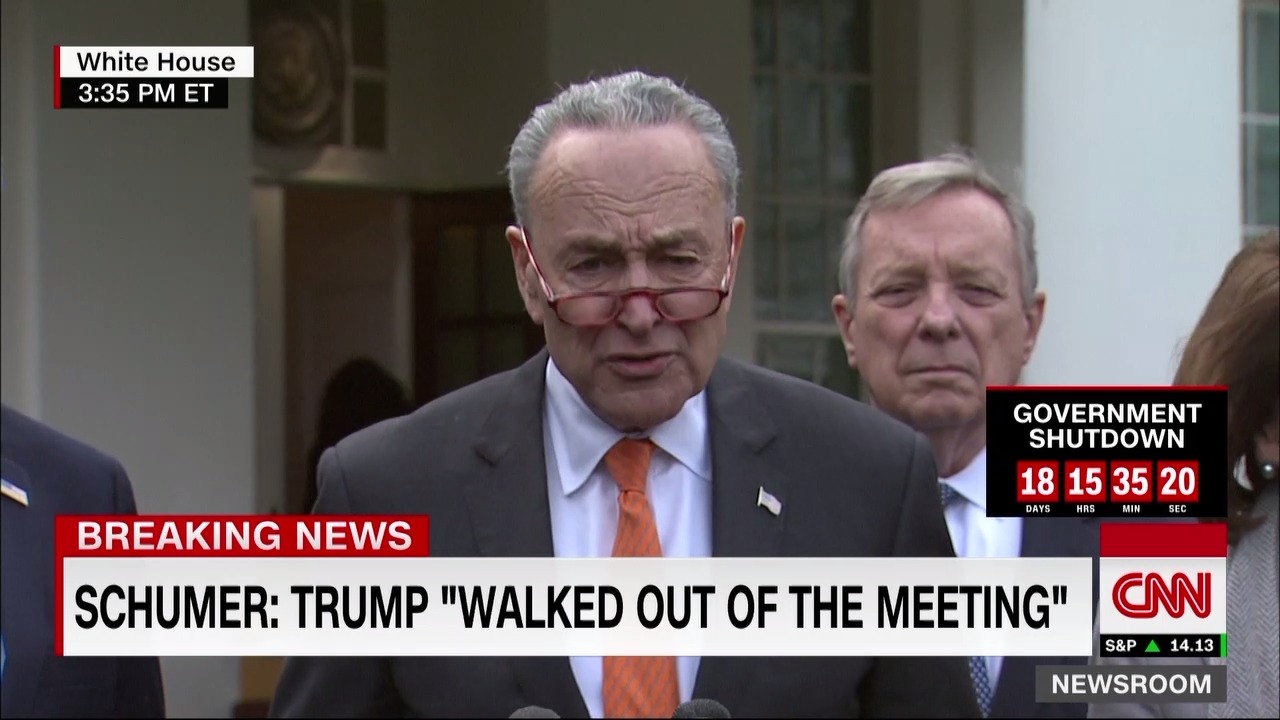 Senate Minority Leader Chuck Schumer said that President Trump walked out of their meeting when House Speaker Nancy Pelosi refused to agree to fund his long-promised border wall.
"Unfortunately, the President just got up and walked out. He asked speaker Pelosi, will you agree to my wall? She said no. And he just got up and said, 'then we have nothing to discuss,' and he just walked out. Again, we saw a temper tantrum because he couldn't get his way and he just walked out of the meeting," Schumer said, describing the meeting.
Schumer insisted that Democrats want to reach agreement with the President.
"We've already offered the President our proposal, which has sat on his desk for several weeks, but this was really, really unfortunate and in my judgment somewhat unbecoming of a presidency," he said.
While Schumer was speaking to reporters, Trump tweeted his meeting with them was "total waste of time."
3:40 p.m. ET, January 9, 2019
Trump calls meeting with "Chuck and Nancy" a "total waste of time"
President Trump just tweeted that he left a meeting with "Chuck and Nancy," calling it "a total waste of time."
See it:
3:40 p.m. ET, January 9, 2019
Nancy Pelosi: Trump thinks furloughed workers can "just ask their father for more money"
House Speaker Nancy Pelosi, emerging from a White House meeting with Trump and other congressional leaders, said the President is "insensitive" to how the shutdown is impacting furloughed workers.
"Many people federal workers will not be receiving their paychecks and what that means in their lives is tragic in terms of their credit rating, paying their mortgage, paying their rent, paying their car payment, paying their children's tuition," she said.
She added this:
"The President seems to be insensitive to that. He thinks maybe they could just ask their father for more money, but they can't."
3:33 p.m. ET, January 9, 2019
Republican senator on the shutdown: "This is like a circus"
Republican Sen. Richard Shelby left today's policy lunch today unsure how much longer the shutdown will last, likening the situation to a "circus." 
"How can we resolve this? We owe it to the American people. This is like a circus," the Alabama lawmaker said.
Asked long does he anticipate the shutdown to last, Shelby said, "it could be tomorrow, it could be weeks, it could be days."
He mentioned that President Trump did not talk about a national emergency today and noted the President did not give indication of what next steps are. 
"I don't think he's going to negotiate here with us today or in the caucus with everybody going on, but I think the Democrats are going to have to show that they want to have a resolution to this, too. To be honest, I've worked for a year to try to avoid all of this. I want to continue to do our jobs," Shelby said.
Finally, on whether or not he would be willing to support opening individual federal agencies before reaching a deal, he dismissed the idea as "futile," saying that the Senate Majority Leader Mitch McConnell would not bring something like that to a vote for lack of support.
"The truth is, the leader has said unequivocally, as I understand it, that he's not going to bring up anything the President won't sign," Shelby said. "The President says he's not going to sign that. So why do we want to waste our time trying to do something that's futile?"
3:20 p.m. ET, January 9, 2019
Trump is not "going to give an inch" on border wall, GOP senator says
Sen. John Kennedy, a Republican from Louisiana, told reporters President Trump was "resolute" during a meeting with the GOP members of Congress.
"The President was resolute. He's like — I'm not from Missouri, but I've heard this story my whole life — he's like the Missouri mule who sits down in the mud and says, 'I'm not moving.' He's resolute. It doesn't look to me like he's going to give an inch," Kennedy said.
The lawmaker put the onus on House Speaker Nancy Pelosi, claiming that she hates Trump and "until she can flip those emotions it's going to be hard to make any progress."
3:00 p.m. ET, January 9, 2019
Trump acknowledges illegal border crossings are down
President Trump acknowledged Wednesday that illegal border crossings are at historically lower levels, even as he continued to argue the need for a border wall.
"You know why it's gone down, because of good management, because of me and my people. Because we've managed it well. But it is brutal," Trump said, speaking after an hourlong meeting with Senate Republicans on Capitol Hill. "We have kept it down because we're managing it well, but we can never do a great job unless we have a wall or a barrier. And I mean a real barrier not a little barrier that doesn't work."
Why it matters: Trump's comments undercut the White House's efforts to stress the increase in illegal border crossings in recent months and portray the situation as a "crisis," even as the overall figures remain near historic lows.
2:44 p.m. ET, January 9, 2019
GOP senator raises concerns to Trump on impact of shutdown on federal workers
Sen. Lisa Murkowski, a Republican from Alaska, said she raised concerns to President Trump about the impact of the shutdown on federal workers.
"I shared my support for an need for border security ... but a recognition that when the government is shutdown there are consequences and people are starting to feel those consequences," she said.
Trump told her that Republicans should remain unified, Murkowski said.
She said it was respectful.
2:31 p.m. ET, January 9, 2019
Trump leaves meeting with GOP lawmakers touting Republican "solidarity"
President Trump, leaving a meeting with Republican lawmakers on Capitol Hill, touted "solidarity" within his party.
"The Republican Party, I can say, and I just left an hour meeting, we had a great time actually. There was no discussion about anything other than solidarity. we want national security and border security for our country," he said.
"The Republicans are unified," he added.
This is similar to what he said going into the meeting.
"We have great Republican support as you know, you know, you're just making that up. But we have tremendous Republican support," he said on his way in, when asked if he was worried about growing GOP concern about the shutdown. "There's tremendous Republican support. Unwavering."
But remember: At least three GOP senators — Susan Collins, Cory Gardner and Lisa Murkowski — are calling for an end to the shutdown. Several more have started to voice concerns.
1:56 p.m. ET, January 9, 2019
Trump claims a lot of furloughed federal workers "agree with what I'm doing"
President Trump said on Wednesday that he thinks a lot of the furloughed workers and others going without pay "agree" with his shutdown strategy, though he offered no names or specifics.
"I think they have been terrific. These are terrific patriots. A lot of them agree with what I'm doing. And I hope to have the situation work out. But they want security in our country and so do I. That's all we want. We want security, we want common sense, we want security in our country," he said.