Partial shutdown likely to continue until after Christmas
1:59 p.m. ET, December 21, 2018
Trump offered "no plan" to avoid shutdown in meeting with senators, source says
A source briefed on the White House meeting between President Trump and Senate Republicans told CNN that the meeting did not go well because there was no end game.
"He dug in," the source said. "But doesn't have a plan, offered no numbers. I heard it did not go well."
The source added that Trump again made the case to use the so-called "nuclear option" to change filibuster rules so a simple majority of senators could advance legislation, but Senate Majority Leader Mitch McConnell insisted that would not happen.
"He's very insistent on border security," said Lisa Murkowski, the Alaska Republican who attended the meeting
Sen. Richard Shelby, chairman of the Senate Appropriations Committee who was also at the meeting, said Trump is "open to negotiations." He said Senate Minority Leader Chuck Schumer and Trump "need to talk soon."
"If there's not some movement, we are headed straight to a shutdown," Shelby told reporters.
Asked if Trump showed any sign of accepting a continuing resolution without a wall, Shelby said: "No. He hadn't shown that."
 Shelby said Trump "didn't say" if he would accept $1.6 billion in border security money, as was agreed to be Senate appropriators on a bipartisan basis.
"Short of any big intervention or breakthrough, we are headed to a shutdown."
1:36 p.m. ET, December 21, 2018
Senator says he thinks a shutdown is "probably" happening
Republican Sen. Chuck Grassley says he thinks a shutdown is "probably" happening.
Asked what the next step would be after the House-passed bill fails in the Senate, Grassley told reporters there was "no conclusion" on next steps following the meeting with President Trump.
"I was in an hour discussion on that, and there's no conclusion," Grassley said.
1:54 p.m. ET, December 21, 2018
Trump: Chances of a shutdown are "probably very good"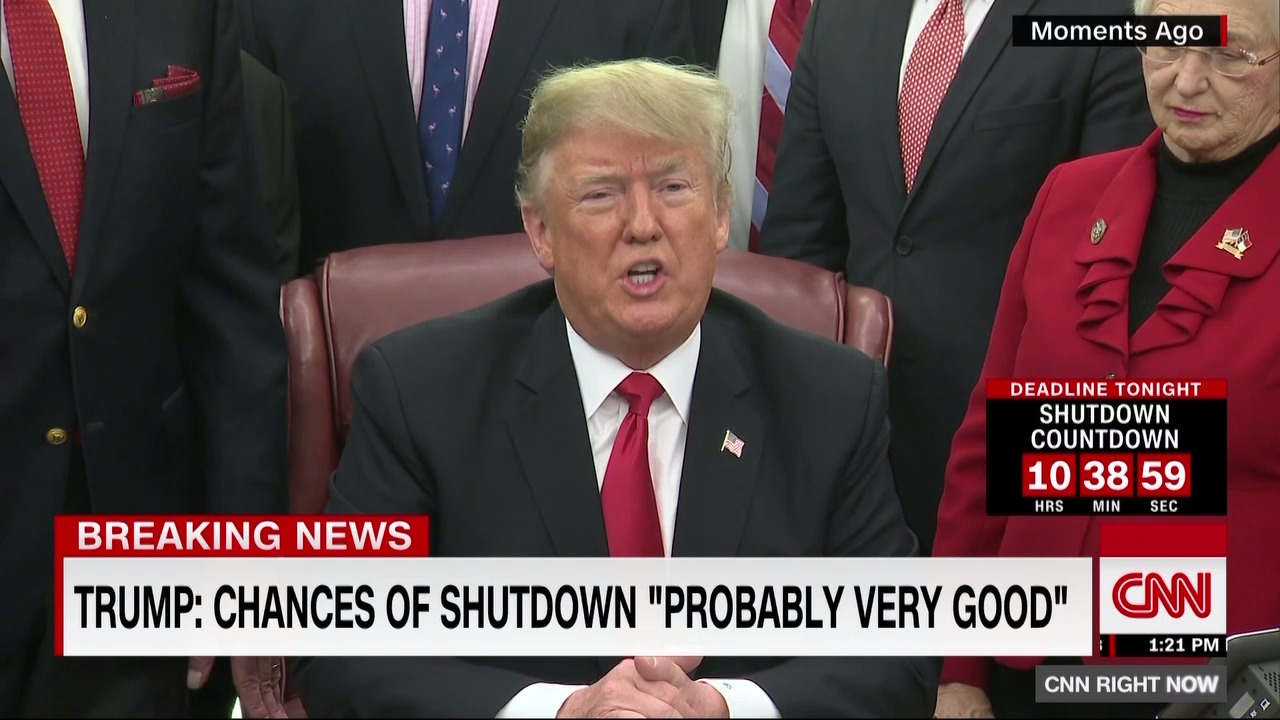 President Trump, speaking at a bill signing at the White House, said a partial government shutdown is looking likely.
Trump backed off his earlier statements that he would own the shutdown if border wall funding was not included in the spending bill.
Instead, he tried to blame Democrats for a possible shutdown, saying, "It's really the Democrat shutdown."
"It's really up to the Democrats. Totally up to the Democrats as to whether or not we have the shutdown. It's possible we will have a shutdown. I would say the chances are probably very good because I don't think Democrats care so much about this issue," Trump said.
Watch more:
1:14 p.m. ET, December 21, 2018
The voting window will stay open as senators return to Washington, Corker says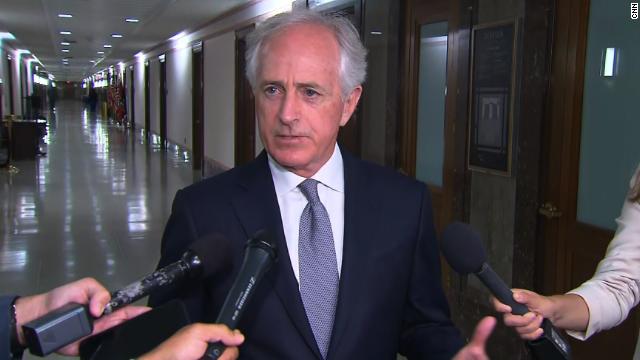 Voting in the Senate is underway on a motion to proceed with the House's stop-gap bill. But we way not have a final vote tally soon.
Republican Sen. Bob Corker said he was told the Senate will hold the vote open for a while to wait for some senators to return from the Midwest.  
Corker added Republicans plans to discuss their next steps at lunch. 
Corker himself hasn't voted yet, and was non-committal on how he would proceed.
1:25 p.m. ET, December 21, 2018
Trump's bags are packed, but it's unclear if he'll leave for Palm Beach today — if at all
President Trump may be forced to spend Christmas in Washington — but in Palm Beach, where he was scheduled to spend the holiday, the massive security apparatus that travels with him is already in place.
The security perimeter that surrounds Mar-a-Lago when the President is in residence has already been established, with traffic diverted along Ocean Boulevard away from the resort.
Dozens of Secret Service agents and officers are already on the ground, using dogs to screen vehicles and guests entering the club.
Some White House staffers have also traveled down ahead of the President, but are increasingly doubtful he will arrive here today — if at all.
At the White House, aides have protectively been preparing for a departure in case a deal can be struck.
The President and first lady's suitcases have been packed, according to a person familiar with the matter, and some of the aides who were supposed to travel with Trump also arrived to the White House today prepared to fly this afternoon, just in case.
At Palm Beach International Airport, preparations for Air Force One's arrival had begun, including lining up dozens of yellow school busses to create a security barrier.
A new billboard on the route from the airport to Mar-a-Lago has also been erected. From far away it looks like an official Trump sign, but when the words come into view it becomes clear it's not: "Impeachment Now: Make America America Again." It's paid for by something called the Mad Dog PAC.
The black, red and gold Trump-branded Boeing 757 is parked on the tarmac, and some of Trump's family is already here.
Donald Trump Jr. spoke on Thursday evening alongside his girlfriend Kimberly Guilfoyle at Mar-a-Lago, which was hosting a gala event for Turning Point USA, the group for young conservatives. Rush Limbaugh, Charlie Kirk and Candice Owens also spoke.
Mar-a-Lago employees have been told to prepare for any contingency, a person familiar with the instructions said.
Planning had been underway for a Christmas Eve dinner followed by midnight mass at nearby Bethesda by the Sea church, along with Christmas dinner and a black tie New Years Eve party. On January 5, Trump has also been expected to attend the Policeman's Ball at the club.
At Trump International Golf Course, across the bridge in West Palm Beach, police officers have already set up positions around the exterior where cameras have sometimes captured a glimpse of the President golfing. New signs have been posted along the fence warning "No Trespassing" in both English and Spanish.
1:00 p.m. ET, December 21, 2018
Jeff Flake votes "no" to move bill forward
Republican Sen. Jeff Flake just voted "no" on a motion to proceed on the House's stop-gap bill on the floor of the Senate.
Senate Majority Leader Mitch McConnell needs 50 votes to secure the motion to proceed.
12:48 p.m. ET, December 21, 2018
The Senate is voting now to take up the House spending bill
Mitch McConnell just pushed for a vote in the Senate to take up the House-passed spending bill that includes $5 billion for President Trump's border wall.
"Let's advance this legislation, Mr. President. Let's pass it and let's finish our work for this year. Let's secure our country," he said.
What we're watching: The Senate needs 50 votes to begin debate and 60 to end debate. 
12:48 p.m. ET, December 21, 2018
McConnell: GOP senators had a "good conversation" with Trump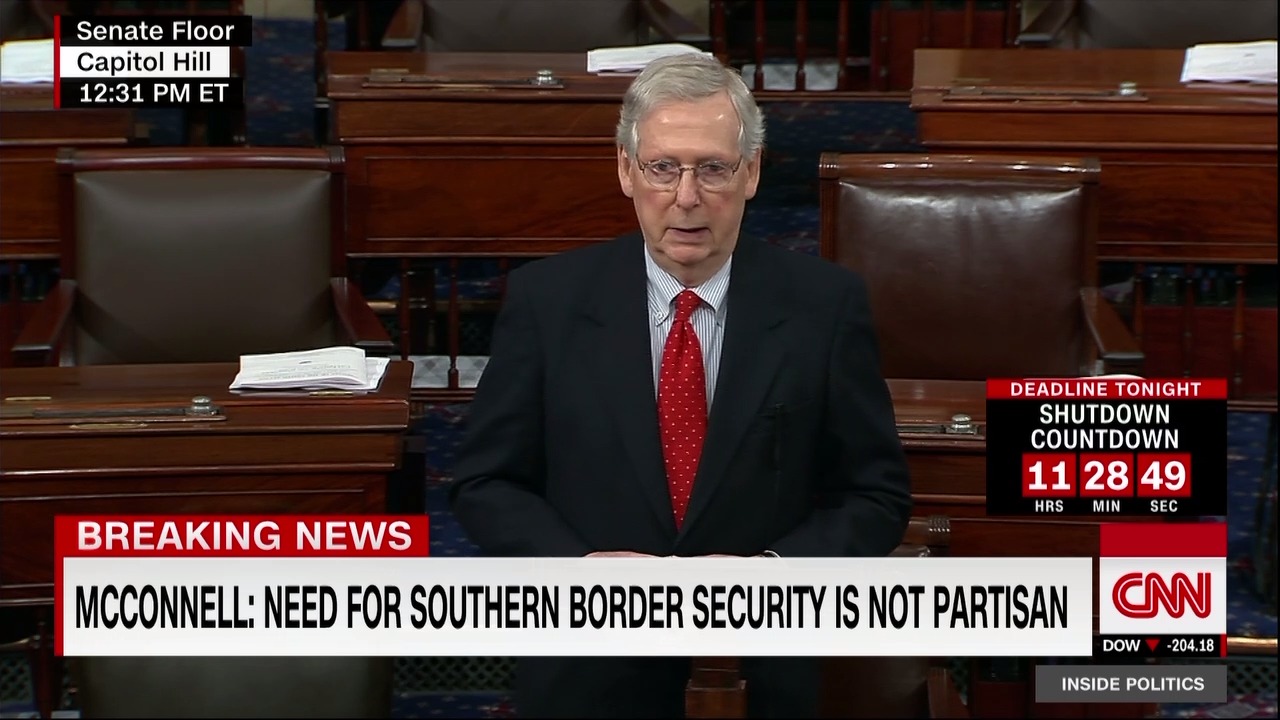 Senate Majority Leader McConnell, upon returning to Capitol Hill from his meeting in the White House, said GOP senators had a "good conversation" with President Trump and that "we are going to continue to be talking about a way forward."
Shortly after that, McConnell began speaking on the Senate floor, where he urged Congress to act to avoid a partial government shutdown.
"Let's not end the year the way we began. With another shut down over the issue of illegal immigration. Remember this back in January?" he asked.
Watch the moment below:
1:41 p.m. ET, December 21, 2018
Schumer to Trump: "You will not get your wall"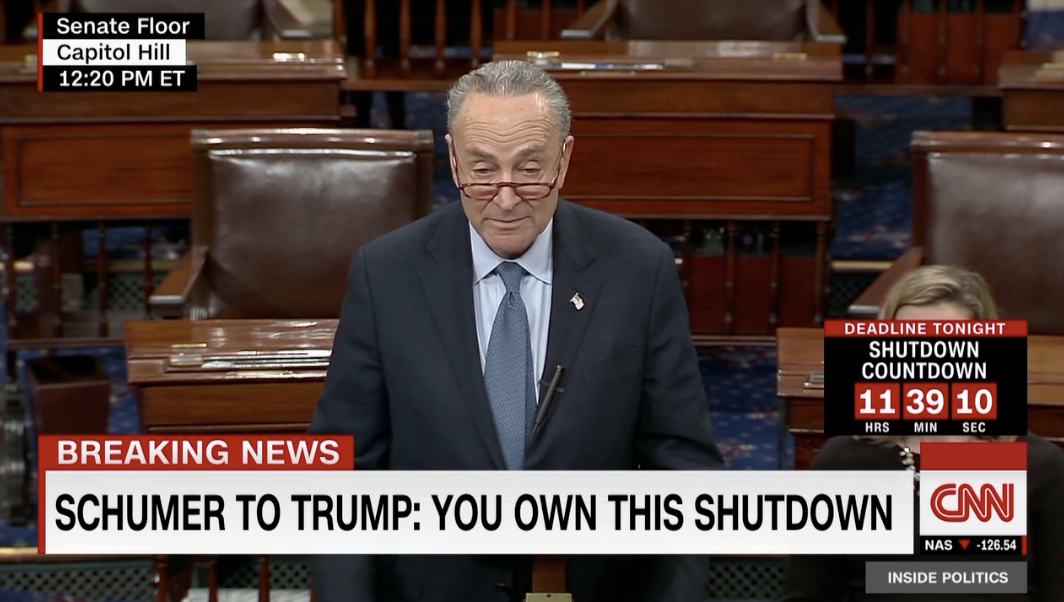 Senate Minority Leader Chuck Schumer, speaking from the Senate floor moments ago, said President Trump was throwing a "temper tantrum" over the spending bill.
"In a short time, the Senate will take part in a pointless exercise to demonstrate to our House colleagues and the President what everyone here already knows. There are not the votes in the Senate for an expensive, taxpayer-funded border wall," he said.
Schumer then spoke directly to Trump: "President Trump, you will not get your wall."
He urged the President to abandon his strategy, and support a spending bill that passed earlier this week in the Senate.
"You are not getting the wall today, next week, or on January 3rd when Democrats take control of the House," Schumer said.
Watch below: