Partial shutdown likely to continue until after Christmas
2:23 p.m. ET, December 20, 2018
Bob Corker: "Y'all have fun. I'm getting ready to drive to Chattanooga."
Republican Sen. Bob Corker said he's not surprised that Trump says he won't sign continuing resolution — and he laughed as he described the situation.
Corker said there is no guidance from leadership about how to move forward on this. He said senators are already heading home, and stressed this is all "elementary relative to" Trump's decision yesterday to withdraw troops from Syria. 
Here's Corker's full exchange with reporters: 
Corker: "Well Mitch is on the phone with Paul right now so..." *starts chuckling*
Reporter: Why are you laughing? 
Corker: "Well, why not?"
Reporter: Are you surprised by this? 
Corker: "No, not really. I mean look at Syria yesterday... this is elementary relative to the decision made yesterday in such a precipitous way right, I mean you're talking about a major policy decision made in the same manner right so this is something that whatever happens we all know we'll move beyond. What happened yesterday in Syria which is a similar kind of decision making process is going to affect things things for the long haul." 
Reporter: What is the path forward on the CR though? 
Corker: "I don't know. Y'all have fun. I'm getting ready to drive to Chattanooga." 
Reporter: What's the guidance from leadership? 
Corker: "They have no guidance ... I saw senators heading out going home knowing that even if we vote they're going to give folks time to get back ... I think they're just sorta swirling around over there" 
Then Ted Cruz walked by and said: "I think we need to follow through with funding for the border"
Corker laughed again: "You can't make this stuff up" 
2:15 p.m. ET, December 20, 2018
Missing members may complicate passage for Trump's wall 
Roughy 40 members from both parties have been absent in this latest series of votes, adding another complication to the last-ditch scramble to pass a funding bill with President Trump's wall money.
2:13 p.m. ET, December 20, 2018
House Republicans will roll out a funding plan soon, congressman says
Republican Congressman Kevin McCarthy told CNN he believes "there's still plenty of time" to avoid a partial government shutdown before Friday's deadline.
He went on to say that House members plan to roll out a funding plan soon.
"We will roll it out shortly and you will see. There's a number of issues that we still need to get done this year," McCarthy said.
Asked whether it's possible that the Senate could just strip off wall funding and send the stop-gap funding bill back to the House, he told reporters: "The President wouldn't sign that."
1:57 p.m. ET, December 20, 2018
So what happens next? GOP working to add wall funding to spending bill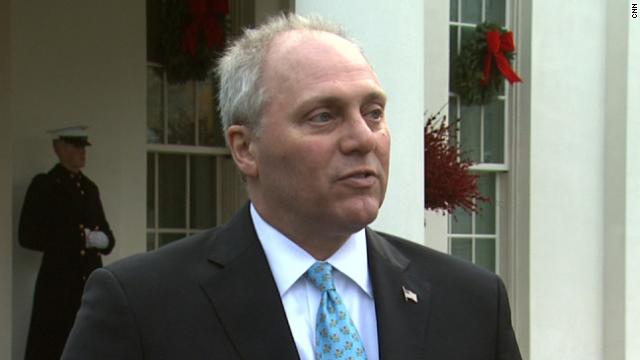 House Majority Whip Steve Scalise tells reporters that Republicans are working to add wall funding to the stop-gap spending bill.
"We're going to move forward today to add language to the bill that the Senate sent over on government funding to add $5 billion to the wall as well as the disaster relief funding that's been agreed upon between the House and Senate," he said.
The timeline: This could be voted on today. 
But a key thing to remember: It is uncertain it will pass the House, and it has no chance in the Senate. The question is what do they do after it fails. Republican leaders aren't sure yet. 
Asked what happens if this bill for wall money fails in the Senate, Rep. Mark Meadows said: "I don't know — I'm not in the Senate."
1:38 p.m. ET, December 20, 2018
White House: "We urgently need funding for border security and that includes a wall"
White House press secretary Sarah Sanders just released a statement about President Trump's meeting with Republican members of Congress, in which they discussed funding for the border wall and the partial shutdown deadline.
"We urgently need funding for border security and that includes a wall," she said in the statement.
Here's the full readout:
"President Trump just met with Republican Members of the House. Not surprisingly, they all feel strongly about border security — stopping the flow of drugs, stopping human trafficking, and stopping terrorism. We protect nations all over the world, but Democrats are unwilling to protect our nation. We urgently need funding for border security and that includes a wall." 
1:34 p.m. ET, December 20, 2018
Paul Ryan: Trump won't sign funding bill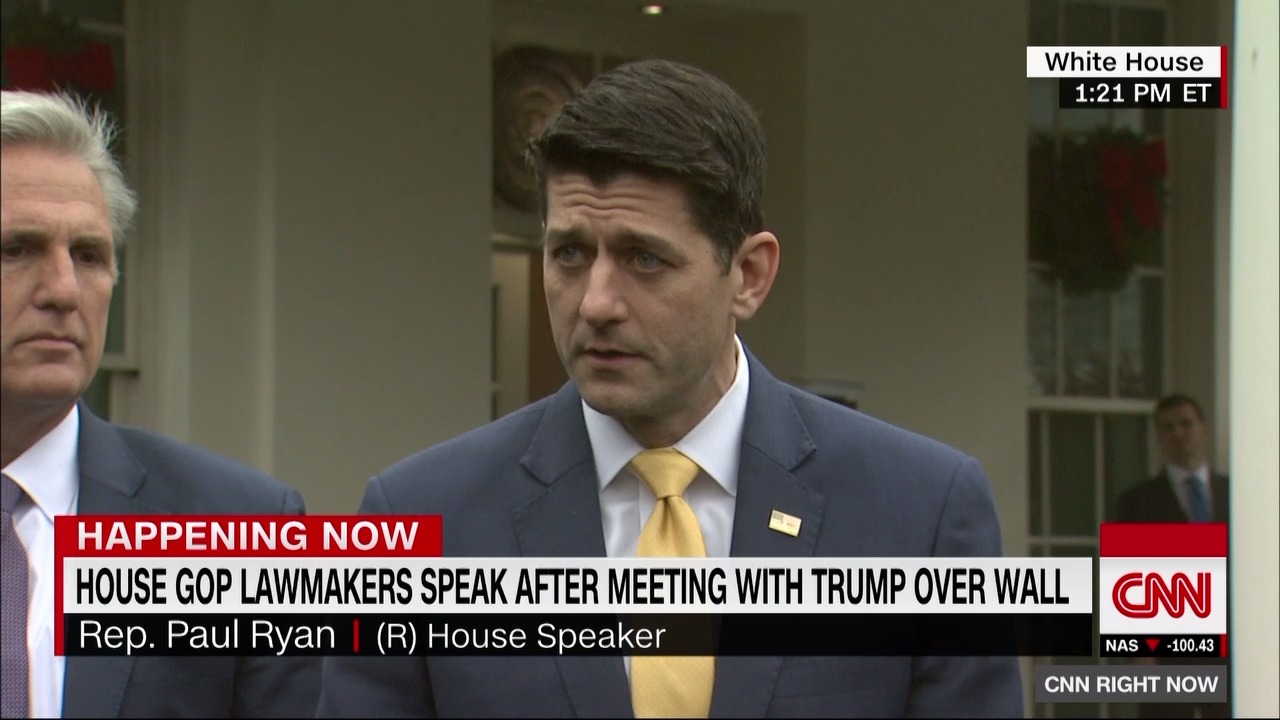 President Donald Trump will not sign the current Senate-passed funding measure that would avert a government shutdown, House Speaker Paul Ryan said Thursday.
House Republicans met with Trump at the White House earlier to discuss funding for the border wall and the partial shutdown.
"The President informed us that he will not sign the bill that came over from the Senate last evening because of his legitimate concerns for border security," Ryan said.
Ryan vowed to return to Capitol Hill to continue working on a solution to fund the government and "border security."
"We want to keep the government open, but we also want to see an agreement that protects the border," he said. "We have very serious concerns about securing our border."
1:22 p.m. ET, December 20, 2018
Federal agencies are being told to notify employees of pay status if there's a shutdown 
The White House is following Office of Budget and Management guidelines on notifying federal employees whether they'll be furloughed in case of a government shutdown, a senior administration source tells CNN.
Here's how they explained it:
"Prudent management requires that agencies be prepared for the possibility of a lapse. OMB guidance states that two business days before a potential lapse, agencies need to notify employees of their work and pay status under a lapse — that is, if they are furloughed or excepted. Agencies were directed by OMB to start that notification this morning." 
The comments came as President Trump met with GOP leaders at the White House Thursday to discuss his unhappiness with the continuing resolution, which would provide stop-gap funding. 
If a spending measure is not passed by Friday night, the government could face a partial shutdown. Read up on what that means here.
12:48 p.m. ET, December 20, 2018
Schumer: Senate Democrats are "not budging on the wall"
As the deadline to fund part of the government approaches, House and Senate Democrats are standing firm on their position: No border wall funding.
Here's where key Democrats stand:
Senate Minority Leader Chuck Schumer, speaking on the Senate floor just before noon, said Senate Democrats "are not budging on the wall." 
House Minority Leader Nancy Pelosi, at her weekly press conference this morning, didn't have much insight into the efforts of House Republicans, saying they appear to be in a "meltdown." She added that Democrats are prepared to support the clean continuing resolution. Pelosi made it clear that Democrats will not support anything that includes funding for a border wall.
12:18 p.m. ET, December 20, 2018
These are some of the funding options GOP leaders are considering
House Republican leaders are considering various options to discuss in their meeting with President Trump, a source involved in the planning said.
According to the source, here are some of those options:
Add money for the border wall to the stop-gap measure
And disaster relief
A key point: The idea is to demonstrate that $5 billion in wall money doesn't have the votes to pass both chambers of Congress. It would either narrowly pass or narrowly fail in the House but has no chance to pass the Senate.
At that point, GOP leaders would put other measures — potentially the continuing resolution that passed the Senate — on the floor. But Trump hasn't said he would sign that yet. That was discussed at a closed-door meeting with GOP leaders in Ryan's office, according to a source who attended.