The nation honors President George H.W. Bush
7:23 p.m. ET, December 4, 2018
Bush family pays their respects and greets visitors at the US Capitol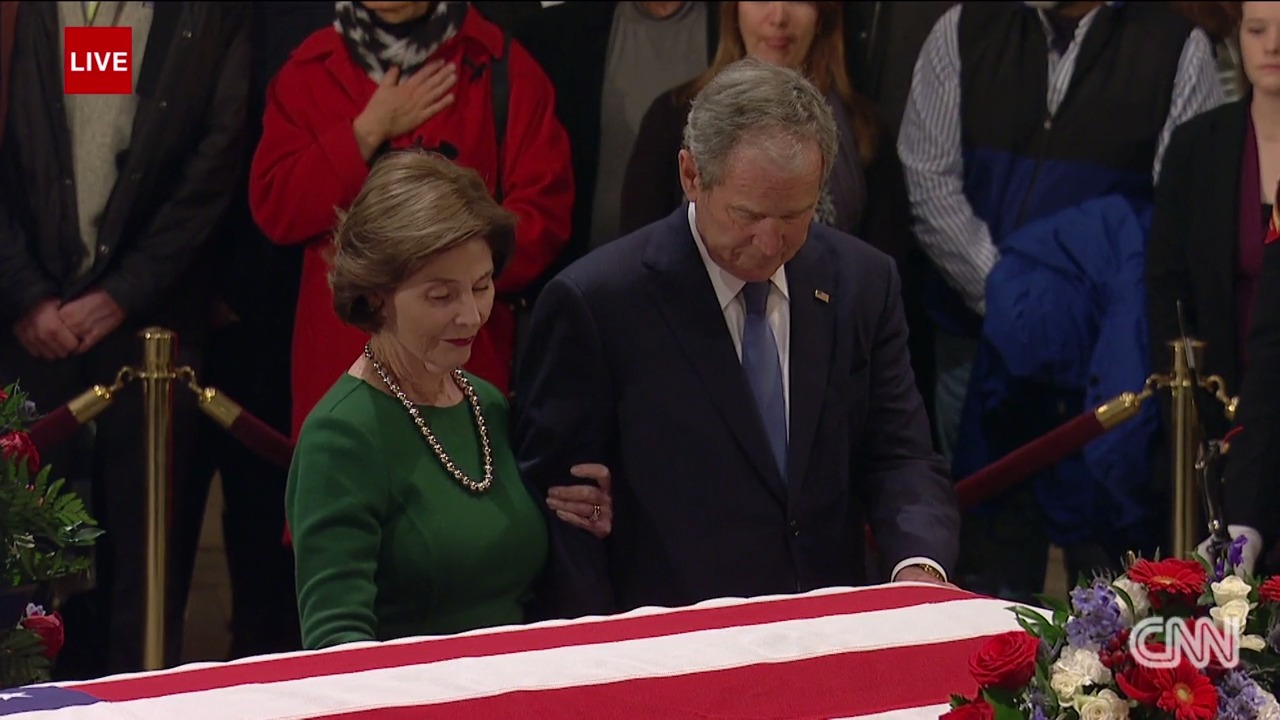 Former President George W. Bush and former first lady Laura Bush paid their respects to his late father, George H.W. Bush, who is lying in state in the Capitol Rotunda.
After standing in front of his father's casket, he walked over to a line of visitors and hugged and greeted them.
His daughters Jenna Bush Hager and Barbara Bush, and his brother Jeb Bush also paid their respects.
Watch the moment:
6:58 p.m. ET, December 4, 2018
Read Bush's heartfelt letter to this reporter's father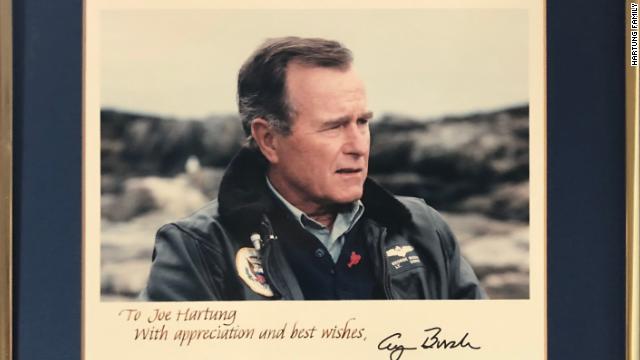 CNN's Kaylee Hartung's reporting and personal life collided in an unexpected way -- a letter from George H.W. Bush to her late father.
In the wake of Bush's passing, countless stories have emerged of treasured letters sent by the former President and the lasting impact his words have had on the recipients.
She heard some of the stories of his famed letters, and told a few anecdotes on air. Hartung knew of Bush's penchant to pen such letters, but she didn't really remember why she knew that. But a text message from her mother, Julie, while she was between liveshots brought it all back. Her dad had received a letter too.
He received the letter after he performed in New Orleans with George H.W. Bush in the crowd in August 1988.
Written on White House stationary, the April 1989 letter was accompanied by a signed picture of Bush in his bomber jacket.
The President wrote:
"When you fly these planes, you put on an exhilarating show and you provide a powerful reminder of the tremendous sacrifices so many men made to keep America free and of the duty we each have to ensure those sacrifices were not in vain. That's a worthy achievement indeed, and you can take great pride in your efforts."
Read the rest of Bush's letter here:
5:51 p.m. ET, December 4, 2018
Jordan's King Abdullah II and Queen Rania offer condolences to Bush family
Jordan's King Abdullah II and Queen Rania Al Abdullah on Tuesday extended condolences to the Bush family at Blair House over the passing of former President George H.W. Bush, the Royal Hashemite Court said in a statement.
They also signed a condolence book, according to the statement.
King Abdullah, accompanied by Queen Rania, departed on Monday for Washington, DC, to attend the state funeral of former president.
4:58 p.m. ET, December 4, 2018
The Trumps visit the Bushes at Blair House
President Trump and first lady Melania Trump arrived at Blair House on Tuesday afternoon, where they were greeted by former President George W. Bush and former first lady Laura Bush.
They exchanged greetings handshakes and hugs before entering the residence, a government house across the street from the White House, for the private meetings.
The Trumps were at Blair House for 23 minutes.
4:43 p.m. ET, December 4, 2018
US flags to be flown at half-staff for longest stretch of time since President Ford's death
US "Flag Code" dictates that the flag be flown at half-staff for 30 days following the death of a president or former president, meaning with President George H.W. Bush's passing, it will remain lowered for the longest period of time since President Gerald Ford died in December 2006:
The flag
shall be flown at half-staff 30 days
from the death of the president or a former president
; 10 days from the day of death of the vice president, the chief justice or a retired chief justice of the United States, or the speaker of the House of Representatives; from the day of death until interment of an associate justice of the Supreme Court, a secretary of an executive or military department, a former vice president, or the governor of a state, territory, or possession; and on the day of death and the following day for a member of Congress.
4:04 p.m. ET, December 4, 2018
Former first lady Laura Bush visits the White House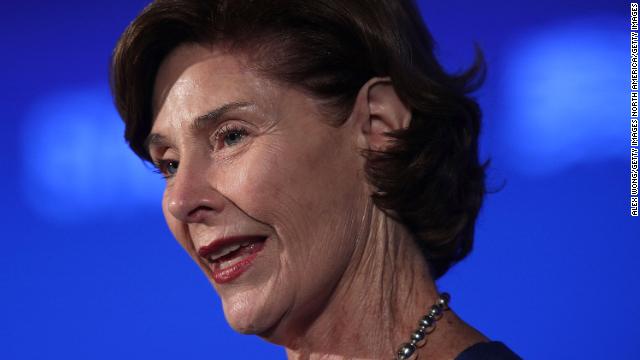 First lady Melania Trump hosted a tour for about 20 members of the Bush family, a White House official told CNN on background.
However, she also "wanted to allow for the Bush family to have time at the White House together," so she did not stay the entire length the visit, which lasted about an hour. Trump provided holiday cookies for the family and arranged for them to be able to see the staff from the residence.
Former first lady Laura Bush later posted on her Instagram her "thanks" to Trump. Several Bush family members took the special tour, including her sister-in-law Doro Bush and several of Bush Sr.'s grandchildren.
She also posted a picture posing with White House staff members whom she called her "old friends.
1:34 p.m. ET, December 4, 2018
Former Sen. Bob Dole salutes Bush's casket
In an emotional scene, former Sen. Bob Dole was helped out of his wheelchair and saluted George H.W. Bush's casket in the Capitol Rotunda moments ago.
Dole told CNN on Saturday that Bush's passing marked the end of an era. (Bush was the last World War II veteran president.)
"I believe there are certain qualities that veterans have and when Bush was president, I think about three-fourths of Congress were veterans and we would stick together and work together across the aisle. And President Bush was a bipartisan president. So we got quite a lot done," Dole said.
Watch the moment: