President Trump makes first briefing room appearance
4:56 p.m. ET, January 3, 2019
Our live coverage has ended. Read more about President Trump's briefing room appearance at CNN Politics.
4:58 p.m. ET, January 3, 2019
Why this wasn't a press briefing
White House press secretary Sarah Sanders earlier this afternoon announced there would be a surprise press briefing.
She introduced President Trump, who talked about his border wall demand, and then both Sanders and Trump left the room, taking no questions from reporters.
CNN's Brianna Keilar called the question-less appearance a "non-briefing."
Or here's how CNN's Kaitlan Collins put it:
"Now, this is something that is essentially unheard of. I'm not sure if the press secretary has ever come into the press briefing room before and not taken a single question from one reporter. Yes, we've had short briefings. Yes, they have been quick before and not very regular in their occurrences but typically they always take questions."
For comparison, former President Barack Obama often appeared in the briefing room and didn't always take questions.
But here's the difference: Those were never called "briefings" ahead of time by the White House.
And when he left the podium, his press secretary often stuck around to answer questions in a briefing setting.
Watch below:
4:52 p.m. ET, January 3, 2019
President Trump's brief appearance was all about his demand for a wall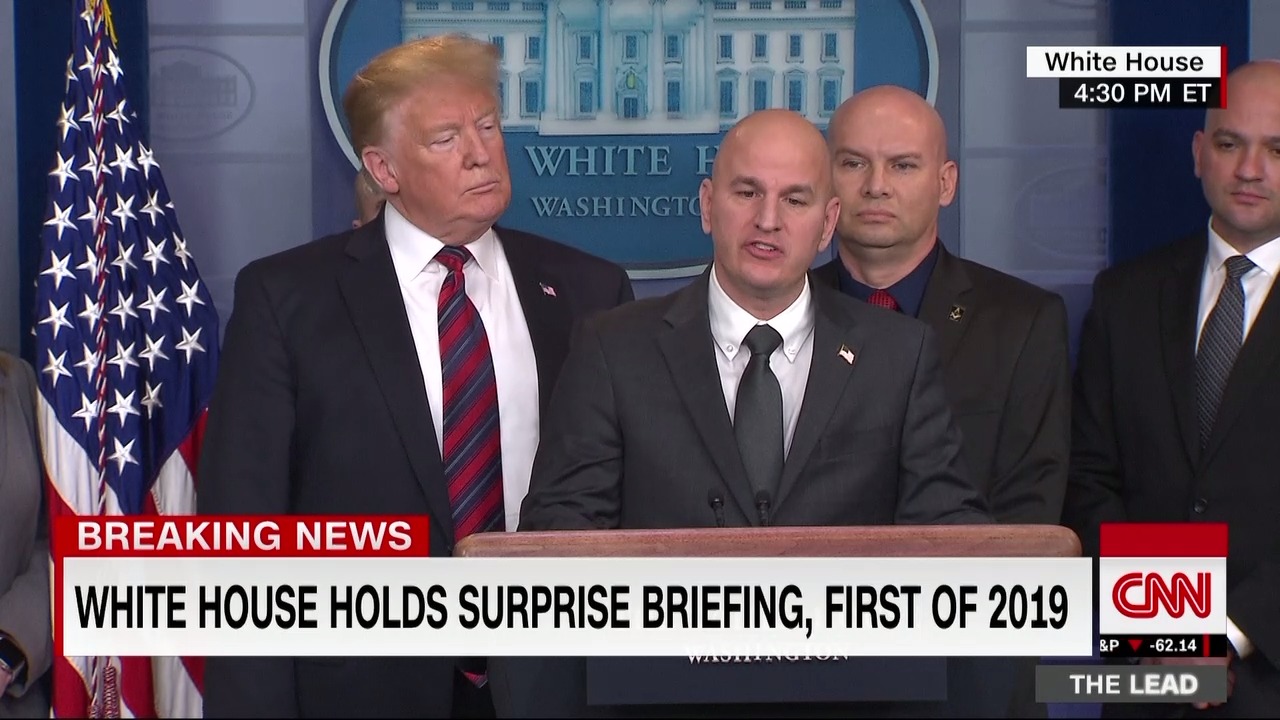 President Trump, speaking for the first time at a White House press briefing, introduced three Border Patrol Council members to speak on the need of a wall.
"I just appreciate them being here. Let's go out and see the press. You can tell them about the importance of the wall. They basically said, and I think I can take the word basically out, 'Without a wall you can not have border security.' Without a very strong form of barrier, call it what you will, but without a wall you can't have border security it won't work," Trump said.
Brandon Judd, one of the members, said walls have been "an absolute necessity for border patrol agents in securing the border."
Hector Garza, executive vice president of the National Border Patrol Council, added that deported "criminal aliens" frequently came back to the US.
"However, we had a physical barrier, if we had a wall, we would be able to stop that," he said.
Watch below:
4:39 p.m. ET, January 3, 2019
President Trump and Sarah Sanders refused to take questions in the press briefing room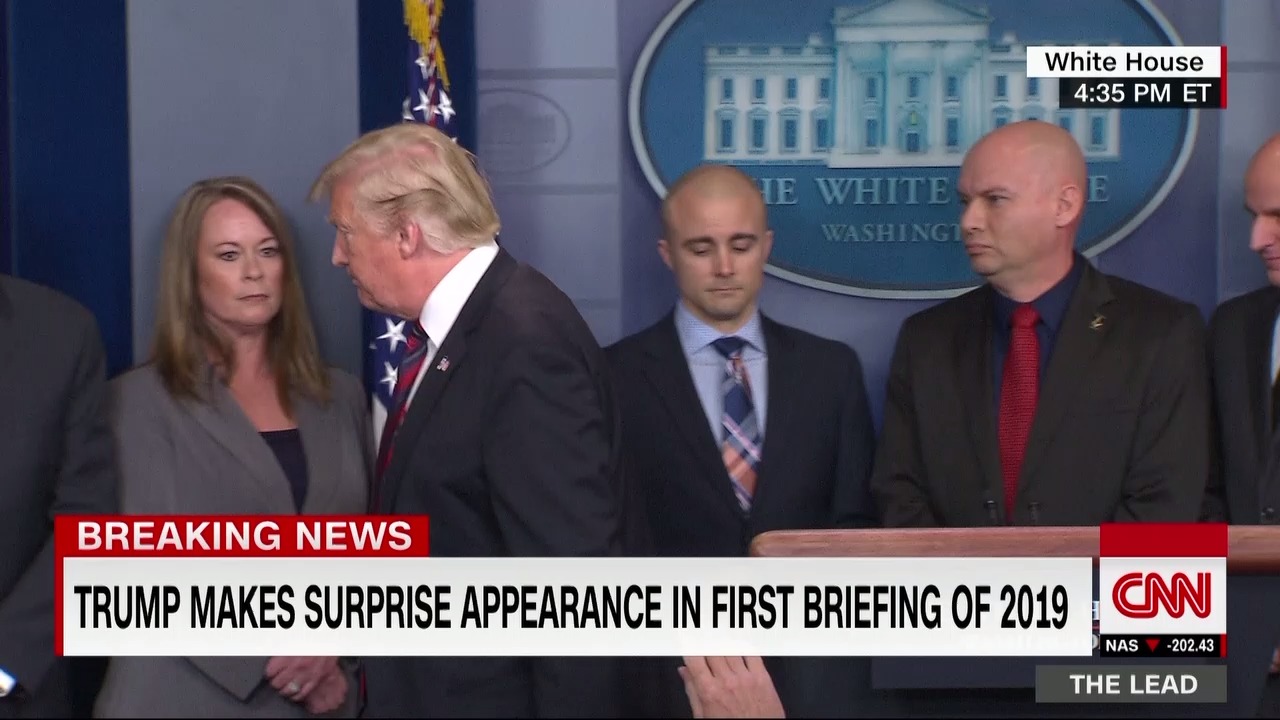 President Trump ended his short briefing room appearance without taking questions from the reporters who had assembled there.
Journalists could be heard shouting questions at him as he walked out of the room, trailed by White House press secretary Sarah Sanders and National Border Patrol Council members.
4:36 p.m. ET, January 3, 2019
This is President Trump's first time at the briefing room podium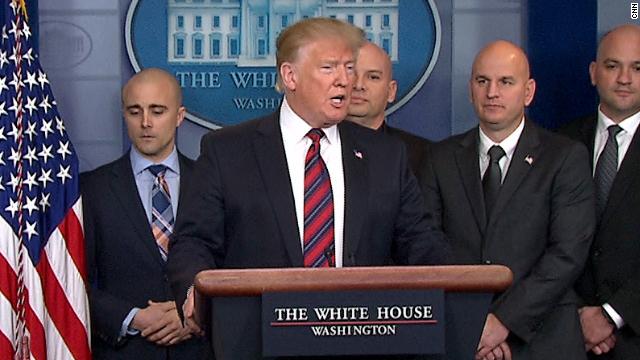 Trump's briefing today marks his first appearance at the podium in the White House briefing room.
He has made one brief appearance in the room before: The President popped his head in the doorway the day of the North Korea announcement, but this first time in the room at the podium.
4:51 p.m. ET, January 3, 2019
Trump congratulates Nancy Pelosi on being elected House Speaker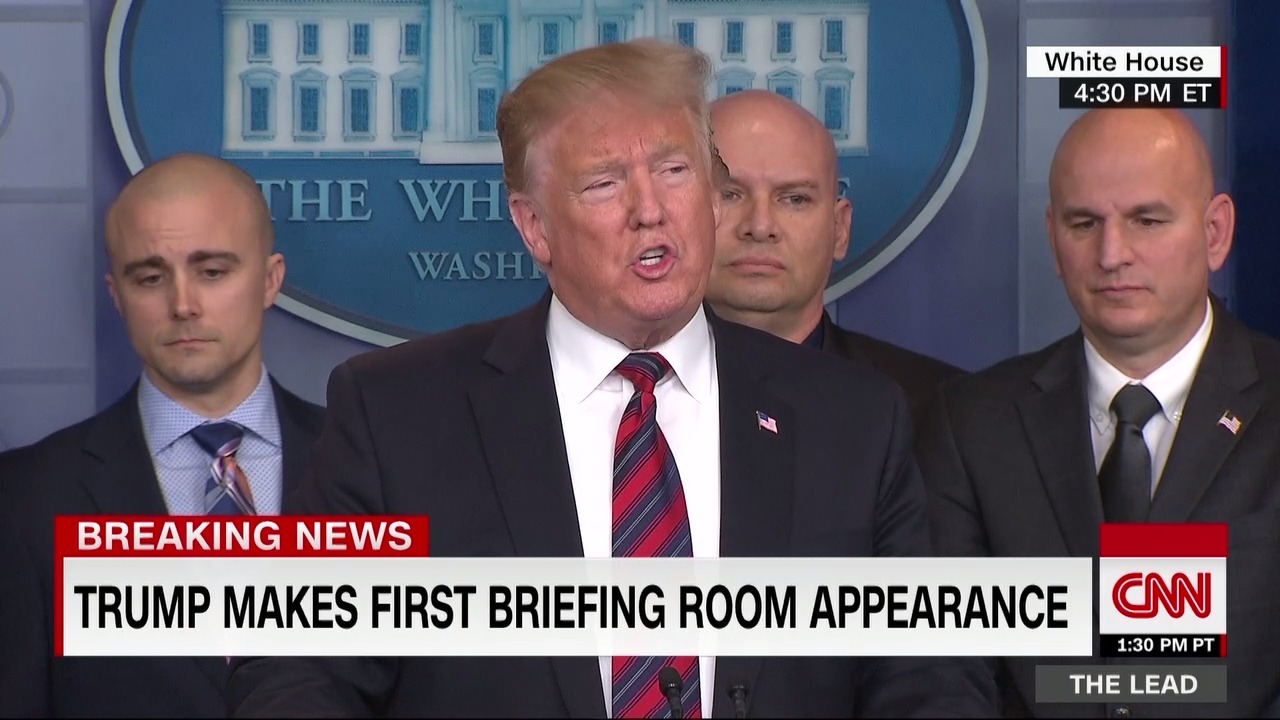 President Trump in a surprise appearance in the White House briefing room just congratulated Nancy Pelosi on being elected House Speaker.
"It's a very, very great achievement, and hopefully we're going to work together and we're going to get lots of things done," Trump said, citing infrastructure "and so much more" as topics he believes the two sides may work on.
"I think it will be a little bit different than a lot of people are thinking, so I congratulate Nancy. Tremendous, tremendous achievement," he said.
Watch below:
4:30 p.m. ET, January 3, 2019
NOW: President Trump is addressing reporters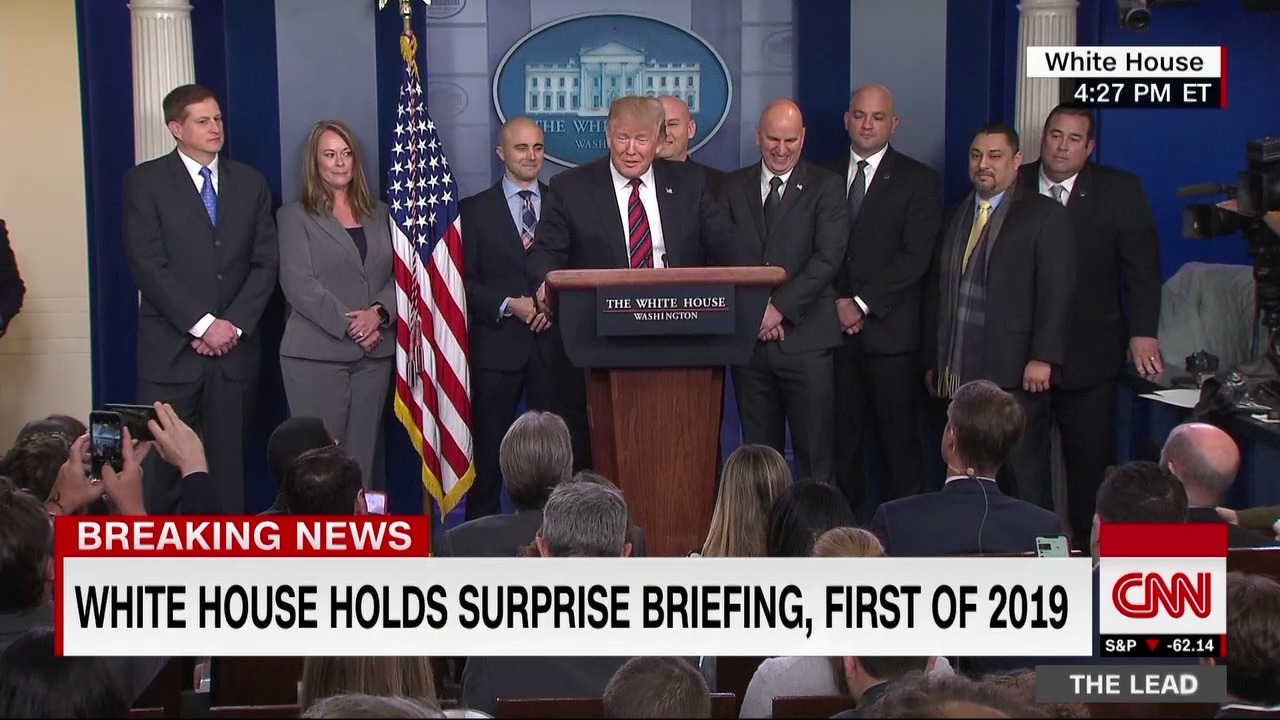 The White House press briefing just started -- and White House press secretary Sarah Sanders introduced President Trump. He's talking now.