2020 first-quarter fundraising totals released
2:44 p.m. ET, April 15, 2019
Seth Moulton raised $255K in first quarter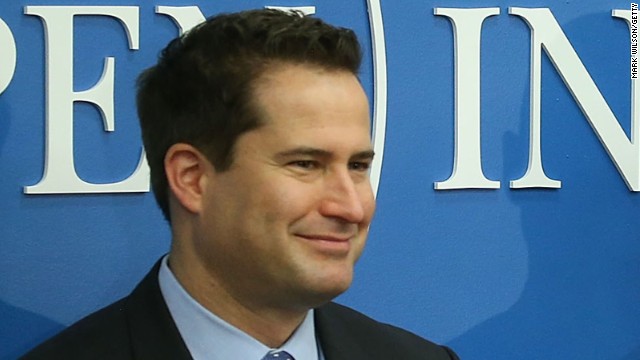 Rep. Seth Moulton, a Massachusetts Democrat whom advisers say is inching closer to a 2020 presidential run, raised $255,017 in the first quarter, and ended the period with $722,801 in his House campaign account. That's money he'll be able to transfer to a presidential campaign account, should he get into the race -- though it's significantly less seed money than some of Moulton's potential rivals from the Senate brought to the race, like Elizabeth Warren ($11 million), Kirsten Gillibrand ($10 million) and Bernie Sanders ($9 million).
Moulton has signaled that he may soon join the large and growing field of Democrats running for the presidency in 2020. An adviser to the congressman, who requested anonymity to speak frankly, said the Democrat has moved closer to a bid in recent weeks and will decide on running by the end of April. The Massachusetts Democrat has begun reaching out to potential donors who could back a longshot 2020 bid, the source said.
So far this year, Moulton has made trips to South Carolina, North Carolina and New Hampshire, all of which are key states in the upcoming Democratic primary.
11:40 a.m. ET, April 15, 2019
James Murdoch, Mandy Moore among Pete Buttigieg donors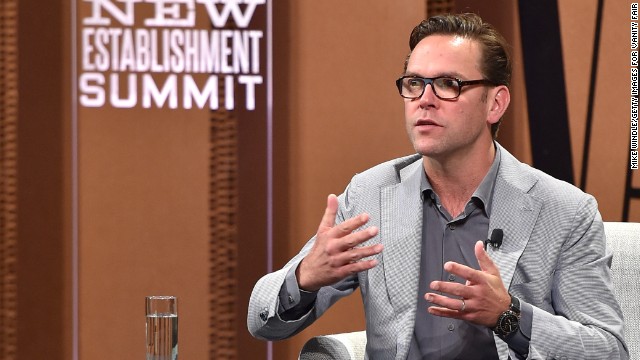 James Murdoch, the son of conservative media mogul Rupert Murdoch, donated $2,800 to Democrat Pete Buttigieg's presidential campaign, a newly filed report shows.
Murdoch's contribution on March 12 underscores the attention Buttigieg's come-from-behind presidential campaign is drawing from big-name figures from the worlds of media, finance and the arts.
The Federal Election Commission filing is sprinkled with other bold-faced names who donated to Buttigieg in the first months of his campaign. They include:
Actors Mandy Moore and Ryan Reynolds
Susan Rice, who served as President Obama's national security adviser
Mel Heifetz, a philanthropist and prominent gay-rights activist
Agnes Gund, one of the country's best-known arts patrons
Dan Tierney, the president of the investment firm Wicklow Capital.
The Murdoch empire includes some of the nation's most influential conservative outlets, including Fox News.
However, James Murdoch, viewed as more politically moderate than his father, struck out on his own last year and has founded an investment firm, Lupa Systems.
11:04 a.m. ET, April 15, 2019
Who has the most cash on hand so far?
Reports will roll in throughout the day. But based on early numbers from Democratic candidates, the cash on hand picture now looks like this:
Vermont Sen. Bernie Sanders, $28 million
Massachusetts Sen. Elizabeth Warren, $11.2 million
Former Maryland congressman John Delaney, $10.6 million
New York Sen. Kirsten Gillibrand, $10.2 million
Minnesota Sen. Amy Klobuchar, $7 million
South Bend, Indiana Mayor Pete Buttigieg, $6.4 million
New Jersey Sen. Cory Booker, $6.1 million
11:03 a.m. ET, April 15, 2019
Pete Buttigieg marshals money, starts April with $6.4 million remaining in the bank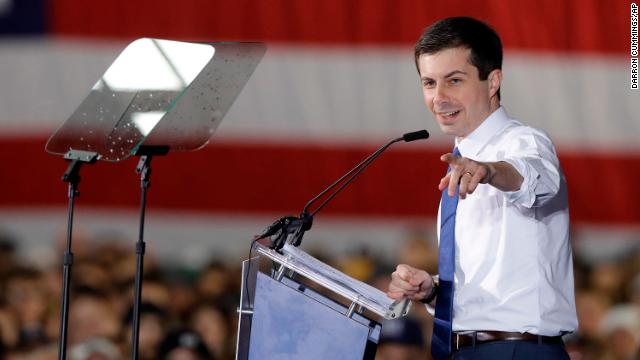 South Bend, Indiana, Mayor Pete Buttigieg formally kicked off his presidential campaign Sunday in his hometown, but he began raising money for his exploratory committee back in January.
His first-quarter report landed Monday morning with the Federal Election Commission and confirms that Buttigieg, who was a little-known figure before last month, had a better-than-expected fundraising performance. He raised just shy of $7.1 million and spent a little more than $685,000 -- showing he is conserving his resources for the long primary battle ahead.
Nearly two-thirds of his money -- 64% -- came from donors who contribute in amounts of $200 or less, giving him a pool of people who can donate repeatedly without hitting contribution limits.
He started April with $6.4 million remaining in the bank -- a number that puts him ahead of New Jersey Sen. Cory Booker, who previously announced having $6.1 million still available.
9:42 a.m. ET, April 15, 2019
Trump campaign says it raised over $30 million in first quarter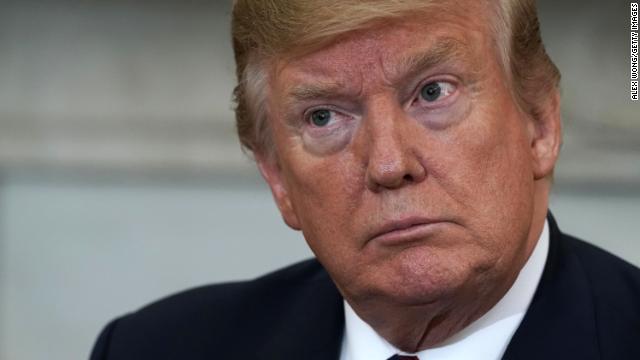 Trump's re-election campaign raised more than $30 million in the first fundraising quarter of 2019 -- an amount that rivals the combined fundraising haul of the top two Democrats in the first quarter and underscores his enormous financial head start over the crowded field of Democrats jockeying to face him in 2020.
Trump's re-election effort now has a substantial $40.8 million remaining in the bank, Tim Murtaugh, the campaign's director of communications, told CNN on Sunday. While Trump builds a massive war chest, 18 Democrats -- with more considering bids -- are competing for their party's nomination.
According to the campaign, 98.79% of first quarter contributions and the joint committees were $200 or less. The average donation was $34.26.
9:40 a.m. ET, April 15, 2019
Happy tax and campaign-finance filing day!
Not only is it Tax Day, but Monday also is the deadline for presidential and congressional candidates to file reports with the Federal Election Commission, detailing their fundraising and spending during the first three months of the year.
This marks the first big test of fundraising strength for the already crowded field of men and women vying to take on President Donald Trump in the 2020 general election. Trump has an enormous head start on Democrats and is expected to report raising $30 million in the first quarter – a sum that rivals the combined haul of the two top-raising Democrats. Vermont Sen. Bernie Sanders, making his second run for the Democratic presidential nomination, leads the pack. His campaign aides say he raised $18.2 million in the first 41 days of his campaign. He's followed by California Sen. Kamala Harris, who reported raising $12 million.
We'll provide the latest news here as the reports roll in. Candidates have until midnight to file reports and just like all you tax-filing procrastinators out there, they often wait until the final hours to deliver their electronic paperwork to election regulators, and by extension, to the public.
9:40 a.m. ET, April 15, 2019
What to look for as the numbers roll in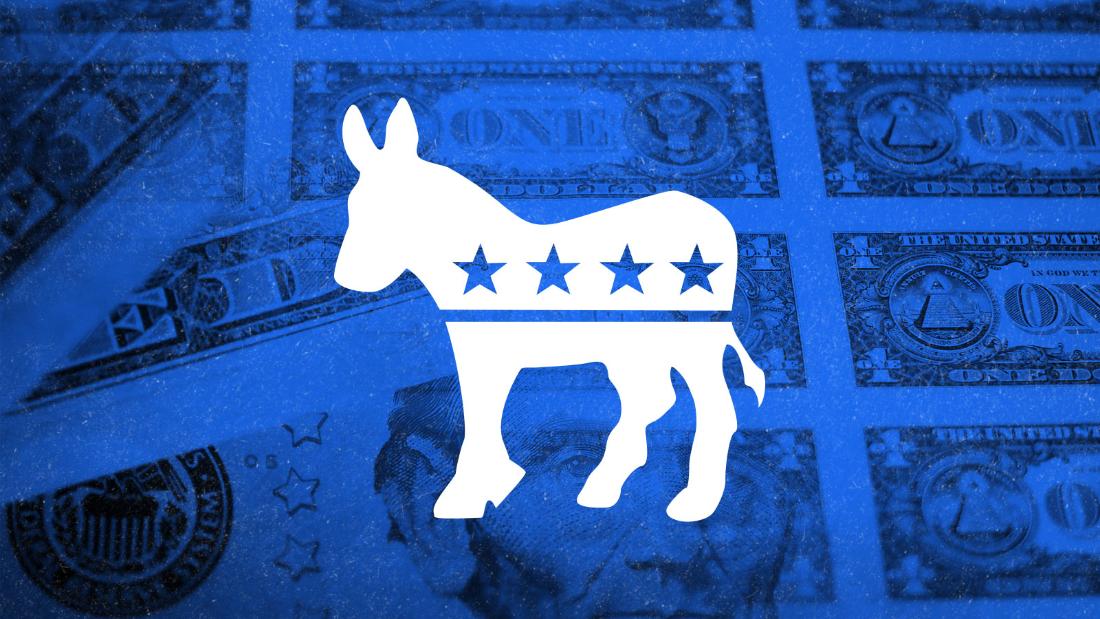 There's pressure on top-tier contenders to post big numbers. But the lesser-known candidates in the crowded Democratic field face an added challenge: meeting the new criteria the Democratic National Committee has established for the first two debates.
To get on the debate stage this summer, candidates must either earn at least 1% support in several polls or receive campaign contributions from 65,000 individuals.
Here are three things to look for
Cash on hand: The money candidates still have in the bank at the end of the first quarter will offer a snapshot of their staying power in the long primary fight. The survivor of the Democratic nomination battle likely will face a well-financed opponent in Trump, who never stopped campaigning after winning the White House in 2016 and started the year with more than $19 million remaining in his campaign account.
Individual donors: Candidates also are touting donor numbers. Donors who contribute small amounts online -- particularly through automatic, recurring donations -- are a goldmine for campaigns because they can be tapped repeatedly for contribution before they hit the $2,800 limit on what an individual can donate to a candidate for a primary election. The ability to attract individual donors also has become a crucial litmus test for little-known candidates who want to join the Democratic Party's first two debates.
The most money: All signs point to a big haul for Sen. Bernie Sanders, who already raised $18.2 million in the first fundraising quarter. But big totals are no guarantee of success at the ballot box. Other candidates — including Democrats John Kerry and Hillary Clinton and Republican Ron Paul — had multimillion-dollar single fundraising days in their presidential contests — and still lost, said Michael Malbin, who runs the nonpartisan Campaign Finance Institute.
10:21 a.m. ET, April 15, 2019
These Democratic candidates have already released their first-quarter fundraising numbers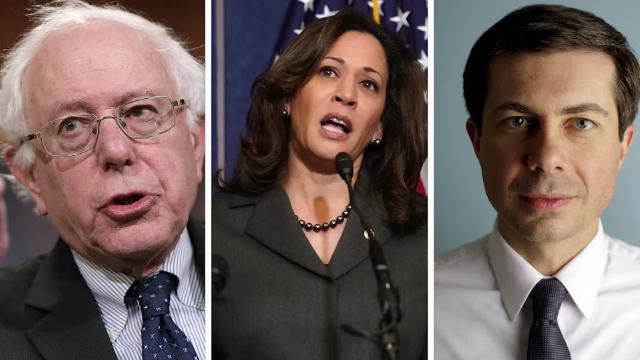 Several Democratic presidential candidates, including businessman Andrew Yang, South Bend Mayor Pete Buttigieg, and Sens. Kamala Harris and Bernie Sanders, have already announced their numbers for the first fundraising quarter of 2019.
Details on candidates' fundraising and spending are not due to federal election regulators until today, but candidates often provide totals as they jockey to demonstrate the financial strength of their campaigns.
Here's what we know:
Bernie Sanders: The Vermont senator raised $18.2 million from 525,000 individual donors since entering the primary in February, his campaign said. Sanders' average donation clocked in at around $20. 
Kamala Harris: The California senator raised $12 million from 218,000 individual contributions during the first quarter. Her campaign said 98% percent of those contributions came in amounts smaller than $100.
Pete Buttigieg: The South Bend, Indiana, mayor raised $7 million from 158,550 donors in the first quarter of the year, he announced on Twitter.
Elizabeth Warren: The Massachusetts senator more than $6 million and more than 135,000 donors made over 213,000 contributions in the first three months of the year, with an average donation of $28, her campaign said.
Amy Klobuchar: The Minnesota senator raised more than $5.2 million in the first seven weeks of her presidential bid. Her aides said she attracted nearly 100,000 online donors with an average online donation of $40. In addition, 85% of all donors contributed less than $100, her campaign said.
Cory Booker: The New Jersey senator raised more than $5 million in the first-quarter. Booker's campaign touted an average online donation of $34.
Andrew Yang: The businessman raised $1.7 million from 80,000 individual donors in February and March, though the Federal Election Commission reporting period covers the first three months of the year, Yang's campaign said. The average donation was $17.92, and that 99% of the donations were less than $200, the campaign said.
Kirsten Gillibrand: The US senator from New York raised $3 million in the first quarter of this year, her campaign communications director said. The campaign did not say how many donors supported Gillibrand but noted that 83% of donations were below $50 with an average online donation of $25. Gillibrand now has $10.2 million in cash on hand. 
John Delaney: The former congressman from Maryland reported $12.1 million in total receipts, $11.7 million of which came from him. He has nearly $10.6 million in the bank.