Democrats hit the campaign trail across the US this weekend
4:00 p.m. ET, February 9, 2019
Trump campaign weighs in on Warren run
President Donald Trump's campaign manager, Brad Parscale, issued a statement on Saturday in light of Warren's announcement, saying Warren "has already been exposed as a fraud by the Native Americans she impersonated and disrespected to advance her professional career, and the people of Massachusetts she deceived to get elected."
It's the first time the Trump re-election campaign has put out a formal statement on a candidate entering the race.
Here's Parscale's full statement:
"Elizabeth Warren has already been exposed as a fraud by the Native Americans she impersonated and disrespected to advance her professional career, and the people of Massachusetts she deceived to get elected. The American people will reject her dishonest campaign and socialist ideas like the Green New Deal, that will raise taxes, kill jobs and crush America's middle-class. Only under President Trump's leadership will America continue to grow safer, secure and more prosperous."
A source familiar with the President's thinking says the campaign statement was designed to drive up donations among Trump supporters because "hitting Warren results in a fundraising bonanza."
The source says the campaign believes they will see a spike in donations because of the unpopularity of Warren's progressive agenda among Trump's base.
12:14 p.m. ET, February 9, 2019
Elizabeth Warren officially announces she is running for President
Sen. Elizabeth Warren, at a rally outside a mill in Lawrence, Massachusetts, has officially announced she is running for the Democratic nomination for President.
Warren told the crowd, "It won't be enough to just undo the terrible acts of this administration. We can't afford to just tinker around the edges – a tax credit here, a regulation there. Our fight is for big, structural change. This is the fight of our lives. The fight to build an America where dreams are possible, an America that works for everyone. I am in that fight all the way. And that is why I stand here today: to declare that I am a candidate for President of the United States of America."
She said, "Because the man in the White House is not the cause of what's broken, he's just the latest – and most extreme – symptom of what's gone wrong in America. A product of a rigged system that props up the rich and the powerful and kicks dirt on everyone else. And so, once he's gone, we can't pretend that all of this never happened."
12:00 p.m. ET, February 9, 2019
Does it feel like people are getting into the 2020 race WAY early?
We're still about 21 months out from the 2020 election, but the field of presidential contenders is already very crowded.
If it feels like people are getting into the race particularly early this season, you're not totally wrong.
In 2016, the first major candidate to get into the race was Ted Cruz on March 23, 2015. The eventual Democratic nominee Hillary Clinton announced on April 12, 2015. And Donald Trump, the person who went on to be President, announced his candidacy on June 16, 2015.
In 2008, the race kicked off a little earlier for the Democrats.
Hillary Clinton did an "I'm in" video on January 20, 2007. Barack Obama made his announcement on Feb. 10, 2007. (The GOP nominee in '08, John McCain, announced on April 25, 2007.)
11:31 a.m. ET, February 9, 2019
They don't make campaign logos like they used to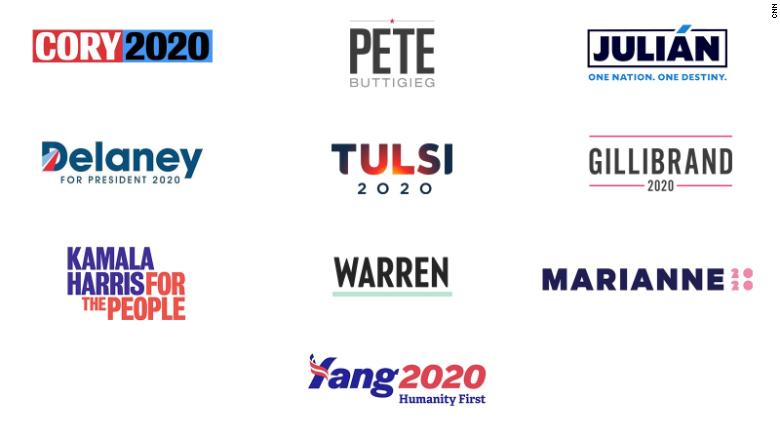 Gone are the patriotic single-letter presidential logos popularized over the past decade.
In a crowded race without a definitive early frontrunner, 2020 logos so far seem like an effort to build name recognition, their color schemes optimized to stand out against other campaign signs on the sides of roads in Des Moines or Manchester.
If there are any emerging design trends among the initial 2020 campaign logos, it's the use of words over symbols, and the embrace of color outside of the traditional red, white, and blue.
Case in point:
Julián Castro's logo emphasizes the accent in his first name, rising like an airline tail mark and literally breaking outside of the box
Sen. Kirsten Gillibrand opted to frame her 2020 logo in pink, a color typically associated with activism, from the gay rights movement to pussyhats
Sen. Kamala Harris included a slogan in her logo. "Kamala Harris For the People" references her time as a prosecutor while doubling as a populist message, with "The People" holding up her name
Campaign logos aren't as important as a candidates' positions on the big issues or their voting records. But through branding, candidates are saying something about themselves, their campaign, and their vision for America.
11:14 a.m. ET, February 9, 2019
Indiana mayor Pete Buttigieg jumps into 2020 race
Pete Buttigieg, the 37-year-old openly gay mayor of South Bend, Indiana, who served in the Navy during the war in Afghanistan, has launched an exploratory committee for a 2020 presidential bid.
In his campaign announcement video, the Democratic mayor talks about how he turned around what had been referred to as a "dying city." He would like to do the same for the country, even if he knows the odds are against him, he said.
Buttigieg has little national name recognition and could struggle to get attention in a crowded field including heavyweights like Sen. Kamala Harris of California, Sen. Kirsten Gillibrand of New York and Sen. Elizabeth Warren of Massachusetts.
"We are not going to be the most established, we are not going to be the most well-funded, I am obviously not stepping onto this stage as the most famous person in this conversation," Buttigieg said in a news conference in January.
"But I belong to a party whose characteristic has always been to look for fresh voices, new leadership and big ideas, and I think that is what 2020 is going to be about."
10:57 a.m. ET, February 9, 2019
Amy Klobuchar: the Democrat who won back the Midwest
Democratic Sen. Amy Klobuchar of Minnesota is expected to announce her plans for the 2020 presidential election on Sunday.
Klobuchar is inviting the public and the press to join her in a park in downtown Minneapolis to make her announcement. Fueling speculation is the fact that she is headed back to Iowa in two weeks to headline the Ankeny Area Democrats Winter Banquet and Fundraiser.
Klobuchar recently won her Senate re-election bid in Minnesota with 60% of the vote, visiting all 87 Minnesota counties during the campaign, including 42 that went for Trump in 2016. She is seen by some observers as a Democratic candidate who can win in the Midwest, recapturing the states that flipped to President Donald Trump in 2016.
Should she enter the 2020 presidential race, she would be one of seven women and one of five US senators seeking the Democratic nomination in 2020.
Her prosecutorial streak and fairly moderate record (which may be rare among 2020 contenders) could give her a unique lane to the nomination.
10:58 a.m. ET, February 9, 2019
Kirsten Gillibrand: "I am not afraid" of Trump
Democratic Sen. Kirsten Gillibrand of New York got into the race in January, casting herself as a leading voice for women in national politics.
Her campaign video highlighted her work on the 9/11 health bill, women's rights and fighting President Donald Trump.
"I am not afraid of him," Gillibrand said of the President.
Gillibrand, who was elected for her second full term in the Senate in 2018, rose to national prominence in recent years as a forceful proponent of the #MeToo movement and fierce critic of Trump. People close to Gillibrand have indicated the senator will run a campaign centered on gender issues, something she has championed in the House and Senate.
However, critics also point to Gillibrand's long voting record in the House that is considerably more conservative than her Senate votes. (She's already trying to clean up that record; she told MSNBC's Rachel Maddow in January that her past positions on guns and immigration were wrong.)
Gillibrand enters the 2020 field with $10.5 million in the bank, a sizable war chest that would make her one of the most financially formidable candidates.
10:59 a.m. ET, February 9, 2019
Former NYC Mayor Michael Bloomberg speculated to run
Former New York Mayor Michael Bloomberg, who is contemplating a bid for the presidency, heads to Florida this weekend for two events.
The Republican-turned-independent-turned-Democrat hasn't formally announced his candidacy yet, but would self-fund his potential campaign, he said last month. According to Forbes estimates, Bloomberg is worth more than $44 billion, spending his own money on his three successful bids for mayor.
Bloomberg has put his financial muscle behind issues including climate change, gun safety, education and immigration. In recent years, the billionaire has spent at least $500 million of his own money to advance those issues, according to a Bloomberg spokesman.
Some in the Democratic Party have urged Democrats to reject candidates who use super PACs or self-fund their campaigns.
"No to the billionaires, whether they are self-funding or whether they're funding PACs. We are the Democratic Party, and that is the party of the people," said Sen. Elizabeth Warren of Massachusetts last month.
Sen. Bernie Sanders, a Vermont independent who is also considering a 2020 run, has also routinely hit the "billionaire class."
11:00 a.m. ET, February 9, 2019
What you need to know about Elizabeth Warren
Sen. Elizabeth Warren of Massachusetts, who will formally announce her candidacy tonight, is one of the most recognizable names in the presidential race so far.
Warren became a progressive star by taking on Wall Street after the 2007 financial crisis and, more recently, President Trump.
Warren is a searing critic of the President, and Trump has responded by openly mocking her Native American heritage and referring to her as "Pocahontas." Her decision in October to respond to Trump and other critics by releasing the results of a DNA test aimed at proving her ancestry fell flat with many Democrats and overshadowed her midterm message.
Despite this controversy, Warren remains a potent figure in the party. She's a liberal's liberal with anti-corporatist credo and an ability to raise tens of millions of dollars.