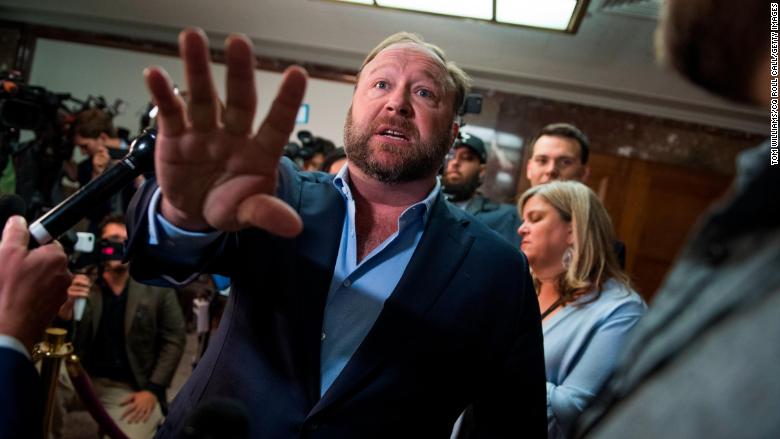 Far-right conspiracy theorist Alex Jones showed up Wednesday on Capitol Hill as tech executives readied to testify before Congress. Jones, who was barred earlier this year from YouTube, Facebook, and other social media platforms, held a freewheeling gaggle with reporters outside the hearing room.
Jones said he was at the Senate Intelligence Committee's hearing to "face my accusers." He also recited a number of his fringe talking points. Jones accused members of the media of being "mercenaries for the globalists," and said tech platforms are working to silence conservatives and independent media organizations.
Jones was asked by a reporter if his recent seven-day suspension from Twitter had changed his behavior on the platform. Previously, Twitter CEO Jack Dorsey -- who is testifying in two hearings on Wednesday -- suggested that the suspension could cause Jones to rethink the way he acts on the platform.
Jones didn't directly answer the question, but suggested his behavior would remain the same. He claimed that he is "super tame compared to the leftists on Twitter" and said Dorsey only issued the suspension as a "stop-gap measure" to satisfy members of the media and Twitter's investors.
Related:
Alex Jones: Conspiracy theorist suspended by Twitter for one week
Facebook suspends personal profile of InfoWars founder Alex Jones
YouTube, Apple and Facebook remove content from InfoWars and Alex Jones