Silicon Valley execs faced Capitol Hill grilling
10:41 a.m. ET, September 5, 2018
Surprise! Alex Jones showed up on Capitol Hill to face his "accusers"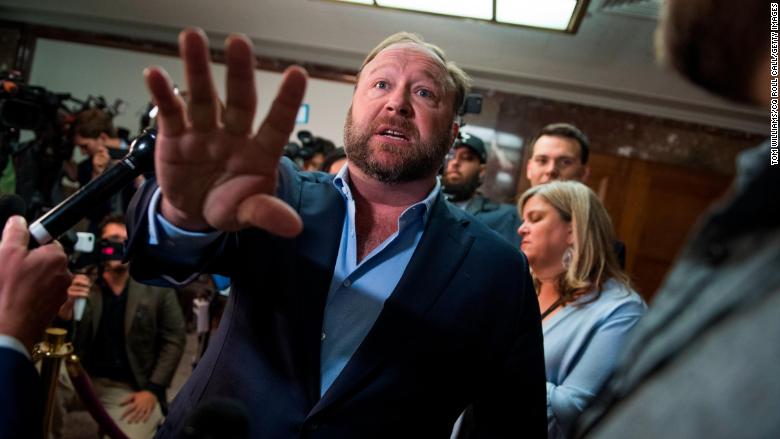 Far-right conspiracy theorist Alex Jones showed up Wednesday on Capitol Hill as tech executives readied to testify before Congress. Jones, who was barred earlier this year from YouTube, Facebook, and other social media platforms, held a freewheeling gaggle with reporters outside the hearing room.
Jones said he was at the Senate Intelligence Committee's hearing to "face my accusers." He also recited a number of his fringe talking points. Jones accused members of the media of being "mercenaries for the globalists," and said tech platforms are working to silence conservatives and independent media organizations.
Jones was asked by a reporter if his recent seven-day suspension from Twitter had changed his behavior on the platform. Previously, Twitter CEO Jack Dorsey -- who is testifying in two hearings on Wednesday -- suggested that the suspension could cause Jones to rethink the way he acts on the platform.
Jones didn't directly answer the question, but suggested his behavior would remain the same. He claimed that he is "super tame compared to the leftists on Twitter" and said Dorsey only issued the suspension as a "stop-gap measure" to satisfy members of the media and Twitter's investors.
Related:
Alex Jones: Conspiracy theorist suspended by Twitter for one week
Facebook suspends personal profile of InfoWars founder Alex Jones
YouTube, Apple and Facebook remove content from InfoWars and Alex Jones
10:27 a.m. ET, September 5, 2018
Top senator: I'm "deeply disappointed" in Google
Facebook COO Sheryl Sandberg and Twitter CEO Jack Dorsey are in the room and testifying before the Senate Intelligence Committee, but Google declined to send a senior executive.
Committee chairman Sen. Richard Burr said the committee would have "valued the opportunity to speak with them [Google] at the appropriate level of corporate representation."
"I'm deeply disappointed that Google -- one of the most influential digital platforms in the world -- chose not to send its own top corporate leadership to engage this committee," Sen. Mark Warner, the committee's top Democrat, said.
He added that there are "structural vulnerabilities" in multiple Google products, including Google search, YouTube and Gmail, about which members of the committee want answers. "Google has an immense responsibility in this space," he said.
10:10 a.m. ET, September 5, 2018
Twitter: We're challenging 10 million accounts weekly
Jack Dorsey has admitted in the past that the company "hasn't done enough" to promote user transparency. But what is the company doing to combat the spam, abuse and misinformation that the platform has become notorious for?
Here are the main takeaways:
Relying on behavior: Twitter says it relies on machine learning to look at how accounts behave and react to each other to rank content in a user's feed. It says that since it started doing this, abuse reports have dropped 4% from search and 8% from conversations.
Finding the fakes: Over the course of the last several months, Twitter says it has identified and challenged between 8.5 million and 10 million accounts weekly that are suspected of being bots or creating spam. That's three times the 3.2 million caught weekly in 2017.
Combatting accusations of bias: Despite accusations of 'shadow banning' conservatives, Twitter says it has found nothing of the sort. In fact, the company says it ran a 30-day test following House and Senate accounts, and 'found no statistically significant difference between the number of times a Tweet by a Democrat is viewed versus a Tweet by a Republican."
Read Dorsey's pre-written remarks.
10:02 a.m. ET, September 5, 2018
Facebook: "This is an arms race, and we need to be ever more vigilant."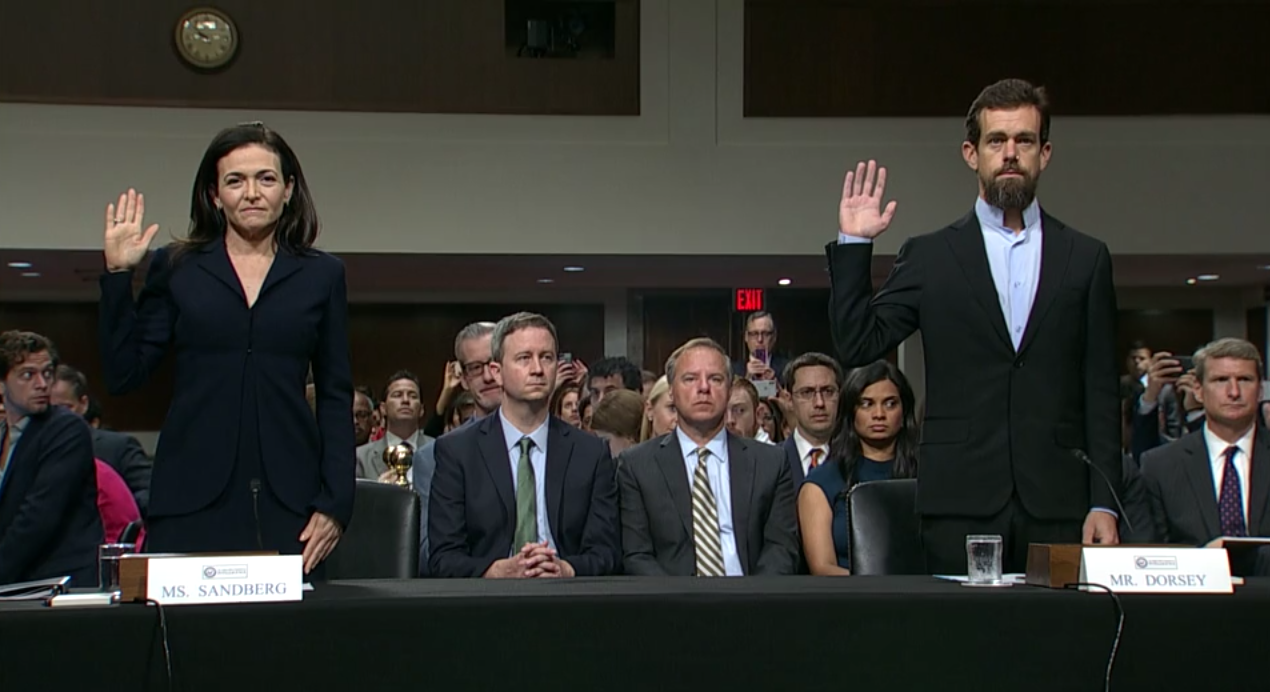 Sheryl Sandberg is addressing the hearing now. "We were too slow to spot this and too slow to act. That's on us," she said.
Here are some more highlights from her pre-released remarks:
Facebook by the numbers: The company says it has doubled the number of people who work on security and safety to more than 20,000. It says it reviews content in 50 languages, 24 hours a day.
Following the money: The platform says it has removed economic incentives to create fake news. It says it is blocking millions of attempts to register fake accounts every day.
Increased collaboration: Facebook says it is calling on government entities - including the DOJ, the FBI and other law enforcement agencies - to share information about threats and to work together to stop election interference in the future.
You can read the full statement here.
9:55 a.m. ET, September 5, 2018
Wall Street is a little worried
Big Tech is coming under pressure from Wall Street as executives prepare to get grilled in Washington.
Twitter (TWTR) shares retreated 2% shortly after Wednesday's opening bell. Facebook (FB) lost nearly 1%, and Google owner Alphabet was down a fraction.
Don't feel too bad for the tech companies, though. Despite concerns about regulation, Twitter shares are still up 41% this year and Alphabet (GOOG) is up 14%. Facebook is down 3%.
9:56 a.m. ET, September 5, 2018
Google: We are "deeply concerned about attempts to undermine democratic elections"
Google is the only company that didn't send an executive to Capitol Hill, but it did release a statement.
The takeaways:
Google notes the measures it's already taken, including tools to increase transparency around who is purchasing election-related ads and how they are being disseminated.
It also doubles down on its efforts to improve the cybersecurity of political officials, as well as U.S. political organizations.
Notably absent was any mention of President Trump's recent claims that Google's search is "rigged" against conservative viewpoints.
You can read the company's full statement here.
9:08 a.m. ET, September 5, 2018
Titans of Silicon Valley head to Capitol Hill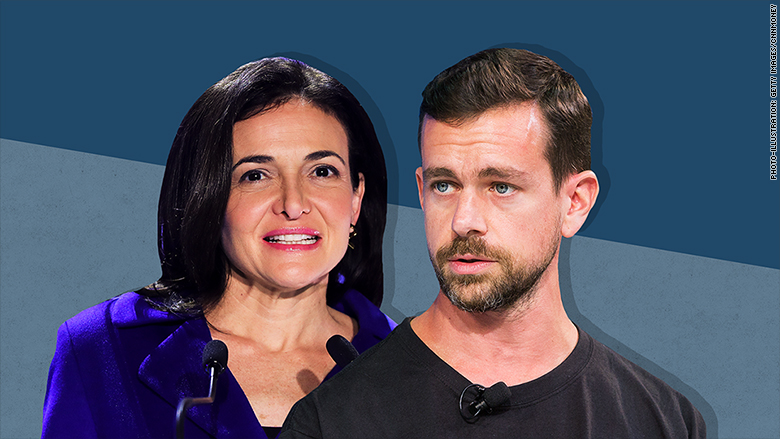 Executives from Facebook and Twitter will appear on Capitol Hill today for Big Tech's third high-profile outing in Washington in less than twelve months.
Facebook COO Sheryl Sandberg and Twitter CEO Jack Dorsey will appear before the Senate Intelligence Committee Wednesday morning to discuss actions their companies have taken to thwart foreign influence campaigns targeting the 2018 midterm elections.
Dorsey will then participate in a second hearing Wednesday afternoon before the House Energy & Commerce Committee, where he is set to discuss the algorithms Twitter uses to serve content on users' Twitter feeds and "content monitoring." During that hearing, it's likely Dorsey will face questions about — and push back against — accusations of political bias against Republicans.
Google, on the other hand, will likely be a no-show.
9:01 a.m. ET, September 5, 2018
Why isn't Google testifying today?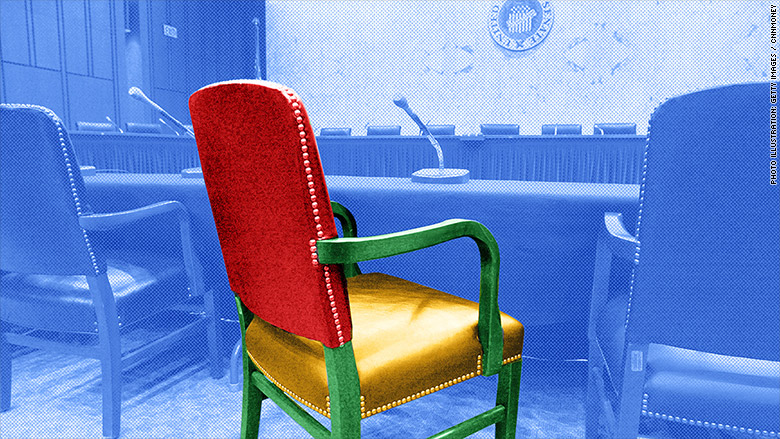 The Senate Intelligence Committee invited senior leaders from Google as well as Facebook and Twitter, to discuss their role in "protecting elections from misinformation and disinformation." But Google declined to send a top executive. CNN's Donie O'Sullivan and Jeremy Herb explain:
Facebook COO Sheryl Sandberg and Twitter CEO Jack Dorsey agreed to attend. Neither Google nor its parent company Alphabet offered anyone from their C-suites, a committee spokesperson said. Google instead offered to send Kent Walker, its senior vice president of Global Affairs. Senators say Walker isn't senior enough. Senator Richard Burr told reporters that the committee would leave a chair and name plate open for Google.
So a senate panel on election security that's being held just weeks before the midterms might just consist of Sandberg, Dorsey, and an empty chair.