EPA chief Scott Pruitt resigns
4:31 p.m. ET, July 5, 2018
The EPA's inspector general will continue investigating Pruitt
A spokesman for the EPA's Office of Inspector General told CNN that ongoing or pending reviews of Scott Pruitt will continue, even though he has resigned.
"Any ongoing or pending OIG reviews related to the Administrator and/or his team will continue—regardless of the administrator's resignation," the spokesman said.
What we know about the investigation
The EPA inspector general is reviewing all of Pruitt's 2017 travel, which is expected to include multiple taxpayer-funded weekend trips that Pruitt took to Oklahoma, as well as official travel to Italy and Morocco.
The inspector general told Congress in a May 2018 letter that he expects the review will be completed by the end of September.
A different EPA inspector general review involves Pruitt's travel practices, suggesting that it will review Pruitt's use of his round-the-clock security detail, which travels with him even when off-duty on family vacations.
Both the EPA inspector general and the Government Accountability Office (GAO) are reviewing an April 2017 meeting that Pruitt had with the National Mining Association regarding the Paris climate agreement, which critics said may have violated anti-lobbying laws
4:57 p.m. ET, July 5, 2018
Here's who will replace Scott Pruitt
President Trump announced today that he accepted Environmental Protection Agency Administrator Scott Pruitt's resignation.
EPA deputy Andrew Wheeler will place take over for Pruitt on Monday, Trump said.
Here's what we know about Wheeler:
Wheeler worked as a coal lobbyist.
He served on Capitol Hill as a Republican staff member for the Senate Environment and Public Works Committee and as a top aide to Sen. Jim Inhofe, an Oklahoma Republican and an outspoken climate change skeptic who told CNN last month the EPA is "brainwashing our kids."
Wheeler was confirmed to be the No. 2 official at the EPA in April.
Ahead of the confirmation vote in April, Inhofe came to Wheeler's defense and vouched for both his character and anti-regulation bona fides.
4:22 p.m. ET, July 5, 2018
EPA staffer: "Incredible that he lasted as long as he did"
Environmental Protection Agency officials are reeling from the news that EPA Administrator Scott Pruitt has resigned — something many inside the EPA had begun to believe might never happen.
"Still in shock to be honest," one EPA official told CNN. "Incredible that he lasted as long as he did."
Pruitt had lost the confidence of much of the EPA's career and political appointees, but many of those eager to see him resign had begun to lose hope that he would resign or be pushed out by the President.
4:13 p.m. ET, July 5, 2018
Senior Democrat: "Scott Pruitt's reign of venality is finally over"
Rep. Gerry Connolly, a senior Democrat on the House Oversight Committee, put out this strongly worded statement on Scott Pruitt's resignation: 
"Scott Pruitt's reign of venality is finally over. He made swamp creatures blush with his shameless excesses. All tolerated because President Trump liked his zealotry. Shame." 
4:09 p.m. ET, July 5, 2018
A few of the scandals surrounding Scott Pruitt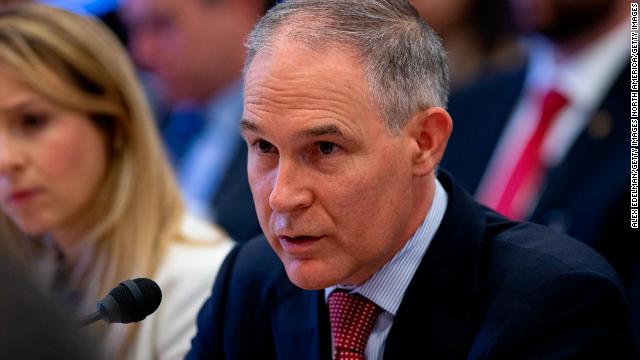 Scott Pruitt faced a steady stream of negative headlines in recent weeks and months. Here's a look at some of the controversies:
4:00 p.m. ET, July 5, 2018
EPA Administrator Scott Pruitt resigns, Trump says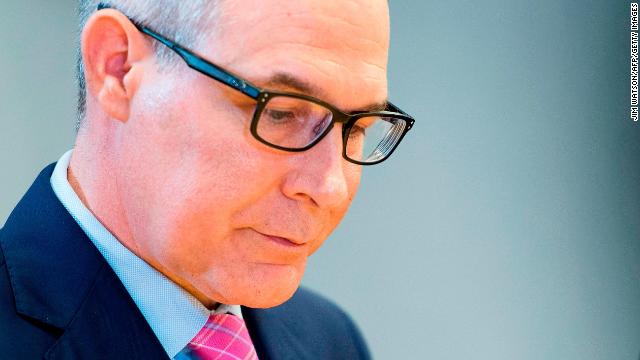 President Donald Trump said he has accepted the resignation of Environmental Protection Agency Administrator Scott Pruitt.
Pruitt's resignation follows months during which he has been embroiled in one ethics controversy after the next.
Trump tweeted the news about Pruitt's resignation:
Some background: Questions over Pruitt's spending have been especially frequent: Documents showed showed the EPA spent more than $30,000 on security for Pruitt's 2017 trip to Italy and $14,000 on charter flights around Oklahoma that summer. A report from The Washington Post in March outlined further travel expenses from Pruitt, totaling about $68,000 and including a nearly $20,000, four-day trip to Morocco and a series of first class flights.
Pruitt also reportedly lived for about six months in a Capitol Hill condo owned by a health care lobbyist whose husband has lobbied the EPA and payed below the market rate.
His chief of staff signed on his behalf approving large raises for two of his close aides, and sources say Multiple senior EPA officials were demoted after they raised concerns about Pruitt's spending.