Elizabeth Warren CNN town hall
10:40 p.m. ET, March 18, 2019
What Elizabeth Warren learned from her favorite Bible story about sheep and goats
Sen. Elizabeth Warren was asked: "What role does faith play in your life, your public life and your private life?"
She responded that she was raised Methodist and was a fifth grade Sunday school teacher ("All I can say is nobody got hurt"), then named her favorite story of the Bible -- The Sheep and the Goats.
It taught her two things: "The first is there is God. There is value in every single human being. And the second, Warren said, "is that we are called to action."
"That passage is not about you had a good thought and held on to it. You sat back and were just a part of -- you know, thought about good things. It does not say, you just didn't hurt anybody, and that's good enough. No. It says, you saw something wrong. You saw somebody who was thirsty. You saw somebody who was in prison. You saw their face. You saw somebody who was hungry, and it moved you to act. I believe we are called on to act."
10:42 p.m. ET, March 18, 2019
Warren calls out corruption in government, touts "wealth tax"
Asked about ensuring fair taxes Monday night, Sen. Elizabeth Warren called out corruption in government.
"Let's just admit it. When you've got a government that works for the rich and it's not working nearly as well for anyone else, that's corruption, and we need to call it out plain and simple," she said.
The Democratic senator then touted her proposed "wealth tax," which would impose a 2% tax on Americans whose net worth exceeds $50 million and an additional 1% levy on billionaires.
"Anybody in here a homeowner? You've been paying wealth taxes for a long time. They're just called property taxes," Warren said. She added to applause: "I just want to include the Rembrandt and the Diamonds in the property taxes."
Warren then pointed to how this "wealth tax" would pay for her other proposals related to universal child care and universal pre-k – with $2 trillion to spare.
"We get a 2% tax on the 75,000 richest families in this country, we would have enough money to provide universal child care, universal pre-k, universal pre-pre-k for every child in America and still have $2 trillion left over," she said. 
Watch more:
10:30 p.m. ET, March 18, 2019
Warren: College admissions scandal highlights wealthy Americans playing by a different set of rules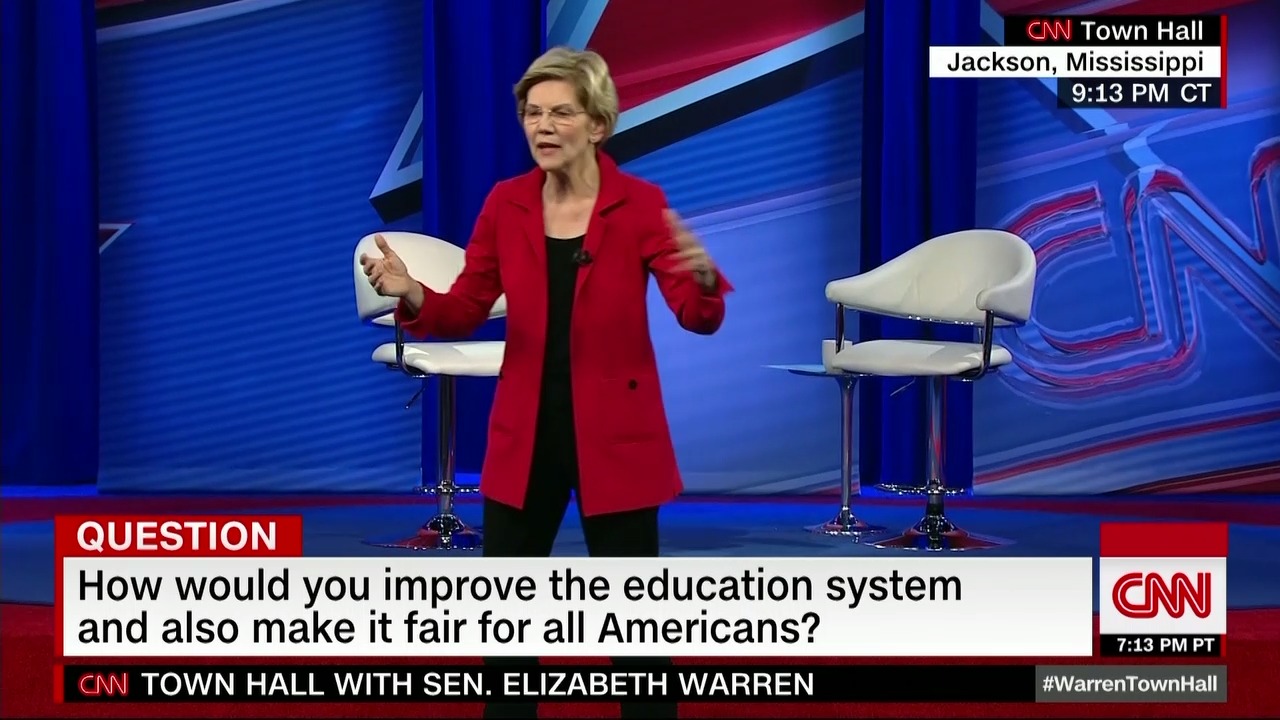 Sen. Elizabeth Warren touched tonight on the college admissions scandal, which she said "just shows one more time that some folks who are rich just think they don't have to play by the same set of rules as anyone else.
Here's her full answer:
"You know, this scandal just shows one more time that some folks who are rich just think they don't have to play by the same set of rules as anyone else and that they can use their money to do whatever it is in terms of buying influence. We have to put a stop to that, and it's not just -- it's everywhere now. We're here talking about a presidential primary. It's everywhere in Washington."
Some background: Federal prosecutors say 50 people took part in a scheme that involved either cheating on standardized tests or bribing college coaches and school officials to accept students as college athletes -- even if the student had never played that sport.
Actresses Lori Loughlin and Felicity Huffman are among the dozens of parents facing federal charges. Others charged include nine coaches at elite schools; two SAT/ACT administrators; an exam proctor; a college administrator; and a CEO who admitted he wanted to help the wealthiest families get their kids into elite colleges.
Watch the moment:
10:23 p.m. ET, March 18, 2019
Warren: Mueller investigation must be protected and his report made public
Asked about her position on the impeachment of President Trump, Sen. Elizabeth Warren didn't directly answer. Instead, she talked about protecting special counsel Robert Mueller's investigation into Russia's interference in the 2016 presidential election, making sure his report is made public and then deciding, as a country, what we should do about it.
She said:
"So we have a report that is due from the special prosecutor any day now. Understand that that investigation from Mr. Mueller has produced already -- I believe it's 34 indictments or guilty pleas. This is a serious investigation. We need to protect him in finishing that report, and then that report needs to be made public to the American people. When we get it, we will know what to do with it."
10:03 p.m. ET, March 18, 2019
In emotional story, Warren describes how her parents' financial struggles formed her beliefs
Elizabeth Warren said her childhood and parents' struggle were like millions of Americans.
Her father had a serious heart attack and was unable to get back to work, so her 50-year-old mother was forced to take on a minimum wage job to support the family, she said.
Things were tough, and they lost the family station wagon. Warren recalled her mother "saying we will not lose this house."
"She was 50-years-old. She had never worked outside the home. She was truly terrified," she said.
Warren's mother, she said, managed to save their family home with her minimum wage job.
"For a long time I used to think that was just a story about my mother. How when you get scared you reach down and you find what you have to find and you bring it and then years later I came to understand that it's the story of millions of Americans who, it doesn't matter if you're scared, when you got to do something to take care of the people you love, you reach down and you find it and you pull it up," she said.
10:00 p.m. ET, March 18, 2019
Warren calls for abolishing the Electoral College and moving to a national popular vote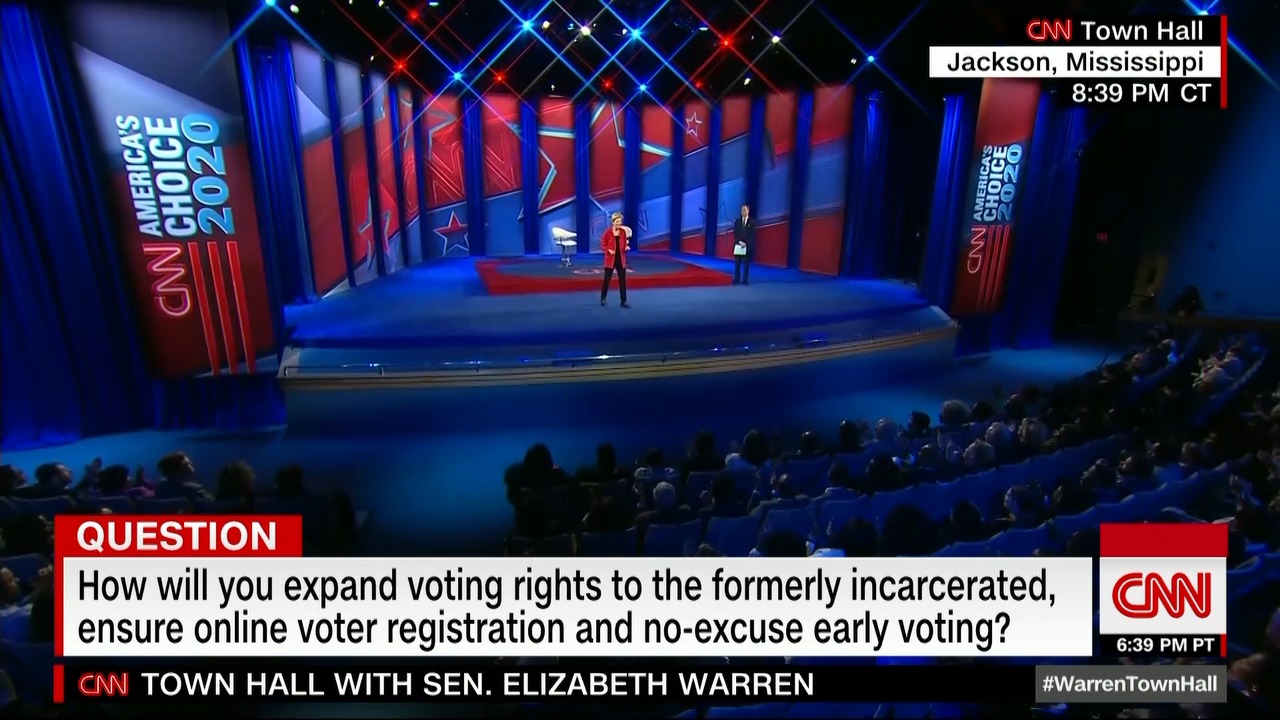 Sen. Elizabeth Warren for the first time on Monday night said that she would back a plan to do away with the Electoral College.
The process, she said, effectively disenfranchises voters in states dominated by one of the two parties.
"Come a general election, presidential candidates don't come to places like Mississippi, they also don't come to places like California or Massachusetts, because we're not the battleground states," Warren said, as members in the audience clapped and nodded their heads.
In 2016, Hillary Clinton defeated President Donald Trump by nearly 3 million votes by running up big leads in Democratic strongholds. But she narrowly lost swing states like Wisconsin, Michigan and Florida, which handed Trump a clear victory on the electoral map.
"My view is that every vote matters," Warren said as the applause in Jackson began to build into an ovation, "and the way we can make that happen is that we can have national voting and that means get rid of the electoral college -- and every vote counts."
10:00 p.m. ET, March 18, 2019
Here's what Warren said when she was asked about her heritage assertions
Democratic Sen. Elizabeth Warren was asked tonight about her longstanding assertions of having Native American heritage, specifically if it "was tone deaf and indicative of a lack of presidential tact."
Warren responded that she grew up in Oklahoma, and "learned about my family from my family."
"Based on that," Warren said, "that's who I am."
But she then added that she's been to nearly three dozen town halls -- and people she speaks with care more, she suggested, "about what's happening to their lives every single day and what touches them like housing and education and health care.
Sh"e added, "That's why I'm in this fight and I'm going to stay in this fight and I te'll l you this. I'm going to fight it from the heart every inch of the way. I'll do my best."
About those heritage claims: Her assertions have dogged her political career and provided fodder for attacks from President Trump. Her use of DNA testing to confirm her limited Native roots last year was met with fierce criticism from some Native American groups.
Before Warren announced her presidential bid in January, she had been also weighed down by new questions over her past claims to Native American heritage. The Washington Post reported that Warren wrote in 1986 that her race was "American Indian" in a Texas state bar registration card, adding to the list of instances in which the senator self-identified this way.
The disclosure prompted yet another public apology from Warren.