Elizabeth Warren CNN town hall
10:00 p.m. ET, March 18, 2019
Warren calls for abolishing the Electoral College and moving to a national popular vote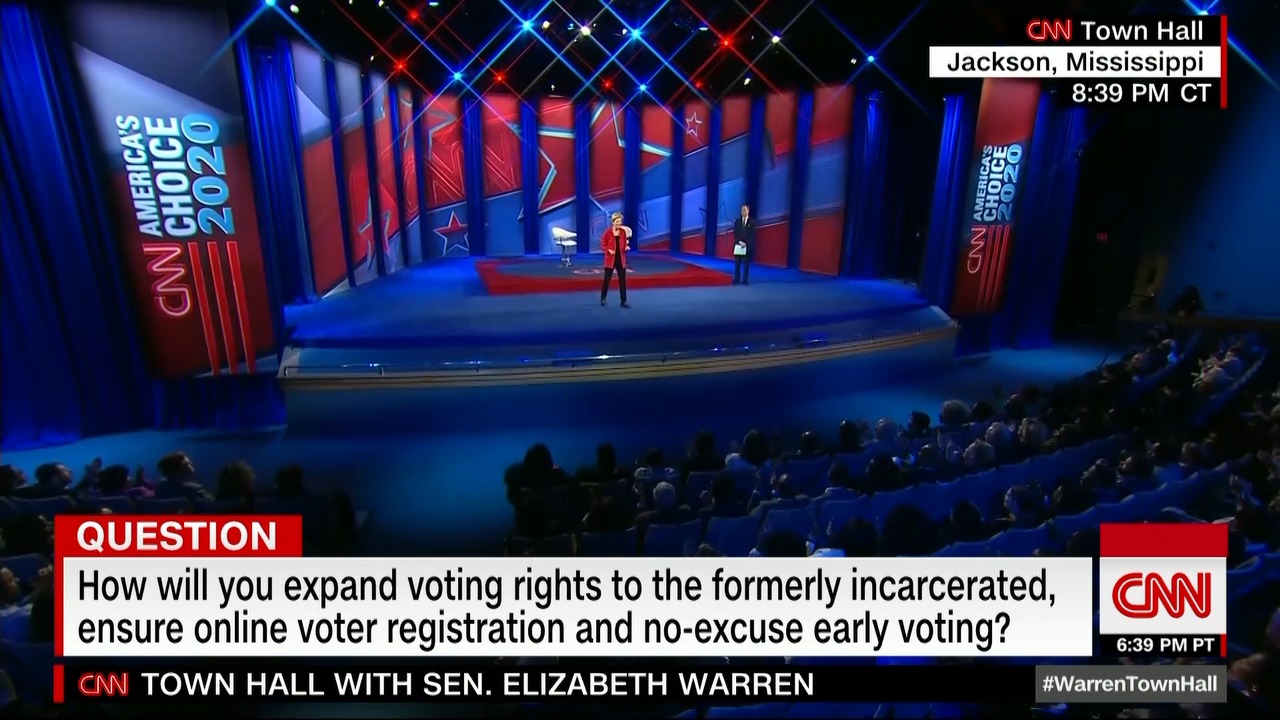 Sen. Elizabeth Warren for the first time on Monday night said that she would back a plan to do away with the Electoral College.
The process, she said, effectively disenfranchises voters in states dominated by one of the two parties.
"Come a general election, presidential candidates don't come to places like Mississippi, they also don't come to places like California or Massachusetts, because we're not the battleground states," Warren said, as members in the audience clapped and nodded their heads.
In 2016, Hillary Clinton defeated President Donald Trump by nearly 3 million votes by running up big leads in Democratic strongholds. But she narrowly lost swing states like Wisconsin, Michigan and Florida, which handed Trump a clear victory on the electoral map.
"My view is that every vote matters," Warren said as the applause in Jackson began to build into an ovation, "and the way we can make that happen is that we can have national voting and that means get rid of the electoral college -- and every vote counts."
10:00 p.m. ET, March 18, 2019
Here's what Warren said when she was asked about her heritage assertions
Democratic Sen. Elizabeth Warren was asked tonight about her longstanding assertions of having Native American heritage, specifically if it "was tone deaf and indicative of a lack of presidential tact."
Warren responded that she grew up in Oklahoma, and "learned about my family from my family."
"Based on that," Warren said, "that's who I am."
But she then added that she's been to nearly three dozen town halls -- and people she speaks with care more, she suggested, "about what's happening to their lives every single day and what touches them like housing and education and health care.
Sh"e added, "That's why I'm in this fight and I'm going to stay in this fight and I te'll l you this. I'm going to fight it from the heart every inch of the way. I'll do my best."
About those heritage claims: Her assertions have dogged her political career and provided fodder for attacks from President Trump. Her use of DNA testing to confirm her limited Native roots last year was met with fierce criticism from some Native American groups.
Before Warren announced her presidential bid in January, she had been also weighed down by new questions over her past claims to Native American heritage. The Washington Post reported that Warren wrote in 1986 that her race was "American Indian" in a Texas state bar registration card, adding to the list of instances in which the senator self-identified this way.
The disclosure prompted yet another public apology from Warren.
9:52 p.m. ET, March 18, 2019
Warren on housing: "Having a decent and safe place to live should be a basic human right"
Sen. Elizabeth Warren talked up her proposal to radically reinvest in public housing while addressing past predatory lending and selling practices that kept African-American families out of homes.
"In the same way that we think about health care, as a basic human right, having a decent and safe place to live should be a basic human right," Warren said.
Last week, she introduced a proposal inspired by her own legislation, the American Housing and Economic Mobility Act.
Among its provisions are proposals that would reduce rent and more strictly regulate leasing companies.
Warren, as she has on the stump now for months, also dug into the racial wealth gap that's was exacerbated by federal policies commonly described as "redlining."
"This bill tackles that head on," she said. "And it says for people who are living in formerly redlined areas there are going to be some special assistance for first-time home buyers, for people who got cheated in the run-up to the housing crash and lost their homes. Some special assistance for folks to get that first home" and begin building generational wealth.
9:41 p.m. ET, March 18, 2019
Warren on the socialist label: "I'm a supporter of markets with rules"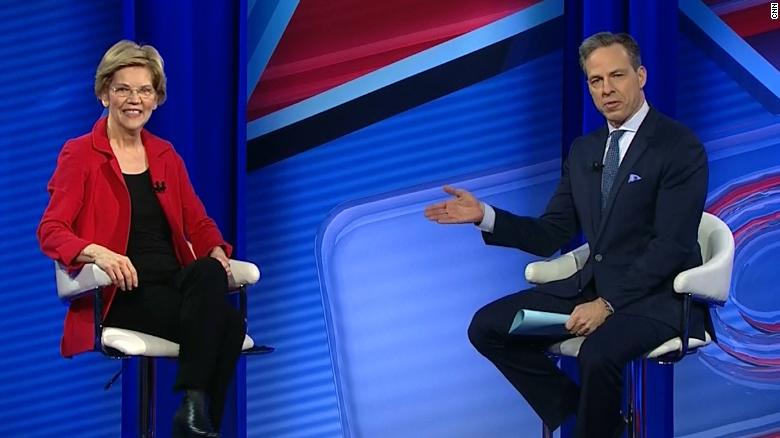 Elizabeth Warren recently said that she is not a Democratic Socialist and insisted she was a capitalist.
Tonight, she doubled down. "I'm a supporter of markets with rules," Warren said at the CNN town hall.
"I believe in markets and I believe in the value that we get out of markets. But it has to be markets with rules. Market without rules is theft. But a market with rules, a market with rules," she said.
There is heated debate over whether Democratic candidates who identify as socialists (or democratic socialists or social democrats, etc.) risk alienating voters outside certain deep blue regions.
9:39 p.m. ET, March 18, 2019
Warren talks through "different pathways" towards Medicare for All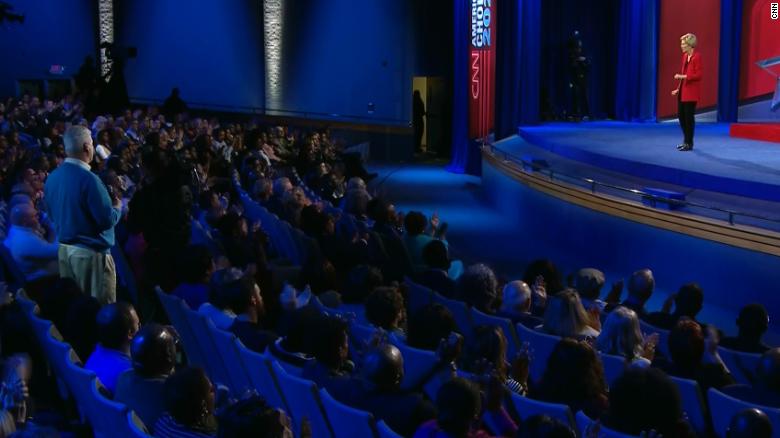 Asked about "Medicare for All" at CNN's town hall Monday night, Sen. Elizabeth Warren suggested that she was open to multiple paths to universal coverage.
"When we talk about Medicare for All, there are a lot of different pathways. What we're all looking for is the lowest cost way to make sure that everybody gets covered," Warren said.
The Massachusetts senator then voiced several ways to achieve universal coverage:
Lowering the age: "Some folks are talking about, let's start lowering the age. Maybe bringing it down to 60, 55, 50. That helps cover people who are most at risk."
Increasing the age: "Some people say do it the other way. Let's bring it up from -- everybody under 30 gets covered by Medicare."
Employer buy-in: "Others say let employers be able to buy into the Medicare plans."
Employee buy-in: "Others say let's let employees buy into the Medicare plans."
Expanding Medicaid: "I've also co-sponsored other bills including expanding Medicaid as another approach that we use."
"For me what's key is we get everybody at the table on this," Warren emphasized.
She later added: "But what's really important to me about this is we never lose sight of what the center is. Because the center is about making sure that every single person in this country gets the coverage they need and that it's at a price that they can afford."
9:32 p.m. ET, March 18, 2019
Warren calls for immigration system "consistent with our values"
Sen. Elizabeth Warren was asked what she would do to "control the influx of migrants" by a town hall attendee who said she didn't feel a border wall would do it.
Warren responded:
"Let me just start where I think of our whole immigration policy, and that is, we need to have policies on immigration that are consistent with our values. We are a country that is built on our differences. That is our strength. Not our weakness."
She talked about a visit to an immigration facility near the border -- "Think of a big Amazon warehouse, only dirty and smelled bad" -- where she saw men, women and children in cages.
"That's not who we are," Warren said. "That is not the country we want to be. And an immigration system that is administered so it's not able to tell the difference between a criminal, a terrorist and a 12-year-old little girl is an immigration system that is not only not keeping us safer, it does not reflect our values."
10:00 p.m. ET, March 18, 2019
Warren calls for "full-blown conversation about reparations"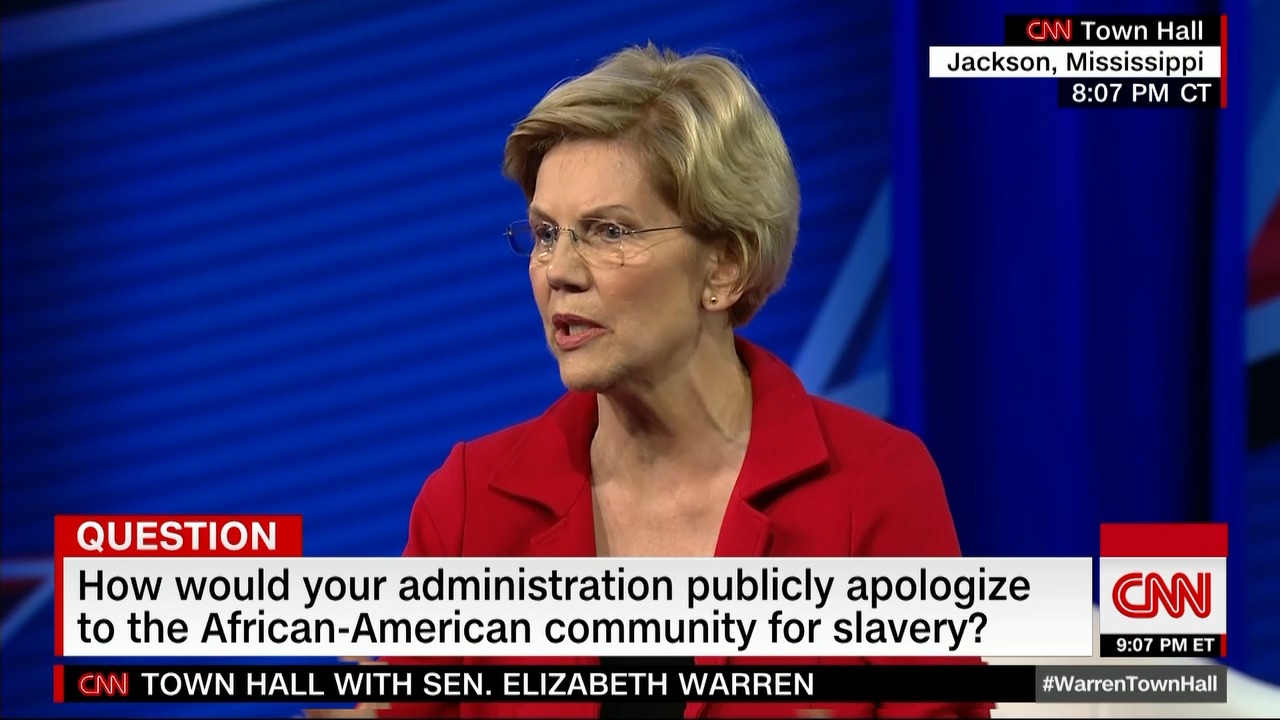 Sen. Elizabeth Warren signaled on Monday night that she would support a proposal to form a congressional panel to consider reparations to the descendants of slaves.
"I believe it's time to start the national, full-blown conversation about reparations," Warren said. "That means I support the bill in the House to appoint a congressional panel of experts, of people who are studying this, who talk about different ways we may be able to do it, and to make a report back to Congress so that we can as a nation do what's right and begin to heal."
A bit about that bill: H.R. 40 is called the Reparations Study Act and was first introduced by former Michigan Democratic Rep. John Conyers three decades ago. Texas Rep. Sheila Jackson Lee, also a Democrat, reintroduced it after Conyers left Congress.
Asked by moderator Jake Tapper if she would be open to monetary compensation in the form of direct payments, Warren said she was open to "a lot of ways" reparations could be formulated.
"I love the idea of this congressional commission," she said, adding that "a national recognition" or "apology" was immediately appealing.
She added: "Ignoring the problem is not working."