Election Night in America Continued
11:12 p.m. ET, November 13, 2018
Our live coverage of the continuation of Election Night has ended — for now. But stick with CNN Politics as we continue to count the votes.
11:09 p.m. ET, November 13, 2018
Newly elected House Dem: We knew the seeds were planted. We just had to cultivate them.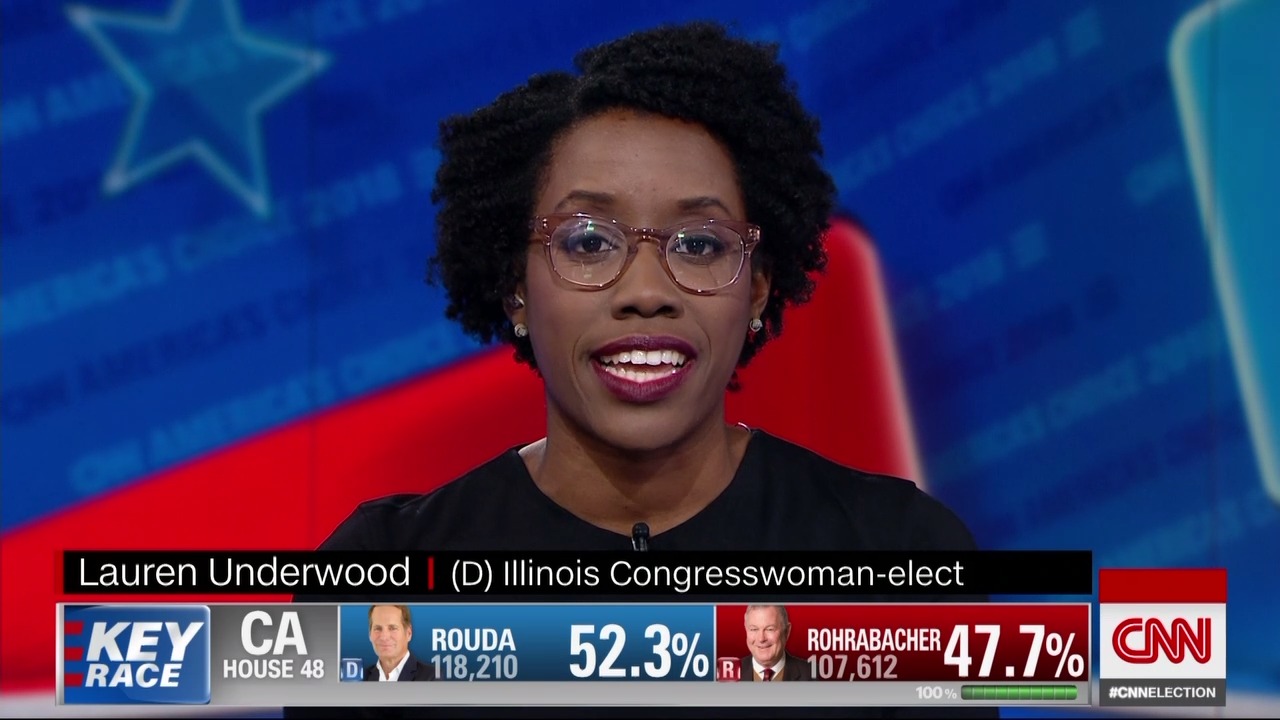 Newly elected Democrat Lauren Underwood, who will represent an Illinois district in Congress, said she pushed through the fear of being a candidate for the first time because she "knew the seeds were planted."
Underwood said it was clear to her that her district, Illinois 14th, had the "raw material to be successful," pointing to the close margin by which Trump won her district. "We knew that the seeds were planted we just had to cultivate them so that they would grow and sprout."
"I knew that in this election a woman could be very successful in engaging other women throughout our community," Underwood told CNN's Chris Cuomo.
She said women in the community have been activists and leaders, and there would be a "natural base of support there."
Underwood said she also "knew that the electorate, the voters, were interested in a new generation of leadership, were interested in supporting someone that came from their own ranks, came from their community."
"It's also important to show up in the communities -- this era of like, no town halls is unacceptable," Underwood said. "We have to continue to engage our voters, engage the community, make sure that their voice is being heard."
"The only way that we can make sure that that happens," Underwood said, "is to continue to be there and have an everlasting presence in our district."
10:57 p.m. ET, November 13, 2018
Florida Republican: Trump needs to "sharpen his pencil and check his ego"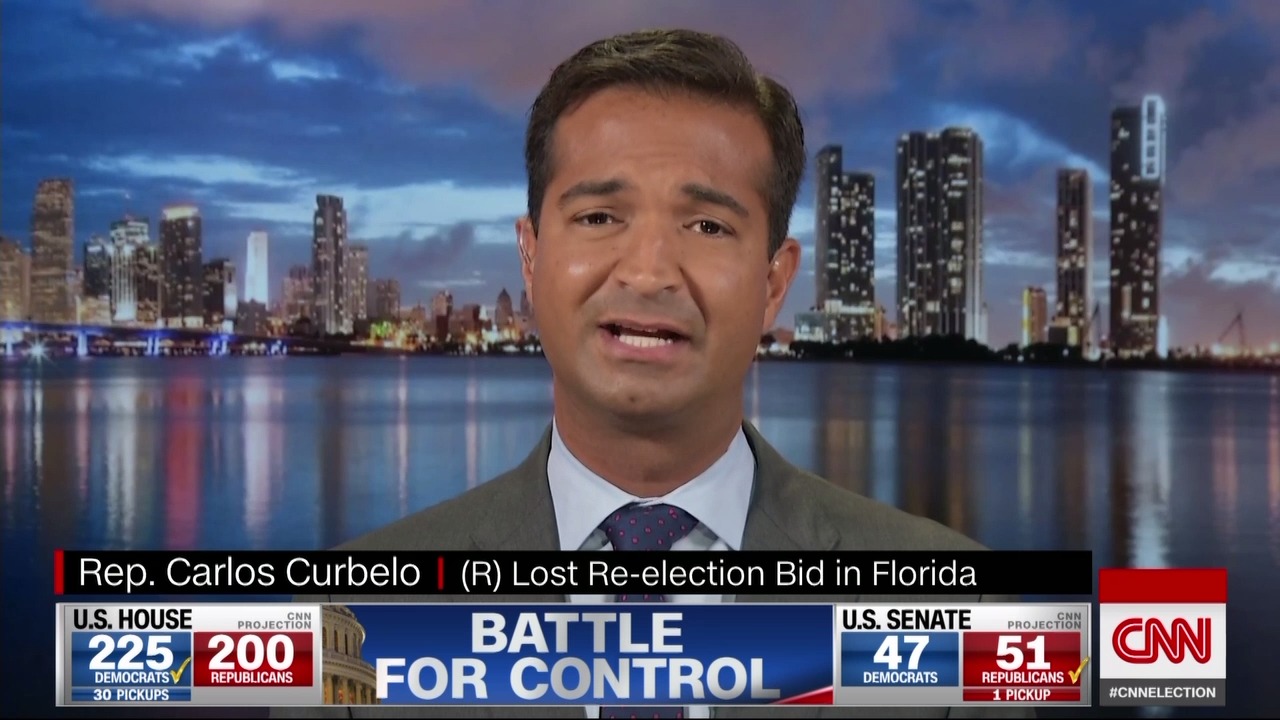 Rep. Carlos Curbelo, a Florida Republican who narrowly lost his bid for a third term last week, said President Donald Trump needs to "sharpen his pencil and check his ego."
Curbelo, whose Miami-area 26th District was won by Democrat Debbie Mucarsel-Powell, responded to Trump's post-election comment that he'd lost because he ran away from the President by arguing Trump damaged the GOP in South Florida.
"He's just wrong, and the fact is that in many districts like mine, the President was not helpful," Curbelo said.
He pointed out in an interview with CNN's Chris Cuomo on Tuesday night that he ran ahead of two Trump allies, former Rep. Ron DeSantis, the GOP's gubernatorial nominee, and Gov. Rick Scott, the party's Senate candidate, in his district.
Curbelo said he lost because "the current was too strong. I don't know if there was a blue wave, but there was a blue undertow."
10:32 p.m. ET, November 13, 2018
Why Stacey Abrams and Beto O'Rourke didn't lose, despite losing their races
While the Democrats who seemed to excite the base the most in their statewide races in Texas, Florida and Georgia may not have won their battles (yet -- Gillum's race is in a recount), Bakari Sellers suggested during CNN's Election Night Continues special that they "fundamentally rebranded the Democratic party."
Watch Sellers explain why Andrew Gillum, Stacey Abrams and Beto O'Rourke represent something bigger:
9:43 p.m. ET, November 13, 2018
Broward County elections official Brenda Snipes says her team will meet deadline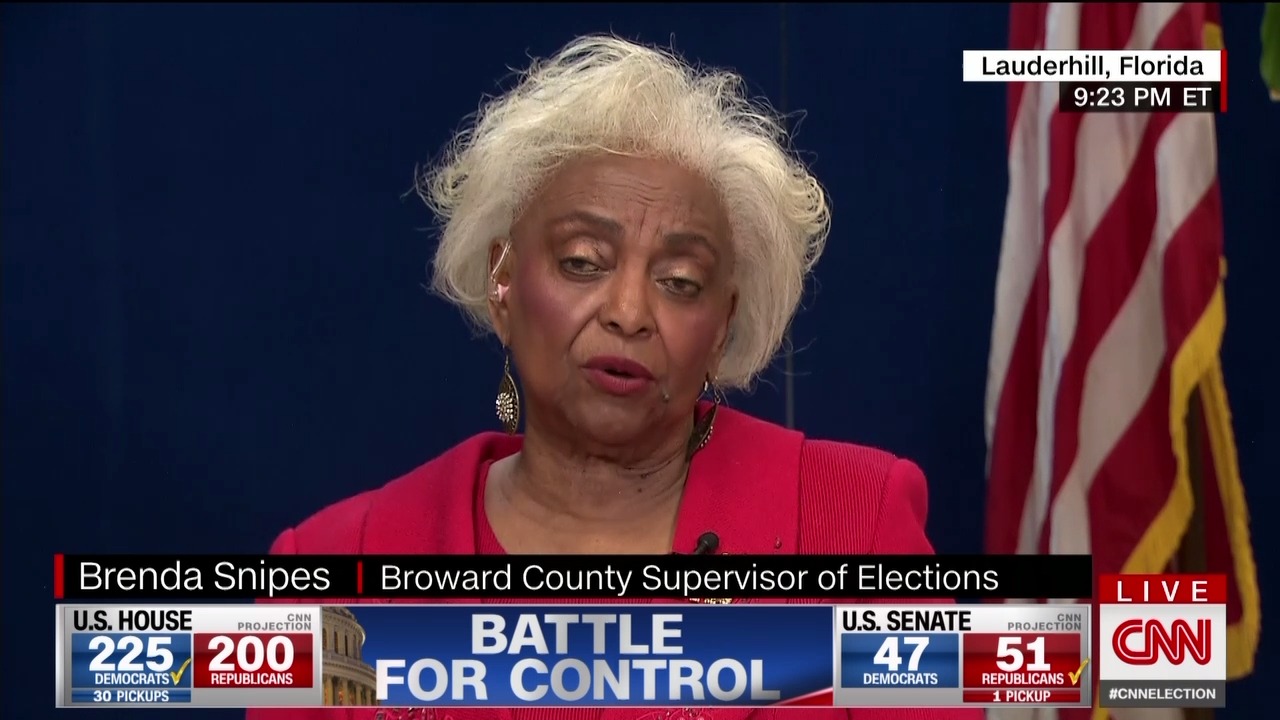 Broward County Supervisor of Elections Brenda Snipes told CNN on Tuesday that she was "absolutely" certain that her team will complete the recount of ballots by Thursday's deadline.
"I am saying 100%," she confidently told CNN's Chris Cuomo during an interview where she stridently defended her reputation, something that has come under attack in recent days due to issues with vote counting in the populous south Florida county.
Snipes dismissed attacks against her as "opinions that people have put forward," arguing that her singular goal during the election and recount process has been to ensure people who voted had their votes counted.
"An election is a huge operation, there are many moving parts, but we pay attention to each one of them," she said.
Snipes also defended the construction of the Broward County ballot, which placed the hotly contested Senate race between Sen. Bill Nelson and Gov. Rick Scott near the bottom of the expansive ballot.
"Our ballots are constructed by a state approved ballot code and when we put our ballot together, that is exactly what we utilized," she said.
"I don't think there was anything wrong with the design of our ballot."
Snipes, who floated the idea earlier on Tuesday that she could step down from the job she has had since 2003 after this recount, told Cuomo that she has not made up her mind on leaving the election post.
"I have not made any decisions," she said. "Whatever I do, I will contemplate it seriously."
9:42 p.m. ET, November 13, 2018
Machine problems plague Palm Beach County recount
Old, overheated and malfunctioning machines are forcing Palm Beach county to start over in its recount of early voting ballots – erasing more than a day's worth of work.
"We're disappointed by the mechanical problems that are going to cause a further delay in the recount," Elections Supervisor Susan Bucher told reporters Tuesday night. "It became evident through the vigorous pace of counting that the machines used for the recount were starting to get stressed." 
Bucher said that 179,000 early voting ballots did not tabulate properly and must be counted once more. She did not specify how long this would set back the county's timetable.
Bucher says two technicians from the machine's vendor have been flown in and are working on the problem as elections office workers staff the recount 24/7.
9:34 p.m. ET, November 13, 2018
Tom Perez on how Democrats will position for 2020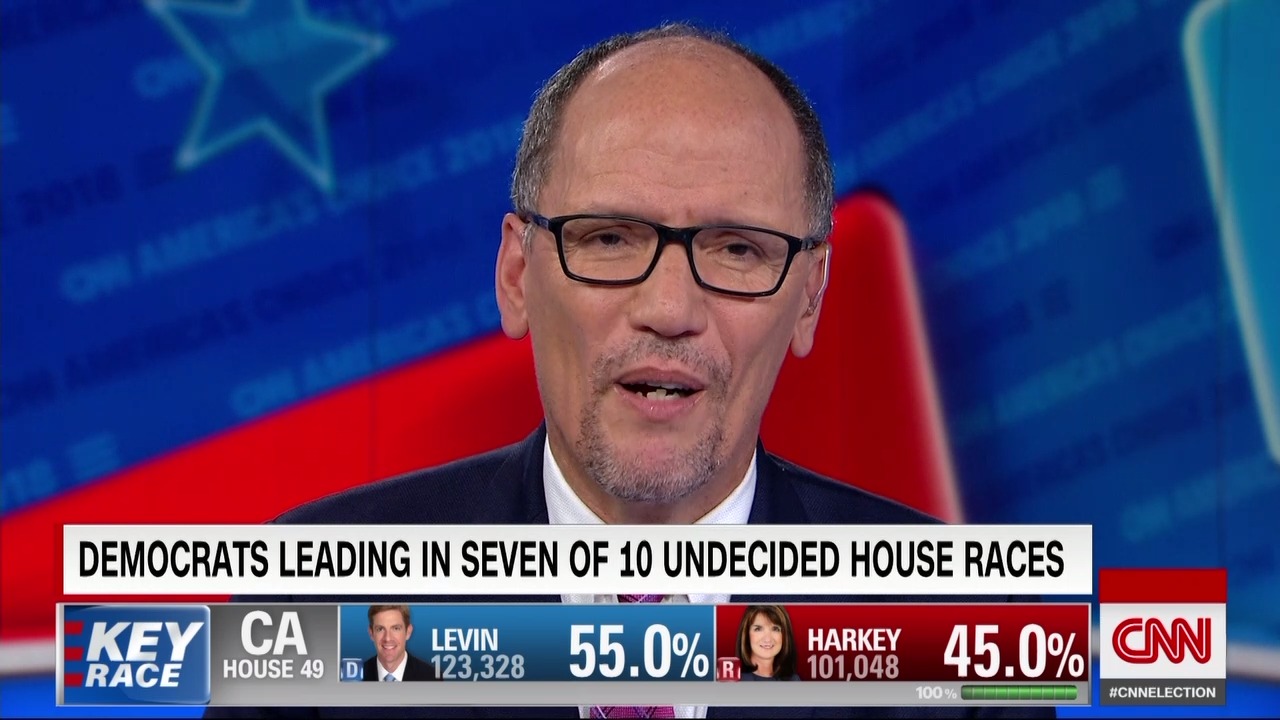 Democratic National Committee chairman Tom Perez said Democrats will focus on issues like infrastructure and health care, while also conducting oversight and ensuring "guardrails" in Washington, to position the party for 2020 elections.
"We're going to focus immediately and energetically on infrastructure," Perez told CNN's Chris Cuomo, "because you put people to work in well-paying jobs you're growing the middle class, and you're addressing a very, very serious need."
"Making sure we protect once and for all people with pre-existing conditions -- take that off the table," Perez continued.
He said investing in public education and preserving Medicare, Medicaid and Social Security were also priorities.
Perez said Democrats are going to fight for people protected by the Deferred Action for Childhood Arrivals program, and said, "We can be a nation of laws and a nation of immigrants. We've always been that way."
"But we also need to make sure we have guardrails in Washington," Perez said, saying Republican leadership have been "lapdogs" for President Donald Trump.