Election Day in the US: The day after
12:25 p.m. ET, November 7, 2018
Trump criticizes Republicans who lost after failing to embrace him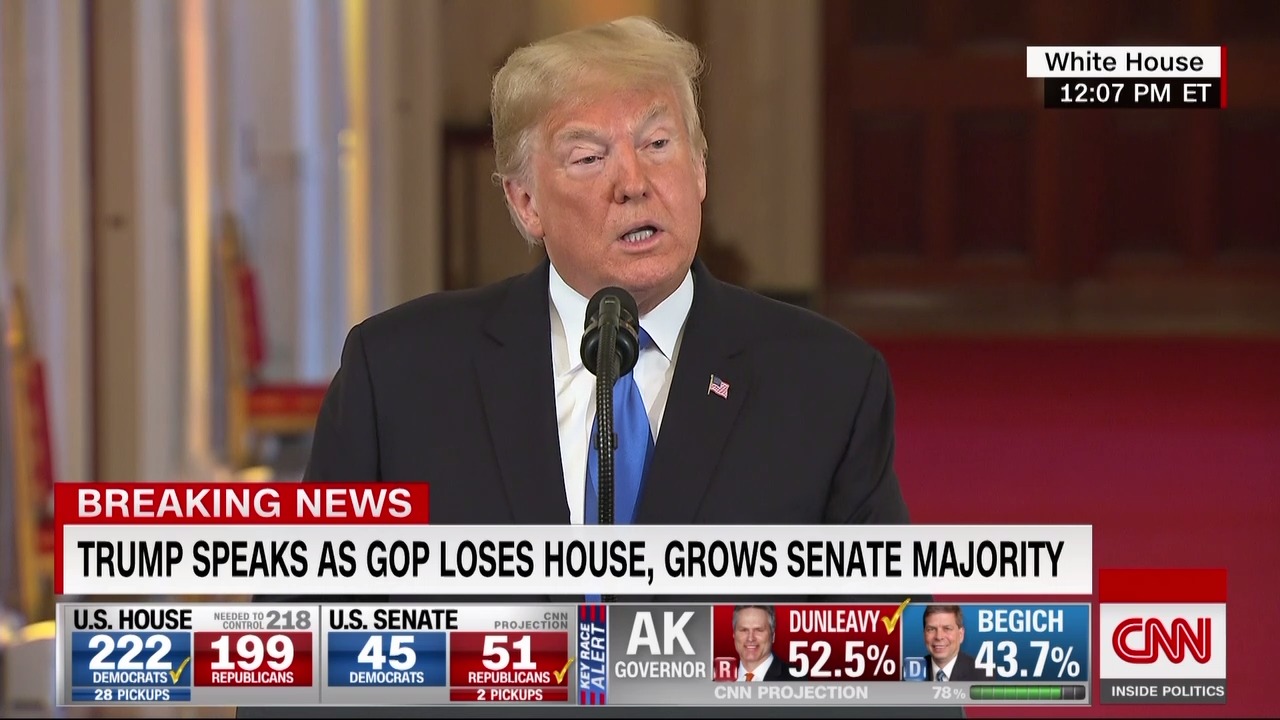 President Trump, speaking at a news conference, praised lawmakers who embraced his policies and won Tuesday night and criticized others for turning their back on him.
He went after Rep. Mia Love, a Republican from Utah, for pulling away from him during her race, claiming that led to her loss on Tuesday night. (CNN has not projected a win in Love's race.)
"Mia love gave me no love and she lost. Too bad. Sorry about that, Mia," Trump said.
The President also mentioned Rep. Barbara Comstock, who lost her re-election bid to Democrat Jennifer Wexton.
"And Barbara Comstock was another one, I mean I think she could have won that race, but she didn't want to have any embrace. For that I don't blame her, but she lost substantially lost," he said.
Watch the moment:
12:25 p.m. ET, November 7, 2018
Trump talks bipartisanship and praises Nancy Pelosi
President Trump on Wednesday was full of praise for House Minority Leader Nancy Pelosi, preemptively calling her "Speaker Nancy Pelosi." 
While Democrats took the House, it's unclear if Pelosi will remain the party's leader. However, despite some pushback from within her own party, Pelosi has no challenger for speaker and she's considered the heavy favorite.
"I gave her a lot of credit, she works very hard and she's worked long and hard. I give her a great deal of credit for how she's worked and what she's accomplished," he said. 
He said he looked forward to working across the aisle with the Democratic-controlled House, citing drug prices, infrastructure and trade as areas where compromise can be reached. 
He later referenced Pelosi's use of the words "united" and "bipartisanship."
"I really think and I really respected what Nancy said last night about bipartisanship and getting together and uniting," Trump said. "She used the word 'uniting' and she used the 'bipartisanship' statement which is so important because that's what we should be doing."
He added: "It really could be a beautiful bipartisan type of situation."
12:21 p.m. ET, November 7, 2018
Trump: Dems' handling of Kavanaugh was part of why they didn't snag Senate majority
President Trump said Democrats' loss in securing a majority in the Senate was partly due to the way they handled the Senate confirmation hearings for Brett Kavanaugh:
"By expanding our Senate majority, the voters have also clearly rebuked the Senate Democrats for their handling of the Kavanaugh hearings. That was a factor, I think maybe a very big factor, the way that was handled, I think, tremendous energy was given to the Republican Party by the way they treated then-Judge Kavanaugh, now Justice Kavanaugh."
12:32 p.m. ET, November 7, 2018
This is how Trump sees victory in last night's results
President Donald Trump ticked down a list of historical statistics in an attempt to broadly characterize the midterm election results as a victory for him and his party.
"This election marks the largest Senate gains for a President's party in the first midterm election since at least President Kennedy's in 1962," Trump said for example.
The President ticked off several more stats — that CNN will fact check after this news conference — that seemed quite narrowly tailored to portray the GOP Senate gains as historic.
Unmentioned was that these Senate gains all occurred in states Trump won in 2016.
Trump also favorably compared the midterm results to those President Barack Obama's Democratic party faced in 2010, pointing to his loss of Senate and House seats.
The President also blamed losses in the House on retirements and rules limiting the years GOP members could serve as chairmen of committees.
He said Republicans faced "the most House Republican retirements in 88 years" and said "in many cases" these were committee chairmen."
"You're a chairman of a committee and you become a big deal," Trump said, noting those chairmen would not want to go back to being backbenchers.
12:12 p.m. ET, November 7, 2018
Trump mentions Democrats and supporters who worked hard "like Oprah, who I like"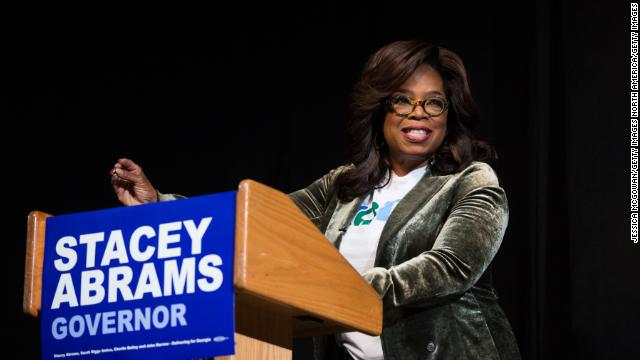 President Trump, speaking at a post-midterm election news conference, mentioned the Democratic candidates and their supporters who "worked very, very hard."
"Like Oprah Winfrey," Trump said, referring to the media mogul's work campaigning for Georgia governor candidate Stacey Abrams.
"Who I like, I don't know if she likes me anymore but that's okay," he added. "She used to. But she worked very hard in Georgia, very, very hard."
Watch more:
12:31 p.m. ET, November 7, 2018
Trump claims Republicans "defied history" with mixed midterm election results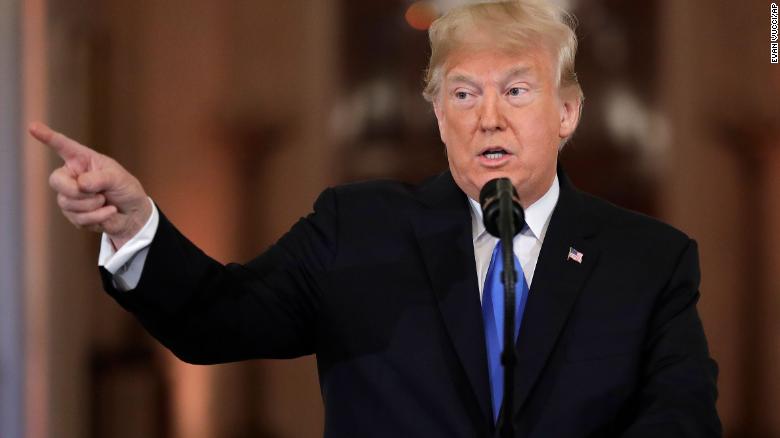 President Trump kicked off his post-election press conference touting his party's success and his hand in last night's Republican victories. 
"Last night the Republican party defied history to expand our Republican majority," he said, adding that the Republican Party "(beat) expectations in the House."
Republicans, he said, "dramatically outperformed historical precedence," despite what he called a "very dramatic fundraising disadvantage" and "very hostile media coverage, to put it mildly." 
Referencing his multitude of rallies ahead of Tuesday's contests, Trump boasted, "Of the 11 candidates we campaigned with during the last week, nine won last night."
He then rattled off a list of historical midterm statistics and specific races.
(Trump is claiming victories in races CNN hasn't called yet — some are still too close to call.)
Watch more:
11:59 a.m. ET, November 7, 2018
Happening now: Trump speaks following midterm elections
President Donald Trump is speaking now in the East Room following Tuesday's midterm election and Democrats' takeover of the House of Representatives.
11:48 a.m. ET, November 7, 2018
GOP picks up another office with win in Alaska governor's race
Republican Mike Dunleavy beat former Democratic Sen. Mark Begich in Alaska for governor, CNN projects  
Dunleavy was in a three-person race with Begich and Independent Gov. Bill Walker.
Walker suspended his campaign and endorsed Begich less than three weeks before the election. He remained on the ballot, as absentee voting had already started.
11:31 a.m. ET, November 7, 2018
SOON: Trump holds a news conference
President Trump is holding a news conference soon in the East Room, a day after the Democrats won control of the House.
Aides say he will claim victory for Republican gains in the Senate and key races for governor. He is expected to give remarks — likely lengthy — about his role in the midterms before taking questions.