12:10 a.m. ET, November 7, 2018
Van Jones: "My heart has been restored"
CNN's Van Jones' tone changed sharply tonight just hours after he called the first round of results "heartbreaking."
Speaking with Anderson Cooper shortly after CNN called the House for Democrats, Jones suggested the moment marked a rebirth for his party.
"My heart has been restored," he said. "It's the end of one-party rule in the United States, thank God, and the beginning of a new Democratic Party. Younger, browner, cooler, more women more veterans… Can win in Michigan, can win in Pennsylvania, can win in Ohio."
He continued: "We have the first Muslim women, first Native-American women, the first black woman from Massachusetts, the first Latina woman from Texas. It may not be a blue wave, it is a rainbow wave. There is something happening out there and I am happy about it." 
Watch the moment:
12:01 a.m. ET, November 7, 2018
Tonight's results would have major ramifications for 2020
Tonight's results have already made clear that despite Democratic gains in the Sun Belt, they can't yet count on wins in states like Georgia, Arizona and Texas -- and are looking at more statewide losses in Florida.
Democrats are having a much better night, though, in the Upper Midwest. Democrat Gretchen Whitmer ran away with the Michigan governor's race, and suburban House seats in the state tipped in their direction. Their candidates are currently leading in the governor's races in Wisconsin, Minnesota and Iowa. And Republicans never even seriously contested statewide races in Pennsylvania.
There's much left to learn tonight, but these results so far would have major ramifications for 2020.
They suggest the Great Lakes states could be the most important battlegrounds -- which could shape which types of candidates Democratic presidential primary voters see as the most capable of defeating President Donald Trump, as well as the eventual nominee's strategy and choice as a running-mate.
12:11 a.m. ET, November 7, 2018
GOP's Josh Hawley defeats Democratic Sen. Claire McCaskill in Missouri Senate race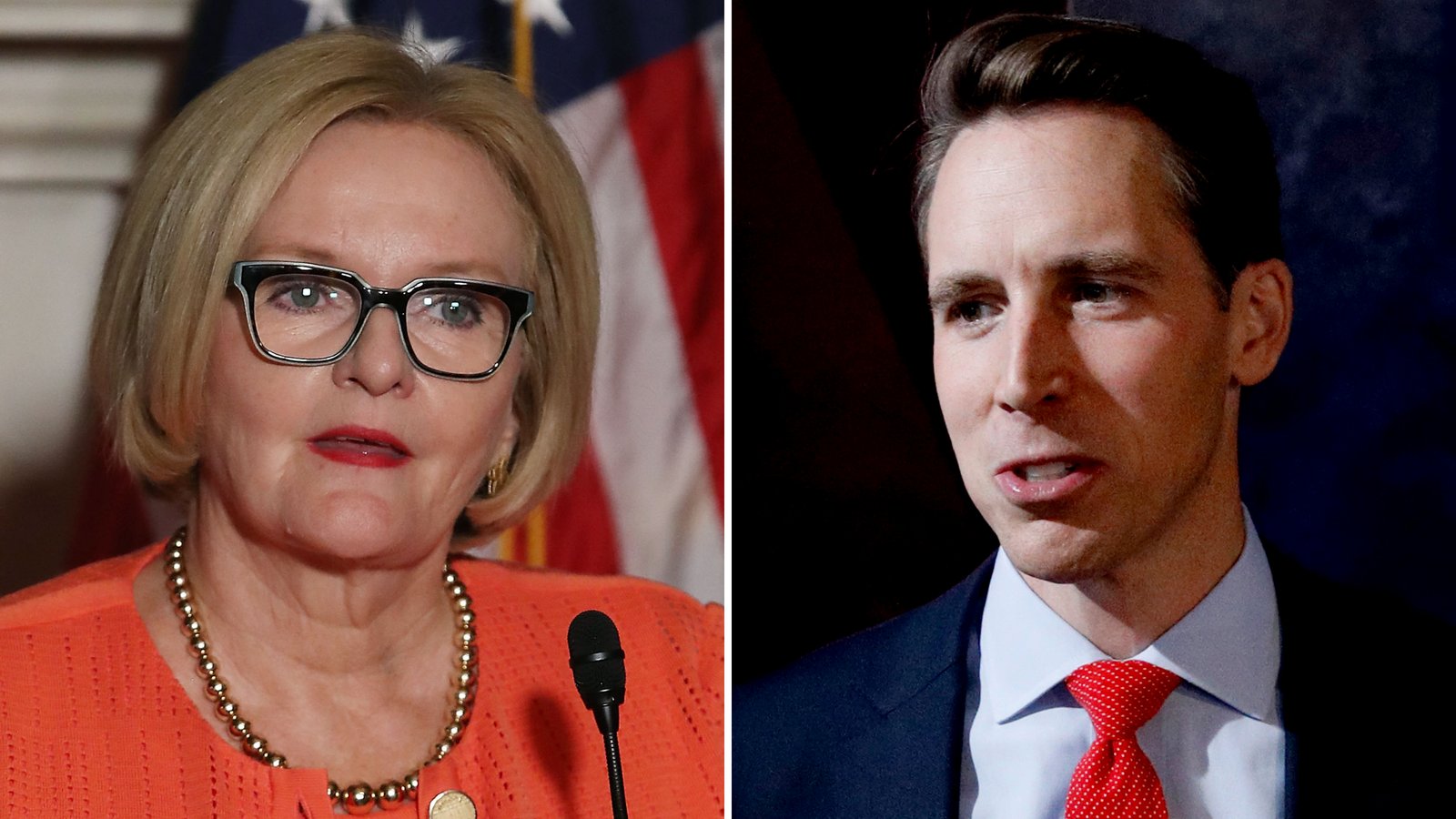 Republicans will pick up a Senate in Missouri, CNN projects, with state attorney general Josh Hawley defeating Democratic Sen. Claire McCaskill in a state Donald Trump won by nearly 19 points in 2016.
McCaskill conceded the race on Tuesday night.
Hawley touted himself as a self-proclaimed champion of President Trump's agenda who said McCaskill had become out-of-touch politically with the state she represents. Trump's last campaign rally for the 2018 midterms was for Hawley in Missouri on Monday night.
Also central to Hawley's strategy was the Senate's role in confirming Supreme Court justices, which came into even sharper focus with the bitter battle over Brett Kavanaugh, whom McCaskill opposed.
From the beginning, McCaskill faced a challenging political landscape in her bid for re-election. Missouri has trended progressively more Republican since her last race in 2012.
Watch below: Democratic incumbent concedes to GOP challenger
11:55 p.m. ET, November 6, 2018
There's still a lot to watch in tonight's elections
Tonight's focus has now shifted out West, where Democrats hope to pick off their first Republican-held Senate seats and grow their majority in the House.
The two major Senate contests on the board are Arizona, where Republican Rep. Martha McSally faces Democratic Rep. Kyrsten Sinema in the open-seat race, and Nevada, where Democratic Rep. Jacky Rosen is challenging GOP Sen. Dean Heller.
On the House side, California is the major battleground, with Democrats hoping to win a half-dozen or more seats -- including several in and around Orange County, once a bastion of conservatism. Democrats have two House pick-up opportunities in Washington state, as well.
There are some tight East Coast races left to watch, as well. Republican Gov. Rick Scott is holding onto a narrow lead of less than a percentage point in the Florida Senate race against Democratic incumbent Bill Nelson.
So the night's not over. CNN will continue streaming in the video player above.
11:57 p.m. ET, November 6, 2018
Pelosi to Democrats: "Thanks to you tomorrow will be a new day in America"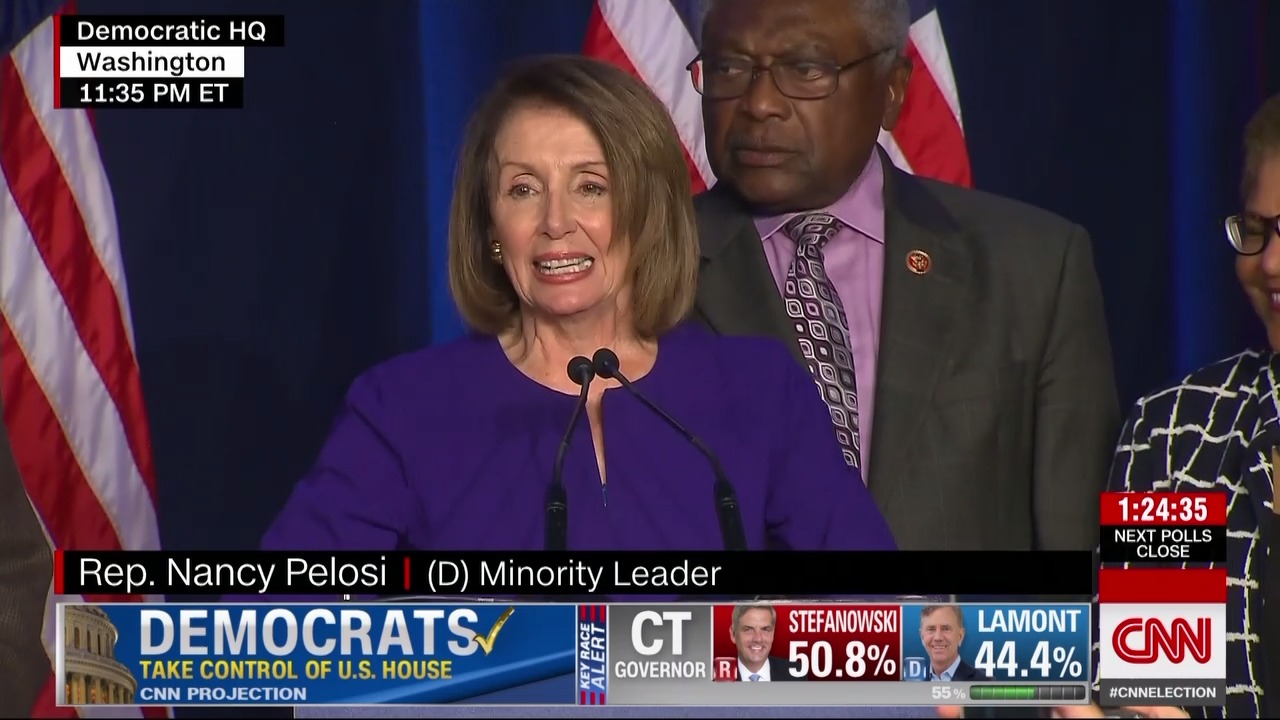 House Minority Leader Nancy Pelosi, taking the stage to cheer Democrats taking the House, was greeted with chants of "Speaker, Speaker, Speaker," telling Democratic campaign aides, legislative staffers and top donors in Washington, DC, on Tuesday that they have guaranteed " tomorrow will be a new day in America."
Pelosi, flanked by her leadership team, family and DNC chair Tom Perez, applauded the party's "dynamic, diverse, incredible candidates who have taken back the House for the American people."
"Thanks to you we owned the ground," she told those assembled Democrats, "thanks to you tomorrow will be a new day in America." 
"Remember this feeling, know the power to win," she added.
What was clear seconds after Pelosi took the microphone, however, was the looming leadership fight that could roil Democrats in the House. Chants of "Speaker, Speaker, Speaker" broke out as Pelosi took the stage and a few aides yelled "Speaker" in the middle of Pelosi's speech.
Pelosi did not acknowledge the chants.
"Today, the American people have spoken to restore that vision," Pelosi said after outlining Democratic priorities.
Watch the moment:
11:48 p.m. ET, November 6, 2018
Rep. Jerrold Nadler: Trump is "going to learn he's not above the law"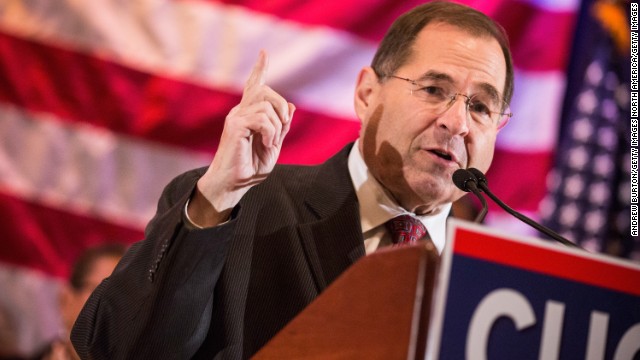 Rep. Jerrold Nadler, who is slated to chair the House Judiciary Committee, said "it's way too early" to be talking about impeaching President Trump but he wouldn't rule it out — depending on what special counsel Robert Mueller's probe finds. 
"This election was about accountability," Nadler said, adding, "Donald Trump may not like hearing it but for the first time, his administration is going to be held accountable."
Nadler continued: "He's going to learn that he's not above the law."
He said that his committee would probe the administration's family separation policy, gun safety, environmental laws and health care policies — the failure to defend the affordable care act in the Supreme Court.
He said if the administration tries to interfere with the Mueller probe, his panel will try to protect the inquiry and push the administration to preserve the records. 
Nadler said that his committee is "not planning to do impeachment proceedings.... We'll see where the mueller investigation goes." 
"I think it's way too early to talk about impeachment," Nadler said. "We have to see what the Mueller investigation comes up with."
He said there are still open questions — about whether Trump worked with the Russians or obstructed justice.
"If there are no longer open questions, then we will have to make judgement and we will go from there." 
11:33 p.m. ET, November 6, 2018
Aide says Senate Majority Leader Mitch McConnell just spoke with President Trump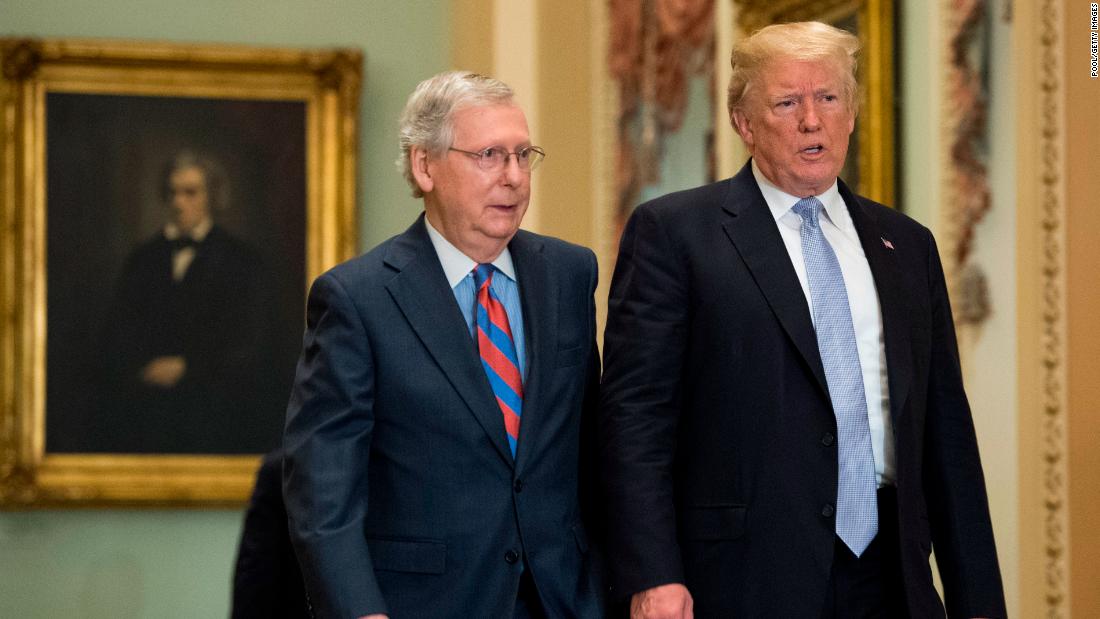 Senate Majority Leader Mitch McConnell and President Donald Trump spoke by phone a short while ago, according to an aide, who characterized it as "a great conversation" in which McConnell thanked the President for all of his help in the Senate races. 
CNN reports that the GOP has maintained control of the Senate.
12:16 a.m. ET, November 7, 2018
Mississippi's Senate race goes to a runoff
With no candidate getting 50% of the vote, Mississippi's special Senate race between Republican Cindy Hyde-Smith and Democrat Mike Espy will advance to a runoff on November 27th.
11:31 p.m. ET, November 6, 2018
Trump tweets about tonight's "tremendous success"
President Trump took to Twitter after Republicans managed to maintain control of the Senate and snagged key offices in Florida.
Read his tweet: