9:00 a.m. ET, November 6, 2018
"Dónde votar" ("where to vote" in Spanish) is the top trending Google search today
The Google Trends Twitter account tweeted this morning that the search phrase "Dónde votar" ("where to vote" in Spanish) is the top trending search on Google in the US today -- spiking 3,350%.
In addition, three of the top five trending Google search topics in the US right now are midterms-related, with the 'polling place' topic spiking +350%, 'voting' increasing +300%, and 'election day' increasing +300%.
8:45 a.m. ET, November 6, 2018
Voters locked out of Brooklyn polling place for 90 minutes
Voters were locked out of a polling place in Brooklyn, New York, for about 90 minutes on Tuesday morning, according to a city elections official.  
Voting at the Breukelen Community Center began around 7:30 a.m., said Valerie Vazquez, the communications director for the New York City Board of Elections.  
The site had been scheduled to open at 6 a.m. 
The polling site is a New York City Housing Authority property and poll workers could not open an electronic lock on the building, Vazquez said.  
She did not have immediate information on how many voters were affected.  
8:35 a.m. ET, November 6, 2018
Rhode Island Secy of State tweets on voters receiving incorrect polling place info
The Rhode Island Secretary of State has tweeted "we have had some reports of voters receiving incorrect polling place information from 3rd party applications." 
CNN has reached out for more information.
8:14 a.m. ET, November 6, 2018
Bob Menendez gives two thumbs up as he casts his vote in New Jersey
New Jersey Sen. Bob Menendez voted on Tuesday morning at 7:14 a.m. at the Harrison Community Center in Harrison, New Jersey.
He gave two thumbs up as he walked out of the voting booth.
There was some applause as he walked away.
The embattled Democrat is in a close race with Republican Bob Hugin, but Republicans have not won a Senate race in New Jersey since 1972.
7:28 a.m. ET, November 6, 2018
Every state east of the Mississippi River will likely see some rain today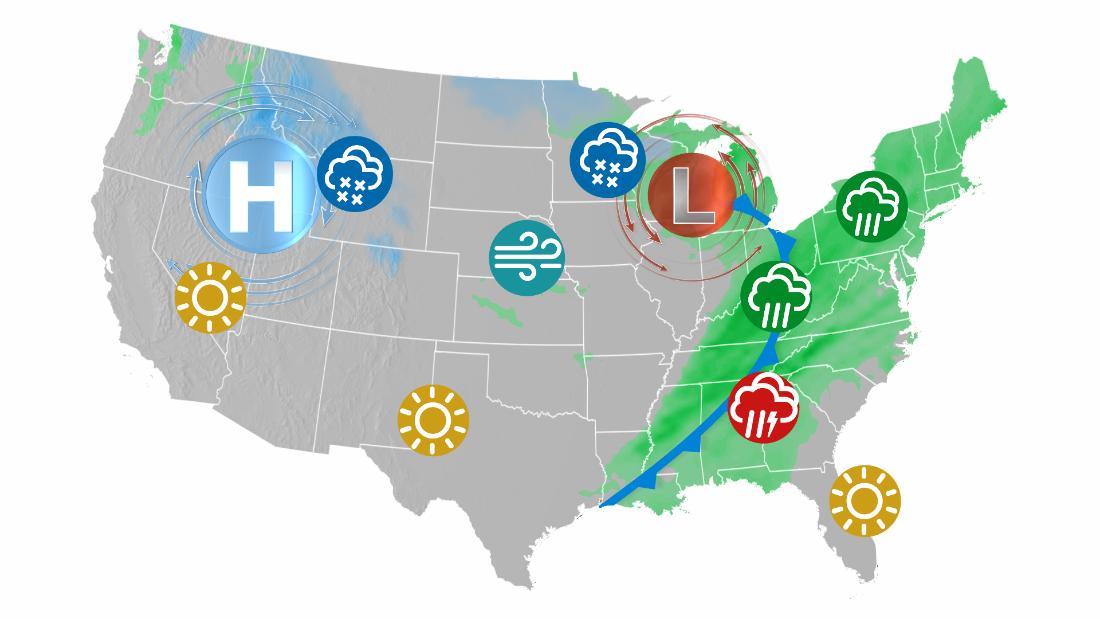 As polls are opening there is a line of showers and storms that extends from Western New York down the Appalachians and extends into Alabama and Mississippi -- with the strongest storms to the south.
The storms have diminished in severity this morning and the only Tornado Watch still in effect as polls open is for a few counties in Northern Georgia until 10 a.m. ET.
The rain will travel eastward through the day and will move through the metro areas of Philadelphia, Washington DC, and Charlotte, North Carolina in the early afternoon hours. In fact, every state east of the Mississippi River is likely to see rain at some point, though some states will undoubtedly see more storms and potentially disruptive weather than others.
Several of CNN's top ten races to watch will be impacted by the weather, including Virginia's 7th District, New Jersey's 7th District, Georgia's 6th District and Florida's governor's race.
Weather can play a significant role in voting behavior, with lousy conditions possibly suppressing turnout.
7:10 a.m. ET, November 6, 2018
Voters share photos of early morning voting lines
Voting is underway in a number of states. Here are a few photos of voters doing what they do best: Voting (or at least waiting in line to do just that).
6:49 a.m. ET, November 6, 2018
The Forecast: A Democratic House and a Republican Senate, but still some uncertainty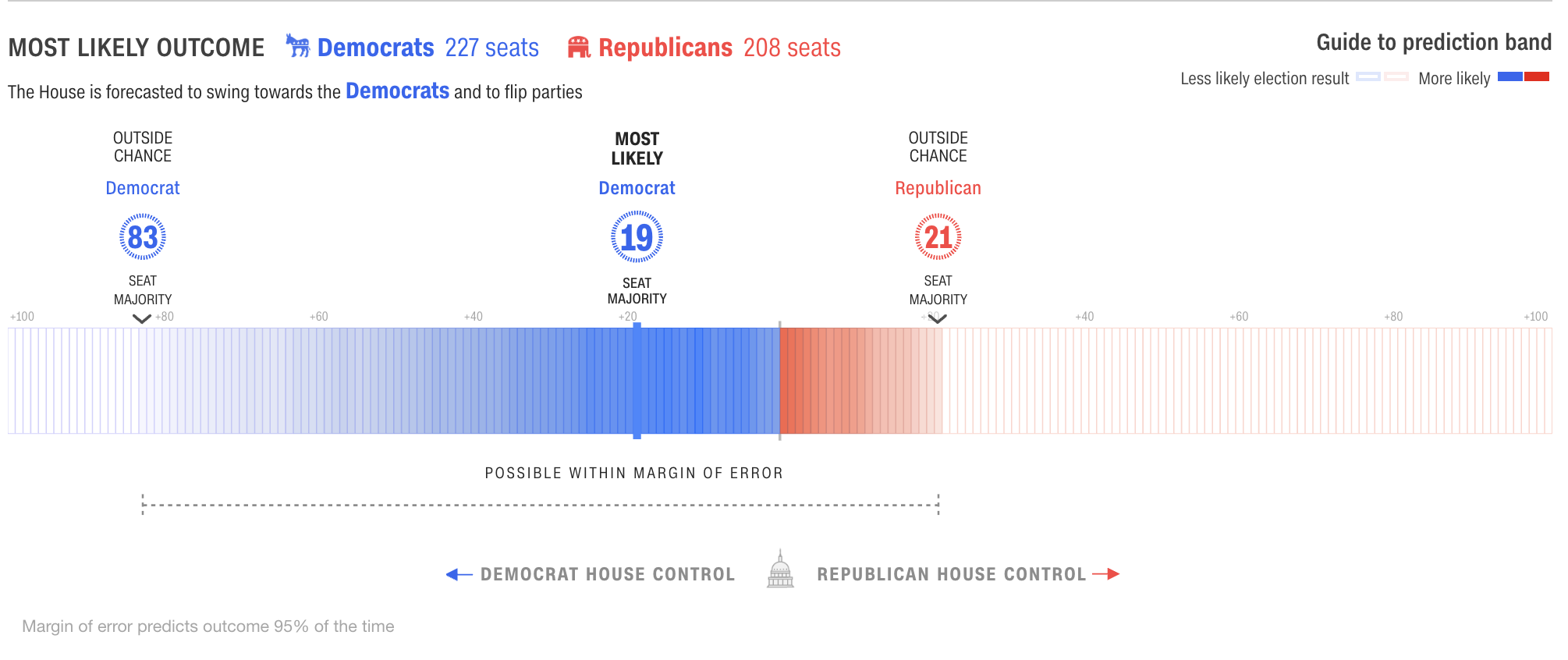 The 2018 campaign (mostly) comes to an end today. If the polls and our forecasts are right, the Democrats and Republicans will each have something to be happy about.
Democrats are favored to take back the House, while Republicans are favored to maintain control of the Senate.
Our final House forecast has Democrats earning 227 seats to the Republicans 208. That's a net gain of 32 seats from the 195 they hold right now. Democrats only need a net gain of 23 to win the 218 seats necessary for a majority.
But as we have noted all along, our forecasts come with a margin of error. Specifically, our 95% confidence interval finds that Democrats could win as few as 207 seats (11 short of a majority) to as many 255.
Our final Senate forecast is something else altogether. It has Republicans controlling 52 seats and Democrats (and Independents who caucus with them) holding 48 seats in the next Congress. If this forecast were exactly right, it would mean that Republicans would have a net gain of a seat since the last Congress.
Note: These aren't our official projections -- we'll get to those later tonight. These are forecasts and they're not going to be perfect. Anything within the stated range could reasonably happen, though we expect the result to be close to our best estimate.
7:14 a.m. ET, November 6, 2018
7 quick reads to start your Election Day
Polls in a number of states open shortly, so while you're getting up and out the door, here are six quick reads to start your Election Day.
5:58 a.m. ET, November 6, 2018
It's Election Day in America! Find out where to vote.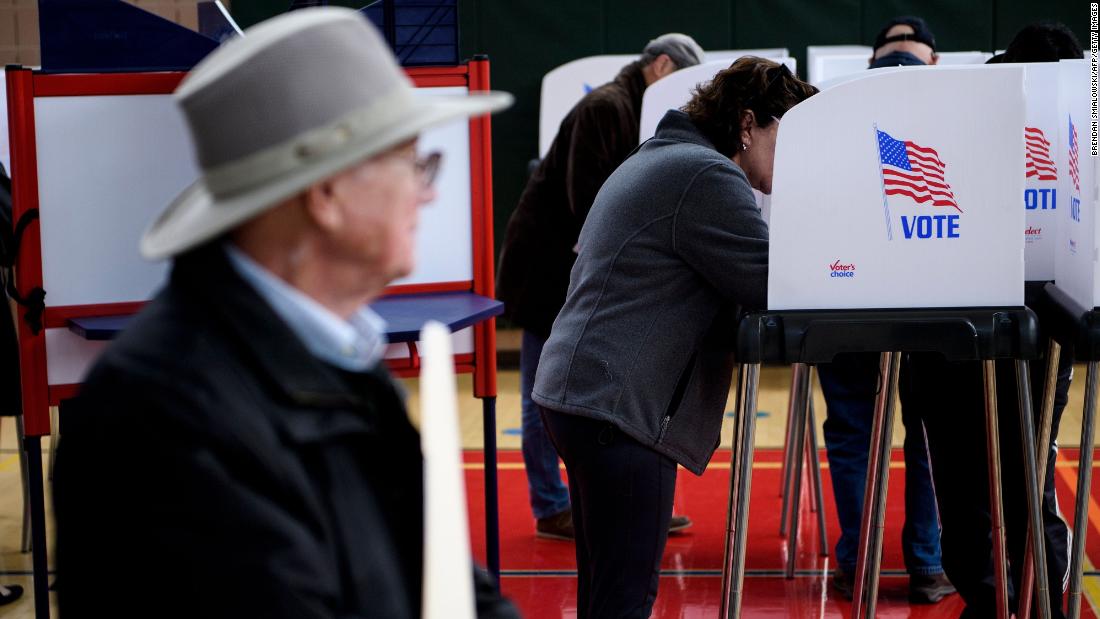 Good morning! Unless you're one of the millions who've already voted, today is your last chance to cast a ballot for the 2018 midterm elections.
Before you head out the door, here are the key things you need to know: