2:05 p.m. ET, November 6, 2018
Biden casts his vote, says he'll decide early next year on a 2020 run
After voting in Wilmington, Delaware, on Tuesday, former Vice President Joe Biden told reporters he still doesn't know if he'll run for president in 2020, but that he'll be making a decision early next year.
Biden said he would make a decision with his family after the first of the year, but he won't necessarily make a formal announcement by then. He would not say when he would eye an announcement, noting it would "depend on the circumstances and a whole lot of things."
Biden campaigned in 13 cities, including a dozen rallies, over the last week.
"I wouldn't announce even if I were going to run that early. It would be too early to get started," he said.  
Over the past few months, Biden has endorsed more than 130 candidates and traveled to roughly two dozen states for rallies, fundraisers and other stops to support 65 candidates. As of last week, Biden's PAC, American Possibilities, had disbursed nearly $600,000 directly to candidates' campaigns, an aide to Biden said.
Here's video of Biden at a campaign stop in Harrisburg, Pennsylvania:
1:54 p.m. ET, November 6, 2018
Why America's voting today, a Tuesday in November
Why are federal elections always in November, and always on Tuesdays? It all comes down to weather, harvests and worship.
Back when voters traveled to the polls by horse, Tuesday was an ideal day because it allows people to worship on Sunday, ride to their county seat on Monday and vote on Tuesday — all before market day, Wednesday.
And the month of November fit nicely between harvest time and brutal winter weather (which can be especially bad when you're trudging along by horse and buggy).
The tradition stuck, even though many voters now travel by horsepower instead of live horses.
4:50 p.m. ET, November 6, 2018
Chicago will petition to extend voting in some precincts
In Chicago's 19th Ward, some voters said that their precincts received the wrong ballots and they were unable to vote.   
Jim Allen, Chicago Board of Elections spokesman, refused to comment to CNN on the allegations that a precinct did not have the correct ballots. He said they would hold a conference call later in the day to discuss the allegations. 
So what happens now? Although he did not address the specific allegations, Allen did say they would go to court later today to extend voting in some precincts.   
Meanwhile, in Chicago's Logan Square neighborhood, there are allegations on social media that partial ballots were being handed out.   
Allen did confirm that some precincts — "not many" — only handed out the standard ballot, which included the candidates running for office. The precincts did not hand out the second ballot, the judicial retention section.  
1:16 p.m. ET, November 6, 2018
This Democratic senator went to the polls — and then the grocery store
Tim Kaine is going about his day – even though he is on the ballot for another six-year term in the Senate.
Kaine, whose race against Republican Corey Stewart is considered a safe Democratic win, was seen shopping at a local grocery store in Virginia and buying bread and some potato chips.
According to Ian Sams, Kaine's spokesman, the senator stopped by the store on his way home from visiting polling places to buy supplies to make his parents sandwiches for lunch.
So, today is just another day for the Virginia senator.
1:01 p.m. ET, November 6, 2018
A step-by-step guide on what to do if you're told you can't vote
Here's something scary: Even if you have the legal right to vote and have done everything to prepare yourself for Election Day, you could still be turned away at the polls.
In recent years, almost two dozen US states have implemented laws that impose new restrictions on voting, which critics say disproportionally affect minority voters.
So, what if you are told your registration didn't go through, or you don't have the required documents? Even if your registration is pending or your voter application has been wrongly purged, you are still allowed to vote.
Or, if you did forget your ID at home or have been removed from the registration system, you can cast a provisional ballot -- a right all voters are entitled to by federal law.
Here's a handy tip sheet on steps to take if you're turned away from the polls:
Read more on what to do if you're told you can't vote here.
12:46 p.m. ET, November 6, 2018
On her way to vote, she saw a memorial for the Pittsburgh synagogue shooting victims: "Wish they were here to participate in our democracy"
Fiza Pirani was heading to the polling station, a synagogue in Marietta, Georgia, early this morning when she saw the chairs.
Each one, featuring a name of a victim of the Pittsburgh synagogue shooting and a collection of flowers, was placed in a circle outside the entrance.
Pirani told CNN: "Got to the polls around 6:45 a.m. before the morning rains drenched the flowers. The chairs were situated right outside the entrance of the East Cobb synagogue."
"It honestly felt surreal, and painful. Wish they were here to participate in our democracy."
"I wasn't the only one who stopped to snap a photo, and I was wondering what was on everyone's minds, whether and how seeing something so powerful might influence their decisions."
Pirani, a Shi'a Muslim who remembers "rampant discrimination" in Saudi Arabia, where she's from, said the memorial also reminded her of the United States' "dedication to religious freedom -- one of the primary reasons my family and I immigrated here."
Pirani said she has voted in every election since becoming a U.S. citizen in 2012. "I just feel like it's my duty as an American," she said.
"It took me nearly two hours of waiting in line, despite getting to the polls 10 minutes before they opened, but I did the thing," she tweeted after casting the ballot.
12:04 p.m. ET, November 6, 2018
At least 33.1 million early votes have been cast in major increase over 2014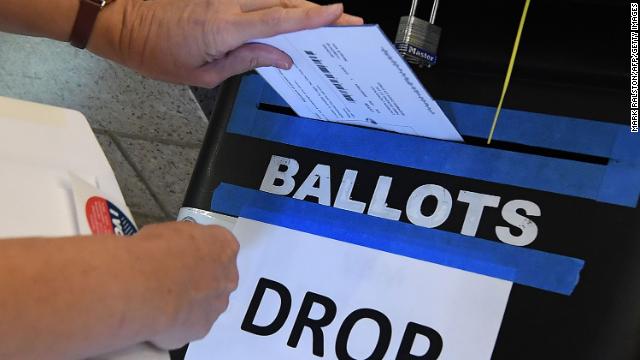 At least 33,166,611 votes have been cast early or by mail nationwide as of early Tuesday morning, according to data collected by Catalist. 
In the 2014 midterm election, by comparison, at least 20.6 million early votes were cast by the same point.
In the entire 2014 election when all was said and done, about 22.2 million early votes were ultimately cast that cycle, according to Catalist.