11:18 p.m. ET, November 6, 2018
Rashida Tlaib and Ilhan Omar will be the first Muslim women in Congress
A pair of districts in the Midwest will add Muslim women to the ranks of the US Congress for the first time, CNN has projected.
Michigan Democrat Rashida Tlaib and Ilhan Omar, the Minnesota Democratic-Farmer-Labor Party's nominee, will secure their respective seats in strongly Democratic districts following primary victories earlier this year that effectively decided their races.
Only two other Muslims have been elected to Congress, and both are men currently in office: Rep. Keith Ellison and Indiana Democratic Rep. Andre Carson.
Read more on their races here.
Watch below: Two women, two historic victories
10:09 p.m. ET, November 6, 2018
Colorado elects nation's first openly gay governor, CNN projects
Colorado Democratic US Rep. Jared Polis will be his state's next governor, becoming the nation's first openly gay man elected to a governor's mansion, CNN has projected
10:06 p.m. ET, November 6, 2018
Democrat Laura Kelly will defeat Republican Secretary of State Kris Kobach
Democratic Kansas state Sen. Laura Kelly has been elected the state's next governor, CNN projects, defeating Republican Secretary of State Kris Kobach.
Kobach's loss is a blow to both Kansas Republicans, who hadn't lost a statewide race in nearly a decade, and President Donald Trump, who enlisted Kobach as an adviser soon after winning the 2016 election and then made him the leader of a panel on voter fraud after taking office.
10:00 p.m. ET, November 6, 2018
4 more Democratic pickups in the House, CNN projects
Democrats just picked up four more House seats, CNN can project. They are:
Haley Stevens will win in Michigan's 11th District
Jason Crow will win in Colorado's 6th District
Mikie Sherrill will win in New Jersey's 11th District
Debbie Mucarsel-Powell will win in Florida's 26th District
Where things stand: Democrats must now pick up 15 Republican-held seats to win the majority.
9:56 p.m. ET, November 6, 2018
Billionaire projected to win Illinois governor's race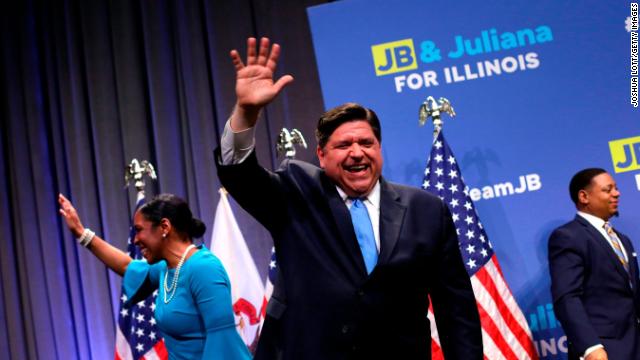 CNN projects Democrat J.B. Pritzker will beat Illinois' Republican Gov. Bruce Rauner in a race that made history even before the polls closed.
Pritzker, a billionaire heir to the Hyatt hotel chain, had poured more than $170 million of his own money into the race, making him the nation's biggest political self-funder.
Rauner, a multimillionaire in his own right, also put tens of millions of his fortune into his re-election bid.
But Rauner's tenure in blue-tinged Illinois was marked by clashes with the Democrats who control the state legislature, and the state failed to pass a budget for more than two years.
10:26 p.m. ET, November 6, 2018
Florida voters will pass felon voting rights amendment
Florida voters will approve a measure in the state that restores voting rights to felons not convicted of murder or a sexual offense after completing their sentences, including parole or probation, CNN projects.
CNN previously reported that according to the nonprofit Sentencing Project's estimate, about 6.1 million people are forbidden to vote around the nation because of a felony conviction. And Florida is home to a quarter of them.
You can read more ballot measure results here.
9:51 p.m. ET, November 6, 2018
The Democrats' path to winning Senate control is closing
Democrats' path to a Senate majority is rapidly closing after Republicans took a Democratic-held seat in Indiana and easily fended off a Democratic challenge in Tennessee.
With Democratic Sen. Bill Nelson narrowly trailing in Florida, the party's opportunities to net the two seats they need to take Senate control are evaporating.
Arizona and Nevada are two GOP-held seats Democrats could win -- but they might need those just to make up for earlier losses.
10:26 p.m. ET, November 6, 2018
Ocasio-Cortez will become the youngest woman ever elected to Congress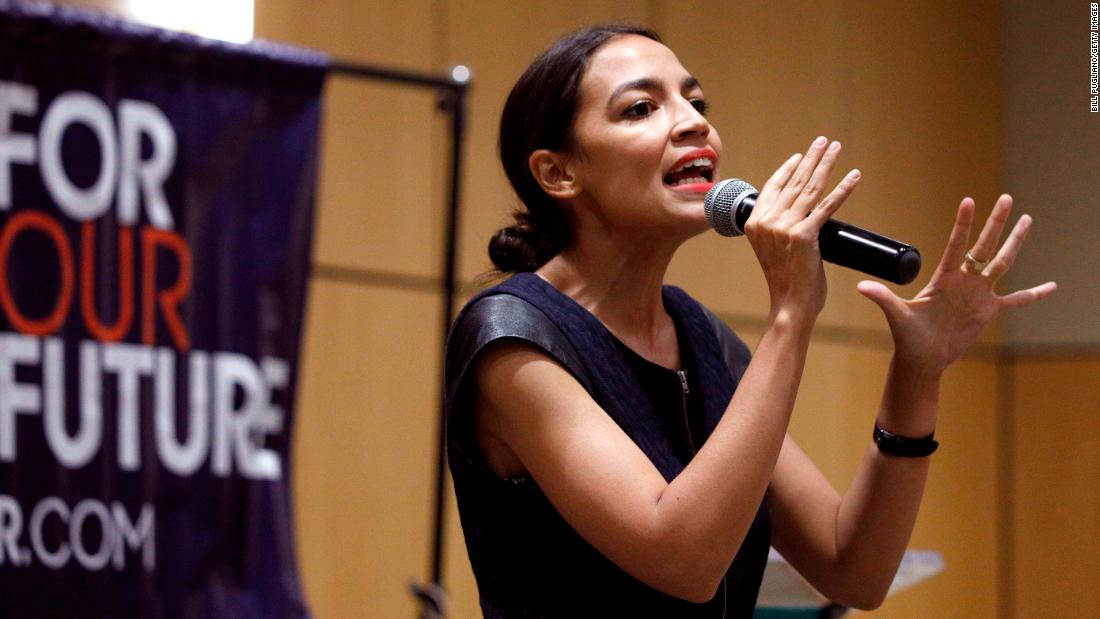 New York Democratic congressional nominee Alexandria Ocasio-Cortez will win her general election race easily and become the youngest woman ever in Congress, CNN has projected.
Having turned 29 last month, Ocasio-Cortez will inch out the previous holder of the distinction, New York Democratic Rep. Elise Stefanik, who was elected to Congress at age 30.
Watch Ocasio-Cortez's path to an historic victory:
Read more about Ocasio-Cortez's race here.
9:48 p.m. ET, November 6, 2018
Sen. Bob Menendez wins re-election in New Jersey
CNN projects Democratic Senator Bob Menendez, who had to overcome ethics questions after a federal corruption investigation, will win re-election in New Jersey.