11:58 a.m. ET, November 6, 2018
Georgia voters report long lines and malfunctioning machines
James Herndon in Decatur, Georgia, tells CNN: "Lines are long. So that's great! But, they are extremely delayed. Up front they are having trouble verifying lots of people. People who live here and vote here whenever possible."
Herndon said his wife "put the card in the machine and it shot it out and said 'error' when she turned it in and asked what was up."
A polling worker there told her that it showed she had "already voted" and said "that has been happening this morning" -- but didn't explain why that machine was still being used or why her card went back in the stack to be used again.
They gave her a provisional ballot and told her it would be counted, asking her to write what happened on the back.
Elsewhere, Ontaria Woods of Gwinnett County tells CNN she has been waiting in line to vote at Annistown Elementary since 7 a.m.
She told CNN:
"So ballot machines are down. They are unable to print our ballots on the card. They've brought in new machines and now they're about to try to bring in new cards. I've been here since 7AM." 
She posted on Twitter videos and pictures of long lines of people waiting to cast their ballots. "People who are here to vote have gone to Walmart using their money to provide water, juice and crackers," she added.
"Voters are highly upset and they feel like this has not been handled properly. We've been offered paper and provisional ballots and nobody feels safe using them. Most people refuse to leave and are determined to vote."
11:38 a.m. ET, November 6, 2018
Beto O'Rourke says he thinks he'll win Texas Senate race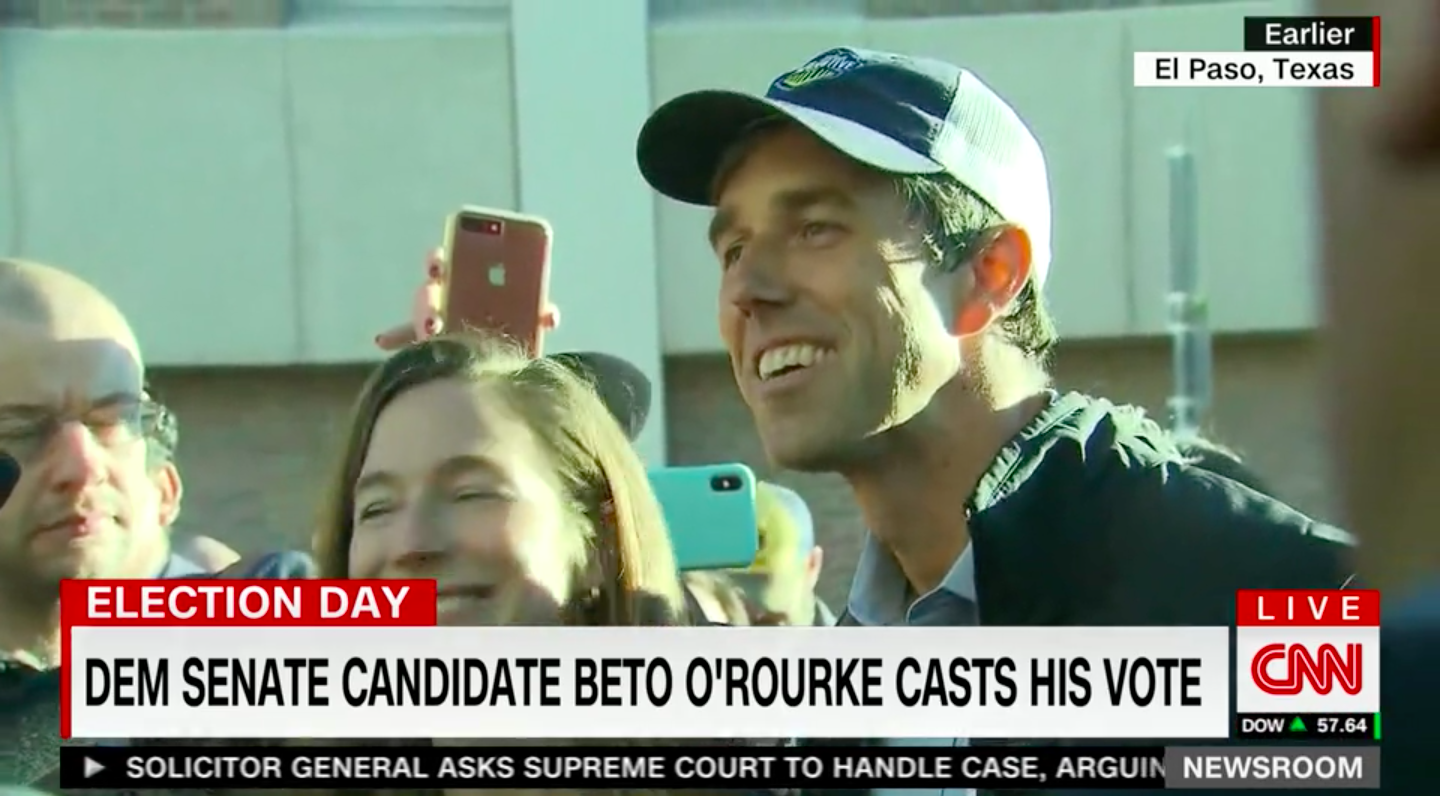 Texas Democratic Senate candidate Beto O'Rourke cast his ballot in El Paso Tuesday morning, telling reporters he expects to snag Republican opponent Ted Cruz's seat, even though he doesn't have a poll or a pollster suggesting he'll win.
Asked if he thinks he'll win, he said, "Yeah."
"I just – don't have a poll, don't have a pollster, just have traveled to every single county in Texas, listened to everybody, have so many amazing volunteers who we are working with, knocking on millions of doors, making human (to) human connection(s) that we are in such desperate need of in this moment of division in the country, bringing people together," O'Rourke added. "I feel it and so, yeah, it feels good."
11:13 a.m. ET, November 6, 2018
James Comey voted, and now he's knocking on doors to get others to vote too
Former FBI Director James Comey tweets that he voted and now he is going to "knock on doors to urge everyone to vote. Should be fun." He tweeted a picture of he and his wife -- you can see his voting sticker. 
11:00 a.m. ET, November 6, 2018
These places are offering free or discounted rides to voters today
Millions of people across the country are heading out to vote today, and some major transportation providers are helping them get there.
Here are some of the ways ride-share services and public transportation lines are helping voters exercise their rights:
Lyft is offering 50% off codes through Vote.org and other voting nonprofits. They're also partnering with other nonprofits to give free rides to voters in underserved communities.
Uber is offering $10 discounts for voters and is helping people find their precincts with in-app directions. They're also partnering with voting nonprofits for other Election Day transportation options.
And a number of cities, from Dallas to Tampa, are offering free or discounted rides on public transportation, too. Click here to see the full list.
10:47 a.m. ET, November 6, 2018
Andrew Gillum says a victory in Florida will "send a message" to Trump
Florida Democratic gubernatorial candidate Andrew Gillum spoke with reporters after casting his ballot in Tallahassee Tuesday morning.
Gillum said that if he wins the governor's race, it will "send a message" to President Donald Trump and his Republican opponent, Ron DeSantis.
"That the politics of hatred and of division, and of separation, that they come to an end," he said. "At least in this election, that's what we're going to show – that people, they're going out and they're voting for something, and not against."
10:27 a.m. ET, November 6, 2018
President Trump expected to stop by "war room" today
President Trump is expected today to stop by the "war room" his political team has set up for Election Day, according to a source familiar with the President's plans.
The war room is in the East Wing, a senior White House official said. Aides will spend the day there keeping tabs on voting.
Press Secretary Sarah Sanders said late last night that the President will be "making phone calls, monitoring Congressional, Senate and Gubernatorial races across the country and meeting with his political team for real-time updates" throughout the day. 
Sanders also said the President and first lady invited "family and friends" to watch the election results tonight in the residence.
10:04 a.m. ET, November 6, 2018
This Knoxville polling place doesn't have electricity, so they're voting on paper outside
A polling place at Cedar Bluff Middle School in Knoxville, Tennessee, does not have power this morning and the site's backup generator has also failed, CNN has learned.
Cliff Rodgers, administrator for elections for Knox County, told CNN that people on-site are urgently working to get the power on, and voting is still ongoing.
"We're voting with paper ballots," he told CNN by phone.  
Because there's no ambient light in the building, they're voting outside.
Out of an abundance of caution, Rodgers says, he's ordered more paper ballots to the polling place.
9:52 a.m. ET, November 6, 2018
DHS official: A lot of "noise out there" is "garbage" information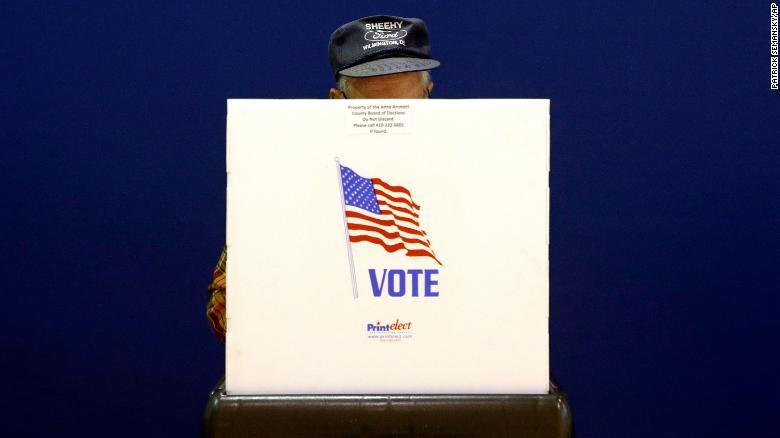 Federal officials are monitoring for potential misinformation campaigns, including from foreign actors such as Russia, but have no "significant" incidents to report.  
"The day is early," a senior DHS official said.
"We continue to monitor what is going on across the country. Nothing significant to report at this point. ... We have not seen to date any coordinated campaign certainly along the lines of 2016, but we are preparing as if there will be an event today."  
The official said "there's a lot of noise out there," and called it "garbage" information but referred specific questions about any influence from foreign actors to the FBI.  
DHS has a national operations center and an online forum to communicate with state officials.  
In the case it does receive information on an incident, the official said DHS will work to identify the proper local authorities to verify the report, and issue public statements confirming or debunking the incident.  
9:13 a.m. ET, November 6, 2018
Here's why it might be harder for you to vote today
Lawmakers throughout the country have implemented stricter voting laws. Some argue its voter suppression, others say it stops voting fraud.
Watch: