3:41 a.m. ET, November 7, 2018
CNN's live coverage of the 2018 midterm elections has concluded.
Democrats on Tuesday captured the House of Representatives and are set to exert a major institutional check on President Trump, while breaking the Republican monopoly on power and ushering in a younger, more female and more racially diverse political generation.
But the GOP solidified their Senate majority after an acerbic midterm election that enshrined America's deep divides and shaped a highly contentious battleground for the stirring 2020 presidential race.
Stick with CNN Politics as we sort through the changed political landscape.
3:36 a.m. ET, November 7, 2018
Scott Walker loses bid for third term in Wisconsin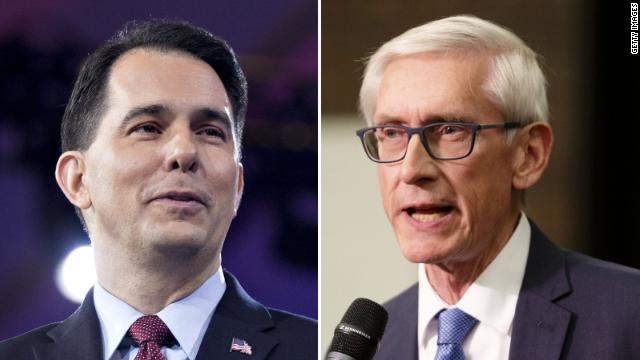 Democrat Tony Evers will oust Wisconsin Gov. Scott Walker from office, CNN can project, denying the Republican a third term and accomplishing something Democrats have long looked to achieve.
Evers, the Wisconsin State Superintendent of Public Instruction, hammered Walker throughout the campaign as a career politician who has been around too long with too few results.
Evers, like Democrats across the country, ran in clear opposition to the Republican health care plan, but he also seized on the widely held view in the state that education had suffered under Walker.
The governor was on defense for much of the campaign, accusing Evers of being a Democrat who wants to raise taxes on all Wisconsinite and arguing that he was wrong about his health care attacks.
3:30 a.m. ET, November 7, 2018
A record number of women were elected to the House
A record number of women are projected to win seats in the House in a massive night for female candidates across the political spectrum.
In the House:
CNN projected by early Wednesday that 96 women would win House races, with 31 women newly elected to the House and 65 female incumbents.
That beats the previous record of 85 representatives, according to the Congressional Research Service.
In the Senate:
CNN projected by early Wednesday that 11 women would win Senate seats, with two newly elected women joining nine female incumbents.
In governor's races:
CNN projected at the same time that eight women — five incumbents and three non-incumbents — would win gubernatorial races.
The numbers in each category tilted largely to Democrats, with 76 of the projected female House winners coming from the Democratic Party and 11 from the Republican side.
Read more on the record number of women elected Tuesday here.
3:43 a.m. ET, November 7, 2018
Democrat Steve Sisolak will become governor of Nevada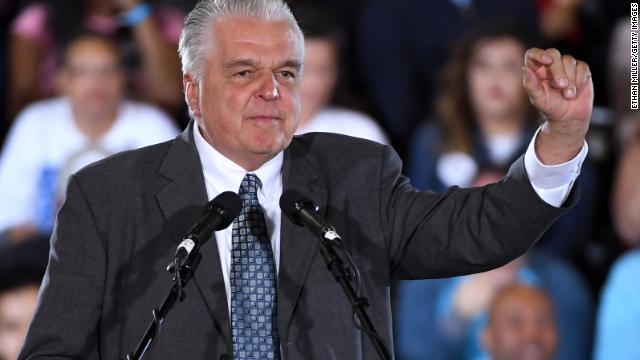 Democrat Steve Sisolak will defeat Republican Adam Laxalt in the race to become governor of Nevada, CNN projects.
It's another pick up for Democrats in Tuesday's governors' races.
2:51 a.m. ET, November 7, 2018
Paul Ryan: "Tonight history has repeated itself"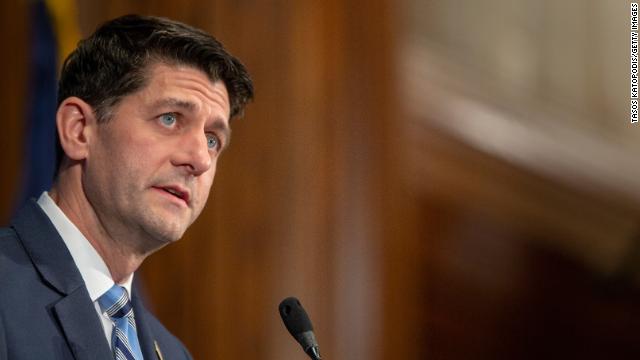 House Speaker Paul Ryan, a Republican from Wisconsin, issued a statement following Tuesday's election results.
Ryan, who did not seek re-election, congratulated Democrats on winning the majority in the House of Representatives, and noted that, "A party in power always faces tough odds in its first midterm election."
Here's his full statement:
"Tonight history has repeated itself. A party in power always faces tough odds in its first midterm election. It is always hard to see friends and good colleagues work so hard and fall short. Yet I'm proud of the campaign that our members and candidates ran in a challenging political environment. I congratulate Democrats on a new House majority and Senate Republicans for maintaining theirs. We don't need an election to know that we are a divided nation, and now we have a divided Washington. As a country and a government we must find a way to come together to find common ground and build on the successes of this Congress. It has been an incredible honor to lead the House over the past three years. We have made an enduring contribution to the strength and prosperity of this country, and for that I will always remain proud."  
2:41 a.m. ET, November 7, 2018
Democrats pick up Senate seat in Nevada with Rosen win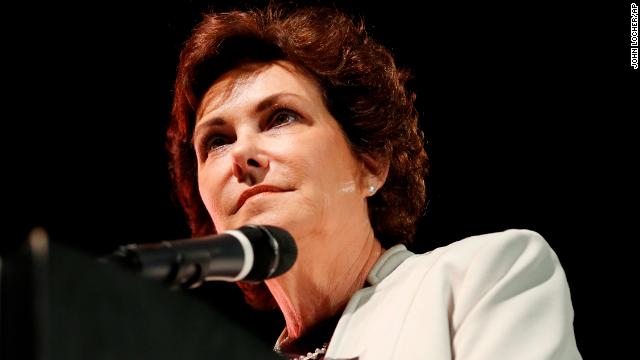 Rep. Jacky Rosen will win her bid to unseat Republican Sen. Dean Heller in Nevada, CNN can project, delivering a key Senate pick up for Democrats.
Heller's campaign was defined by his awkward dance with President Donald Trump, someone that the senator flip-flopped on throughout the President's first two years in office. After saying he was "99 percent" against Trump, Heller fully embraced him during his campaign for re-election.
"Now, Mr. President, you know a little bit about gold," Heller said during an October rally with the President. "In fact, I think everything you touch turns to gold."
Rosen tapped into Nevada's leftward tilt in recent years in her effort to oust the vulnerable Republican. Democrats have won the last three presidential elections in Nevada.
Rosen focused primarily on health care and other local issues, but also tried to tie her opponent to Trump.
Watch more:
2:24 a.m. ET, November 7, 2018
Democrat Joe Cunningham will win seat formerly held by Rep. Mark Sanford
Democrat Joe Cunningham will win the race for South Carolina's 1st district against Republican state Rep. Katie Arrington, who defeated Rep. Mark Sanford in the Republican primary, in another House pickup for the Democrats, CNN projects.
3:33 a.m. ET, November 7, 2018
Democrat Stacey Abrams refuses to concede in Georgia gubernatorial race
Democratic candidate Stacey Abrams, though trailing in the latest numbers, refused to concede the race in Georgia early this morning.
She told supporters: "I promise you tonight, we're going to make sure every single vote is counted. Every single vote."
Watch moment:
2:21 a.m. ET, November 7, 2018
No winner will be declared in Arizona's Senate race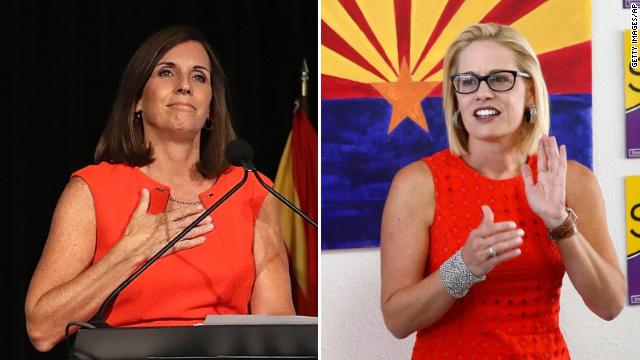 Democratic Senate candidate Kyrsten Sinema's campaign said she will not be making remarks, given the large number of uncounted ballots still remaining in the race with Republican Martha McSally.
Murphy Hebert, spokesperson for the Maricopa County Recorder's Office, said trucks are still coming in with data packs.
The Recorder's Office on Wednesday will be verifying signatures on early voting ballots. (Voters returned those ballots in person to their polling places.) The next update from Maricopa County won't be until 5 p.m. MT Thursday.
Arizona's Secretary of State Garrett Archer said there are approximately 920,000 votes outstanding in Arizona. He believes 500,000 will be counted on Election Day. That still leaves a significant number of votes yet to be counted, in addition to the early ballots.
A GOP source said they don't believe a winner will be announced until Friday or Saturday.