The Clinton email report is out
6:48 p.m. ET, June 14, 2018
The Clinton email report was released today. Here's how it went down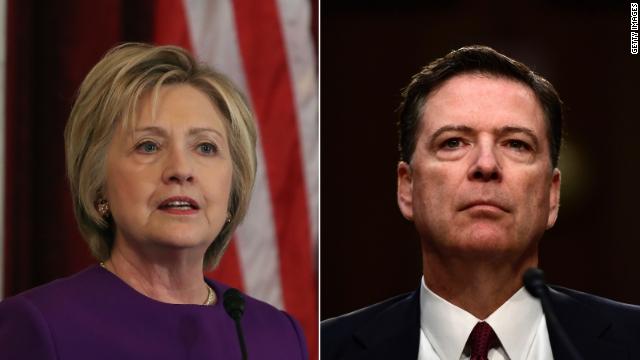 The Department of Justice Inspector General released a highly anticipated report today on DOJ and FBI's handling of the Hillary Clinton email investigation.
The inspector general found that former FBI Director James Comey's actions in the email investigation were "extraordinary and insubordinate" and flouted the department's norms but that Comey was not motivated by political bias.
Here's everything you need to know about the report:
No evidence of political bias: The IG found no evidence that prosecutors were affected by bias.
The FBI's actions: The inspector general found that FBI's actions ultimately "cast a cloud" over the bureau and senior leaders did lasting damage to the FBI's reputation.
The text messages: The report also included newly found text messages between FBI lawyer Lisa Page and FBI counterintelligence agent Peter Strzok. In a message on Aug. 8, 2016, Page says, Trump's "not ever going to become president, right? Right?!" Strzok replies: "No. No he's not. We'll stop it."
The Clinton-Lynch meeting: The report faults former Attorney General Loretta Lynch for her meeting with Bill Clinton on a Phoenix airport tarmac. But it says there was no evidence that Lynch and Clinton discussed the investigation into Hillary Clinton or any other inappropriate discussions.
Comey's personal email: The report found that Comey used a personal Gmail account for official government business when he was the FBI director.
6:09 p.m. ET, June 14, 2018
FBI director says the bureau's "brand is doing just fine" after months of controversy
Former FBI Director Christopher Wray says he's well aware of the recent criticism surrounding the FBI, but added the bureau's brand is "doing just fine."
"There's no shortage of opinions about us out there," he said in response to a CNN reporter's question asking if its reputation has suffered. "I will tell you the opinions that I care the most about are the opinions of the people who actually really know us and know us through our work."
Wray said despite the criticism, the FBI's admission rates remain high and thousands of prospective agents have continued to apply to join the bureau.
5:54 p.m. ET, June 14, 2018
Attacks on our character will not deter us from protecting Americans, FBI organization says
Thomas O'Connor, president of the FBI Agents Association, defended the bureau's agents, saying the Inspector General's report shows the investigation was not biased.
"It shows that agents perform their duties with a focus on complying with the law and the Constitution," he said in a statement. "We support, as always, the bureau reviewing and utilizing its policies and disciplinary processes to help ensure that we remain the world's premier law enforcement organization."
"We also reiterate that attacks on our character and demeaning comments about the FBI will not deter agents from continuing to do what we have always done –– dedicate our lives to protecting the American people," O'Connor added.
5:48 p.m. ET, June 14, 2018
FBI Director Wray: I take this report "very seriously"
FBI Director Christopher Wray, speaking at a news conference, outlined steps the law enforcement agency will take as result of the findings in the Department of Justice's Inspector General's report.
"I take this report seriously and we accept its findings and recommendations. It's also important to note what the Inspector General did not find," he said.
"This report did not find any evidence of political bias or improper considerations actually impacting the investigation under review."
The report, however, identified "errors of judgment, violations of or disregard for policy, and decisions that, at the very least, in hindsight, were not the best choices," Wray said.
"The OIG's report makes clear we have work to do but let's also be clear on the scope of this report," he said.
Because of that, he said the FBI will enforce these measures:
All employees will be held accountable for any misconduct.
Ensure all FBI employees understand "the lessons of this report." Employees will be trained on what went wrong so mistakes aren't repeated.
Policies, procedures and training will be created to the ensure employees remain objective and avoid "the appearance of personal conflicts and political bias."
5:53 p.m. ET, June 14, 2018
Hillary Clinton on Comey's personal email usage: "But my emails"
Hillary Clinton has weighed in on today's news that fired FBI Director James Comey used a personal Gmail account for official government business while FBI director, after leading the investigation into the Hillary Clinton's use of a private email server while secretary of state, as the Justice Department's inspector general said Thursday.
Her comment to all that?
"But my emails."
5:34 p.m. ET, June 14, 2018
Loretta Lynch: Report proves I had no political bias in Clinton email investigation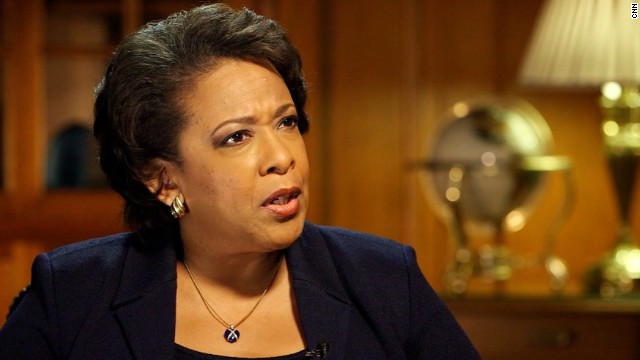 Former Attorney General Loretta Lynch says the Inspector General's report proves her actions surrounding the Clinton email investigation "had no political motivation or bias."
"The report outlines how I, along with the career prosecutors I oversaw at DOJ, did everything we could to handle a sensitive probe in a highly politicized environment in a way that was non-partisan, impartial, and fair," she said in a statement. "I'm also grateful that the report outlines for the American people the in-depth legal analysis and investigative work done by the outstanding team.
"I stand behind our collective effort to preserve the integrity and impartiality of the institution during a challenging moment in our nation's history."
Lynch's actions in the Clinton email probe raised some eyebrows after she privately met with former President Bill Clinton for roughly 30 minutes on a tarmac in Arizona.
As time has passed, Lynch has said she regretted the encounter, but she never formally recused herself from the investigation -- instead saying she would accept the recommendations of career Justice Department staff and the FBI.
5:14 p.m. ET, June 14, 2018
Trump "swung and missed" if he thought he could use the report to stop Mueller's probe, Schumer says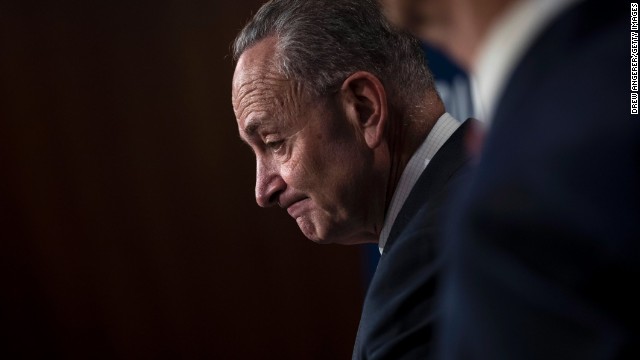 Senate Minority Leader Chuck Schumer, in a news conference on the Justice Department's Inspector General findings, said "anyone hoping to use this report to undermine" Robert Mueller's investigation "will be disappointed."
He said if the President was planning to use this to take down the investigation, he "swung and missed."
5:12 p.m. ET, June 14, 2018
How the IG report handled emoji and emoticons
The Inspector General explained that emojis, emoticons and other formatting symbols were omitted from the report — "unless they affected the meaning of the text message."
For example, in instant messages exchanged between Agent 1 and Agent 5 on page 411, the +o( emoticon appears.
The report explains in a footnote on the same page that this represents the "sick face" emoticon, which in emoji language is this one: 😷.
Here's the excerpt from the report:
After the letter was sent by the FBI to Congress on October 28, Agent 1 sent a series of instant messages to other FBI employees about the reactivation of the Midyear investigation.
Beginning at 1:46 p.m., Agent 1 exchanged the following messages with Agent 5. The sender of each message is identified after the timestamp.
1:46 p.m., Agent 5: "jesus christ... Trump: Glad FBI is fixing 'horrible mistake' on clinton emails... for fuck's sake."
1:47 p.m., Agent 5: "the fuck's sake part was me, the rest was Trump."
1:49 p.m., Agent 1: "Not sure if Trump or the fifth floor is worse..." 
1:49 p.m., Agent 5: "I'm so sick of both..."
1:50 p.m., Agent 5: "+o( TRUMP"
1:50 p.m., Agent 5: "+o( Fifth floor"
1:50 p.m., Agent 5: "+o( FBI"
1:50 p.m., Agent 5: "+o( Average American public"
4:57 p.m. ET, June 14, 2018
James Comey wanted special counsel for the Clinton email investigation
Former FBI Director James Comey wanted then-Attorney General Loretta Lynch to appoint a special counsel to oversee the Clinton email investigation, according to the the Justice Department's Inspector General's report.
Comey was also concerned about the appearance of political bias as the Justice Department considered throughout 2016 announcing they would close the investigation without bringing charges. Federal investigators had realized a full year before the 2016 presidential election that they were unlikely to find the evidence for a case, the report said.
In addition, the FBI had collected classified information in early 2016 that alleged Lynch tried to hurt the investigation -- but the allegations weren't credible, Comey and several other witnesses told the inspector general. (See this May 2017 story for context.)
Comey raised the possibility with several top Justice Department officials, but a special counsel ultimately wasn't appointed.
Still, Comey's concerns about the public appearance of Lynch played into his decision to make a public statement about the investigation without clearing what he would say with Lynch.