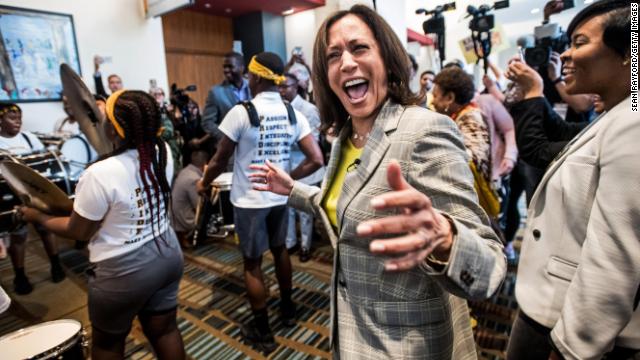 One of the more interesting facets of the Democratic primary campaign so far has been how Joe Biden, the former vice president to the first black president, has held a lead among black voters, even as two black senators are running.
Biden still leads with 36%, while Kamala Harris comes in with 24%. Elizabeth Warren and Bernie Sanders follow with 12% and 9% respectively. Warren and Sanders are about where they were in a combination of our April and May samples.
Biden's advantage though has definitely ebbed over the last few months. In our April and May combined samples, Biden led the pack among African-Americans with 49%.
Meanwhile, Harris was all the way back in fourth place with 6%. In other words, she's jumped about 20 points.
Harris' gain follows a significant uptick in endorsements from black lawmakers. Harris now leads Biden in endorsements from Congressional Black Caucus members.
Biden's drop follows last week's debate, when Harris called him out for how he spoke about segregationist senators and his past opposition to federally mandated desegregation busing.
Harris may have additional growth with black Democratic voters. More than 20% cannot form an opinion of her. Less than 10% cannot form an opinion of Biden. More black voters (29%) trust her on race relations than trust Biden (23%).
Interestingly, our poll shows no movement for the other African-American in the race, New Jersey Sen. Cory Booker. He pulls a mere 2% in the poll. That's actually down a statistically insignificant 2 points from an aggregate of our April and May polls.