Democratic candidates debate in Houston
10:57 p.m. ET, September 12, 2019
Who talked the most (and least) at tonight's debate
Vice President Joe Biden spoke the most, but Elizabeth Warren wasn't far behind. Andrew Yang talked the least at this debate. Here's how the final times break down: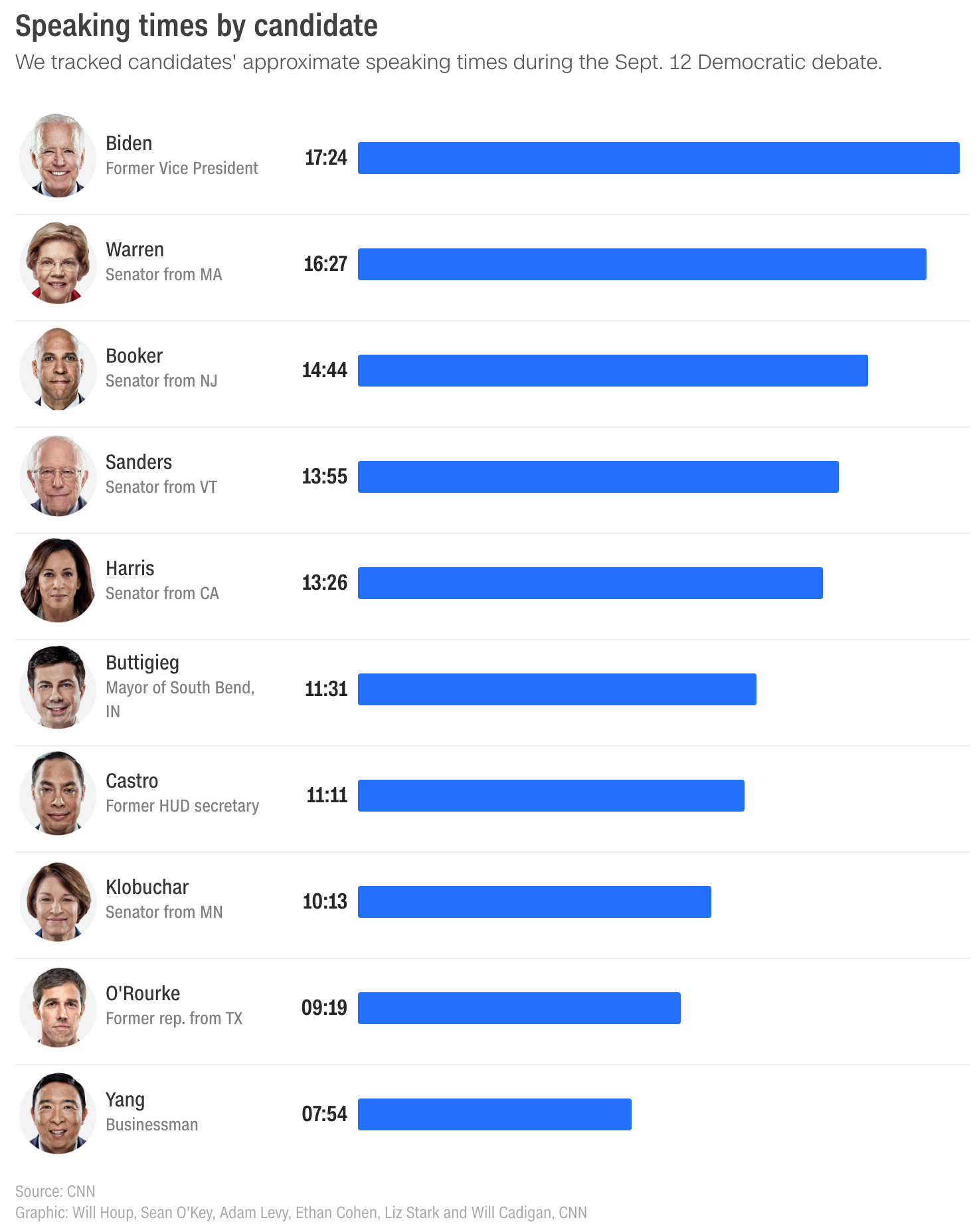 10:54 p.m. ET, September 12, 2019
Here's how each candidate described their biggest professional setback
As the final question of the night, each candidate was asked to detail their biggest professional setback.
Here's how they answered:
Julián Castro: "In many ways, I shouldn't be here on this stage: Castro is my mother's name, and my grandmother's name before her. I grew up in a single-parent household on the westside of San Antonio, going to the public schools."
Amy Klobuchar: "When our daughter was born, I had this expectation, we were going to have this perfect, perfect birth. And she was really sick ... But when she was born, they had a rule in place that you got kicked out of the hospital in 24 hours. She was in intensive care and I was kicked out. And I thought this could never happen to any other mom again. So I went to our legislature."
Beto O'Rourke: "Everything I've learned about resilience, I've learned from my hometown of El Paso, Texas. In the face of this act of terror that was directed at our community in large part by the President of the Unites States ... we were not defeated by that nor were we defined by that."
Cory Booker: "I, with a bunch of tenant leaders in Newark, New Jersey, in 2002, took on the political machine. And boy did they fight back."
Andrew Yang: "You put your heart and soul into it, and even though I did that, my company flopped. Had its mini rise and maximum fall."
Pete Buttigieg: "As a military officer serving Don't Ask Don't Tell and as an elected official in the state of Indiana when Mike Pence was governor, at a certain point, when it came to professional setbacks, I had to wondering wether just acknowledging who I was going to be the ultimate career-ending professional setback."
Kamala Harris: "When I ran for attorney general of California, I was elected because I didn't listen and I was the only woman black-elected attorney general in the state — in the country."
Bernie Sanders: "What resilience means to me means growing up in a rent-controlled apartment in Brooklyn, New York, the son of an immigrant who came to this country without a nickel in his pocket."
Elizabeth Warren: "The reason I am standing here today is because I got back up and I fought back. I know what's broken. I want to be in the fight to fix it in America."
Joe Biden: "I never count any professional setback I have as a serious setback. Those are things that are important, things that are unimportant."
10:44 p.m. ET, September 12, 2019
Fact check: Trump's tariffs are costing jobs
Sen. Amy Klobuchar said that Trump's trade war is costing American jobs. "One forecast recently says that it has already cost us 300,000 jobs," she said.  
Facts First: This is true according to one major economic analysis. A September report from Moody's Analytics estimates that Trump's trade war with China has cost "almost 300,000 jobs" since it started about a year ago.   
It's tricky to calculate exactly how many jobs have been lost because of Trump's tariffs on Chinese-made goods. One reason the trade war could be hurting American jobs is because Trump's tariff strategy has created a lot of uncertainty for businesses. They don't know how long the tariffs will be in place or whether the rate of the tariff will go up as part of a negotiating strategy – making it hard to make investments and hire new workers.    
But the Moody's report isn't the only one that suggests the duties are having an effect on US workers. A report from staffing firm Challenger, Gray & Christmas said that trade difficulties were cited as the reason for more than 10,000 job cuts in August alone.  
10:55 p.m. ET, September 12, 2019
Fact check: Biden's claims that majority of NRA members supported gun control measures
Former Vice President Joe Biden claimed that gun control measures put forward by the Obama administration had a majority of support from NRA members. 
"Those proposals I put forward for the President had over 50% of gun -- members of the NRA supporting them," he said. 
Facts First: According to one poll, a majority of NRA members did support some gun control measures proposed by the Obama administration, but not all.  
In a 2013 poll conducted by Johns Hopkins University, 74% of people who identified as NRA members supported universal background checks, which the Obama administration proposed following the mass shooting at Sandy Hook.  
A majority -- 62% -- of this cohort "supported prohibiting gun ownership for 10 years after a person has been convicted of violating a domestic-violence restraining order," according to the poll. And 70 percent supported increasing penalties for individuals who sell a gun to someone who is not allowed to own a gun. 
As part of its proposals following Sandy Hook, the Obama administration proposed a ban on so-called assault weapons and high capacity magazines (those that hold more than ten bullets). Only 15% of NRA members supported the ban of so-called assault weapons and 19% supported the banning of sales of high capacity magazines, according to the JHU poll.  
10:40 p.m. ET, September 12, 2019
Protesters just interrupted Joe Biden
Protesters interrupted former Vice President Joe Biden as he started to answer a question about professional setbacks.
Biden was speaking when the protesters started yelling in the auditorium at Texas Southern University. It's unclear what they were saying.
His time to speak was restored after the screaming stopped.
10:30 p.m. ET, September 12, 2019
Why Joe Biden mentioned a record player at tonight's debate
Former Vice President Joe Biden, when asked about what Americans need to do about the nation's legacy of slavery, began by talking about poor schools.
He said teachers have "every problem coming to them" and social workers can help parents at home. Parents often want to help their kids, but don't know how, he said.
Here are the suggestions he gave:
"Play the radio, make sure the television — excuse me — make sure you have the record player on at night, make sure that kids hear words," he said.
He added that a poor child will hear 4 million fewer words by the time they get to school than a child from a wealthier background.
10:25 p.m. ET, September 12, 2019
Bernie Sanders: Don't compare my socialism to Venezuela's
If you want a look at the kind of government Bernie Sanders envisions, steer clear of Venezuela, the Vermont senator said on Thursday,
"In terms of democratic socialism, to equate what goes on in Venezuela with what I believe is extremely unfair," Sanders said in response to co-moderator Jorge Ramos. "I agree with (what) goes on in Canada and Scandinavia, guaranteeing health care to all people as a human right. I believe that the United States should not be the only major country on earth not to provide paid family and medical leave."
In his answer, Sanders drew on the nut of a speech he gave in Washington earlier this year explaining his take on the ideology. It is centered on a milder form of socialism that does not mandate the nationalization of major industries, but instead broadens and beefs up the social safety net and offers workers more of a say in how major corporations are run.
"You got three people in America owning more wealth than the bottom half of this country. You got a handful of billionaires controlling what goes on in Wall Street, the insurance companies and in the media. Maybe, just maybe, what we should be doing is creating an economy that works for all of us, not 1%," Sanders said in Houston. "That's my understanding of democratic socialism.:
Asked by Ramos if he would, after demurring in the past, call Venezuelan strongman Nicolas Maduro a "dictator," Sanders again passed up the chance.
But he was hardly kind in his description.
"Well, first of all, let me be clear. Anybody that does what Maduro does is a vicious tyrant," Sanders said, before reiterating his position on Venezuela, saying: "What we need now is international and regional cooperation for free elections in Venezuela so that the people of that country can make, can create their own future."
Former Housing and Urban Development secretary Julián Castro was less circumspect.
"I'll call Maduro a dictator," he said as Sanders finished, "because he is a dictator."
10:25 p.m. ET, September 12, 2019
Warren used to be a teacher. Here's why she thinks money for public schools should stay there
Massachusetts Sen. Elizabeth Warren laid out her position on funding for public schools.
"I think I am the only person on stage who has been a public school teacher," she said. "I wanted to be a public school teacher since I was in second grade."
She went on to say, "Let's be clear in all the ways we talk about this, money for public schools should stay in public schools, not go anywhere else."
Warren vowed to appoint a public school teacher to the position of education secretary.
10:13 p.m. ET, September 12, 2019
Biden falsely claims the Obama administration didn't separate families
In a discussion of immigration policy, former Vice President Joe Biden said: "We didn't lock people up in cages, we didn't separate families."  
Facts first: Both of Biden's claims are false. While the Obama administration didn't systematically separate families, it did happen under certain circumstances.    
Separations did sometimes occur under Obama, but they were non-routine and much less frequent, according to immigration experts and former Obama officials.
They occurred in exceptional cases. Examples include those where the parent was being criminally prosecuted for carrying drugs across the border or other serious crimes aside from illegal crossing, those where human trafficking was suspected and those where the authorities could not confirm the connection between the child and the adult.   
The separations didn't happen as a result of a blanket policy, however, as was the case during the Trump administration's controversial "zero tolerance" policy last year.  
Similarly, fenced enclosures at processing facilities along the border, the structures that have been labeled as cages, existed under the Obama administration. Some individuals — including children — were held in those cells during processing.