Democratic candidates debate in Houston
10:13 p.m. ET, September 12, 2019
Biden falsely claims the Obama administration didn't separate families
In a discussion of immigration policy, former Vice President Joe Biden said: "We didn't lock people up in cages, we didn't separate families."  
Facts first: Both of Biden's claims are false. While the Obama administration didn't systematically separate families, it did happen under certain circumstances.    
Separations did sometimes occur under Obama, but they were non-routine and much less frequent, according to immigration experts and former Obama officials.
They occurred in exceptional cases. Examples include those where the parent was being criminally prosecuted for carrying drugs across the border or other serious crimes aside from illegal crossing, those where human trafficking was suspected and those where the authorities could not confirm the connection between the child and the adult.   
The separations didn't happen as a result of a blanket policy, however, as was the case during the Trump administration's controversial "zero tolerance" policy last year.  
Similarly, fenced enclosures at processing facilities along the border, the structures that have been labeled as cages, existed under the Obama administration. Some individuals — including children — were held in those cells during processing.  
10:08 p.m. ET, September 12, 2019
Booker is a vegan, but he doesn't want to stop Americans from eating meat
Sen. Cory Booker, a vegan, was just asked if more Americans should stop eating meat as a means to curb the climate crisis.
"You know, first of all, I want to say, no," Booker said. "Actually, I want to translate that into Spanish: No."
The line drew laughs from the audience.
Booker said "factory farming is destroying and hurting our environment" and claimed that kind of farming is pushing family farmers out of business. He has called for an end to big food mergers — but not an end to meat consumption.
10:06 p.m. ET, September 12, 2019
Here's who's talked the most (so far)
It's just after 10 p.m. ET, and the debate has been going for two hours. Joe Biden is still leading in talk time with just over 13 minutes. Here's where everyone else falls.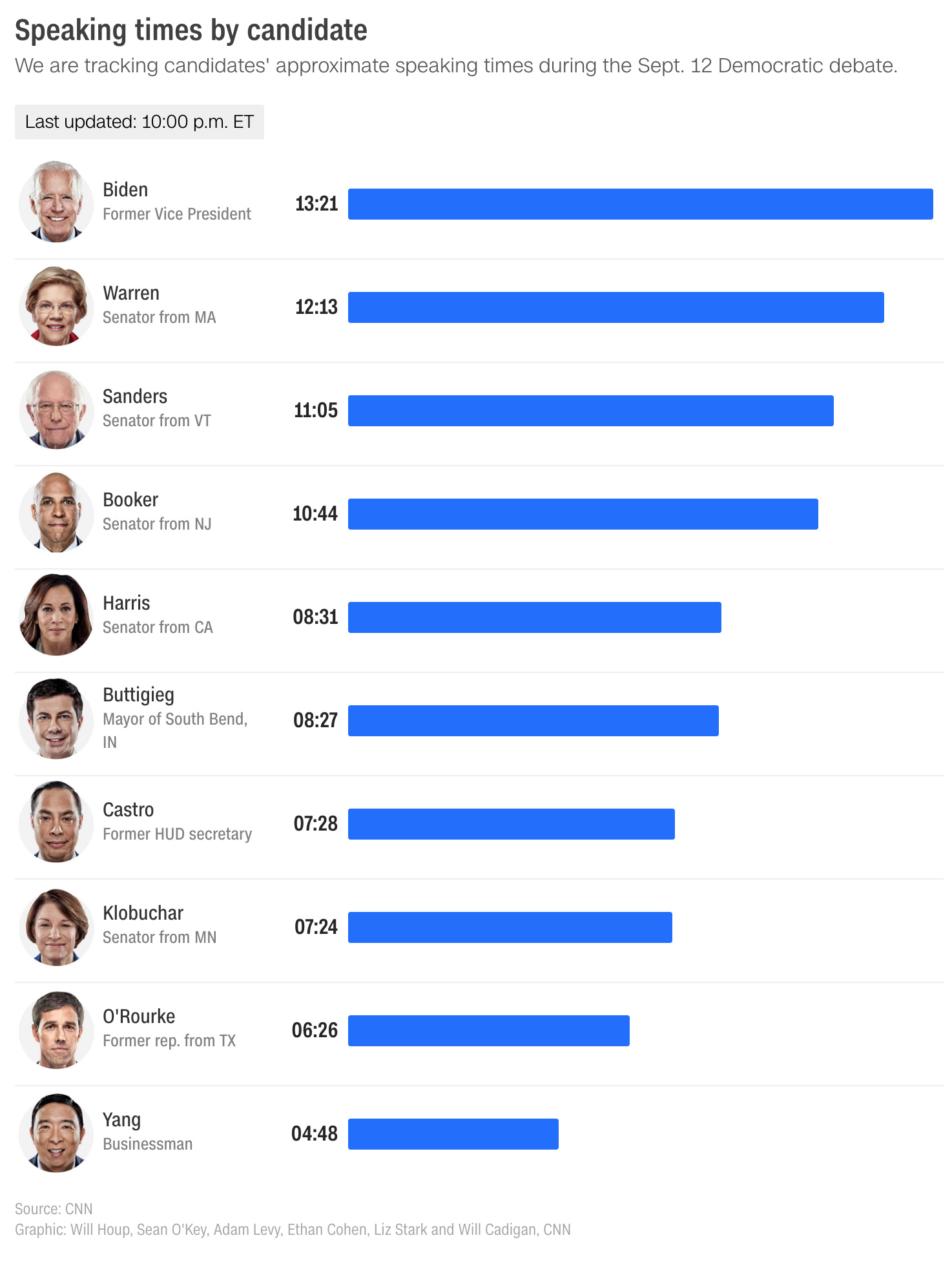 10:06 p.m. ET, September 12, 2019
Harris likens Trump to the Wizard of Oz
California Sen. Kamala Harris compared President Donald Trump to the Wizard of Oz on Thursday, arguing that the Republican leader is hiding behind bluster on the issue of trade.
"We need to partner with China on the issue of North Korea," Harris said. "We need a partner on the issue of North Korea."
She added: "But the bottom line is this, Donald Trump in office on trade policy … He reminds me of that guy in 'The Wizard of Oz,' when you pull back the curtain, it's a really small dude."
The comment drew laughs from the audience and a smile from moderator George Stephanopoulos.
Trump has talked tough on trade for years, but his record on the issue has been mixed and a massive trade deal with China has eluded the President.
9:49 p.m. ET, September 12, 2019
Buttigieg slams Trump's policy on China: "The President clearly has no strategy"
Democratic presidential hopeful Pete Buttigieg criticized President Trump's trade policy on China, saying, "The President clearly has no strategy."
"Is it just me or was that supposed to happen in like April?" Buttigieg said. "It's one more example of a commitment not made."
He said Trump's inability to stick with his commitments lead to "serious consequences."
Buttigieg pointed to the G7 summit, and when Trump skipped a climate change discussion.
"There was literally an empty chair, where American leadership could have been," he said.
9:48 p.m. ET, September 12, 2019
Sanders repeats claim that the US spends twice as much on health care than any other country
Sen. Bernie Sanders repeated a claim he's often made on the amount of money the US spends on health care.  
"We are spending twice as much per capita on health care as the Canadians or any other major country on Earth," Sanders said. 
Facts First: Sanders is right about Canada. While there's no universal definition of "major country," so there's some subjectivity here, it's not true that the US spends twice as much per capita on health care as every other country in the Organisation for Economic Co-Operation and Development, a group of 36 wealthy countries around the world.  
At $10,586 per capita in 2018, the US did spend more than twice as much as Canada ($4,974) and more than twice as much as the OECD average ($3,992) in 2018 -- but Switzerland ($7,317), Norway ($6,187) and Germany ($5,986) all were substantially above half the US level; Sweden ($5,447), Austria ($5,395) and Denmark ($5,299) were also above half, though more slightly.  
Sanders has been repeating this same exaggeration since at least 2009, when fact-checkers at PolitiFact first noted that it wasn't true.
9:43 p.m. ET, September 12, 2019
Here's who has talked the most so far tonight
An hour and a half into this debate, former Vice President Joe Biden has spoken the most, with an even 10 minutes of talking time.
Sen. Cory Booker has had the second most time speaking, clocking in at just shy of 8 minutes.
Meanwhile, businessman Andrew Yang has said the least: He's spoken for just 3 minutes and 59 seconds.
Here's a full break down of who's talked the most so far:
9:41 p.m. ET, September 12, 2019
Biden dodges question on deportations under Obama
Former Vice President Joe Biden dodged a question tonight on his position on the millions of deportations under former President Barack Obama.
ABC's Jorge Ramos asked Biden if he did anything to prevent the deportations and then asked why Latinos should trust him.
Biden didn't answer the questions. Instead he offered a different response.
He said that comparing Obama to President Trump "is outrageous."
"We didn't lock people up in cages. We didn't separate families. We didn't do all of those, No. one," Biden said.
Biden then laid out his immigration plan.
Ramos asked again if Biden made a mistake with the deportations.
"The President did that best thing that was able to be done at the time," Biden said.
"How about you," Ramos asked again.
Biden responded, "I am the vice president of the United States."
What you need to know: Obama's immigration policies has drawn criticism from some immigration advocates and lawmakers, and it had been expected that Biden would be called to answer to them.
9:40 p.m. ET, September 12, 2019
Buttigieg: Supporting Trump administration's immigration policy is "supporting racism"
South Bend Mayor Pete Buttigieg said Thursday that anyone who supports President Donald Trump's immigration policy is "supporting racism."
"Do you think people who support President Trump and his immigration policies are racist," asked moderator Jorge Ramos.
"Anyone who supports this is supporting racism," Buttigieg said. "The only people who actually buy into this president's hateful rhetoric around immigrants are people who don't know any."
Buttigieg went on to note that Republicans in Indiana have rallied around immigrants in their communities who were facing deportation.
"We have an opportunity to actually get something done but we cannot allow this to continue to be the same debate with the same argument and the same clever lines often among the same people since the last reform happened in the 1980s," Buttigieg said.
This is not the first time Buttigieg has said supporting Trump is, at the very least, condoning racism.
Asked by CNN in August whether he believes it is racist to cast a vote for Trump, Buttigieg said, "Well, at best it means looking the other way on racism."