Democratic candidates debate in Houston
9:04 p.m. ET, September 12, 2019
We're 1 hour into the debate. Here's who's talked the most
Former Vice President Joe Biden has had the most talk time so far, with more than 8 minutes. Here's where the rest of the candidates stand: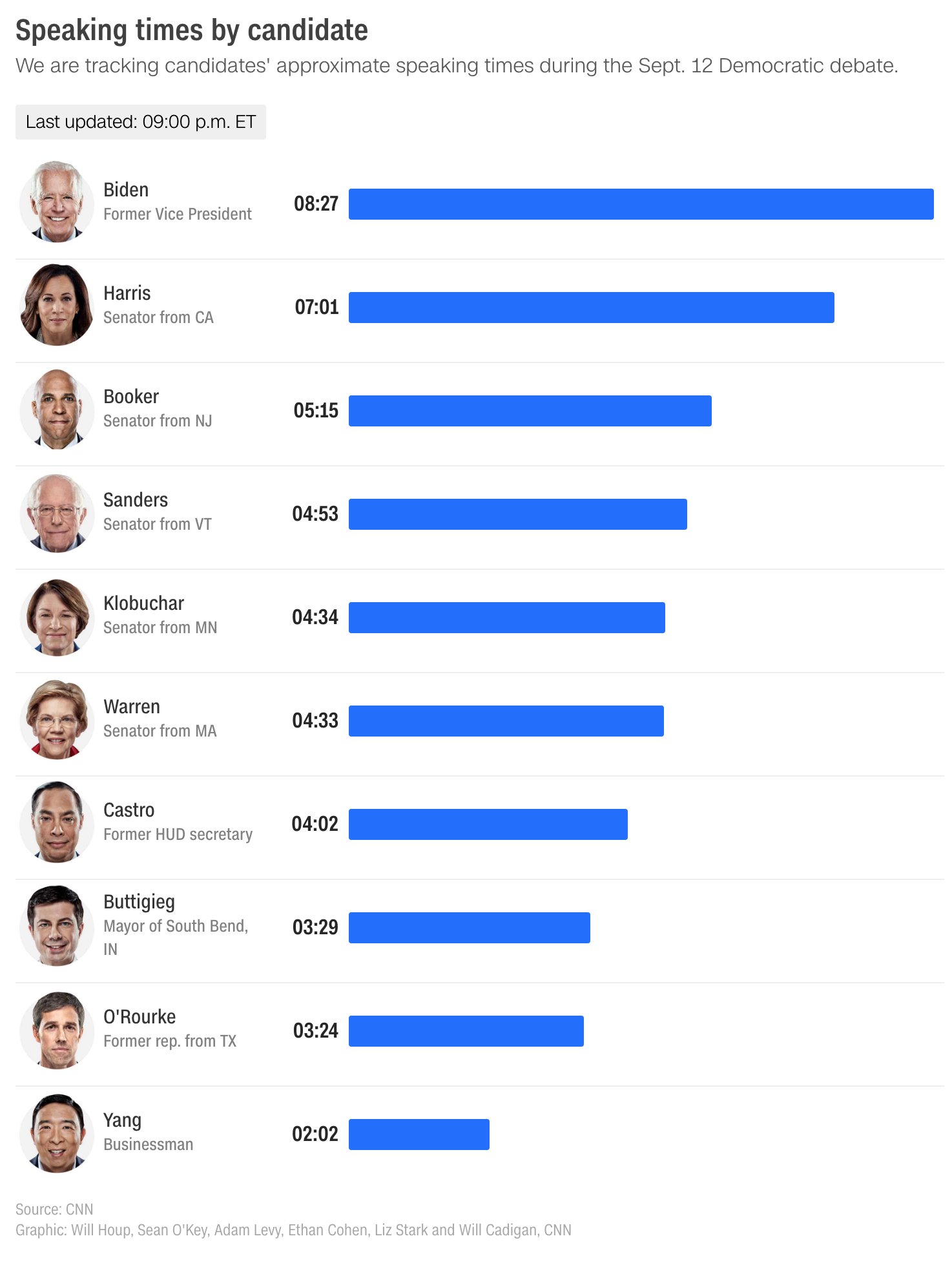 9:05 p.m. ET, September 12, 2019
Castro says El Paso gunman targeted "people who look like me"
Former Housing and Urban Development Secretary Julián Castro personalized the early August mass shooting in El Paso, pointing out that the gunman, who police have described as a white supremacist, targeted Latinos.
"A few weeks ago a shooter drove ten hours to kill people who look like me, people who look like my family," said Castro, a Texan who was also the mayor of San Antonio.
"White supremacy is a growing threat to this country, and we have to root it out," he said.
9:10 p.m. ET, September 12, 2019
The original Warren and Biden policy beef was about credit
Policy disagreements between Elizabeth Warren and Joe Biden stretch back more than a decade, to when she was a consumer advocate and Harvard Law School professor and he was the long-time senator representing Delaware. 
Warren, back in 2005, was an academic who studied the ability of people to repay loans in times of medical hardship and unexpected job loss. Biden represented Delaware, home to many credit card companies.
A clip from C-Span of Biden (as a senator) squaring off against Warren (as a consumer advocate) shows how much they differed on the issue.
"You're very good, professor," he said at one point, after challenging her about whether credit card companies should be forced to lower rates.
The law, which Biden had come to support after he said it was made more friendly to consumers than previous versions, made it much more difficult for people to declare bankruptcy, according to CNN's reporting at the time. It took away the leeway of bankruptcy judges to sidestep income to debt ratios in deciding repayment plans.
How much more difficult did it become to declare bankruptcy?
In the year after the law was passed, there were more than 2 million individual bankruptcy filings. In the first year the law was in effect, there were less than 600,000, according to historical data maintained by the American Bankruptcy Institute. Filings shot up again to more than a million from 2008 to 2013 during and after the Great Recession. But they've fallen again in recent years; 773,375 people declared bankruptcy in 2018, according to an annual report from Chief Justice John Roberts. 
Warren actually cites her research on bankruptcies and the passage of this bill as the issue that turned her from conservative to liberal. It set her on the path to leaving academia and entering politics. This year, Warren is again talking about bankruptcies. She wants to cut down on private equity loading companies up with debt and then using bankruptcy as way to cut it loose. It's part of a larger plan she has to rein in Wall Street.
But this issue also shows how the party has changed even over the past ten years. More difficult to imagine a Democrat voting for such a bill today and it's that kind of party change that Biden continues to reckon with.
It's also a good reminder that Warren came to politics relatively recently and had a singular issue on which she lobbied for years.
8:59 p.m. ET, September 12, 2019
Yang jokes about being Asian and knowing doctors
Presidential candidate Andrew Yang joked about being Asian at Thursday's debate during an exchange about "Medicare for All."
"Now, I am Asian, so I know a lot of doctors," Yang said. He noted, as president, he would try to control soaring costs that doctors warn him against.
It was not the first time Yang has joked about being Asian. He often tells audience that the biggest change from Donald Trump would be an "Asian guy who likes math."
The comments, while usually winning laughs, were not universally celebrated on Twitter.
Jonathan Yuan, a student at the Harvard Kennedy School tweeted, Yang "please stop it with the lame Asian jokes. Not helping any of our causes. It's in fact, an embarrassment."
8:49 p.m. ET, September 12, 2019
Buttigieg calls debate fighting "unwatchable." Castro calls it "an election"
Pete Buttigieg and Julián Castro just got into a spat ... about on-stage spats.
After Castro and Joe Biden argued about former President Barack Obama's legacy, Buttigieg jumped in to bemoan the in-party fighting.
"This is why presidential debates are becoming unwatchable," Buttigieg said. "This reminds everybody of what they can not stand about Washington — scoring points against each other, poking at each other and telling each other that you're, my plan..."
That's when Castro interrupted him.
"That's called the Democratic primary election," Castor said. "That's called an election."
Amy Klobuchar then seemed to get the last word: "But a house divided can not stand," she said.
8:48 p.m. ET, September 12, 2019
Harris tries to steer the debate back to Trump and the GOP
As the debate over "Medicare for All" looked ready to blow, Sen. Kamala Harris pulled the safety valve.
"Let's talk about the fact that Donald Trump came into office and spent almost the entire first year of his term trying to get rid of the Affordable Care Act," the California Democrat said, recalling the unified Democratic pushback against Republican efforts to repeal Obamacare.
She then reminded viewers that Obamacare is still under attack.
"Fast forward to today and what is happening? Donald Trump's Department of Justice is trying to get rid of the Affordable Care Act," Harris said, referencing a lawsuit headed to the Supreme Court.
Before she sought to pivot the debate away from her rivals on stage, Harris, who initially backed Sanders' single-payer bill before offering a plan of her own, argued that there was no tension in supporting both Obamacare and Medicare for All – because both were aimed at the same target: expanding care.
"I want to give credit first to Barack Obama for really bringing us this far," she said, then added: "I want to give credit to Bernie. Take credit, Bernie."
8:39 p.m. ET, September 12, 2019
Klobuchar to Sanders: "While Bernie wrote the bill, I read the bill"
Minnesota Sen. Amy Klobuchar opened the third Democratic debate on Thursday by hitting Vermont Sen. Bernie Sanders, who often notes how he "wrote the damn bill" on "Medicare for All," the sweeping policy proposal that would remake the United States health care system.
"While Bernie wrote the bill, I read the bill," Klobuchar said.
Klobuchar went on to say, in her reading of the bill, she noted that the bill would mean people will "no longer have private insurance as we know it."
Sanders touted his Medicare for All plan on Thursday, defending it against questions about cost and the fact that Americans with private insurance will lose their current private coverage under Medicare for All.
8:35 p.m. ET, September 12, 2019
Biden on health care: "Well, I am for Barack"
Former Vice President Joe Biden opened the third Democratic debate on Thursday by knocking both Sen. Elizabeth Warren and Sen. Bernie Sanders on health care, singling out the Warren for tying herself to the Sanders plan.
"I know the senator says she is for Bernie," Biden says, standing between the pair. "Well, I am for Barack."
Biden has linked himself to President Barack Obama, his friend and former boss, on multiple fronts, including health care and the former president's signature health care bill.
"I think that Obamacare worked," Biden said, before attacking Medicare for All for being too expensive.
"How are we going to pay for it," Biden asked. "I want to hear that tonight."
Warren, who spoke next because she was involved, added, "We all owe a huge debt to President Obama, who fundamentally transformed health care in America and committed this country to health care for every human being."
8:28 p.m. ET, September 12, 2019
A majority of Democrats want to expand Obamacare
The Democratic candidates are on stage right now debating health care.
A new survey found that most Democrats would rather expand the Affordable Care Act than replace it with Medicare for All.
Here's what the survey says:
Among Democrats and Democratic-leaning independents, 55% said they would prefer to vote for a candidate who wants to build on the Affordable Care Act to expand coverage and lower costs, according to the Kaiser Family Foundation report.
Only 40% said they want a candidate to replace the law with Medicare for All, the legislation proposed by Sen. Bernie Sanders to establish a single, national, government-run health plan. Some 14% said they would only vote for a candidate who supports Medicare for All.
But nearly half of all Americans said they have heard "a little" or "nothing at all" about Medicare for All, and nearly two-thirds said the same about the public option, a government-run health insurance plan that aims to compete with private insurers.
Former Vice President Joe Biden supports creating a public option, while Sanders and Sen. Elizabeth Warren back Medicare for All.
Some 53% of the public now has a favorable opinion of the Affordable Care Act, an increase driven mainly by a larger share of Democrats holding a positive view of former President Barack Obama's landmark health reform law.
With Congress back in session, 70% of Americans say lawmakers should focus on lowering prescription drugs as a top priority, while nearly that share want to make sure the Obamacare's protections for those with pre-existing conditions remain in place. Some 64% say Congress should work to lower health care costs and 56% say a top priority should be protecting people from surprise medical bills.
Lawmakers have introduced bipartisan bills aimed at reducing drug prices and addressing surprise medical bills, though the legislation has run into roadblocks that make passage uncertain.