Democratic candidates debate in Ohio
11:16 p.m. ET, October 15, 2019
Who talked the most during the debate
The final count is in, and Sen. Elizabeth Warren led the group with nearly 23 minutes in speaking time. Former Vice President Joe Biden, who had more than 16 minutes, came in second. See the full breakdown: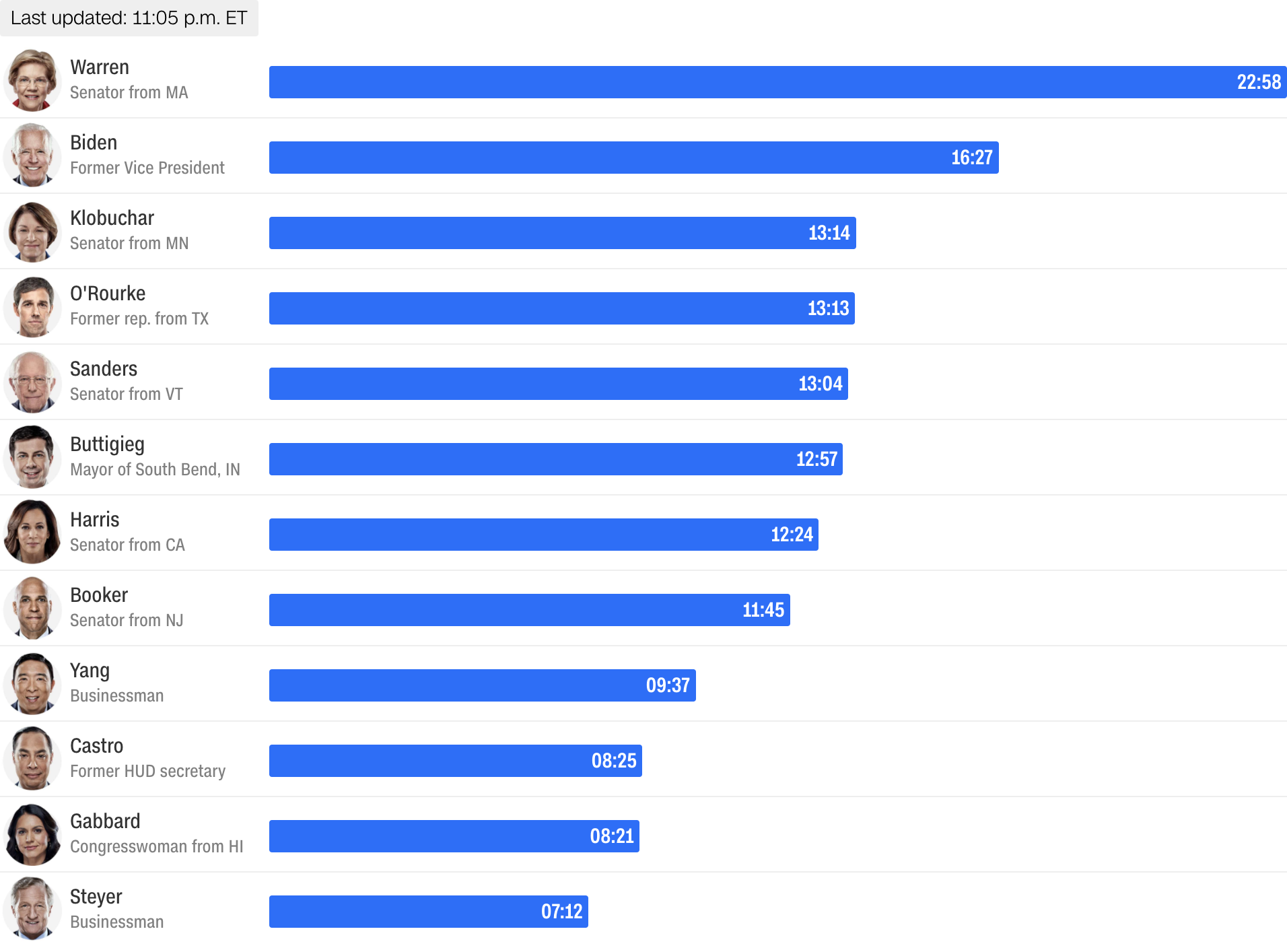 11:14 p.m. ET, October 15, 2019
What friendship have you had that would surprise us? Here's what each candidate said.
The final question of the night is all about unusual friendships.
CNN's Anderson Cooper brought how Ellen DeGeneres and George W. Bush were spotted at a football game together. DeGeneres faced criticism for being friends with the conservative former president — in response, she said, "I think that we've forgotten that that's OK that we're all different."
"So in that spirit, we'd like you to tell us about a friendship that you've had that would surprise us and what impact it's had on you and your beliefs," Cooper said.
Here's how each of the 12 Democrats responded:
Julián Castro said "Some of the most interesting friendships that I've had have been with people different from me, either people older than me that had a lot to teach me, or people who grew up very different from me."
Tulsi Gabbard mentioned former GOP Rep. Trey Gowdy. "He and I disagree a lot and very strongly on a lot of political issues. We've developed a friendship that's based on respect, and he's been there for me during some personally challenging times." 
Amy Klobuchar: "For me, it's John McCain, and I miss him every day."
Tom Steyer: "So I'm friends with a woman from Denmark, South Carolina, named Deanna Berry, who is fighting for clean water and environmental justice in her community. She's a different gender. She's a different race. She's from a different part of the country, but she reminds me of my parents in terms of her courage and her optimism and her honor."
Beto O'Rourke told a story about how he and GOP Rep. Will Hurd drove from Texas to Washington after a snowstorm. "Drove 1,600 miles across the country. Live streamed the conversation. A Republican and Democrat finding out what we had in common. By the end of that trip not only had we formed a friendship, but we had formed trust."
Andrew Yang said he became friendly with Fred, an avid Trump supporter who is a trucker and spent time in jail. "I heard about his experiences trying to get other people off drugs. And I'm happy to say that after our ride together, he actually said he would move from Donald Trump to my campaign, which was a thrill for me. And we remained in touch ever since," he said. 
Kamala Harris said she's friends with GOP Sen. Rand Paul, and she once invited him to join her on a bill to end the money bail system. "He and I agree on almost nothing — but we agree on that."
Bernie Sanders said he worked with John McCain on a veterans bill. "I did not get in the legislation working with McCain all that I wanted. But it turned out we were able to pass a very, very significant piece of legislation including $5 billion more for the veterans administration."
Pete Buttigieg said he formed friendships with people in the military who were radically different from him. "When they got into my vehicle and outside the wire, they didn't care if I was going home to a boyfriend or girlfriend. They didn't care what country my dad immigrated from whether he was documented or not. We just learned to trust each other."
Elizabeth Warren said former Solicitor General Charles Fried, a Republican, once helped her get a job. "We didn't agree on much — I was far more liberal than he was. But he also was willing to listen to my work about what's happening to America's middle class. And Charles engaged with it over and over and is the person who made sure I got the job.
Joe Biden said he became close friends with Sen. John McCain after they traveled the world together. He described McCain as honorable and "a great man of principle."
Cory Booker: "I was the mayor of large city with a Republican governor. He and I had to form a friendship, even though I could write a dissertation on our disagreements."
10:57 p.m. ET, October 15, 2019
Biden laughed at Warren's answer on Obama
Former Vice President Joe Biden laughed when Massachusetts Sen. Elizabeth Warren thanked President Obama for helping her establish a federal agency to protect consumers.
The laugh came after Biden said he had helped her get the votes needed to pass the 2010's Dodd-Frank Act, under which the Consumer Financial Protection Bureau was established.
"I agreed with the great job she did, and I went on the floor and got you votes. I got votes for that bill. I convinced people to vote for it, so let's get those things straight, too," Biden said.
Warren responded, thanking Obama.
"I am deeply grateful to President Obama, who fought so hard to make sure that agency was passed into law, and I am deeply grateful to every single person who fought for it and who helped pass it into law," she said.
Biden interrupted, saying, "You did a hell of a job in your job." To which, Warren said, "Thank you."
7:49 p.m. ET, November 11, 2019
Democrats disagree on how to fix the Supreme Court
Democrats, appalled by the fact that President Donald Trump has already successfully appointed two people to the Supreme Court and could be in line to appoint more, debated ways to remake the Supreme Court on Tuesday, with former Vice President Joe Biden, South Bend, Indiana, Mayor Pete Buttigieg and other disagreeing about the best way forward.
Biden, rebutting what Buttigieg has proposed about packing the court, said that he would not seek to add more justices.
"I would not get into court packing," Biden said. "We add three justices. Next time around we lose control, they add three justices. We begin to lose any credibility the court has at all.
Buttigieg responded: "I'm not talking about packing the court just with people who agree with me, although I certainly will appoint people who share my values."
Buttigieg has suggested a host of changes to the Supreme Court, including a commission that would aim to de-politicize the nation's top court.
"One way to fix this would be to have a 15-member court where 5 of the members can only be appointed by unanimous agreement of the other ten," he said. "Smarter legal minds than mine are discussing this in the Yale Law Journal and how this could be done without a constitutional amendment."
Former Housing and Urban Development Secretary Julián Castro said, while he wouldn't pack the court, he would back term limits.
"The smarter move might be to look at term limits or having people cycle off from the appellate courts so that you would have a replenishment of perspective," he said.
Massachusetts Sen. Elizabeth Warren said she is interested in "a number of options" to fixing the court, but did not outline her specific proposals to do so and instead pivoted to the importance of Roe v. Wade.
Watch here:
10:54 p.m. ET, October 15, 2019
Biden goes on the defense about his record
Former Vice President Joe Biden was put on defense over his record by his leading progressive foes, Vermont Sen. Bernie Sanders and Massachusetts Sen. Elizabeth Warren.
Biden had touted his record in former President Barack Obama's administration, pressuring Republicans to vote for measures such as the Federal Stimulus act.
"We all have good ideas. The question is who is going to be able to get it done? How can you get it done?" Biden said. "And I'm not suggesting they can't, but I'm suggesting that's what we should look at. And part of that requires you not being vague."
That's when Sanders pounced, attacking Biden over legislation Sanders opposed over the last three decades.
"Joe, you talked about working with Republicans and getting things done. But you know what, you also got done, and I say this as a good friend," Sanders said. "You got the disastrous war in Iraq done. You got a bankruptcy bill, which is hurting middle class families all over this country. You got trade agreements like NAFTA and (trade relations) with China done, which have cost us 4 million jobs."
Warren, responding to Biden's assertion that he is best able to get things done, pointed to her role in creating the Consumer Financial Protection Bureau during Obama's administration.
Biden interjected, saying, "I went on the floor and got you votes. I got votes for that bill. I convinced people to vote for it, so let's get those things straight, too."
Warren responded by thanking Obama -- but notably omitting Biden.
"I am deeply grateful to President Obama, who fought so hard to make sure that agency was passed into law," she said.
10:37 p.m. ET, October 15, 2019
Who's talked the most so far
We are more than two hours into tonight's Democratic debate, and Sen. Elizabeth Warren is still out front with the most speaking time so far.
Here's the full rundown of how much everyone has spoken as of 10:30 p.m. ET:
Follow our live graphic for the latest figures.
10:36 p.m. ET, October 15, 2019
Here's the story behind Tom Steyer's plaid tie
Billionaire Tom Steyer is wearing a red, black and yellow plaid tie tonight.
He's often seen in ties of various tartans. Many are red, and a spokesperson for the candidate said they're Scottish.
"He wears Scottish ties every day because, in his own words, you got to dress for the fight," the spokesperson said.
Also, don't forget about the belt:
10:43 p.m. ET, October 15, 2019
Klobuchar lays out what she'd tell Trump in a head-to-head debate
Minnesota Sen. Amy Klobuchar gave a peek tonight of what her debate would look like with President Trump if she were to become the Democratic nominee.
Speaking tonight about Roe v. Wade, Klobuchar said she would make it the law of the land. She then outlined what she would say to Trump if he were on the stage:
"You know what I would say to him? I'd say, 'You said you wanted to do this in your race for president. You actually said that you wanted to put women in jail. Then you tried to dial it back, and you said you wanted to put doctors in jail. That is exactly what the Alabama law is. It put doctors in jail for 99 years. You, Donald Trump, are not on the side of women. You are not on the side of people of this country when over 75% of people want to keep Roe v. Wade on the books, when over 90% of people want to make sure we have available contraception. You defunded planned parenthood.' I would fund it again," Klobuchar said.
On the Alabama law: In May, Alabama Gov. Kay Ivey signed into law a controversial abortion bill that could punish doctors who perform abortions with life in prison.
The law only allows exceptions "to avoid a serious health risk to the unborn child's mother," for ectopic pregnancy and if the "unborn child has a lethal anomaly."
Watch here:
10:32 p.m. ET, October 15, 2019
Harris to Warren: Join me in calling on Twitter to shut down Trump's account
Sens. Kamala Harris and Elizabeth Warren have largely stayed out of each other's way the first three Democratic debates.
That ended tonight, when Harris challenged Warren to stand with her proposal to kick President Trump off of Twitter.
Harris has called on Twitter to suspend the President's prolific Twitter account because, in her estimation, Trump has used it to threaten his opponents.
"Sen. Warren, I just want to say that I was surprised to hear that you did not agree with me that, on this subject of what should be the rules around corporate responsibility for these big tech companies," Harris said.
Warren responded pointedly: "I don't just want to push Donald Trump off Twitter. I want to push him out of the White House. That's our job."
Harris shot back: "Join me in saying that his Twitter account should be shut down," she said.
"No," Warren said simply.
Harris replied: "You can't say you are for corporate responsibility if it doesn't apply to everyone."
Watch here: