Democratic debate in New Hampshire
11:25 p.m. ET, February 7, 2020
Here's who won the New Hampshire debate
Seven Democratic presidential candidates took the stage tonight in Manchester, New Hampshire, for the eighth debate in the 2020 election.
Here are the winners and losers from tonight's debate:
Winners: Pete Buttigieg, Amy Klobuchar, Bernie Sanders ... and Michael Bloomberg. He wasn't on stage, but the former New York City mayor was mentioned.
Losers: Joe Biden, Elizabeth Warren, Tom Steyer and Andrew Yang
Read CNN's Chris Cillizza's take on the debate here.
Watch the candidates go after Pete Buttigieg:
11:31 p.m. ET, February 7, 2020
How the candidates closed out the debate
Each of the seven candidates gave a closing statement to wrap up tonight's debate, the last one before the New Hampshire primary.
They were asked: "Today, nearly one in five American preschoolers are still living below the poverty line, even though we've had 10 straight years of economic growth. What does that say to you about where America is today and what we need to do about it?"
Here's how they responded:
Businessman Andrew Yang: "The mission in this campaign has to be for us to disentangle economic value and human value and say they are not the same things. And make this case to our fellow Americans that we all have intrinsic value."
Former Mayor Peter Buttigieg: "When I'm president, we're going to measure the performance of our economy not by the Dow Jones but by the income growth of the 90%."
Sen. Elizabeth Warren: "I believe the best investment we can make as a nation, the best investment we can make as human beings is to invest in our children."
Former Vice President Joe Biden: "If I only have $1 to spend, I'd spend it equipping the child before they get into school in the early day than after. ... We must focus on our children."
Sen. Bernie Sanders: "Our campaign is about the working families of this country, for the working class of this country and that is the administration we will run. It is time to take on the big money interest and time to change our national priorities."
Sen. Amy Klobuchar: "I will tell you this, there is a complete lack of empathy in this guy in the White House right now. ... If you have trouble stretching your paycheck to pay for that rent, I know you. I will fight for you. If you have trouble deciding if you are going to pay for your child care or your long term care, I know you and I will fight for you."
Businessman Tom Steyer: "I know that there is a better America out there and that America lives in our hearts and minds and that America understands that when a kid succeeds in Columbia, South Carolina, that is a triumph for every American."
Klobuchar was the only 2020 hopeful to respond to this question:
10:41 p.m. ET, February 7, 2020
Klobuchar defends voting for Trump trade deal
Amy Klobuchar on Friday said the Trump trade deal known as the USMCA was "not perfect," but defended her vote to pass it in the Senate last month.
"One of the things about being in the arena is you have to make decisions all the time, and these things aren't always exactly how you would do them," Klobuchar said.
"But in this case, if you want to criticize Trump for not ever having any friends — and I would agree, he always sides with tyrants over innocents, he always sides with dictators over allies — but I think you've got to have some friends. Those two countries, our neighbors, may not be perfect but they are our friends," she added.  
Klobuchar said the trade agreement was not perfect, "but the point of it is, if we start isolating ourselves from the rest of the world we are going to hurt ourselves economically and we are going to hurt our nation's security."
Fellow 2020 candidate Elizabeth Warren also voted for the bill.
Senators of both parties came together last month to pass President Donald Trump's foremost legislative priority — the revised North American Free Trade Agreement. Nine Democrats, including Bernie Sanders, opposed it.
Among other changes from the Bill Clinton-era trade agreement known as NAFTA, the USMCA includes new provisions for digital commerce, more stringent rules of origin for auto parts and new minimum wage requirements for certain auto workers.
11:12 p.m. ET, February 7, 2020
Who spoke the most during tonight's debate
We tracked candidates' approximate speaking times during tonight's debate. Sen. Bernie Sanders led with nearly 20 minutes, followed closely by former Vice President Joe Biden. See the full breakdown here.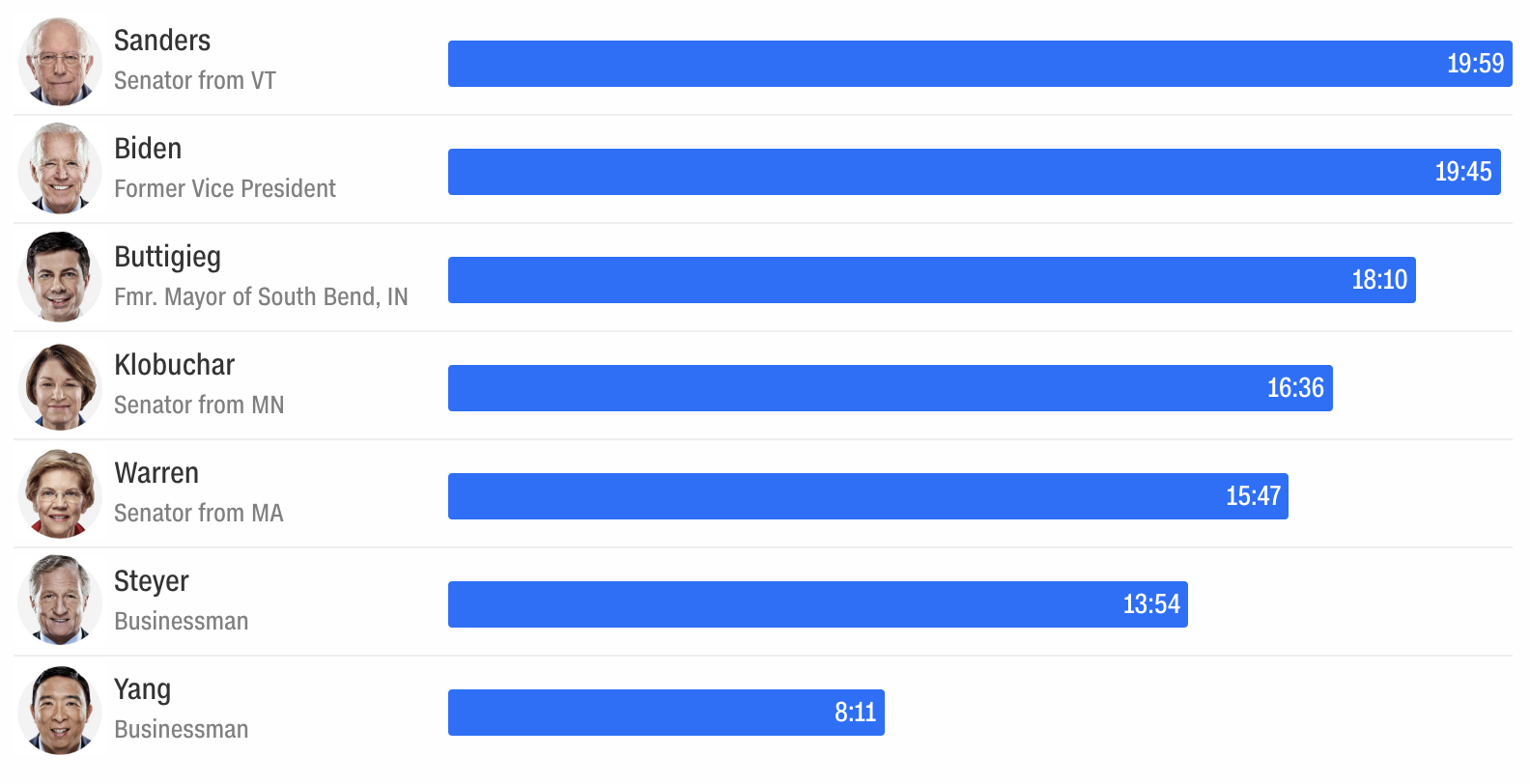 Watch: At debate, Buttigieg was on defense over his experience
10:23 p.m. ET, February 7, 2020
Fact check: Warren claims 36 million Americans can't afford prescription drugs
The high cost of health care was front and center at the Democratic debate in New Hampshire Friday night. 
Sen. Elizabeth Warren said that "36 million Americans last year couldn't afford to have a prescription filled, and that includes people with health insurance."  
Facts first: Multiple studies show that millions of Americans can't afford their medications. While it's unclear which study Warren is referencing, Warren's campaign did previously tell PolitiFact that she was referencing a 2019 Commonwealth Fund report when she made a similar point late last year. And by that measure she's close — that report found that 37 million adults age 19 to 64 did not fill a prescription in 2018 because of cost. The study notes that many people with insurance coverage still face financial difficulties because they have high deductibles or out-of-pocket costs.  
Other studies also show that Americans have trouble affording their prescription drugs. A 2019 Centers for Disease Control and Prevention report found that 11.4% of adults age 18 to 64 did not take their medication as prescribed to reduce costs in 2017, while 19.5% asked their doctor for a lower-cost alternative. 
Meanwhile, a 2019 survey from Gallup and West Health found that 58 million adults reported an inability to pay for needed drugs in past year. 
One bright spot: Things used to be worse. Before the Affordable Care Act went to effect in 2014, even more Americans had trouble filling prescriptions, according to the Commonwealth report. In 2012, some 50 million people did not fill their prescriptions.   
President Trump and lawmakers on both sides of the aisle have said they want to reduce the cost of prescription drugs, but little has been done.   
10:15 p.m. ET, February 7, 2020
Biden says he helped get Ruth Bader Ginsburg on the Supreme Court. RBG says he wasn't her biggest supporter.
Vice President Joe Biden pointed to his role in getting Justice Ruth Bader Ginsburg on to the Supreme Court tonight just hours after she said that he wasn't her biggest supporter during her confirmation.
When asked what his standards would be for potential Supreme Court judges' views on abortion rights, Biden cited previous statements, saying he "would not appoint anyone who did not have a view that unenumerated rights existed in the constitution."
"That's not a specific test. It's a generic test. And the only way, the only reason women have the right to choose is because it's determined that there's unenumerated rights coming from the 9th Amendment in the Constitution," Biden added.
"I was part of the reason why Elena Kagan got on the Supreme Court. I was part of the reason why Ruth Bader Ginsberg is on the court," Biden said.
But speaking at an event earlier Friday, the justice herself stated that Biden was not her biggest supporter during her confirmation hearings.
"I think of 1993, when President Clinton nominated me for the new job I have had for — hard to believe — 27 years, there was a true bipartisan spirit prevailing in our Congress," Ginsburg said. "No senator asked me any question about the years of my strong affiliation with the American Civil Liberties Union."
"My biggest supporter on the Judiciary Committee was not then Sen. Biden, chair of the committee, it was Orrin Hatch, the senator from Utah," she said.
Some historical context: Biden served as the chair of the Senate Judiciary Committee at the time, and former Republican Sen. Orrin Hatch was the ranking member.
10:34 p.m. ET, February 7, 2020
Warren blasts rivals, including Sanders, over the financial backing of their campaigns
Massachusetts Sen. Elizabeth Warren lambasted her rivals for being supported by super PACs or — in the case of Tom Steyer and Mike Bloomberg, who is not on stage Friday night — propping up their campaigns with their vast personal fortunes. 
"Everyone on this stage except Amy and me is either a billionaire or is receiving money from PACs that can do unlimited spending," Warren said. 
Warren said other candidates should "put your money where your mouth is and say no to PACs." 
"We have a grassroots movement funded from the grassroots up," Warren said. 
Warren's line could be read as a shot at Bernie Sanders, whose campaign is funded by small-dollar donors but is backed by Our Revolution, the political organization spun off from his 2016 campaign. Warren, meanwhile, is also backed by an outside group — the Progressive Change Campaign Committee. 
Klobuchar, meanwhile, said she "can't stand the big money" in politics. 
"No, I am not a billionaire. But I stand before you today as the granddaughter of an iron ore miner, the daughter of a teacher and a newspaperman, the first woman elected to US Senate from the state of Minnesota," she said. "Someone who has passed over 100 bills as the lead Democrat in that gridlock in Washington, DC, and that is because we live in a country of shared dreams."
10:13 p.m. ET, February 7, 2020
Steyer says he supports reparations for African Americans
Tom Steyer said Friday he supports reparations for African Americans and that racism is an ongoing problem in the United States. 
"Something wrong happened," Steyer said. "I am for reparations to African Americans in this country, and anyone who thinks that racism is a thing of the past and not an ongoing problem is not dealing with reality."
Steyer added: "In fact, three days ago, one of the leaders of Joe Biden's South Carolina campaign made racist remarks about someone associated with our campaign, and the Legislative Black Caucus and went out en masse to stand up for that man and for our campaign." 
"Joe, I'm asking you to come with me and the Legislative Black Caucus and disavow (state Sen.) Dick Harpootlian and what he had to say. It was wrong," Steyer said, turning to the former vice president. 
Biden responded: "I'm asking you to join me and join in the support I have from the overwhelming number of the members of that Black Caucus."
"I have more support in South Carolina, the Black Caucus and the black community than anybody else. Double what you have and anybody else," Biden said.
11:15 p.m. ET, February 7, 2020
Fact check: Buttigieg said Trump administration admitted the Iran nuclear deal was working. Here's what we know.
Former South Bend, Indiana, Mayor Pete Buttigieg asserted during the debate that the Trump administration admitted that the Iran nuclear deal — which it pulled out of in 2018 — was actually working.  
"This President has moved us this much closer to the brink of war, but it didn't start with the Soleimani strike," Buttigieg said, referring to the January airstrike that killed top Iranian Gen. Qasem Soleimani. "It started with withdrawing us from the Iran nuclear deal that his own administration certified was working." 
Facts First: This is basically true. The Trump administration repeatedly recertified the nuclear deal and waived sanctions against Tehran, effectively acknowledging that Iran was abiding by the terms of the deal even as the President publicly criticized it. 
The terms of the nuclear deal required the US president to reauthorize it every 120 days to keep sanctions from kicking in. Trump didn't leave the deal until May 2018 and reauthorized it a handful of times after taking office. 
CNN previously reported that the President promised to kill the deal on the campaign trail but was persuaded by Cabinet members and allies several times to recertify Iran's compliance. 
Former Defense Secretary James Mattis told the Senate Armed Services committee in April 2018 that the verification provisions in the pact were "pretty robust" though he did not publicly back the deal. Despite his criticism of the deal, neither Trump nor his aides had been able to say that Iran was violating the terms of the agreement. 
Watch: At debate, Buttigieg was on defense over his experience