The first Democratic debate, night 2
1:56 a.m. ET, June 28, 2019
Our live coverage of tonight's Democratic debate is winding down, but you can read our takeaways at the links below:
1:55 a.m. ET, June 28, 2019
Fact check: Biden on his past praise of segregationist senators
From CNN's Andrew Kaczynski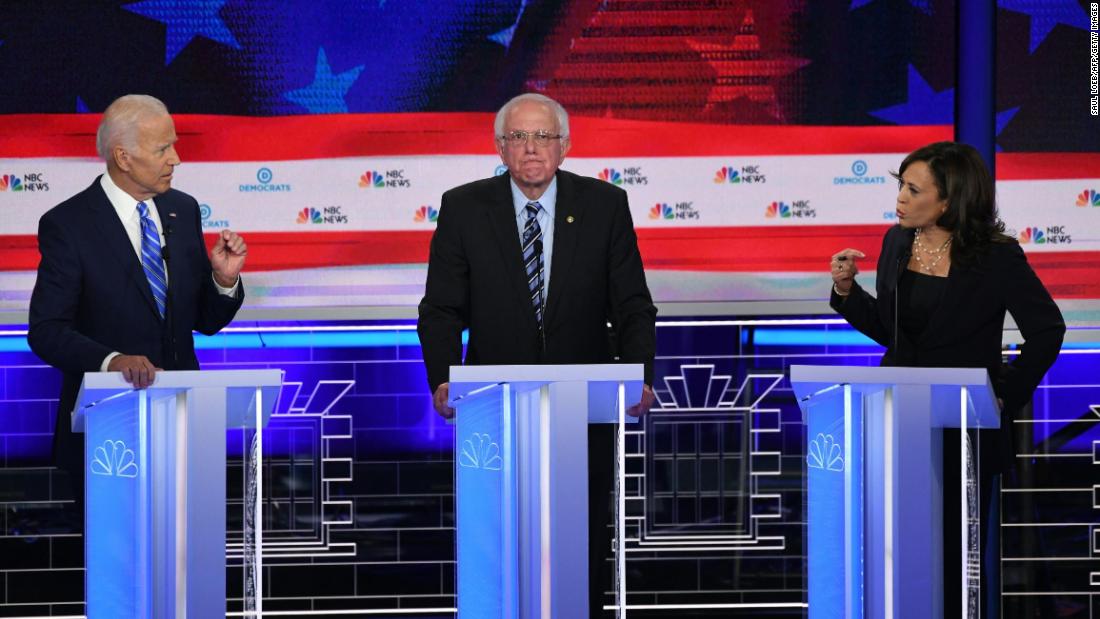 Joe Biden and Kamala Harris had a tense exchange over Biden's past praise of some senators who supported segregation and his opposition to busing.   
"It was hurtful to hear you talk about the reputations of two United States senators who built their reputations and career on the segregation of race in this country. It was not only that, but you also worked with them to oppose busing," Harris said. 
Biden responded, "I do not praise racists. That is not true." 
Facts First: This exchange needs context. Biden does have a history of praising senators who supported segregation, but in several instances he claimed they clashed on the issue of civil rights. 
Biden's campaign was riled last week when he cited two segregationist senators and as examples of colleagues he could work with during an era where "at least there was some civility" in the Senate. Biden did not praise either of the men, but he does have a history of praising several senators who supported segregation and opposed the Civil Rights Act – though not for their positions opposing civil rights. 
Biden praised then-Mississippi Sen. John Stennis, a staunch segregationist as a "hero" and "the rockbound integrity of the United States Congress" in the 1980s. Biden called Stennis "a hell of a guy" in 2008.
Biden also has praised South Carolina Sen. Strom Thurmond, who ran for president as a segregationist in 1948 as a Dixiecrat. In 1993, Biden spoke at Thurmond's 90th birthday and praised him by comparing him to Confederate General Robert E. Lee. 
Biden has claimed both Stennis and Thurmond changed with the times. When Thurmond died, Biden said he did not believe the senator was racist at his core. 
In his Senate farewell address in 2009, Biden said he became friends with Stennis, Thurmond and Mississippi's James Eastland despite opposing their views on civil rights.  
"I never thought I'd develop deep personal relationships with men whose position played an extremely large part in my desire to come to the Senate in the first place to change what they believed in -- Eastland, Stennis, Thurmond. All these men became my friends," Biden said.
1:41 a.m. ET, June 28, 2019
Fact check: Biden on Iraq War troop withdrawal
From CNN's Zachary Cohen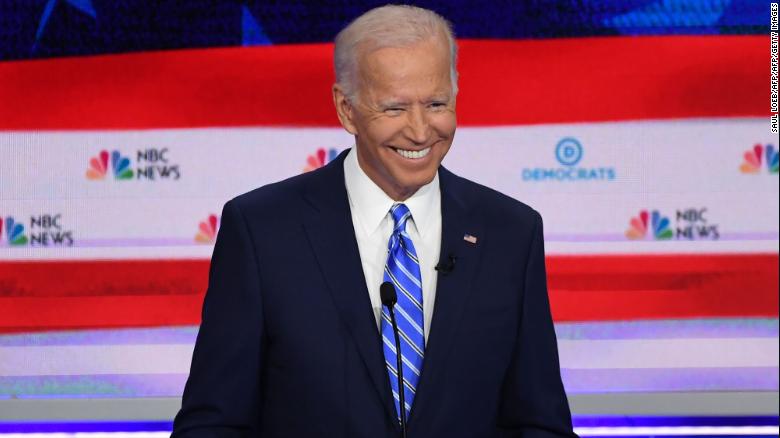 Joe Biden, asked about his vote for the Iraq war and his judgment on taking the US to war, touted the withdrawal of US troops from Iraq in 2011.
"Once Bush abused that power, what happened was we got elected after that … I made sure … the President turned to me and said: 'Joe get our combat troops out of Iraq.' I was responsible for getting 150,000 combat troops out of Iraq, and my son was one of them." 
Facts first: Biden is correct that he oversaw the withdrawal of US troops from Iraq in 2011. But he left out a key point -- three years later, US troops returned to Iraq to fight ISIS, which rose to power in the vacuum left, in part, by the withdrawal of American forces.
Biden voted to authorize military intervention in Iraq in 2002 and later became a critic of the Bush administration's handling of the war. His son, Beau, also deployed to Iraq for a year in 2008, serving in an administrative post with the 261st Signal Brigade.
The withdrawal of roughly 150,000 US combat troops from Iraq became a major part of Biden and President Obama's election platform in 2008 and ultimately, the last American convoy left the country in December 2011. 
In 2014, the US sent a much smaller contingent of a few thousand soldiers back to Iraq as part of the campaign against ISIS after the terror group rose to power and claimed a significant portion of territory both in Iraq and Syria.
1:35 a.m. ET, June 28, 2019
Fact check: Sanders on top 1% seeing a $21 trillion wealth increase
From CNN's Tami Luhby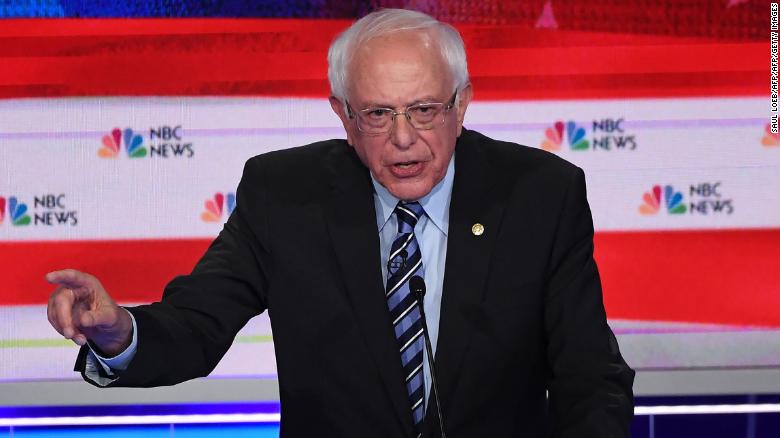 Vermont Sen. Bernie Sanders hammered home a familiar theme for him, saying that the middle class is stagnating, while the richest Americans are adding to their wealth. 
"In the last 30 years, the top 1% has seen a $21 trillion increase in their wealth," he said at Thursday's debate.
Facts First: The top 1% of households saw their wealth grow by $22.3 trillion on an inflation-adjusted basis, according to Federal Reserve data. 
Matt Bruenig, the founder of the left-leaning People's Policy Project, earlier this month also released an analysis based on Federal Reserve data, which tallies Americans' wealth.
He adjusted it for inflation, but removed the value of certain possessions, such as cars and refrigerators, and found a $21 trillion increase in wealth for the top 1% from 1989 to 2018, while the wealth of the bottom 50 percent dropped by $900 billion during the same timeframe.
1:12 a.m. ET, June 28, 2019
Fact check: Buttigieg on Chinese investment in artificial intelligence
From CNN's Brian Fung
Mayor Pete Buttigieg said Thursday that China is investing massively in artificial intelligence.  
"China is investing so they could soon be able to run circles around us in artificial intelligence, and this president is fixated on the China relationship as if all that mattered was the export balance on dishwashers." 
Facts First: Buttigieg's assertion that China is prioritizing artificial intelligence is true but the Trump administration has proposed significant investments as well. 
The Chinese government has outlined an aggressive plan to become a world leader in artificial intelligence by 2030, according to the New York Times. One Chinese city, Tianjin, announced last year it will establish a $16 billion fund to support the development of AI, according to Reuters. 
And according to CNBC, Chinese state media reported last year that the country will build a $2.1 billion development campus that will accommodate 400 businesses and produce an estimated $7 billion in annual productivity.
China accounted for 48 percent of all AI-related venture capital in 2017 — outstripping the United States for the first time, according to CB Insights, a venture funding research firm.   
12:52 a.m. ET, June 28, 2019
Marianne Williamson on her debate performance: "I am rather disappointed in myself"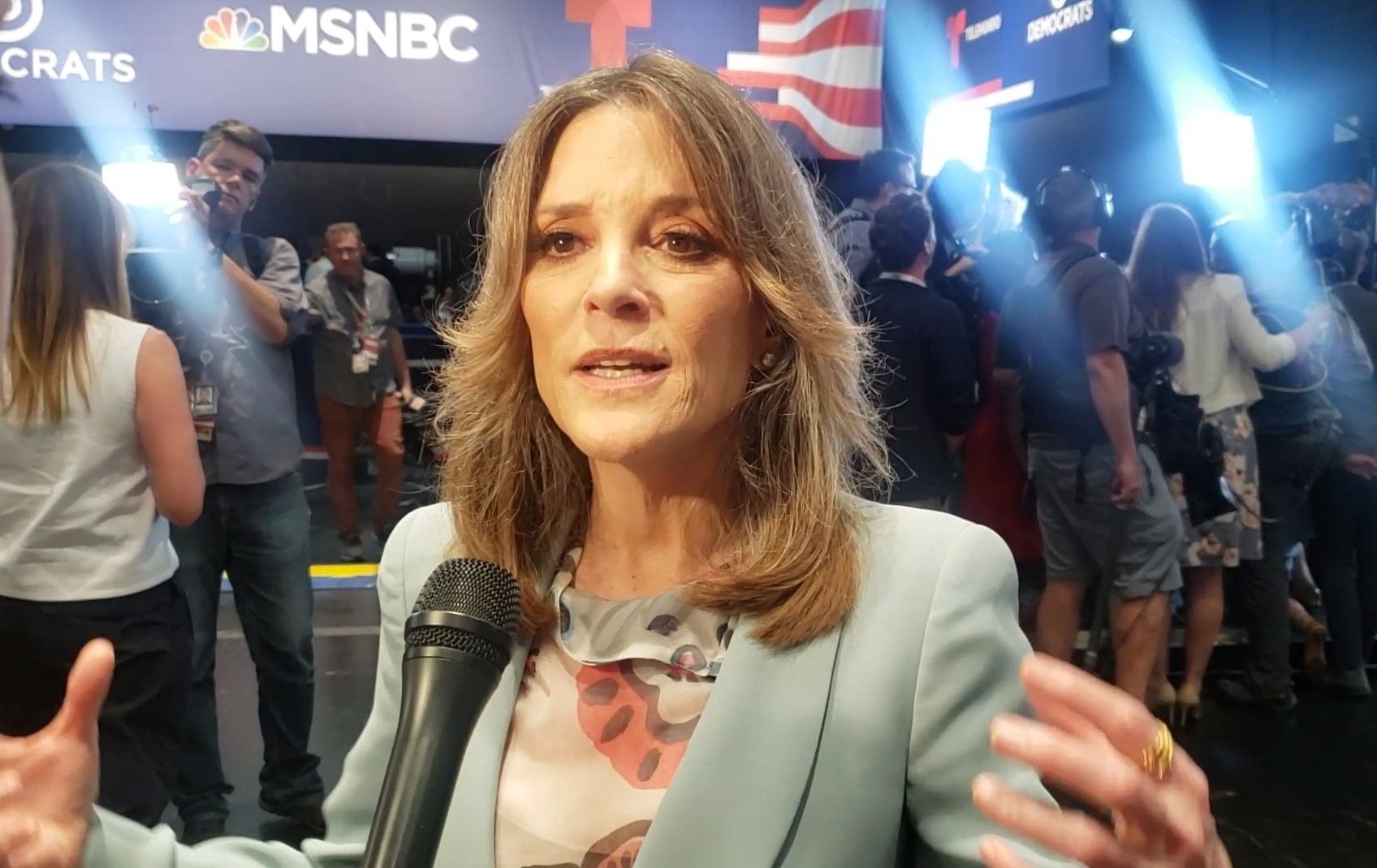 Presidential candidate Marianne Williamson wasn't pleased with her performance tonight and said she is hoping to elbow her way into the conversation next time.
"I am rather disappointed in myself," she told CNN. "Personally, I don't feel I got a chance to answer many questions, and even when I answered the questions, the way things were positioned ... it was certainly not my best. But I'll be back in a month, and I'll practice real hard to learn better how to do it."
Williamson, an author and spiritual adviser, said she'll need to "learn how to elbow my way in" for the next debate.
"It's not my nature," she said.
Williamson went on to say last night's debate was less fiery.
"If there had been so much of that last night, I think I would have said, 'OK, now I have gotta practice this.' That's why I went in quite naive," she said.
12:42 a.m. ET, June 28, 2019
Fact check: Biden on his busing record
From CNN's Lydia DePillis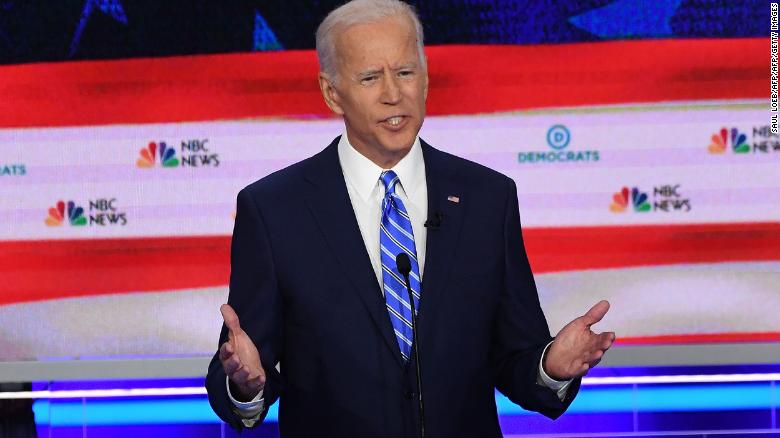 Sen. Kamala Harris and Joe Biden had a testy exchange on race and school busing.
It began with Harris referencing Biden's recent comments about working with pro-segregationist Senators, and ended with her personal story of benefiting from busing, a policy she criticized Biden for opposing.  
"And it was not only that, but you also worked with them to oppose busing. And there was a little girl in California who was part of the second class to integrate her public schools and she was bused to school every day. And that little girl was me."
Biden shot back claiming Harris' comments were "a mischaracterization of my position across the board." Biden said he opposed busing mandated by the Department of Education but that he would have allowed localities to bus students should they choose to do so.  
Facts First: Biden was a vocal opponent of federally-mandated busing. His remarks in the 1970s broadly denounced busing programs claiming they were bad for local communities. 
In 1978, Biden co-sponsored and strongly advocated for legislation that would have limited the ability of federal judges to compel school districts to integrate public schools by busing black students to white areas and vice versa.
He particularly solicited the support of segregationist Mississippi Democrat James Eastland, writing in 1977, "I want you to know that I very much appreciate your help during this week's committee meeting in attempting to bring my anti-busing legislation to a vote."
Biden says he would allow busing under certain circumstances. In cases where a school system has been racially segregated by gerrymandering district lines or by other legalistic means, Biden said he supported desegregation by any legal means at hand -- including busing.  
In 1975, Biden supported an amendment offered by Senator Jesse Helms that would have made busing much more difficult in all jurisdictions by prohibiting the Department of Health, Education and Welfare from collecting information needed to identify segregated school systems.
However, neither piece of legislation would have explicitly prohibited Berkeley from choosing to bus black students into majority white schools or vice versa. Berkeley was one of the first cities to adopt a busing program in 1968.
After the Helms amendment failed, Biden offered a provision that would've prevented federal funds from being used to require any school to assign students or teachers by race.  
Biden said he supported school integration by other means but opposed busing because he thought it had a negative impact on communities. 
12:37 a.m. ET, June 28, 2019
Fact check: Kamala Harris on requests to detain undocumented immigrants
From CNN's David Shortell
Sen. Kamala Harris said that she told local sheriffs in California when she was the state's attorney general that they could buck certain requests to detain undocumented immigrants made by federal immigration officials — a progressive policy that is still fought for today by immigration activists.  
Facts First: This is true, though some liberals in California said she was slow to come around. 
In 2012, Harris issued an "information bulletin" to law enforcement agencies in the state saying that they were not required to fulfill detainer requests from US Immigration and Customs Enforcement, or ICE.
At the time, the American Civil Liberties Union wrote that her statement "should finally put to bed any lingering doubt that immigration detainers are voluntary requests" and noted that a better solution would be the passage of statewide legislation.
12:22 a.m. ET, June 28, 2019
Andrew Yang didn't get much speaking time — but he says he got to introduce himself to millions
Democratic presidential hopeful Andrew Yang didn't get much speaking time on stage tonight, but he said he thinks he still accomplished his mission.
"It was almost impossible for me not to accomplish my mission of introducing myself to millions of Americans tonight... You know, even if you weren't paying much attention, it was very clear that the Asian man wants to give everyone a $1,000 a month, so if that was the takeaway for the average American, I am thrilled, like that was the intention," he told reporters.
Yang said he's hoping to make his case again to Americans at the next debates, hosted by CNN, in July.
"I'll have plenty of other opportunities," he said. "Obviously, I would have loved more questions."
He added that he felt the questions directed at him were "sparse."