The first Democratic debate, night 1
12:25 a.m. ET, June 27, 2019
How the other group of candidates reacted to tonight's debate
The next group of Democratic presidential candidates aren't due to take the stage until tomorrow, but that didn't stop some of them from sharing their thoughts on tonight's debates.
Here's what some of the candidates said:
During the debate, Sanders took to Twitter and talked about his platform.
Meanwhile, Yang live-tweeted his reactions to tonight's debate.
Williamson made a quip about learning Spanish.
Gillibrand shared her excitement for tomorrow's debate.
Hickenlooper congratulated tonight's candidates.
12:20 a.m. ET, June 27, 2019
In their final words of the night, here's why these 2020 candidates want your vote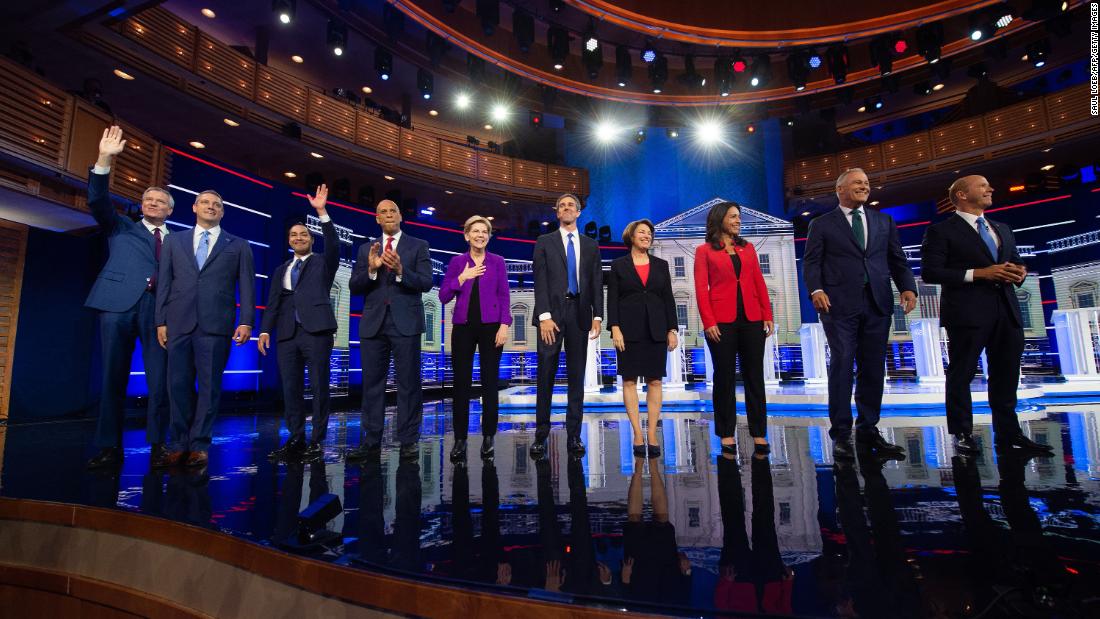 The first round of debates are over, and the 2020 Democratic candidates laid out their final pitches to Americans on why they should be elected president.
Here are some key quotes from their final remarks:
Bill de Blasio: "It matters. It matters in this fight for the heart and soul for our party that we nominate a candidate who has seen the face of poverty and didn't just talk about it, but gave people $15 minimum wage."
Tim Ryan: "It's time for us to come together. I don't know how you feel but I am ready to play some offense."
Julián Castro: "If I am elected president, I will work hard every single day, so that you and you're family can get good health care, your child can get good education and that you can have good job opportunities, where you live in a big city or small town. And on Jan. 20, 2021, we'll say 'Adios' to Donald Trump."
Cory Booker: "Donald Trump wants us to fight him on his turf and his terms. We will beat him. I will beat him by calling this country to a sense of common purpose again."
Elizabeth Warren: "I am in this fight because I believe that we can make our government, we can make our economy, we can make our country work... And I promise you this, I will fight for you as hard as I fight for my own family."
Beto O'Rourke: "We need a movement like the one that we led in Texas. It renewed our democracy by bringing everyone in and writing nobody off. That's how we beat Donald Trump."
Amy Klobuchar: "I am someone that can win and beat Donald Trump."
Tulsi Gabbard: "As President, our White House, our White House will be a beacon of light, providing hope and opportunity, ushering a new century, where every single person will be able to get the health care they need, where we will have clean air to breathe and clean water to drink, where we will have good paying jobs and a new green economy."
Jay Inslee: "We can save ourselves. We can save our children. We can save our grandchildren and we can save literally the life on this planet. This is our moment."
John Delaney: "I just don't want to be your president. I want to be your president to do the job. This is not about me. This is about getting America working again."
12:54 a.m. ET, June 27, 2019
Fact check: Booker on LGBTQ kids missing school
In arguing that the government needs to do more to support people who are LGBTQ, Cory Booker said: "We don't talk enough about how many children, about 30% of LGBTQ kids, who do not go to school because of fear." 
Facts First: Booker is correct, according to a leading LGBTQ education nonprofit, although a government study suggests the percentage is lower.  
A 2017 national school climate survey conducted by GLSEN found 35% of LGBTQ students missed at least one day of school in the past month because they felt unsafe or uncomfortable.
That number is even higher than the organization's 2005 school climate survey, which found 29% of LGBT students surveyed reported missing classes at least once in the last month because of feeling unsafe  
A government study suggests the percentage could be lower. A federal study from the Centers for Disease Control and Prevention in 2017 found that 10% of gay, lesbian and bisexual students missed school due to concerns over safety.
12:49 a.m. ET, June 27, 2019
Fact check: De Blasio on crime stats in NYC
In a discussion on guns and crime, New York City Mayor Bill de Blasio said there needs to be a "different conversation about policing that brings police and community together. We've done that in New York City. And we've driven down crime while we've done it." 
Facts First: While New York City's crime statistics have fallen in recent years during de Blasio's time as mayor, crime in New York has been falling for years, and it's unclear to what extent de Blasio's policies have contributed to that decline.
Last year saw the lowest number of serious and violent crime in the modern era, according to the NYPD. The homicide rate remained relatively flat while the number of robberies, burglaries, and shooting incidents all decreased from 2018 compared with 2017, the police department said. 
De Blasio claimed that he has brought police and community together during his time as mayor, but a report from the New York City Police Department's internal Inspector General released Wednesday shows there's still work to be done, making 23 recommendations to the department about how it can improve handling biased policing complaints from its community.
12:19 a.m. ET, June 27, 2019
Fact check: Elizabeth Warren on insurance industry profits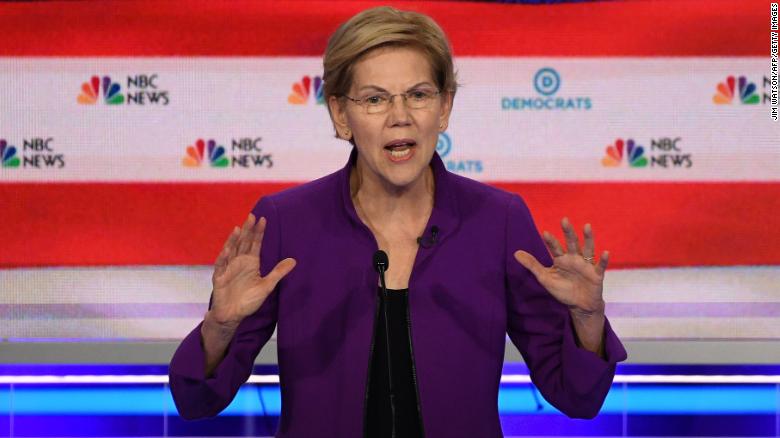 Elizabeth Warren said the insurance industry last year "sucked $23 billion in profits out of the health care system." 
Facts first: It's true. Insurance companies' profits have been booming.
A study by the National Association of Insurance Commissioners shows the private insurance industry has seen "tremendous growth" raking in profits of $23.4 billion in 2018 compared to $16.1 billion the year before. That's the highest profit amount in at least 10 years.
It also shows that those companies' profit margin improved to 3.3% from 2.4% in 2017. 
11:59 p.m. ET, June 26, 2019
Fact check: Elizabeth Warren on a $23 trillion market for "green products"
Elizabeth Warren said that "there's a $23 trillion market coming for green products." 
Facts first: According to a World Bank estimate, that's correct.
Warren was referring to a report by the International Finance Corporation, a division of the World Bank Group, which found that commitments made by emerging economies under the 2015 Paris Climate Agreement potentially will open up to $23 trillion in opportunities for investment in low-carbon technology and infrastructure. 
11:53 p.m. ET, June 26, 2019
Fact check: Cory Booker on violence in his Newark neighborhood
Cory Booker often notes on the campaign trail that he lives in a low-income, inner-city area. During Wednesday night's debate, the former Newark, NJ, mayor said that seven people were shot in his Newark neighborhood last week.  
"I hear gunshots in my neighborhood," Booker said. "I think I'm the only one, I hope I am the only one that had seven people shot in their neighborhood just last week." 
Fact Check: It's sad, and it's true. 
Six people were injured and one man died in two separate shootings in Newark's Central Ward, where Booker lives, the Tuesday before last, according to Newark Public Safety Director Anthony Ambrose. 
Two women were injured and one man was killed in the first shooting, just before 4 p.m., Ambrose said in a press release. Five minutes and about a mile away four men were injured in another shooting, Ambrose said.  
Booker lives just a block away from that first shooting. 
11:45 p.m. ET, June 26, 2019
Fact check: Tim Ryan on 1% owning 90% of wealth
Tim Ryan claimed that "the top 1% control 90% of the wealth."
Facts first: This is incorrect. Recent studies show the wealthiest 1% own around 39% of the country's total wealth.
According to the Center on Budget and Policy Priorities, a nonpartisan research institute, "the share of wealth held by the top 1 percent rose from just under 30 percent in 1989 to nearly 39 percent in 2016."
This concurs with a Federal Reserve study which found that in 2016, the richest 1% controlled 38.6% of wealth in the US.  
According to a 2017 study by NYU economist Edward Wolff, the top 1% own 40% of the wealth in the US.
11:39 p.m. ET, June 26, 2019
Fact check: Cory Booker on gun control's link to violence and suicides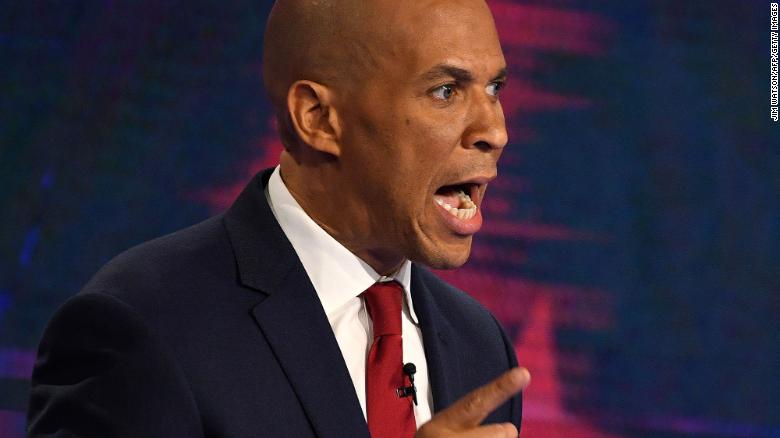 Sen. Cory Booker said at tonight's debate, "If you need a license to drive a car, you should need a license to buy and own a firearm. And not everybody in this field agrees with that, but in states like Connecticut that did that, they saw 40% drops in gun violence and 15% drops in suicides." 
Facts First: There is peer-reviewed academic support for this claim.
Booker was referring to the effects of a 1995 law that required a permit or a license to obtain a firearm, raised the age of people allowed to own guns from 18 to 21, and required 8 hours of gun safety training.
A 2015 study published in the American Journal of Public Health found that the law was associated with a 40% drop in the firearm-related homicide rate.
A 2015 study in the journal Preventive Medicine found that the law decreased the firearm suicide rate by an estimated 15.4%.