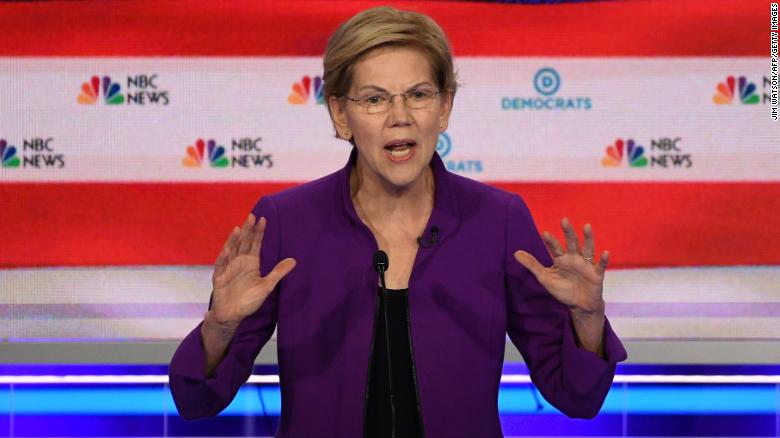 It's the first "raise your hands" moment of the 2020 debate season.
The question: Who would get rid of private health insurance in favor of a national, single-payer plan?
The hands that went up: Sen. Elizabeth Warren and New York Mayor Bill de Blasio
"I'm with Bernie on Medicare for all," Warren said after Sen. Amy Klobuchar, who does not support the plan, argued that a "public option" represented a "bold approach" in its own right.
But Warren, who has said she would be open to more moderate plans, made one of her most aggressive arguments in defense the plan on Wednesday night -- a move that could further narrow the political distance between her and Sen. Bernie Sanders, who will debate tomorrow.
"There are a lot of politicians who say, 'Oh, it's just not possible, we just can't do it, there's a lot of political problems," Warren said, before sharpening her language: "What they're really telling you is they just won't fight for it. Well, health care is a basic human right and I will fight for basic human rights."
The line drew heavy applause. After pushback from other candidates onstage, including former Rep. John Delaney, a vocal critic of Medicare for all, and others arguing in favor of universal coverage -- but without moving to single-payer -- Warren and de Blasio took aim at the insurance industry.
"Private insurance is not working for tens of millions of Americans," de Blasio said, addressing Beto O'Rourke, after the former Texas congressman said he wouldn't eliminate it.