The first Democratic debate, night 1
9:44 p.m. ET, June 26, 2019
Elizabeth Warren: "I'm with Bernie on Medicare for all"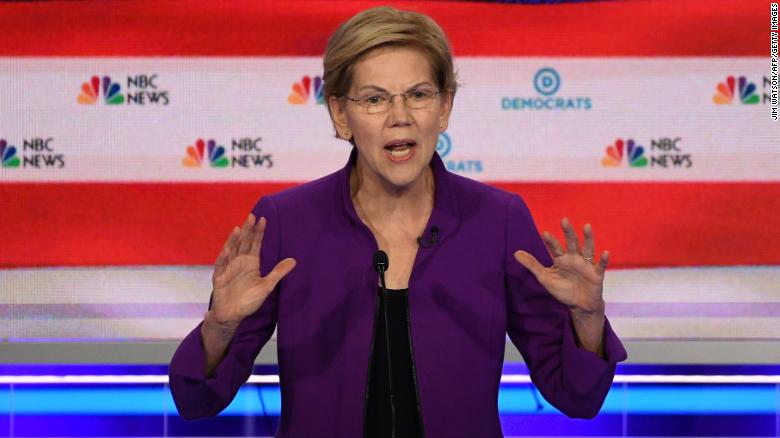 It's the first "raise your hands" moment of the 2020 debate season.
The question: Who would get rid of private health insurance in favor of a national, single-payer plan?
The hands that went up: Sen. Elizabeth Warren and New York Mayor Bill de Blasio
"I'm with Bernie on Medicare for all," Warren said after Sen. Amy Klobuchar, who does not support the plan, argued that a "public option" represented a "bold approach" in its own right.
But Warren, who has said she would be open to more moderate plans, made one of her most aggressive arguments in defense the plan on Wednesday night -- a move that could further narrow the political distance between her and Sen. Bernie Sanders, who will debate tomorrow.
"There are a lot of politicians who say, 'Oh, it's just not possible, we just can't do it, there's a lot of political problems," Warren said, before sharpening her language: "What they're really telling you is they just won't fight for it. Well, health care is a basic human right and I will fight for basic human rights."
The line drew heavy applause. After pushback from other candidates onstage, including former Rep. John Delaney, a vocal critic of Medicare for all, and others arguing in favor of universal coverage -- but without moving to single-payer -- Warren and de Blasio took aim at the insurance industry.
"Private insurance is not working for tens of millions of Americans," de Blasio said, addressing Beto O'Rourke, after the former Texas congressman said he wouldn't eliminate it.
9:56 p.m. ET, June 26, 2019
... And this is what the internet is saying about Beto O'Rourke speaking Spanish
Twitter is already full of the memes.
9:41 p.m. ET, June 26, 2019
Beto O'Rourke switches to Spanish for his first answer
When asked whether he supported a marginal tax rate of 70% on top earners making more than $10 million a year, O'Rourke began his response in English. 
"This economy has got to work for everyone and right now we know that it isn't, and it's going to take all of us coming together to make sure that it does," he said.
He then switched to Spanish, saying, "We need to include each person in the success of this economy. But if we want to do that, we need to include each person in our democracy. Each voter, we need the representation, and each voice, we must listen to."
He then reverted back to English for the rest of his remarks.
O'Rourke made some notable errors, however. For example, he used masculine adjectives to describe "economy" and "democracy," which are feminine nouns in Spanish and he used the verb "to vote" before correcting himself and using the Spanish word for "voter." 
9:40 p.m. ET, June 26, 2019
President Trump is watching the debate. His early review is in: "BORING!"
President Trump has deemed the first Democratic debate a snoozer: "BORING!"
He tweeted as his plane is being refueled in Alaska as he heads to Japan for the G20:
9:37 p.m. ET, June 26, 2019
Bill de Blasio and Beto O'Rourke have the first clash of the night
New York City Mayor Bill de Blasio criticized Beto O'Rourke over the former Texas congressman's approach to health care.
O'Rourke had just explained that he backed a plan that would allow Americans to opt into Medicare, but preserve a role for private insurance.
De Blasio jumped in, saying, "but private insurance is not working for tens of millions of Americans."
The exchange between de Blasio and O'Rourke marked the first clash of the night -- and demonstrated how candidates tried to use the issue of health care to differentiate themselves.
Former Maryland Rep. John Delaney jumped in on O'Rourke's side. "I think we should be the party that keeps what's working and fixes what's broken," he said.
9:23 p.m. ET, June 26, 2019
Here's why people are searching Dictionary.com for "podia" right now
NBC's Brian Williams referenced the lecterns lined up on stage, but he called them "podia" -- a plural term for podium -- and confused a heck of a lot of people.
Enter Dictionary.com:
A podium, per that website, is "a small platform for the conductor of an orchestra, a public speaker, the recipient of a sports medal, etc."
Those aren't that. They're lecterns:
"a stand with a slanted top, used to hold a book, speech, manuscript, etc., at the proper height for a reader or speaker."
9:20 p.m. ET, June 26, 2019
Meanwhile, Kamala Harris is live tweeting this debate
She doesn't take the debate stage until tomorrow night, but Sen. Kamala Harris is definitely watching.
The presidential candidate is rapid-fire tweeting about her opponents now. She sent this after Julián Castro's response about closing the pay gap.
9:17 p.m. ET, June 26, 2019
The response that won Julián Castro major applause
Former Housing and Urban Development Secretary Julián Castro got a strong response from the audience when he pledged to pass the Equal Rights Amendment.
This came in response to a question about what he would do to close the pay gap between men and women.
The Equal Rights Amendment is a proposed amendment to the Constitution that would ensure equal rights – regardless of sex – to all Americas.
9:27 p.m. ET, June 26, 2019
The first question at the first Democratic presidential debate is about the economy
The first question at the first Democratic presidential debate was about the economy, and it was asked of Elizabeth Warren.
Here was the question:
"You have many plans: Free college, free child care, government health care, cancellation of student debt, new taxes, new regulations, the break up of major corporations. But this comes at a time when 71% of Americans say the economy is doing well, including 60% of Democrats. What do you say to those who worry this kind of significant change could be risky to the economy?
As CNN's Athena Jones notes:
No surprise Warren gets the first question — about how she has so many proposals. What does she say to those who feel the significant change she seeks is not risky?
Her well-rehearsed-sounding answer hits all her key points: The economy is working for the wealthy and powerful, and not working for anyone else.