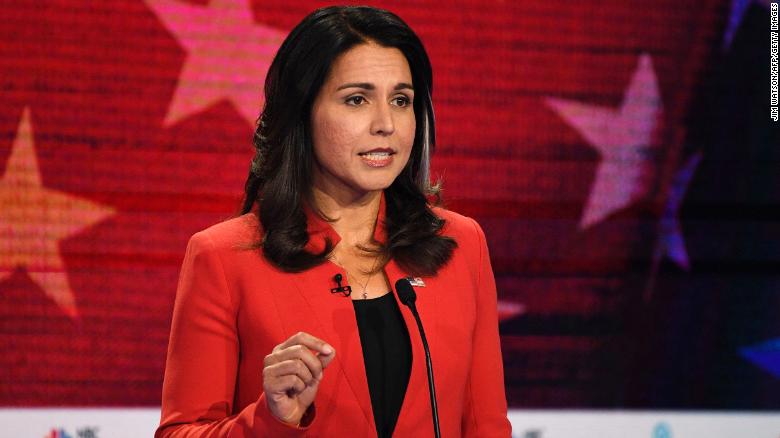 Reps. Tim Ryan and Tulsi Gabbard sparred on Wednesday night over the best strategy in Afghanistan.
"These flare ups distract us from the real problems in the country," Ryan said. "If we're getting drones shot down for $130 million because the president is distracted, that's 130 million that we could be spending in places like Youngstown, Ohio or Flint, Michigan --"
"Congressman Ryan," Gabbard said.
"Or rebuilding--" Ryan continued.
"Is that what you will tell the parents of those two soldiers who were just killed in Afghanistan --'we just have to engage'?" Gabbard, a veteran of the Iraq War, said. 
"As a soldier, I will tell you that answer is unacceptable," she added. "We have to bring our troops home from Afghanistan. We are in a place in Afghanistan where we have lost so many lives. We've spent so much money -- money that's coming out of every one of our pockets money that should be going into communities here at home, meeting the needs of the people here at home. 
Gabbard continued, "We are no better off in Afghanistan today than we were when the war began. This is why it's so important to have a president and commander in chief who knows the cost of war and who's ready to do the job on Day 1, I am ready to do that job when I walk into the Oval Office."
Ryan replied, "I don't want to be engaged. I wish we were spending all this money in places that I've represented that have been completely forgotten and we're rebuilding. But the reality of it is, if the United States doesn't engage, the Taliban will grow and they will have bigger bolder terrorist acts. We have got to have some presence there --" 
"The Taliban has been there long before we became in, they'll be there long after we leave," Gabbard said. "We can not keep US troops deployed to Afghanistan thinking that we're going to somehow squash this Taliban that has been there--"
Ryan said, "I didn't say squash them. When we weren't in there, they started flying planes into our buildings. So I'm just saying right now--"
Gabbard replied, "The Taliban didn't attack us on 9/11, Al-Qaeda did. Al-Qaeda attacked us on 911, that's why I and so many people joined the military to fight Al-Qaeda, not the Taliban."
Ryan said, "I understand that, the Taliban was protecting those people who were plotting against us. All I'm saying is, if we want to go in to elections and we want to say that we got a withdrawal from the world, that's what President Trump is saying. We can't, I would love for us to."