The first Democratic debate, night 1
10:29 p.m. ET, June 26, 2019
Tulsi Gabbard's sister accuses NBC of favoring Elizabeth Warren in the debate
Rep. Tulsi Gabbard's sister apparently used the candidate's Twitter account to share her thoughts on who she thought was the favored most in tonight's debate.
Gubbard's sister, Vrindavan, accused MSNBC of favoring Elizabeth Warren, saying "They're giving her more time than all the other candidates combined. They aren't giving any time to Tulsi at all."
Read her tweet:
10:24 p.m. ET, June 26, 2019
John Delaney has been running for two years. Tonight, it shows.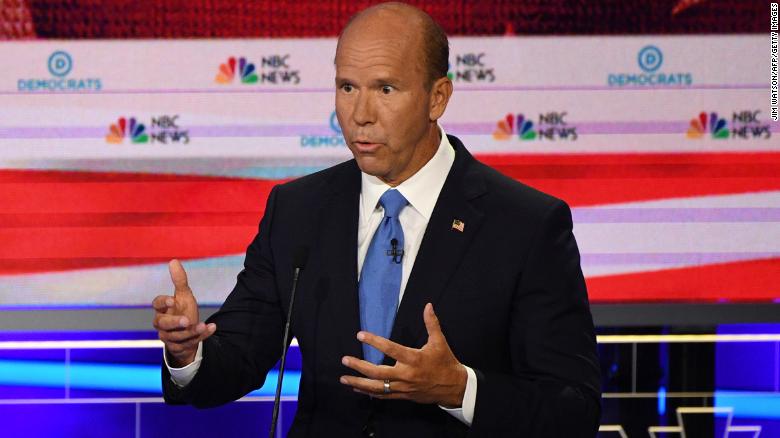 John Delaney has been running for president longer than any of his Democratic rivals, declaring his candidacy back in 2017. (Yes, you read that right).
Tonight, it showed.
The former Maryland congressman has rarely hesitated to jump into the discussion. He may be on the far side of the debate stage, but has appeared in the center of several conversations.
His sharpest answer, perhaps, was explaining why he believes Medicare for All just isn't feasible.
So what's causing Delaney's spark tonight?
He watched old presidential debates, Republican and Democratic ones alike, dating back to 2004. He practiced various scenarios – against his rivals – as soon as the lineups were announced.
It's difficult to stand out in such a remarkably crowded field of candidates. But tonight Delaney shows that batting practice – along with countless hours on the road, taking questions from voters while no one is watching – can also pay dividends.
10:20 p.m. ET, June 26, 2019
Why Cory Booker keeps talking about Newark
Cory Booker is spending a lot of time tonight to talk about how his inner-city neighborhood in Newark helps inform his views on issues, from the economy to guns.
As he often notes on the campaign trail and alluded to tonight, he's the only candidate who lives in such a low-income, majority-minority community.
10:13 p.m. ET, June 26, 2019
Julián Castro and Beto O'Rourke clash over immigration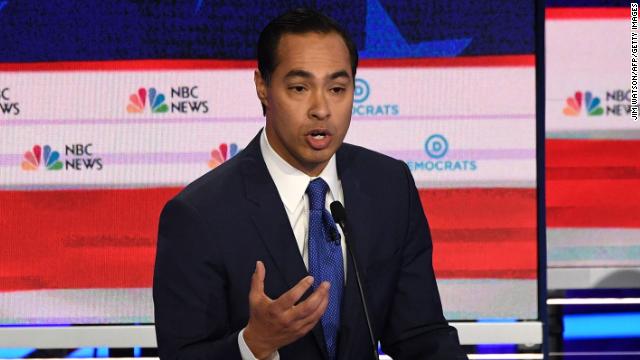 Julián Castro and Beto O'Rourke clashed over immigration, with the two Texas Democrats going after each other on whether or not coming across the border illegally should be a crime.
The back and forth between Castro and O'Rourke was – by far – the most direct and personal clashes of the first hour of the Democratic debate.
Castro's immigration plan, which he rolled out earlier this year, would decriminalize crossing the border by repealing Section 1325 of the Immigration and Nationality Act, which was used by the George W. Bush administration to apply a criminal violation -- as opposed to a civil infraction -- to anyone entering the United States illegally. The decades-old law was used by the Bush administration to attempt to curb the number of illegal entrances into the United States, something that Castro wrote needs to end.
O'Rourke has said he does not support doing that but does want a "comprehensive re-write" of immigration laws and backs plans to "ensure you don't criminalize those who are seeking asylum."
Castro jumped on these comments, telling O'Rourke that "if you did your homework on this issue" he would understand that what he is talking about is different than what Castro is proposing.
Castro brought up comments O'Rourke made on CNN earlier this month, when he told CNN's Jake Tapper that he did not think the law should be repealed.
"Let's be very clear, the reason that they are separating these little children from their families is that they are using section 1325 of that act, which criminalized crossing over the border, to incarcerate the parents and then separate them," Castro said. "Some of us on this stage have called to end that section, to terminate it, some, like Congressman O'Rourke, have not."
Castro added: "And I want to challenge all of the candidates to do that. I just think it is a mistake and I think if you truly want to change the system then we have to repeal that section."
10:16 p.m. ET, June 26, 2019
Whoops! The second half of debate starts with mic issues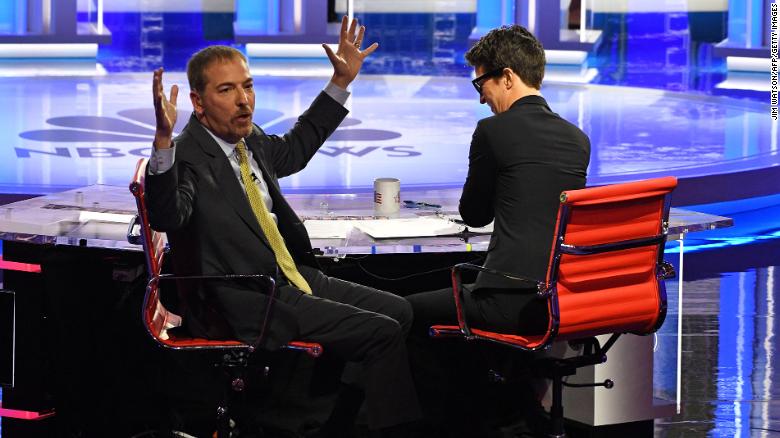 The second half of the debate didn't seem to go quite as planned.
As NBC's Chuck Todd asked the Democratic candidates about their plans on guns, talking could be heard in the background.
That prompted some of the candidates to say that their mics were on.
Todd quickly replied, "Yeah, everybody's mics are on."
He went on to say, "I think we had a little mic issue," and carried on with his question.
But the mic issues continued, so Todd was forced to cut to a commercial break.
Todd pointed out that his colleagues had not turned off their mics backstage.
President Trump, ever the TV producer, slammed NBC News and MSNBC for the "technical breakdown" immediately after.
10:06 p.m. ET, June 26, 2019
It's halftime! Here's what has happened so far.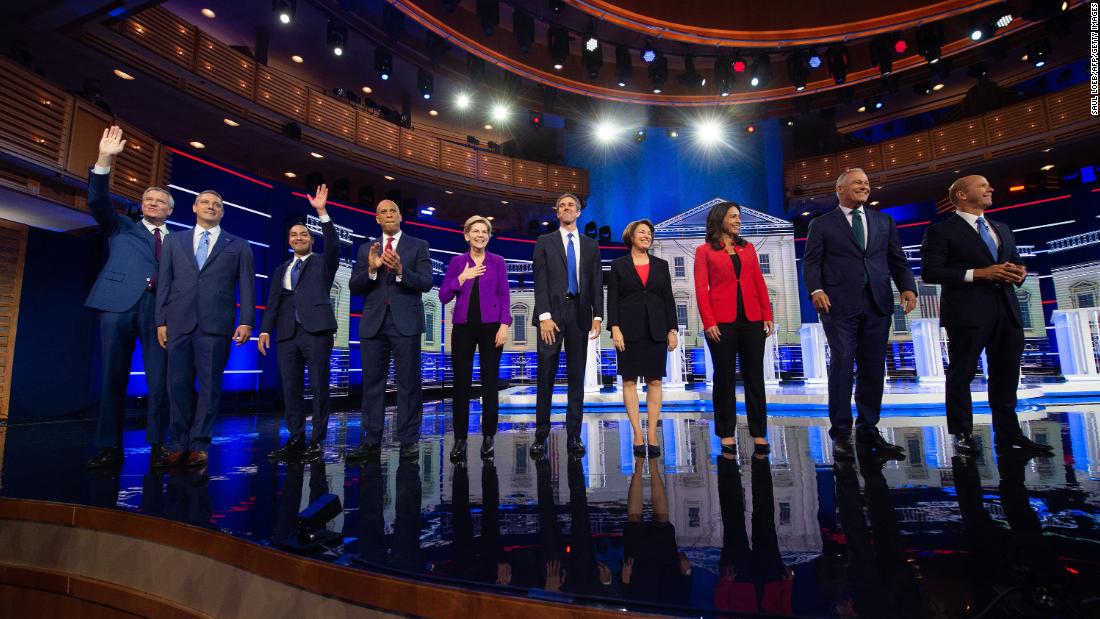 Elizabeth Warren was proven to be the pace setter in the first 25% of the debate tonight. It started on her economic message, Amy Klobuchar was then asked about her free college plan, Cory Booker asked about breaking up tech companies. Warren policies were setting the debate framework for the first half of the first half.
Bill De Blasio is showing what it means to go all New York in a debate! He is all in on trying to get a slice of that Sanders/Warren battle for the progressive/left wing of the party. He went after Beto O'Rourke, Booker, Klobuchar all in his first answer. He talked directly to Trump voters on immigration – blaming the corporations for their anxiety, not the immigrants.
Klobuchar reminded the audience of female power. She brushed back Jay Inslee on choice with her line that "there are three women on this stage" who have fought for abortion rights. A simple but effective reminder that there are more women on this debate stage and the one tomorrow night than you've ever seen on a presidential debate stage.
The Julián Castro vs. Beto O'Rourke tension comes alive over immigration. That was Texas-size tension. Castro's goal was to poke holes in O'Rourke on immigration – an issue that he has used at the center of his political identity.
Klobuchar made sure to invoke Trump in nearly every single answer. This seems to be her electability play – showing she can take the fight to the President on every answer.
9:53 p.m. ET, June 26, 2019
Amy Klobuchar offers distinctions but avoids tough medicine to rivals
Sen. Amy Klobuchar has often stood as something of a reality check to some of the rosiest proposals offered by her Democratic rivals, telling audiences in recent months that it's just not possible to offer free college, Medicare-for-All and more.
But tonight, Klobuchar seemed to have a harder time saying no.
At a CNN Town Hall meeting in February, Klobuchar delivered a memorable line on free college, saying: "If I was a magic genie and could afford to give that to everyone, I would."
She was not as punchy tonight. She did not draw sharp distinctions on free college with Sen. Elizabeth Warren, who stood only a few feet away. 
On health care, Klobuchar did stand up to several of her rivals and say it was neither feasible nor wise to eliminate private insurance. It was one of the biggest distinctions of the night, even though she decided against calling out any of her competitors by name.
"I am just simply concerned about kicking half of America off of their health insurance in four years," Klobuchar said, noting that so many people are happy with their employer-provided health insurance.
A few moments later, when Warren pushed back and said politicians simply have to fight harder to realize real "structural change," Klobuchar stood silent. She raised her hand to try and object, but couldn't jump back into the conversation.
Klobuchar made the calculation that at this moment, with Warren rising, tough medicine may not be what the party's progressive activists are thirsting for.
So she settled for this down-home line instead, calling some of the proposals: "All foam and no beer."