CNN Democratic debate night 2
9:51 p.m. ET, July 31, 2019
Fact check: Kamala Harris on Biden's health care plan leaving out 10 million Americans
Sen. Kamala Harris attacked former Vice President Joe Biden's health care plan, saying it "leaves out almost 10 million Americans." 
Facts first: Harris is right. 
Biden's plan -- which builds on the Affordable Care Act by creating a government-backed health insurance option and increasing Obamacare's federal subsidies – would insure more than an estimated 97% of Americans, according to his plan. 
That means out of the population of 327 million in the country, roughly 10 million would be left without any health insurance. 
However, it's unclear exactly who would be uninsured. But under Biden's plan, families buying coverage on the Obamacare exchanges would spend no more than 8.5% of their income on health insurance – a sum that might be too pricey for some Americans.
Watch the moment:
9:43 p.m. ET, July 31, 2019
Democratic candidates call out Bill de Blasio for not firing officer accused of killing Eric Garner
The police killing of Eric Garner is an open wound in New York City, where Mayor Bill de Blasio has been under fire for not taking action against the officer, Daniel Pantaleo, who choked Garner to death.
On Wednesday night, that debate reached the 2020 stage.
"That officer should be off the street," Castro said.
"He should be fired. He should be fired now," Gillibrand said.
Earlier in the night, protesters disrupted the debate demanding Pantaleo's firing.
Here in Detroit, De Blasio answered in the same he has back in New York, pointing to an internal review that is now winding down.
"There is going to be justice in the next 30 days," de Blasio said, pivoting to the decision by the Trump Justice Department not to bring charges against Pantaleo.
De Blasio's political bind in New York City, where he is a frequent target of ridicule from the police union -- which has a truck outside the debate mocking him -- was always going to follow him into this race. He has argued that he cannot fire the officer. (In all likelihood, taking that step would have led to a lawsuit and an escalation of strife with the NYPD.)
But he is right, the likelihood is that Pantaleo will lose his job when the current investigation ends in the coming months.
Watch the moment:
9:39 p.m. ET, July 31, 2019
Fact check: Michael Bennet on Democrats voting for a pathway to citizenship
Sen. Michael Bennet said that all Democrats voted to back a pathway to citizenship for 11 million people and spending $46 billion on border security. 
Facts first: This is true. All Senate Democrats and 14 Republicans voted for the Senate immigration bill that passed in 2013. 
Bennet was one of eight senators — four Republicans and four Democrats — who became the bipartisan group known as the "gang of eight" that hammered out an immigration compromise bill in 2013. The legislation, which included a pathway to citizenship, passed the Senate, 68-32, and Bennet is correct that all 54 Senate Democrats voted for it, along with 14 Republicans. A majority of Republicans, 32, opposed the bill. 
While the bill passed the Senate, then-House Speaker John Boehner did not take it up in the Republican controlled House, and the legislation died at the end of 2014. It's not clear whether Bennet and the other senators in the 2020 presidential race could strike a similar compromise or another major immigration bill in today's Senate.
9:36 p.m. ET, July 31, 2019
Here's who has talked the most so far
We're an hour and a half into the debate, and so far former Vice President Joe Biden has had the most speaking time, with just more than 13 minutes.
Sen. Kamala Harris has had almost 12 minutes so far.
Here's a look at where all the candidates stand: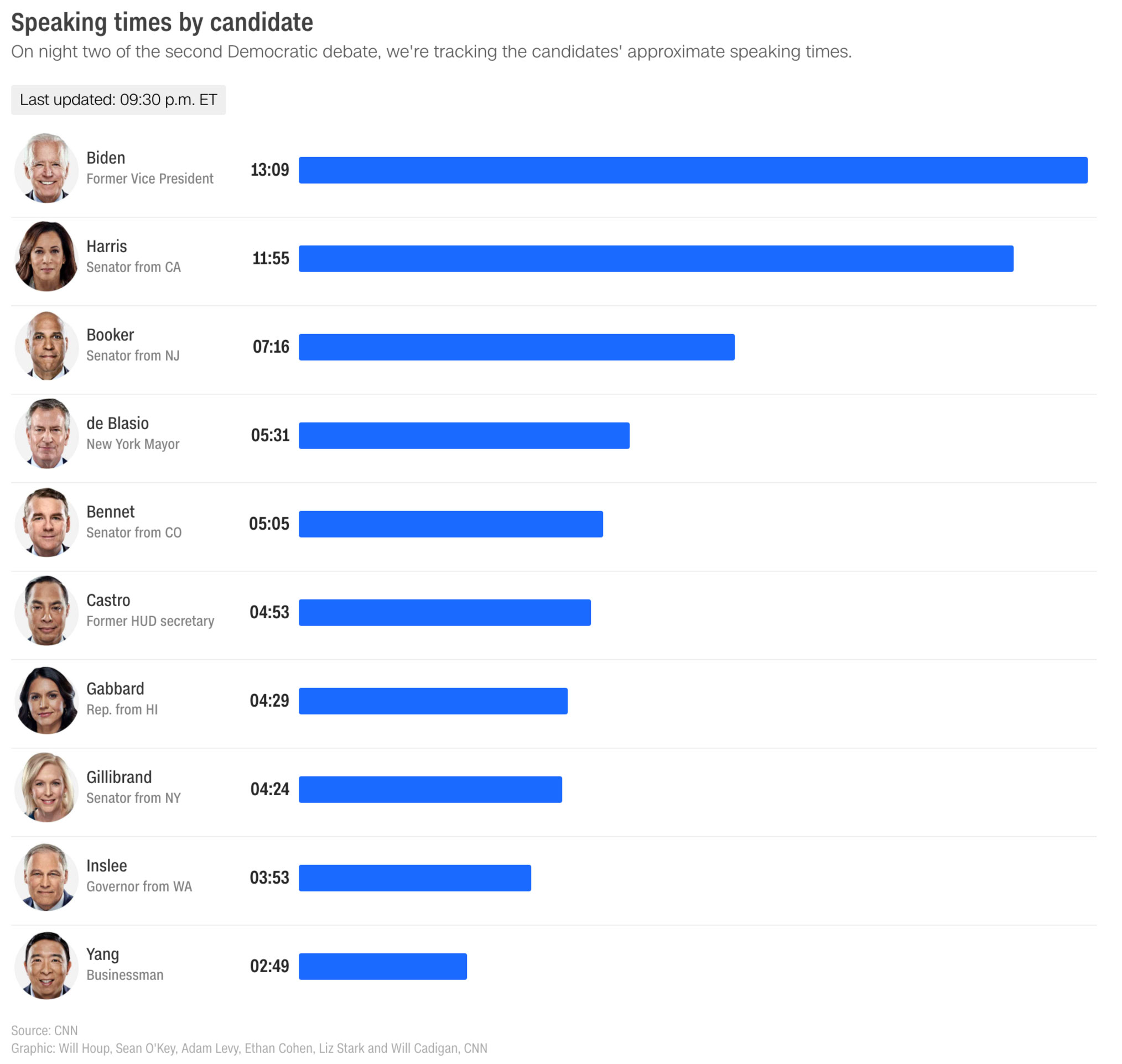 10:01 p.m. ET, July 31, 2019
Why this conversation about criminal justice reform just got heated
New Jersey Sen. Cory Booker challenged former Vice President Joe Biden on his new criminal justice reform plan.
The exchange between the two presidential hopefuls got heated after Biden was asked to respond to Booker's criticism of his plan as "an inadequate solution to what is a raging crisis in our country."
"I think he is wrong. I think we should work together. He has a similar plan," Biden said.
Booker then challenged Biden's record on crime:
"My response is that this is a crisis in our country because we have treated issues of race and poverty, mental and addiction by locking people up and not lifting them up. And Mr. Vice President has said that since the 1970s, every major crime bill, every crime bill, major and minor, has had his name on it. And sir, those are your words, not mine. And this is one of those instances where the house was set on fire and you claimed responsibility for those laws. And you can't just now come out with a plan to put out that fire. We have got to have far more bold action on criminal justice reform," Booker said.
Biden jumped back and tried to defend his record by attacking Booker's record as mayor:
"The bills that the president -- excuse me, the future president, that the senator is talking about, are bills that were passed years ago and passed overwhelming. Since 2007, I, for example, tried to get the crack powder cocaine totally disparity, totally eliminated. In 2007, you became mayor and you had a police department that you went out and hired Rudy Giuliani's guy and you engaged in stop and frisk. You had 75% of those stops reviewed as illegal."
But Booker shot back at Biden.
"We have a system right now that's broken. And if you want to compare records and I'm shocked that you do, I am happy to do that. Because all the problems that he is talking about that he created, I actually led the bill that got passed into law that reverses the damages that your bills that you were ... bragging calling it the Biden crime bill up until 2015," he said.
Watch the moment:
9:48 p.m. ET, July 31, 2019
Harris and Biden are talking about busing. Here's what that means.
Sen. Kamala Harris has been a vocal critic of former Vice President Joe Biden's position on busing in the 1970s — but Biden says the two actually share the same opinions on the issue.
They're currently debating the issue.
"Had those segregationists had their way, I would not be a member of the United States senate, Cory booker would not be a member of the United States senate and president Obama would not have been in a position to nominate him to the place he holds," Harris said.
Some background on what busing means: The 1954 US Supreme Court ruling in Brown v. Board of Education brought an end to legal racial segregation in schools. But because of demographic trends, white flight to the suburbs and discriminatory housing practices like redlining, many neighborhoods across the country remained segregated. Combined with how cities drew school district lines, that meant schools remained segregated, too.
Enter busing.
After the 1971 Supreme Court ruling in Swann v. Charlotte-Mecklenburg Board of Education, lower courts began mandating busing to effectively desegregate schools. Black students started taking school buses to majority-white schools and white students to majority-black schools, often in neighborhoods far from where they lived
It became one of the most controversial topics in US politics. Supporters of busing argued that the practice was necessary to effectively integrate schools — and help correct the damaging legacy of school segregation. 
But opponents of busing, many of whom were also opponents of school desegregation, argued that children were being transported to unsafe neighborhoods, and they objected to the long commutes children experienced. Others, including then-Sen. Biden, said that busing forced schools to fulfill racial quotas and did not achieve equal opportunity for students.
Watch the moment:
9:37 p.m. ET, July 31, 2019
Fact check: Andrew Yang on Amazon's effect on retail commerce
Andrew Yang said: "Raise your hand in the crowd if you've seen stores closing where you live. It is not just you. Amazon is closing 30% of America's stores and malls."  
Facts first: Yang is right that up to 30% of malls may close in the next few years, but that's not all because of Amazon.  
Malls have been closing fast, and will continue to do so, according to Wall Street retail analysts. A report from Credit Suisse in 2017 projected that between 20% and 25% of malls would close within five years. Cowen & Company estimated that 20% of stores in large mall chains will close, and that all class C and D malls — which comprise about 30% of the total — are at dire risk.    
E-commerce has played a role in the shrinkage of brick and mortar stores, rising from less than 1% of all retail in 1999 to 10.2% now, according to the Census Bureau. Amazon comprises nearly half of online retail in the United States, according to EMarketer.  
But retail has also been challenged by overcapacity, given a years-long retail boom that saw real estate developers building more malls than consumers really wanted. That bubble is now bursting, as consumer preferences have shifted away from enclosed malls. Also, many large chains — from Payless Shoes to Toys "R" Us — have slipped into bankruptcy after being acquired by private equity firms that loaded them up with debt.   
9:36 p.m. ET, July 31, 2019
Booker tells Biden: "You're dipping into the Kool-Aid and you don't even know the flavor"
Sen. Cory Booker, while debating criminal justice reform with Joe Biden, criticized the former vice president with this line:
"There's a saying in my community that you're dipping into the Kool-Aid and you don't even know the flavor," Booker said.
"You need to come to the city of Newark and see the reforms we put in place," Booker, the former mayor of Newark, New Jersey, said.
Watch the moment:
9:34 p.m. ET, July 31, 2019
Biden is on the defense over Obama-era deportations: "You can't have it both ways"
Joe Biden -- who has placed his time as Barack Obama's vice president at the center of his campaign -- struggled to answer Democratic foes who criticized Obama-era deportations of undocumented immigrants.
Biden was attacked by New Jersey Sen. Cory Booker, New York City Mayor Bill de Blasio and former Housing and Urban Development Secretary Julián Castro -- who, like Biden, served in Obama's administration.
"It looks like one of us has learned the lessons of the past and one of us hasn't," Castro said to Biden. "We need someone who actually has guts on this issue."
De Blasio pressed Biden on whether he counseled Obama to halt the deportations.
"Did you say those deportations were a good idea or did you go to the president and say, this is a mistake, we shouldn't do it?" de Blasio asked.
Biden said he wouldn't talk publicly about the advice he gave Obama privately on the issue -- and that's when Booker piled on.
"You can't have it both ways," Booker said. "You invoke President Obama more than anyone in this campaign; you can't do it when it's convenient and then dodge it when it's not."
Watch the moment: