CNN Democratic debate night 1
9:44 p.m. ET, July 30, 2019
Warren criticizes moderate rivals: "I know how to fight, and I know how to win"
Nearly an hour in, Elizabeth Warren decided she'd heard enough from her -- and Sanders -- moderate rivals.
"I don't know why anyone goes to the trouble to run for president to talk about what we can't do and what we won't fight for," Warren said, after another protracted exchange over whether the progressive agenda was realistic.
Her remark sprung from an exchange over electability centered on Sanders. But as it expanded to include many of the policies that she too supports, Warren dove right in.
Minutes earlier, she also offered a broader counterpoint to critics who worry that the party will hand Trump re-election in 2020 if Democrats move too far left.
"I know how to fight and I know how to win," she said.
"I get it there is a lot at stake and people are scared," Warren said. "But we can't choose a candidate we don't believe in just because we are scared."
10:04 p.m. ET, July 30, 2019
Fact check: Buttigieg's climate crisis claim likely comes from a UN report
Pete Buttigieg said that "Science tells us we have 12 years before we reach the horizon of catastrophe when it comes to our climate."  
Facts First: Buttigieg is likely referring here to the definitive UN report that put the impacts of the climate crisis into stark relief.   
The report did not set a 12-year deadline for "the horizon of catastrophe," though some politicians and media outlets have characterized it as such.  
The science that Buttigieg was referring to comes from the United Nations Intergovernmental Panel on Climate Change (IPCC) report published in 2018. 
The report was created to assess the impact of global warming and predicted what could happen if the planet warmed to 1.5 degrees Celsius above pre-industrial levels. The report did look at what could happen in 2030, 12 years from the date of publication, but the authors of the report have said that they picked that date to be helpful countries that had promised to meet deadlines to reduce carbon emissions set under the Paris climate accord. 
The report did find that if the planet was able to keep warming to 1.5 degrees Celsius or under, countries would have to reduce about 45% of human-caused carbon dioxide emissions by 2030.  
9:29 p.m. ET, July 30, 2019
Why Hickenlooper called out Sanders for throwing up his hands
John Hickenlooper called out Bernie Sanders for throwing up his hands in an awkward exchange over the Vermont senator's policies.
It started when Hickenlooper explained why he thought Sanders' policies were too extreme for the White House.
"You might as well FedEx the election to Donald Trump. I think we have to focus on where Donald Trump is failing," Hickenlooper said tonight.
But Sanders didn't agree.
"Well, the truth is that every credible poll that I have seen has me beating Donald Trump, including the battleground states of Michigan, where I won the Democratic primary; Wisconsin, where I won the Democratic primary, and Pennsylvania. And the reason we are going to defeat Trump and beat him badly is that he is a fraud and a phony, and we're going to expose him for what he is," he said.
That's when Hickenlopper chimed in and said, "So again, I think if we're going to force Americans to make these radical changes, they're not going to go along."
Sanders then threw up hands, prompting Hickenlooper to say, "Throw your hands up..."
Sanders snapped back, saying, "I will."
Watch the moment:
9:22 p.m. ET, July 30, 2019
This is the Philadelphia shooting that just came up in a question about gun control
CNN's Don Lemon just brought up the recent shooting death of a 21-year-old rapper in Philadelphia as he asked candidates about gun violence in America.
"Let's turn now to the issue of gun violence. There are three large-scale shootings this past weekend in America: At a park in Brooklyn, on the streets of Philadelphia and one that left three dead and 12 injured at a food festival in Gilroy, California," Lemon said.
The Brooklyn shooting killed one, while the Gilroy Garlic Festival shooting left three dead.
The third shooting that Lemon alluded to was a drive-by shooting in Philadelphia.
Ezra Weah, also known as rapper Bankroll Gambino Weah, was shot and killed, according to 3 CBS Philly. Another five people were taken to the hospital after the shooting.
9:16 p.m. ET, July 30, 2019
Progressives split with moderates over decriminalizing the border
Democrats split tonight on whether to decriminalize the border.
Massachusetts Sen. Elizabeth Warren said the current law "has given Donald Trump the tool to break families apart." Vermont Sen. Bernie Sanders also said he would decriminalize crossing the border.
But more moderate candidates said they would retain laws against crossing the border illegally.
"We can argue over the finer points of which parts should be handled by civil law and criminal law," Mayor Pete Buttigieg said.
He later added: "If fraud is involved, that's suitable for the criminal statute. If not, it should be handled under civil law."
Former Texas Rep. Beto O'Rourke said he would waive green card fees, give so-called "Dreamers" -- undocumented citizens who were brought into the US as children -- citizenship, ease the process of seeking asylum and aid struggling Central American countries.
"Then, I expect that people will come here, follow our laws, and we reserve the right to criminally prosecute them if they do not," he said.
Former Colorado Gov. John Hickenlooper said: "I agree that we need to secure borders. There is no question about that. The frustration with what's going on in Washington is they are kicking the ball back and forth. Secure the borders and make sure whatever law we have doesn't allow children to be snatched from parents and put in cages."
9:03 p.m. ET, July 30, 2019
Here's who has talked the most in the first hour
As the first group of candidates takes the stage for the CNN Democratic debate, we're tracking speaking times by candidate.
The graphic below will be updated throughout the debate.
Here's where things stand as of 8:53 p.m. ET: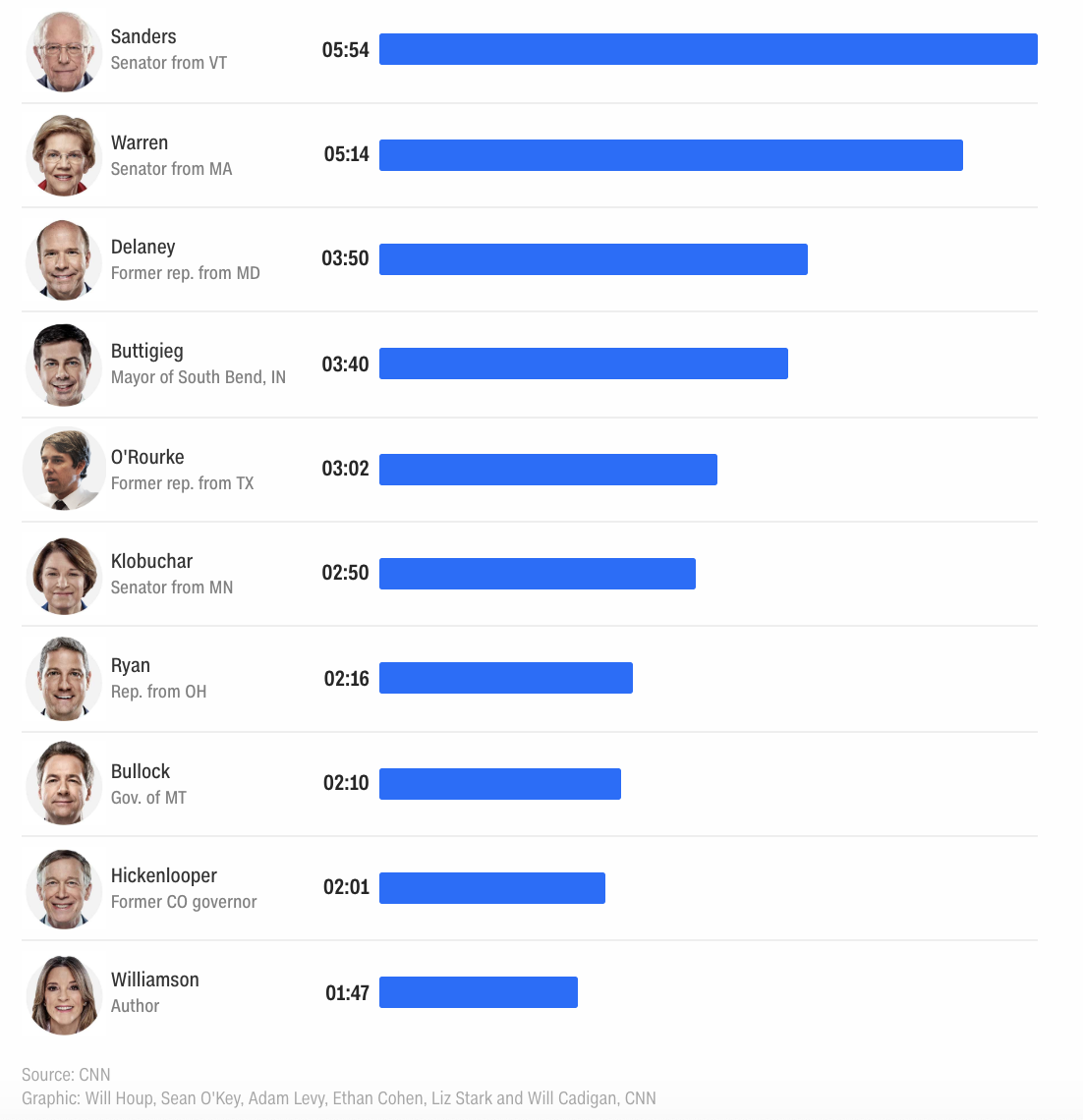 9:16 p.m. ET, July 30, 2019
Fact check: Sanders said Amazon doesn't pay federal income taxes. He's right (for the past 2 years).
Sen. Bernie Sanders claimed that Amazon pays not "one nickel" in federal income taxes. 
"Companies like Amazon that made billions in profits did not pay one nickel in federal income tax." 
Facts First: Sanders is correct — for the previous two tax years, Amazon's own financial filings showed that it expected to receive money back from the federal government, not that it owed money. 
According to an analysis by the Institute on Taxation and Economic Policy for the second year running, Amazon made a profit of more than $11 billion in 2018, but reported a $129 million tax rebate from the federal government.
Amazon does pay state taxes, and has also paid federal taxes in the past. The Wall Street Journal reported recently that Amazon's overall tax rate from 2012 through 2018 was 8%."From 2012 through 2018, Amazon reported $25.4 billion in pretax US income and current federal tax provisions totaling $1.9 billion," the Journal reported. "That is an 8% tax rate — low, but not zero or negative. Looking back further, since 2002, Amazon has earned $27.7 billion in global pretax profits and paid $3.6 billion in global cash income taxes, a 13% tax rate." 
Amazon's SEC filings in 2017 show it did not expect to owe any federal tax, and in fact expected to get a $137 million refund from the federal government. It did, however, say it expected to pay $211 million to states. 
9:01 p.m. ET, July 30, 2019
Bernie Sanders defends Medicare for All: "I wrote the damn bill!"
Rep. Tim Ryan said Sen. Bernie Sanders' promises around "Medicare for All" were wrong, and that maybe the Vermont senator wasn't clear on the numbers.
Sanders shot back:
I do know that. I wrote the damn bill.
Ryan was one of at least four other moderates on stage to attack Sanders – and Sen. Elizabeth Warren to a lesser extent – over the single-payer proposal drafted by Sanders and his team.
During another tense exchange over the plan, Delaney suggested that Sanders and Warren simply misunderstood the health care system.
"I don't think my colleagues understand the business," Delaney said.
Sanders cut him off, disputing Delaney's framing: "It's not a business," he said.
This goes to the heart of the Medicare for All debate. The two sides are talking a lot, but largely past each other. Sanders and Warren want to remove the profit-motive from the system, to take the "business" out of health care. The moderates don't think that's feasible and believe the private insurance industry is inextricable from the system -- and necessary for delivering care to Americans.
Watch the moment:
9:06 p.m. ET, July 30, 2019
Warren says she'd decriminalize illegal border crossings
Sen. Elizabeth Warren defended her position that making border crossings a crime is unnecessary.
"The problem is that right now, the decriminalization statute is what giving Donald Trump and the opportunity to take them away from their parents. It's what gives him the ability to lock up people at our borders. We need to continue to have border security, and we can do that. But what we can't do is not live our values."
CNN's Dana Bash then asked this follow-up question: "Just to clarify, would you decriminalize illegal border crossings?"
"Yes," Warren said.
Watch the moment: