CNN Democratic debate night 1
7:46 p.m. ET, July 30, 2019
These are the topics people want to hear about the most
CNN asked our readers to submit their top debate topic for CNN's Democratic presidential debates Tuesday and Wednesday.
With nearly 50,000 responses, climate crisis was the top topic, followed by the economy and health care.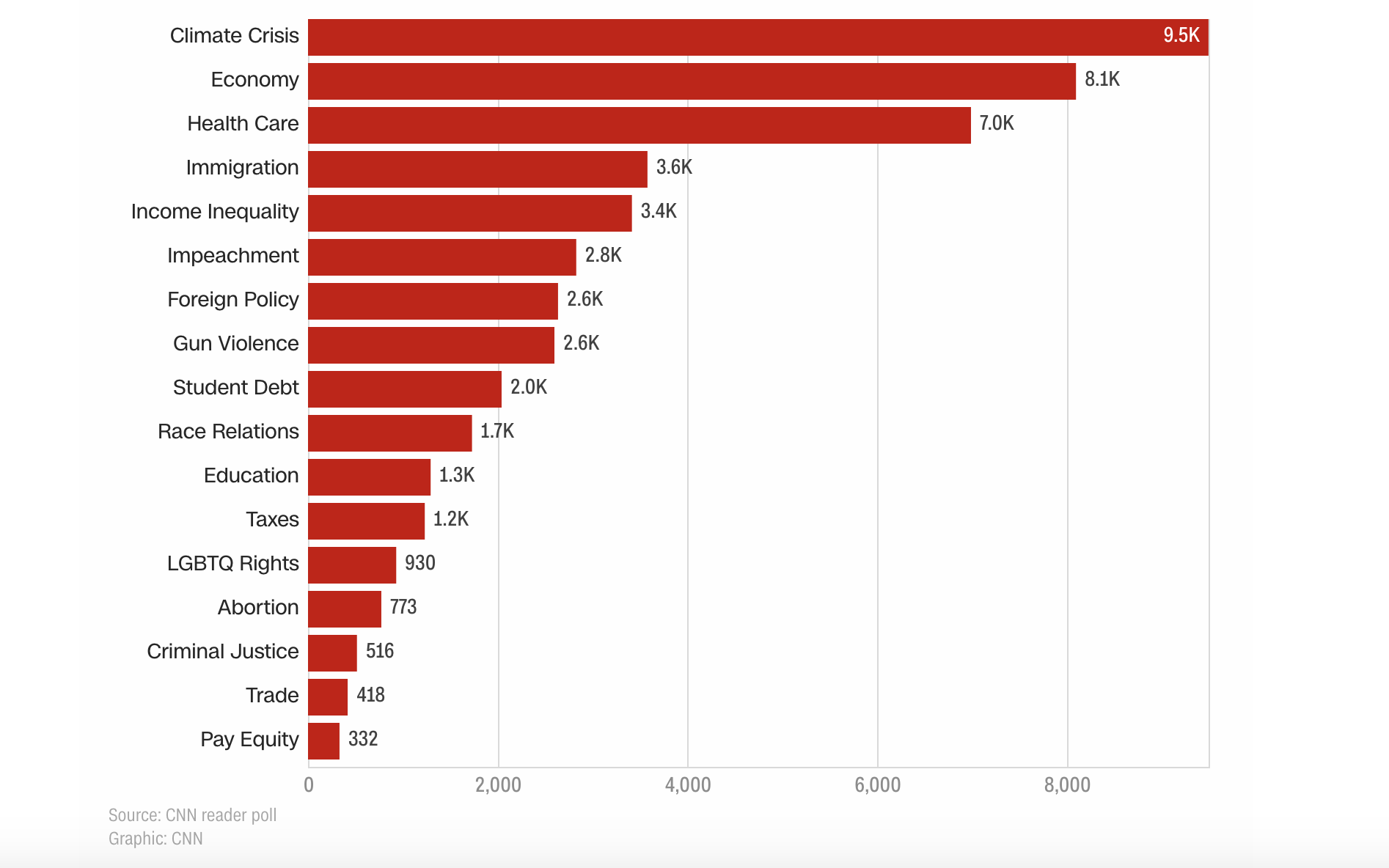 7:41 p.m. ET, July 30, 2019
Pete Buttigieg plays multiple instruments, including the Didgeridoo
Pete Buttigieg plays the piano, guitar and several instruments including the Didgeridoo — a long wooden trumpet believed to have originated by Indigenous Australians in northern Australia.
Buttigieg is in his second term as mayor. He served as an intelligence officer in the Navy Reserve and was deployed to Afghanistan. He's positioned himself as a moderate in the field, suggesting that his opponents' proposals for universal health coverage and free college tuition aren't realistic.
7:39 p.m. ET, July 30, 2019
Marianne Williamson officiated Elizabeth Taylor's wedding at Neverland Ranch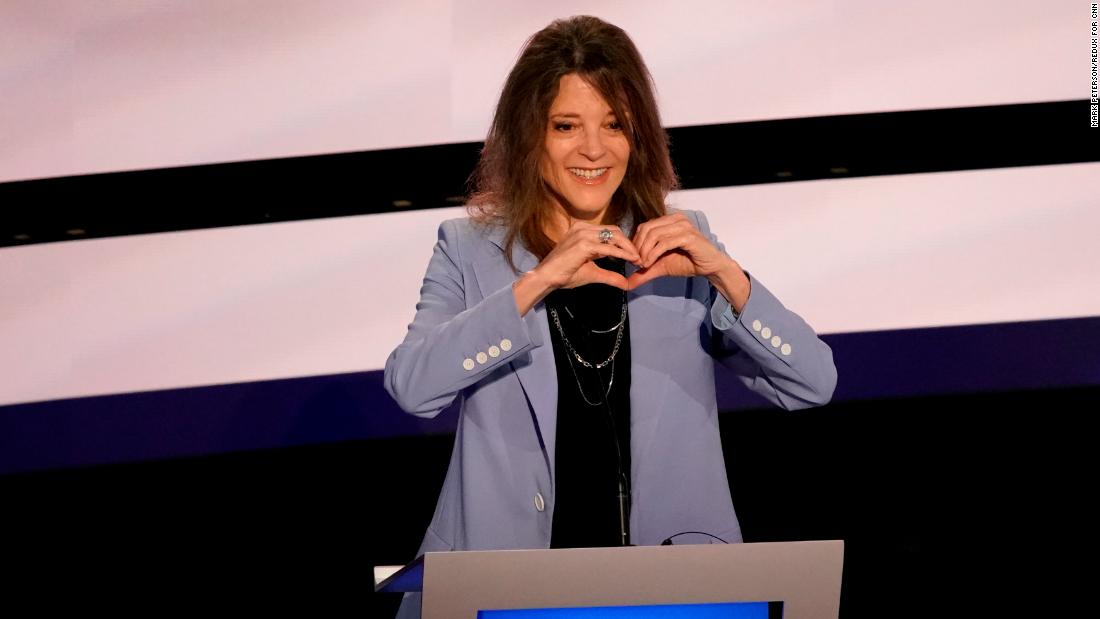 Marianne Williamson officiated Elizabeth Taylor's marriage to her seventh husband, Larry Fortensky, at Michael Jackson's Neverland Ranch in 1991. Taylor and Fortensky split after five years of marriage.
7:37 p.m. ET, July 30, 2019
John Delaney likes to workout — a lot
John Delaney knows his way around a gym. He swims, lifts weights and is one of the most in-shape candidates in the field.
Delaney, who served three terms in Congress before leaving office in January, announced his presidential candidacy in 2017. He previously owned a health care company and has campaigned as a moderate, focusing on a proposal to expand access to health coverage using Obamacare and existing insurance markets rather than upending the system.
7:34 p.m. ET, July 30, 2019
Elizabeth Warren takes tea, not coffee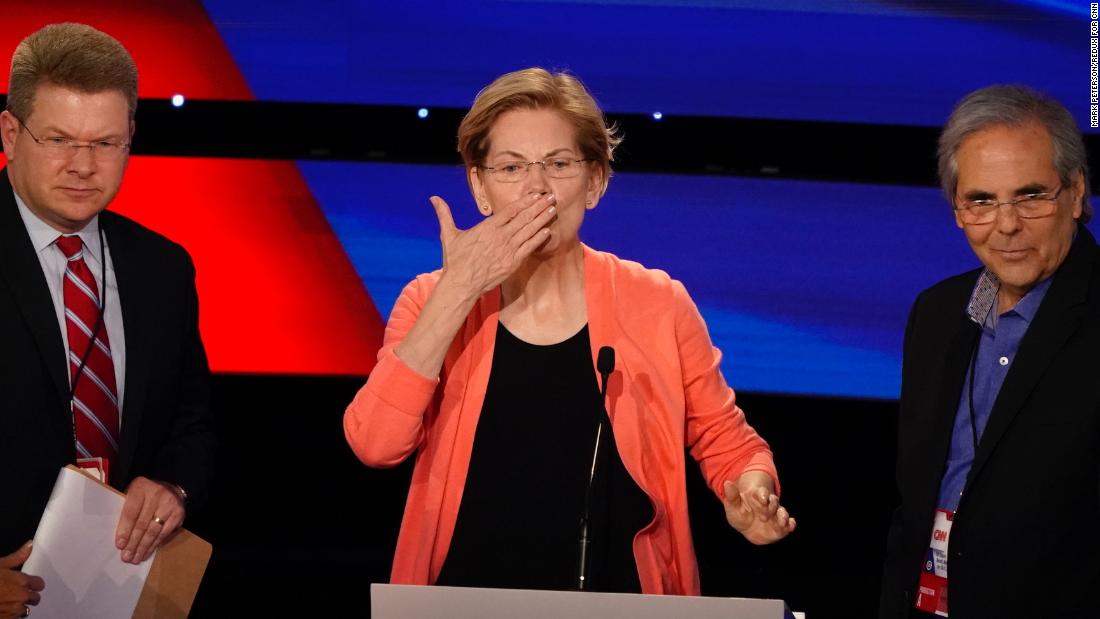 Elizabeth Warren does not drink coffee — she gets her caffeine from tea, instead. Her order: Black iced tea with extra ice.
Warren used to be conservative. This changed her mind:
7:32 p.m. ET, July 30, 2019
Bernie Sanders' strategy tonight: "Lump Biden in" with moderates on stage
For weeks now, Bernie Sanders and Joe Biden have steadily escalated their fight, trading long-distance criticism over health care and other matters.
They won't be side-by-side tonight, but that doesn't mean Sanders won't invoke Biden's name. 
A person who helped Sanders prepare for the debate said the Vermont senator may mention Biden, but in a very specific way: comparing him to the moderates on stage who are expected to blast his Medicare for All policy.
The strategy, of course, is dependent on questions asked and the responses from John Hickenlooper, John Delaney and Steve Bullock. But Sanders is prepared to "lump Biden in with those guys," the source said.
Sanders spent more time preparing for his second debate, an adviser said, and is aware he needs to "be more present" than during the first debate. 
The only way he may draw a distinction with Elizabeth Warren, the aide said, is on a question of electability.
7:31 p.m. ET, July 30, 2019
Michigan governor: "We need a president who can get stuff done"
Michigan Gov. Gretchen Whitmer described why her state is crucial in the Democratic presidential race.
"We need a president who can get stuff done, who is going to solve the fundamental problems," she told the audience inside the Fox Theatre. "We deserve a president who is going to help us improve education, protect our fresh water, clean up our drinking water, close the skills gap so we can get into higher wage jobs and, yes, help us fix the damn roads."
Whitmer, a Democrat, continued: "So we in Michigan are thrilled to be the hosts of an important debate, because the world now knows that the path to the presidency goes through the Great Lakes State the great state of Michigan."
She told CNN yesterday that candidates should "attach the bigger ideas out of Washington, DC, into the daily lives of people." When candidates get caught in the details, she said it "just feeds into people's anxieties."
7:27 p.m. ET, July 30, 2019
Bernie Sanders was a star athlete in high school
Bernie Sanders traces his endurance on the campaign trail back to this youth: He was a star runner, serving as the co-captain of his high school cross country team.
7:25 p.m. ET, July 30, 2019
Tim Ryan may have meditated before tonight's debate
Tim Ryan practices hot yoga and meditation.
He is also the author of the 2012 book "A Mindful Nation: How a Simple Practice Can Help Us Reduce Stress, Improve Performance, and Recapture the American Spirit."