2020 Democratic candidates debate in Atlanta
8:39 p.m. ET, November 20, 2019
Deval Patrick cancels Morehouse College event due to no show crowd 
Former Massachusetts Gov. Deval Patrick just canceled his event at Morehouse College in Atlanta when he arrived and was told only two people were in the audience.
Julian Hemmings, president and founder of New Deal Democrats at Morehouse College who organized the event, told CNN that Patrick, who announced last week he is seeking the 2020 Democratic presidential nomination, was invited to come to Morehouse yesterday, so this event tonight was planned on very short notice.
Patrick is in Atlanta, where tonight's Democratic debate is being held. Patrick will not be on the stage tonight because he announced his candidacy after the qualification deadline.
Up until five minutes before the event, no one was in the audience. Then, two female students entered, who told CNN that organizers of the event asked them to attend as they were passing by in the hallway. 
According to Hemmings, when Patrick arrived earlier this evening and was told only two people were in the audience, he decided to cancel the event.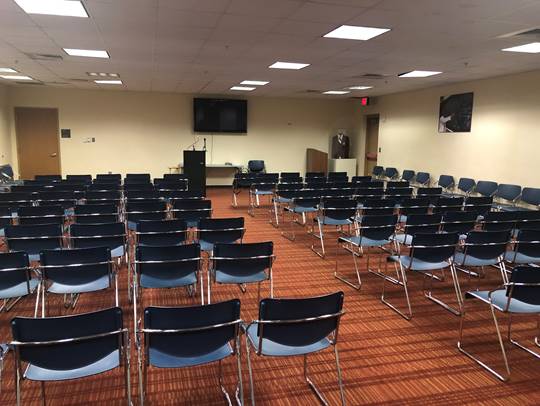 8:38 p.m. ET, November 20, 2019
Bullock will begin airing a TV ad featuring "Lock him up" chant aimed at Trump
Steve Bullock will begin airing a TV ad in Iowa featuring the "Lock him up" chant baseball fans aimed at President Trump during the World Series, his campaign announced today ahead of the Democratic debate in Atlanta that the Montana governor did not qualify for.
The ad opens with the chant and images of Trump. The chants were created by Trump's 2016 campaign and were usually aimed at 2016 Democratic nominee Hillary Clinton. Bullock follows up with a pledge to —as president — continue to look into the Trump administration and prosecute him, if warranted.
"As a sitting president, Donald Trump can't be prosecuted. And the truth is, if he's re-elected, he never will be — because the statute of limitations will run out," Bullock says on camera.
"I'm Steve Bullock, and I won't promise to lock up my opponent. But as the only Democrat running who won a state Trump won, I will promise this: After I beat Trump, I'll empower prosecutors to follow the evidence all the way to the top," he continues.
Bullock, the former Montana attorney general, finishes the ad by saying he approves the message because "no one's above the law."
The ad will be part of Bullock's $500,000 buy in Iowa and will begin airing today in Cedar Rapids and Des Moines.
8:33 p.m. ET, November 20, 2019
Sen. Cory Booker's campaign on tonight's debate: "The stakes are pretty high for us right now"
Cory Booker, a Democratic presidential candidate, will face a crucial moment in his campaign in tonight's debate, as the New Jersey senator struggles to boost his polling and keep his White House hopes alive.
Booker is at risk of failing to qualify for the December debate. His team recognizes that the debate presents a crucial chance to alter his campaign's trajectory.
"The stakes are pretty high for us right now," a Booker campaign aide said. "We know this is a big moment for us."
Booker has focused in his debate preparations on making his responses more concise and impactful, the aide said. But he and his team understand that he will walk onto the debate stage as an "underdog." Booker will be positioned at the far end of the stage, making it more difficult for him to grab the spotlight from the frontrunners.
"It's going to be tough," the aide said.
8:24 p.m. ET, November 20, 2019
The debate will be held at Tyler Perry Studios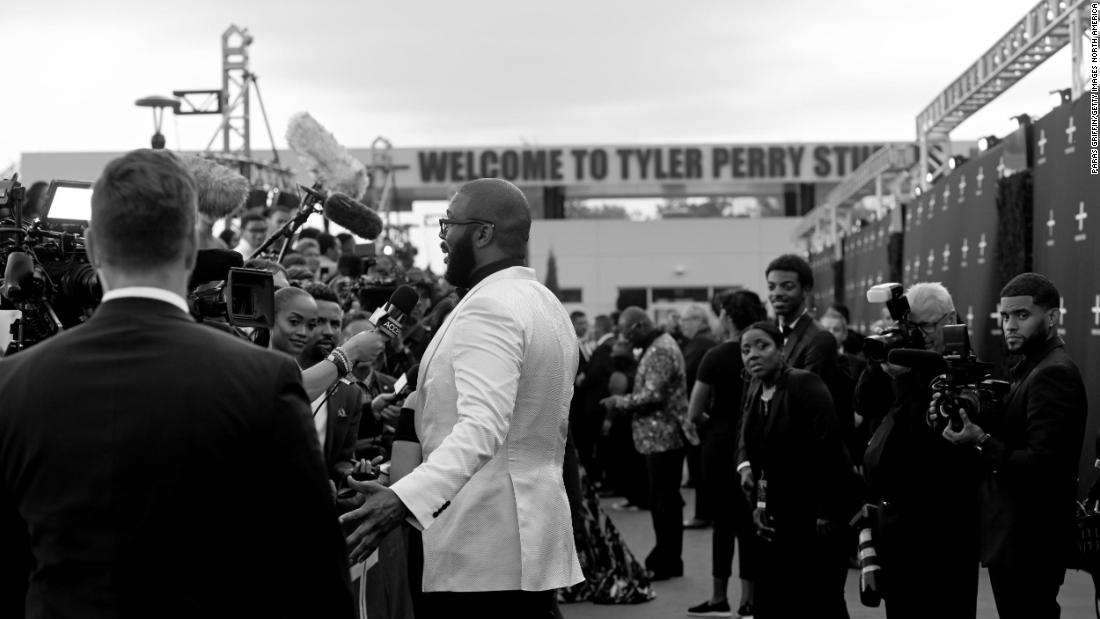 Strolling about the 330 acres of Tyler Perry Studios in Atlanta, Georgia is like stepping back in time.
Or into the future.
With more than 200 acres of green space and a prime location minutes from the airport and downtown, the studio complex has been attracting a wide range of projects.
And it's not just a venue for movies and TV series.
MSNBC and The Washington Post will host the fifth Democratic presidential debate at Tyler Perry Studios tonight.
More on the studios: Steve Mensch, president and general manager of studio operations, recently gave CNN a behind-the-scenes tour of what formerly was the Fort McPherson army base.
"The history on this property is immense. Founded in 1885, we have 40 buildings on the national register, we've built a dozen state of the art sound stages," Mensch said. "We've got a dozen practical shooting locations. So what Tyler has built here is the only major motion picture studio on the East coast."
Old meets new in the historic district where the post commander's house — built in 1889 — maintains its original craftsmanship. It now serves as the home of the character Brian Simmons (played by Perry), who has appeared in multiple Perry productions.
It's a house where former president Franklin Delano Roosevelt once stayed and now retired general Colin Powell lived while commander.
8:18 p.m. ET, November 20, 2019
3 issues that could come up tonight
A lot has happened since Democrats last took the stage in October.
These are some key issues that could come up tonight:
The impeachment inquiry: The House Democrats' impeachment inquiry into President Trump has moved into the public phase with several key testifying in televised hearings on Capitol Hill. Democrats are discussing a timeframe that would include votes on whether to impeach Trump by Christmas, multiple Democratic sources have told CNN.
A candidate drops out, while others jump in: Former Rep. Beto O'Rourke dropped out earlier this month. Meanwhile, former New York City Mayor Michael Bloomberg, who has recently filed paperwork to get on the Democratic primary ballots in two states, is now considering jumping in the race. Former Massachusetts Gov. Deval Patrick announced a late-entry 2020 presidential campaign last week.
What the latest polls show: Former Vice President Joe Biden tops the Democratic primary field in the early voting state of South Carolina, according to new polls from Quinnipiac University and the University of North Florida. About a third of likely voters in South Carolina plan to support the former vice president, according to both polls. Meanwhile, Pete Buttigieg, the mayor of South Bend, Indiana, holds a clear lead in the first-in-the-nation caucus state, climbing to 25% in a new CNN/Des Moines Register/Mediacom poll of likely Iowa caucusgoers.
8:06 p.m. ET, November 20, 2019
How the candidates qualified for the debate
The Democratic National Committee has progressively raised the qualifying thresholds for the primary Democratic debates that began in June.
To make the November stage, these are the thresholds the candidates had to meet:
Candidates had to reach 3% in at least four DNC-approved national or early state polls or at least 5% in two polls of the early-voting states: Iowa, New Hampshire, Nevada and South Carolina.
Candidates also had to raise money from 165,000 separate donors, including a minimum of 600 donors each in at least 20 states or territories.
More on this: Julián Castro, the former Housing and Urban Development secretary, reached the donor threshold, his campaign said, but the former San Antonio, Texas, mayor did not come close to reaching the polling threshold.
Some candidates dropped out after it became clear they were not going to make the debate stage. Castro's team has said the former secretary has no immediate plans to do that.
Former Rep. Beto O'Rourke, who was on the debate stage in October, dropped out earlier this month.
7:58 p.m. ET, November 20, 2019
10 Democrats will be on stage tonight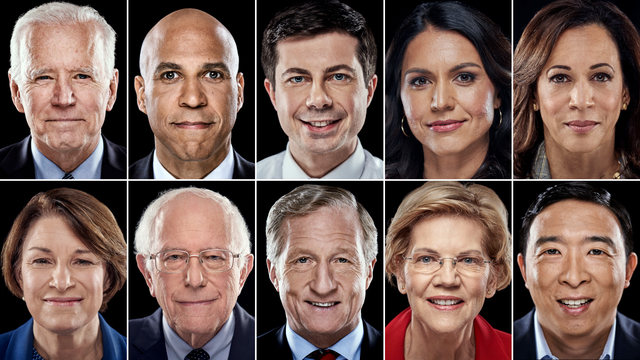 Ten presidential candidates will take the stage tonight at the fifth Democratic debate hosted by MSNBC and the Washington Post in Atlanta, Georgia.
These are the candidates who will appear on stage tonight:
Former Vice President Joe Biden
New Jersey Sen. Cory Booker
South Bend, Indiana, Mayor Pete Buttigieg
Hawaii Rep. Tulsi Gabbard
California Sen. Kamala Harris
Minnesota Sen. Amy Klobuchar
Vermont Sen. Bernie Sanders
Businessman Tom Steyer
Massachusetts Sen. Elizabeth Warren
Businessman Andrew Yang
The most notable candidate to miss this month's debate will be Julián Castro, the former Housing and Urban Development secretary, who did not receive a single poll that moved him closer to reaching the committee's polling threshold.